Katmandu X (ELK Studios) Slot Review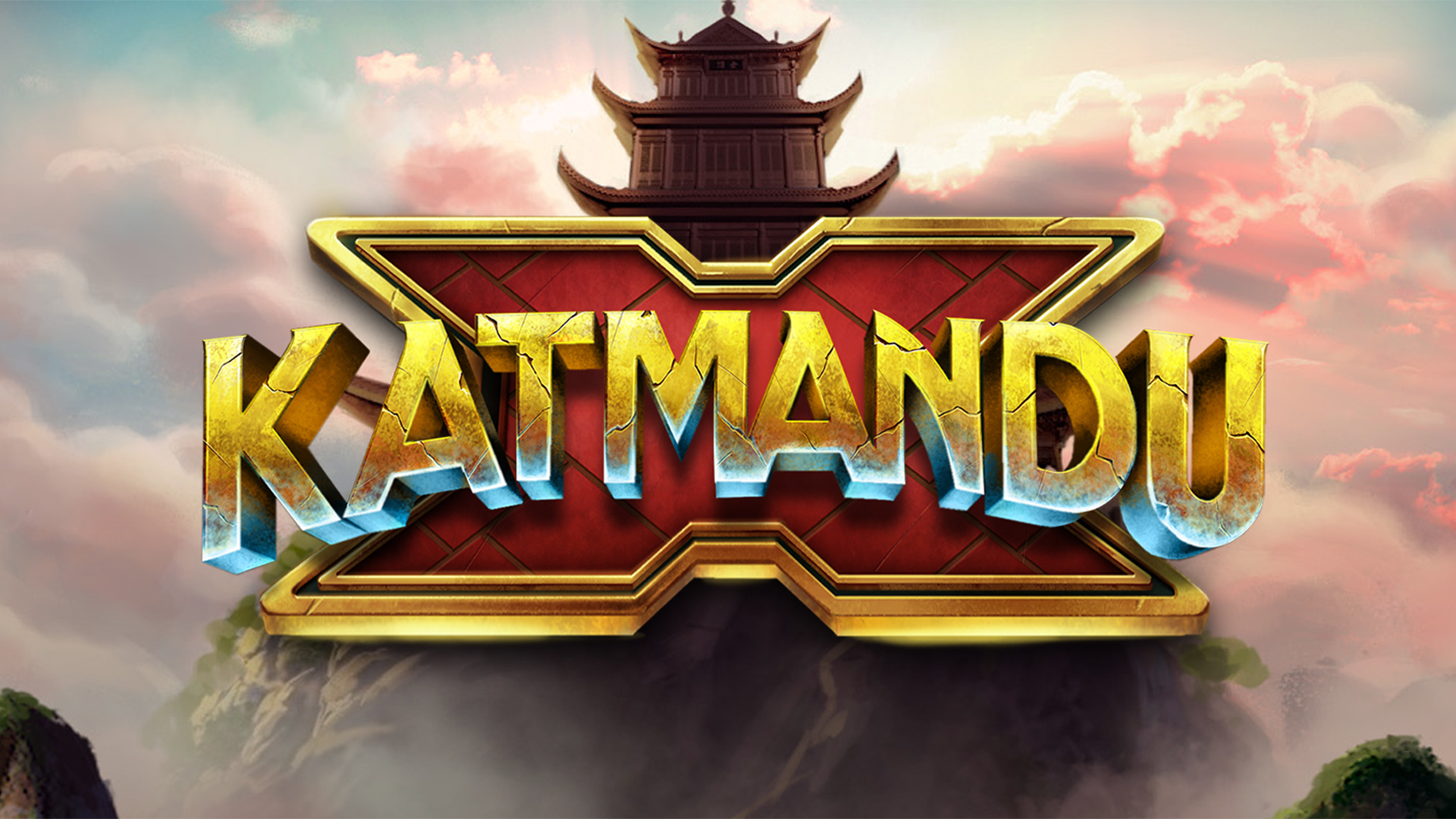 Katmandu X: Slot Overview
After having tremendous success with the "Gold" series, ELK Studios went out of their way to try something new. For the first time, ELK Studios actually took one game out of the series and converted it to something else. In this online slot review we will be going over Katmandu X and show you all of the features the game has to offer.
Katmandu X is played on a 6×6 grid, which means that 36 symbols are present at all times. The game uses Cluster Pays to determine wins, every 5 or more identical symbols that are adjacent horizontally or vertically will form a winning combination. Additionally, Katmandu X uses Tumbling Wins, which means that, after a winning combination is formed, the symbols will be destroyed and new ones fall into the grid. Bet sizes range from 0.20€ to 100€ (or equivalent), but may vary depending on where you play.
As for winning symbols, Katmandu X actually uses far less than its spiritual successor Katmandu Gold. Where the Gold version had 12 winning symbols, the X version only has 8 winning symbols in total, with 4 of them being on the lower end and the other 4 on the higher end.
On the lower end you will no longer find the classic winning symbols from J to A, instead you will find the four element symbols. The maximum payout of symbols is reached at a cluster of 16 symbols, you will not get more for bigger clusters. First we have the Blue Water symbol for 4-times your bet size for a 16+ cluster. Next up is the Green Earth symbol for 5-times your bet size. Coming in next is the Purple Air symbol, clocking in at 6-times your bet size. And the last low-tier symbol will be the Red Fire symbol, coming in at 7-times your bet size for a cluster of 16+ symbols.
There are also changes on the higher end of the symbols. You will no longer find the explorer, which ELK Studios seems to have exclusively for the Gold series. But let's begin at the bottom. There you'll find the Blue Turtle, netting you 10-times your bet size for a cluster of 16 or more symbols. Next is the Green Tiger, clocking in at 25-times your bet size. Second to last is the Purple Dragon for already 50-times your bet size. And last but not least, no Explorer, but the Red Phoenix, paying you 100-times your bet size for a cluster of 16 or more.
Katmandu X: Special Symbols and Stats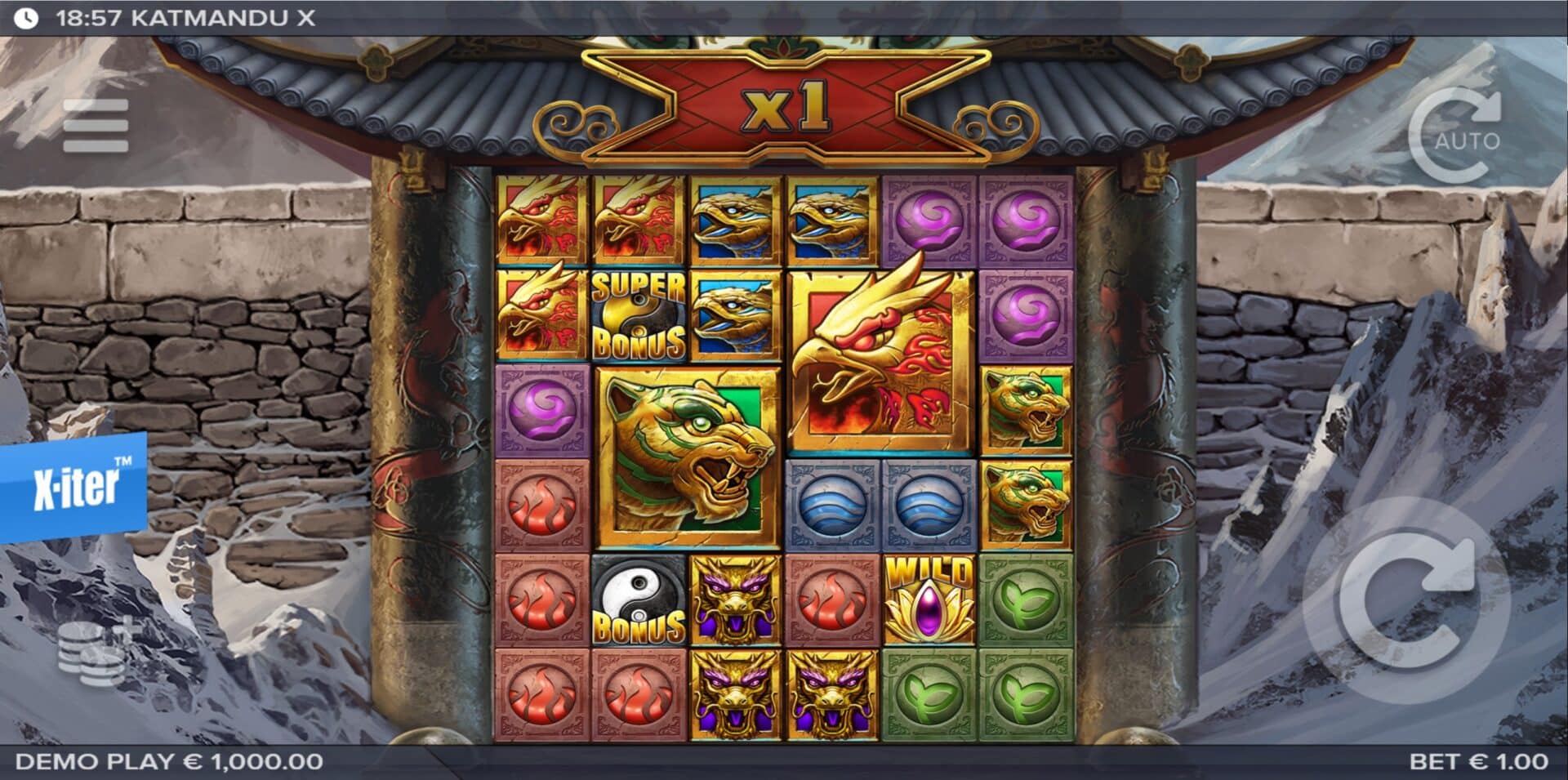 Usually, games from online slot provider ELK Studios come filled with a great repertoire of Special symbols. In Katmandu X however, you will not find that many of them. But they still play a pivotal role for generating big wins.
Let's begin with the Bonus symbol. Other than in the original Gold version, the Bonus symbol in Katmandu X is portrayed by a yin-yang symbol and the label "BONUS". You need at least 3 of these symbols to enter the Free Drops Feature, which we will cover later on in our Feature Overview section of this online slot review.
Keep and eye out for the Super Bonus Symbols. These are also portrayed by a yin-yang symbol, but this one is golden and has the label "SUPER BONUS". If you trigger the Free Drops Feature with 3 Bonus Symbols, of which one is a Super Bonus Symbol, you will be granted access to the Super Bonus Feature.
The next Special symbol on our list is the Wild symbol, and this one is very important. Wild symbols are portrayed by a golden fan with a purple gem in the middle and the label "WILD". They will substitute for any winning symbol except Bonus symbols. Wild symbols have very special ways to interact with winning combinations, which we will feature later on in this online slot review.
But Wild symbols actually also have a special form. If you manage to land a Wild symbol that displays a sun with a red gem in it, you landed an Exploding Wild. What this will do, is, well, explode, meaning that is will destroy every symbol in a 1-block radius, forcing a Redrop to happen.
Now that we have finished the Special symbols, let's talk about the stats of Katmandu X. Unfortunately, ELK Studios aren't that open about their game stats, so there isn't much we could give you. What we can tell you, is, that Katmandu X comes with a base RTP of 95.00%, which is a bit below the average RTP of 96.00%. Katmandu X comes with a max win potential of 25,000-times your base bet size. This is a huge increase to the original Katmandu Gold, which "only" had a potential of 10,000-times your base bet size. Unfortunately we have no information about the chances of reaching the max win potential. What we can give you instead is the information that you will on average get a win every 4 spins. And that's sadly about everything ELK Studios lets us know about Katmandu X.
Katmandu X: Feature Overview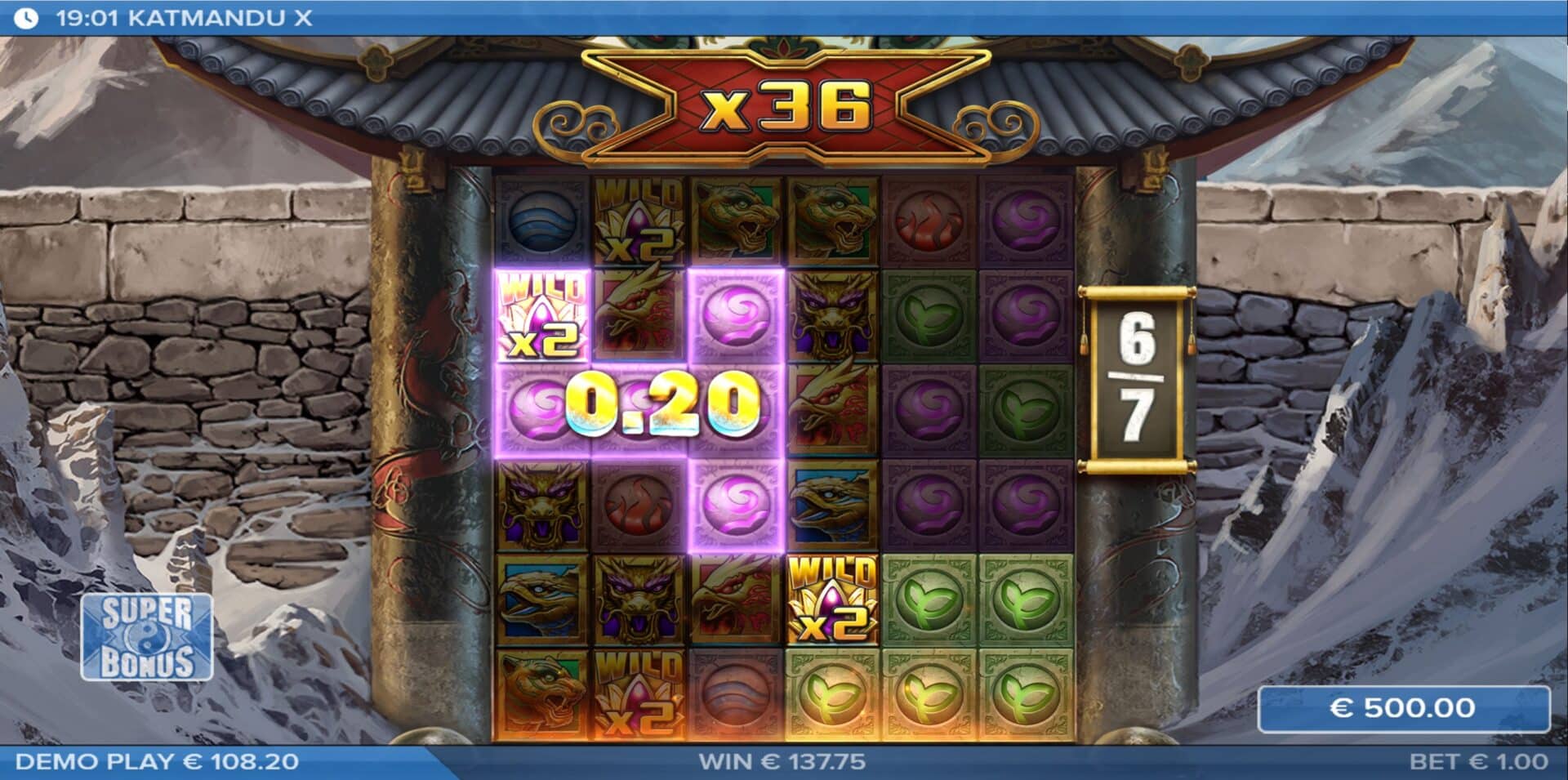 Katmandu X, just like many other ELK Studios games, comes filled with interesting features, which we will cover in this section.
As we mentioned earlier, Wilds have special properties and interaction. One of their special properties is that they cannot appear naturally. To get Wild symbols, you will need to get winning combinations. Every winning combination will leave behind a Wild symbol in a random position where the combination occured. If one Wild symbol is part of multiple winning combinations, it will split and generate a wild for every winning combination it was part of. If more than one Wild symbol is part of a winning combination, the Wild symbols will merge and increase their multiplier according to the multiplier of the previous Wilds. So if you had 2 Wild symbols without a multiplier in a winning combination, they will merge and add their multipliers of 1x and 1x together, resulting in a Wild symbol with a 2x multiplier.
Not only Wild symbols can have multipliers, but the game itself has a global multiplier. This multiplier is always shown in the top middle of the screen. The global multiplier is applied to all wins on the board. The multiplier can be raised with winning combinations, each symbol that was part of the winning combination will increase the global multiplier by +1. The global multiplier is reset in-between spins.
Wild Strike is a feature that can randomly occur in every spin. In this random feature, several tiles on the screen are highlighted and then transformed to either Wild symbols, Multiplier Wild symbols or Exploding Wild symbols.
Katmandu X can features Big Symbols. These symbols are greater versions of their single 1×1 counterpart. Big Symbols can appear in sizes 2×2, 3×3 and 4×4, and they are treated as 4, 9 or 16 single symbols.
As we mentioned earlier, 3 Bonus symbols will trigger the Free Drop Feature. In this Feyature you will be awarded 7 Free Drops. The Feature itself is actually pretty much the same like the base game. However, during the Feature, the global multiplier is not reset, and will keep rising with every single win. But, just like in every ELK Studios game, you will notice, that the game behaves a lot more different in the Free Drops Feature than it does in the base game. Retriggering is possible, landing another Bonus symbol will grant you 1, 2 or 3 Free Drops.
The Super Bonus Game can be triggered through landing 2 Bonus symbols and 1 Super Bonus symbol. This will trigger 7 Free Drops, just like the normal trigger. The main difference to the normal Bonus Game, is, that you are guaranteed to get a Super Wild Strike on every Free Drop. Super Wild Strike are pretty much the same like Wild Strikes, with the exception that they will always transform to Multiplier Wilds. Just like in the regular Bonus Game, retriggering is possible, landing another Bonus symbol will grant you 1, 2 or 3 Free Drops.
X-iter is what ELK Studios call their Bonus Buy Options. Usually you have 4 to 5 Bonus Buy Options available in any newer ELK Studios game. In the case of Katmandu X you will have 5 options to choose from:
| | | |
| --- | --- | --- |
| Name | Price | Feature |
| Bonus Hunt | 2x | More than double the chance to trigger the bonus game. |
| Exploding Wild | 10x | Guaranteed Exploding Wild Symbol. |
| Super Wild Strike | 25x | Guaranteed Super Wild Strike. |
| Buy Bonus | 100x | Guaranteed entry into the Bonus Game. |
| Super Bonus Buy | 500x | Guaranteed entry into the Super Bonus Game. |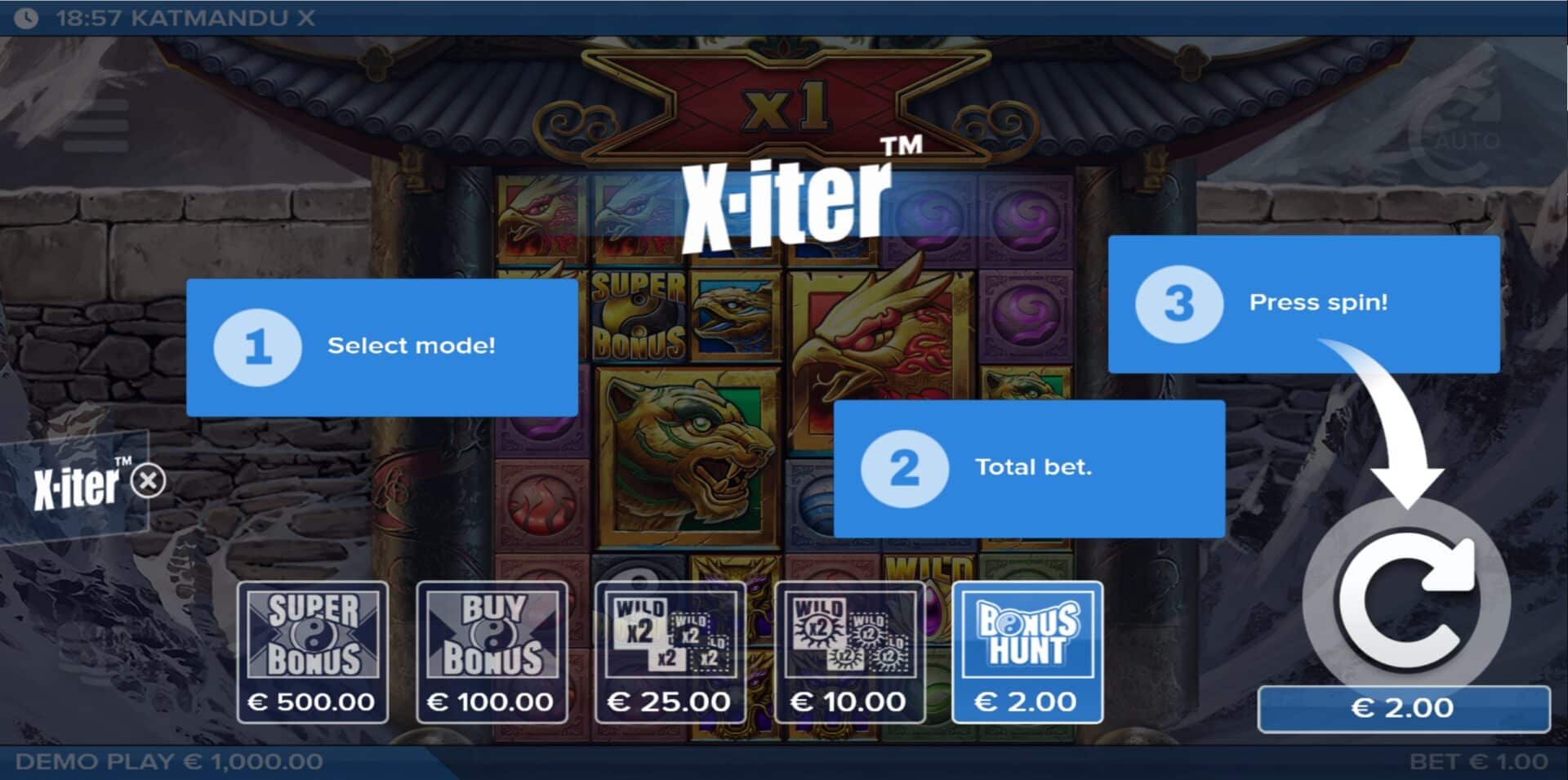 Katmandu X: Conclusion
Katmandu X is tough to rate. First of all, we like the approach of ELK Studios, that they converted one of their older slots into something new with the same theme and ambience. They did a great job with that and we would love to see more of this in the future.
But in the end, Katmandu X is more or less a re-skin of Propaganda, one of ELK Studios earlier games that was released in 2022. Both games feature basically the same things, with the exception that Katmandu X features Big Symbols, which Propaganda doesn't.
That does of course not mean that Katmandu X is a bad game or anything. The mechanics of the game are great and actually feel intuitive, you don't have to read through the whole rulebook of the game to eventually understand what's happening. We would have just wished for something more innovative, we have seen in the past that ELK Studios is capable of doing that.
Eventually, Katmandu X is still a great game that can bring lots of fun, excitement and thrill. Everyone who loved the design of Katmandu Gold, will most likely also like this one. It might only be a re-skin, but it's a reskin of a very good game with lots of potential and fun betting rounds. This concludes our online slot review about Katmandu X. We had fun testing it out for you and we hope that you will have just as much fun.