Ronin's Honour (Play'n Go) Slot Review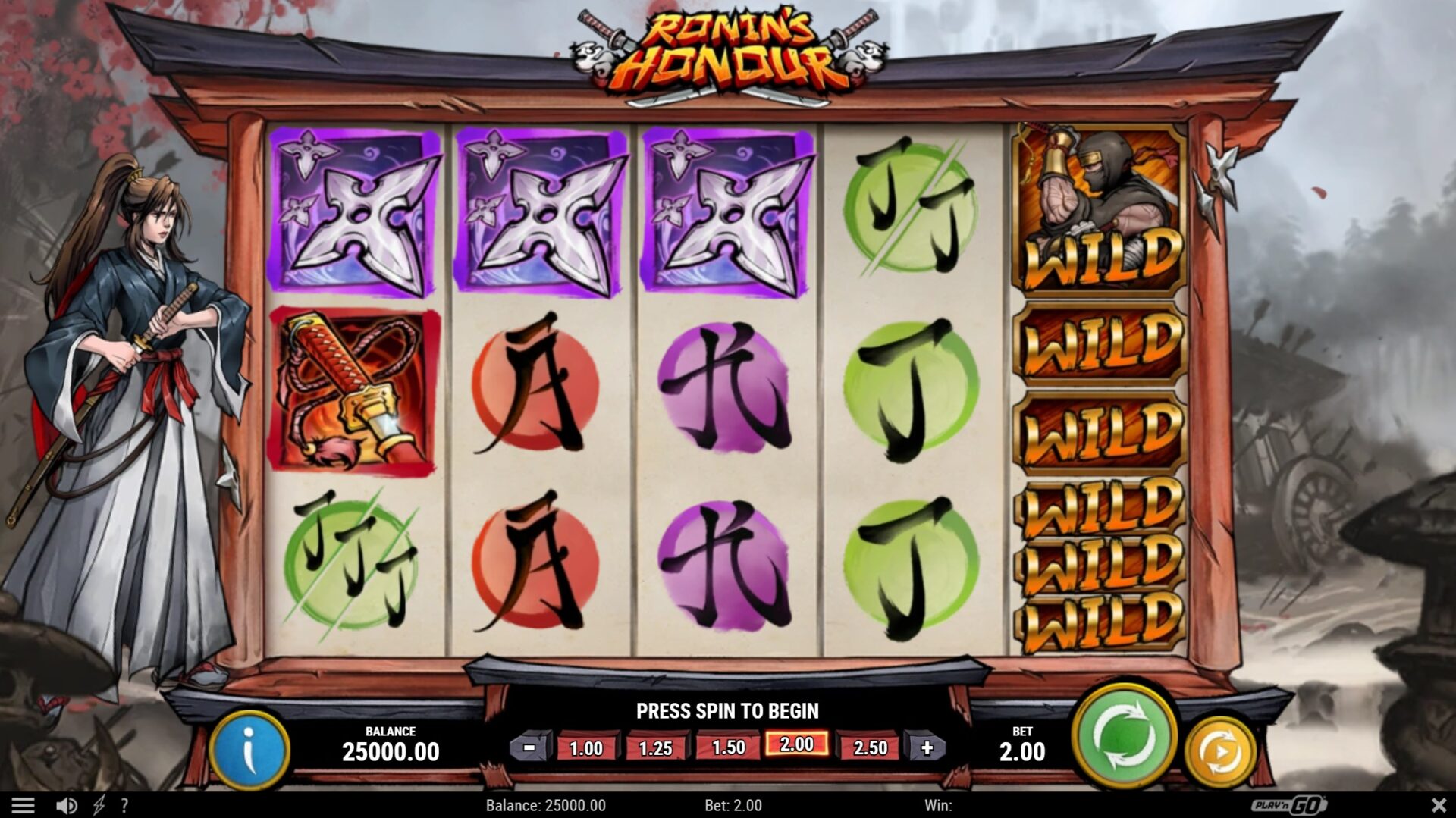 Play
Ronin's Honour

on














































Ronin's Honour: Slot Overview
During the late 12th century, in feudal Japan, there was the noble swordsman class of the Samurai. These sword-wielding warriors pledged to serve their masters as a sort of bodyguard or security. But what if their masters died? Or what if the Samurai were abandoned? They turned into Ronin, who were bound to the sword and wandered around in search for work as mercenaries. Or, as Play'n Go would say, to restore the Ronin's Honour.
Playing Board
Ronin's Honour is played on 5 reels with 3 to 6 rows. To determine wins, the game uses winning ways. Since you have 5 reels and at least 3 rows, the game will always have at least 243 ways to win. This can be enhanced to up to 7,776 ways through certain game mechanics, which we will cover later. Bet sizes range from 0.05€ to 25€ (or equivalent), but can vary depending on where you play
Winning Symbols
For the winning symbols, Play'n Go actually got very creative. Of course you will find lower tier and higher tier symbols, as with pretty much every online slot game, but they are actually named. So you will find 8 winning symbols in total, split into Royal Symbols and Weapon Symbols.
Let's begin with the Royal Symbols. These are the lower paying symbols of Ronin's Honour and are portrayed by the classic winning symbols from J to A. As for the payouts, these are actually pretty similar. First you'll find the J's and Q's, paying 0.6 times your bet size for a full way. And next are already the K's and A's for 0.8 times your bet size. So, nothing too crazy on the lower end.
The Weapon Symbols on the other hand are resembled by weapons, who would have thought? But the interesting thing is, these weapons have a much higher payout than the lower-tier Royal Symbols. Let's take a look: the first weapon is the Kunai, paying you 3 times your bet size for a full way. Next up is the Morning Star, clocking in at 4 times your bet size. The second to last weapon is the Throwing Star for already 8 times your bet size. And the last weapon you'll find is the Samurai Sword, paying you 10 times your bet size per full way.
Ronin's Honour: Special Symbols and Stats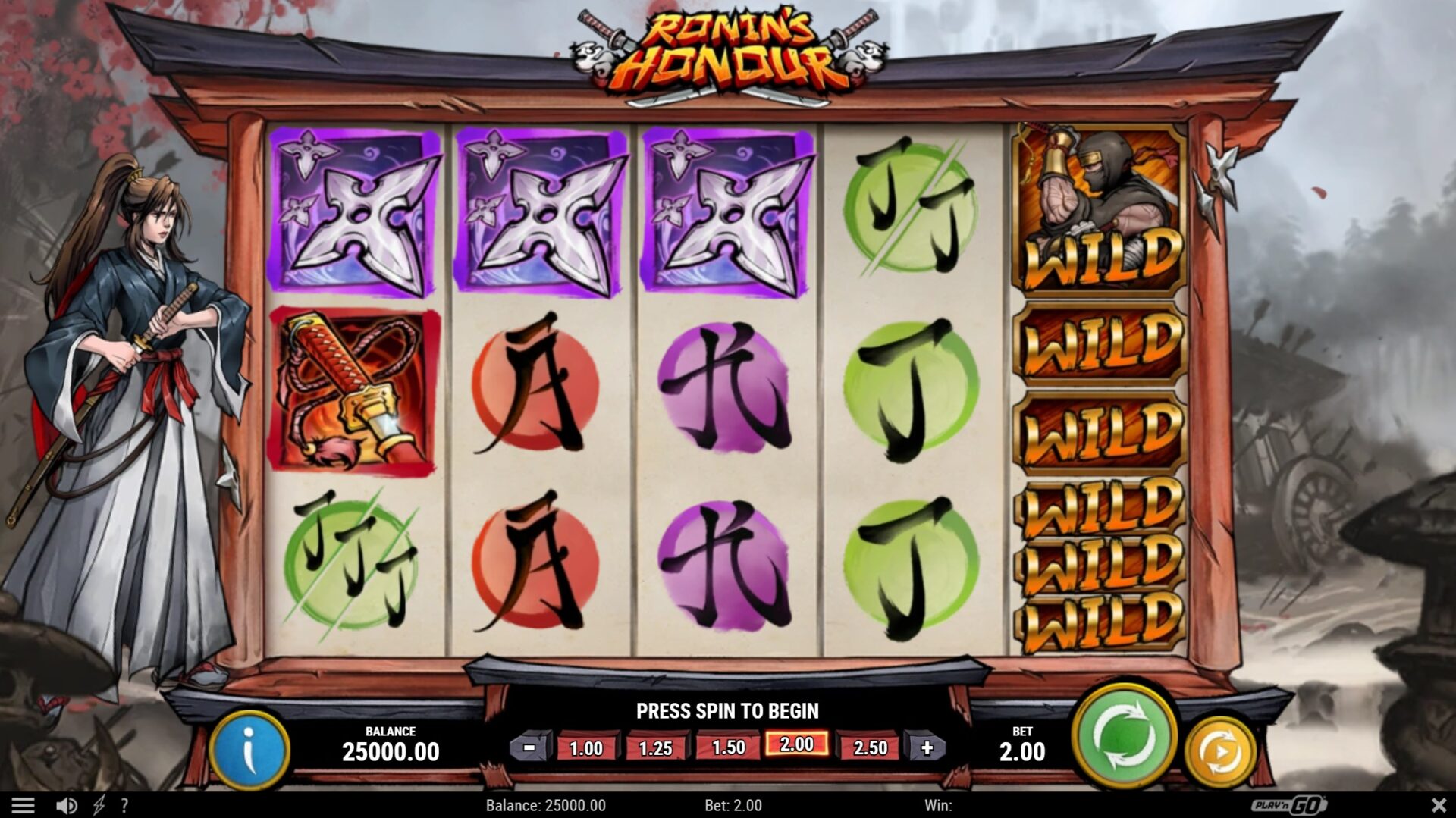 To help you restoring the honour of the Ronin, there are a few Special symbols that could give you a little advantage over your enemy.
Scatter Symbol
The Scatter symbol will be displayed by a golden shogun mask. Landing 3 or more of those in the same spin will allow you to enter the Battle Spins. What exactly these are and how they work can be found out in the Feature Overview section of our online slot review. Scatter symbols also have their own payout, paying you 8 times your bet size for 5 of them.
Mystery Symbol
Mystery symbols are vital for big wins. These are portrayed by demon masks. When they land, the ronin will slash them, revealing a random symbol. This symbol can also be split into 2 or 3 of the same symbol. Although not specifically stated, it looked to us like Mystery symbols always reveal the same symbol, unless a Mystery symbol summons a Ninja Wild, in which case the reel is filled with a Wild symbol.
Wild Symbol
Speaking of Wild symbols, these are portrayed by the Ninjas of Hannya. These Wild symbols cannot appear naturally and can only be summoned by the Mystery symbol. When this happens, the whole reel is filled with a ninja, which your ronin will slash and presumably split into more Wilds.
Feature Exclusive Symbols
There are two symbols that are exclusive to certain features. One symbol is Hannya, the old hag our ronin seeks to destroy to restore her honour. She's the main antagonist. The second exclusive symbol is the Demon Mystery symbol. Both of these symbols can only appear during the Hannya Free Spin, which we will cover in the next section.
Stats
As much as we would love to feed you with lots of stats about Ronin's Honour, there is not much we can give you. Play'n Go does not publish a lot of stats about their games. Ronin's Honour comes with a base RTP of 96.22%. The game received an 8 out of 10 volatility rating by Play'n Go themselves, making it a rather volatile slot. The maximum win potential is capped at 30,000 times your bet size, one of the highest win caps of Play'n Go. But hitting this seems near impossible, as the chances of getting to the win cap are 1 in 100 million spins. Needless to say, these odds are incredibly small.
Ronin's Honour: Feature Overview

In Ronin's Honour you will encounter some interesting features that are not necessarily complicated, but they can be a bit confusing when you first see them.
Battle Spins
As we mentioned before, 3 or more Scatters in the same spin will let you enter the Battle Spins. During Battle Spins, you will see that your ronin as well as Hannya have 3 life bars. You will get unlimited free spins as long as either your ronin or Hannya still have any life. In order to reduce Hannya's life, your ronin needs to defeat her Ninja Wilds. If she does, Hannya will lose a life. However, if the Ninja blocks your attack, your ronin will lose a life. If your ronin runs out of lives, it's game over and you'll get back to the base game. But if Hannya loses all of her lives, you will be granted 1 Hannya Free Spin.
Hannya Free Spin
When granted a Hannya Free Spin, Hannya will put herself on reel 3, acting as a Ninja Wild. Additionally, she will summon two Demon Mystery symbols on reels 1 and 2, which will fill out the whole reel and reveal a mystery symbol. Thus, the Hannya Free Spin will always be a guaranteed win. After the Hannya Free Spin has been played, the feature is over and you'll be sent back to the base game.
Ronin's Honour: Conclusion
We can't help but say that Ronin's Honour is a very beatuifully designed slot game in an old japanese setting. The fact that both the ronin and Hannya are voice acted in japanese gives such a lovely touch to the whole theme. Unfortunately this also comes with a bit of a downside. Whenever a few Mystery Symbols land, the ronin and Hannya need to have a dialogue about how they'll destroy each other. Surely, this is probably supposed to be some sort of dramatical break to rise the excitement, and for the first few times that's fine, but after a few times it's a bit annoying.
One thing we clearly need to mention is the max win potential. Although it might look promising, you should not go for it. A chance of one in 100 million is so incredibly small that we doubt someone will ever witness the max win of 30,000 times the bet size.
But beyond that, Ronin's Honour is a very enjoyable game with lots of exciting features and thrilling moments. Although you might not hit the win cap, you can still win big and have lots of fun while doing so. This concludes our online slot review about Ronin's Honour.