Rabbit Garden (Pragmatic Play) Slot Review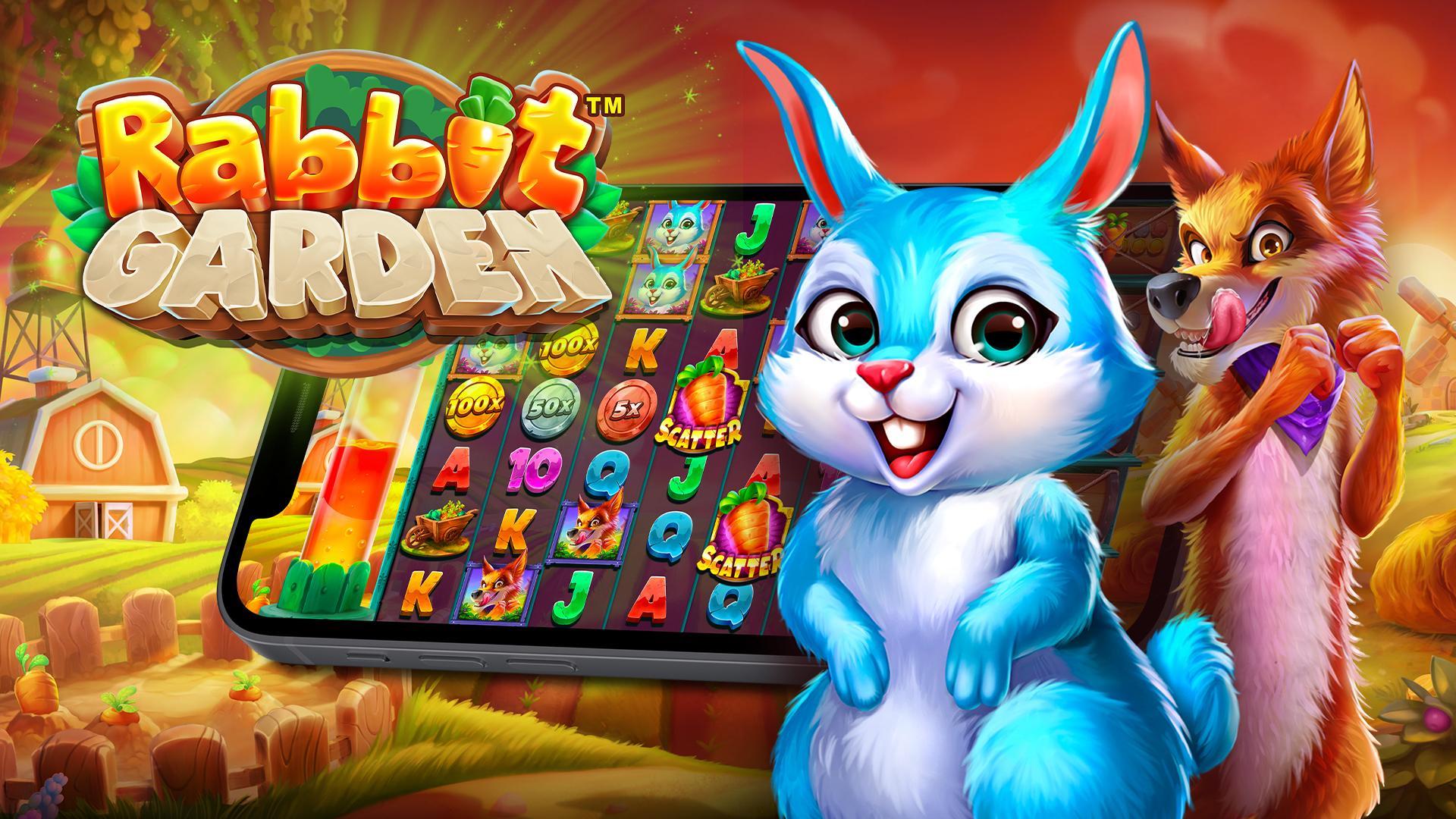 Play
Rabbit Garden

on


























































Rabbit Garden: Slot Overview
It's almost time for the winter to end and the closer we get to the end of the winter we get longer days, warmer days, more sun and perhaps more animals. Of course we will also see plants bloom once again. Pragmatic Play did not hibernate over the winter and thought about one of the first spring-ly online slot games of the season: Rabbit Garden.
Rabbit Garden is played on a 7×7 grid that can hold a total of 49 symbols. The game makes use of Cluster Pays, meaning that any 5 or more of the same winning symbol adjacent horizontally or vertically will form a win. Additionally, Rabbit Garden uses Tumbling Wins, which means that winning combinations are eliminated and new symbols fall into the grid. Pragmatic Play gives Rabbit Garden a 5 out of 5 on their volatility scale, making it a high volatility. Bet sizes range from 0.20€ to 100€ (or equivalent), but they may vary depending on where you play.
Rabbit Garden makes use of 7 different winning symbols, which is about the average for grid games. The symbols are not clearly divided between high and low tier, so we'll just flow with them. Pragmatic Play didn't go too much out of their way and went with the classic symbols from J to A for their first four winning symbols. J's clock in at 20-times your bet size for a cluster of 15 or more. Q's already pay double with 40-times your bet size. K's will pay you with 60-times your bet size. And the A's are clocking in at 80-times your bet size for a cluster of 15 or more.
Alright, on to the symbols that fit the theme more. First we have the Wheelbarrow filled with all kinds of vegetables for 90-times your bet size. Second to last is the naughty Fox, paying you 100-times your bet size for a cluster of 15 or more. And last but not least, our top symbol is of course the blue and white Rabbit, clocking in at 150-times your bet size. Overall pretty decent payouts, but what if we tell you that there is an even bigger fish to catch?
Rabbit Garden: Special Symbols and Stats

Rabbit Garden comes with an interesting set of Special symbols that we'll take a closer look at.
First up is the Scatter symbol. This one is portrayed by a big carrot, of course. Landing 4 or more of these in the same spin will trigger the Free Spins Feature. But Scatter symbols also come with their own payout, paying you 1-time your bet size for 4 Scatters and up to 100-times your bet size for the maximum of 7 Scatter symbols. Scatter symbols can appear on any reel and can also drop in as a result from a Tumbling Win.
The second Special symbol, that will play a pivotal role in Rabbit Garden, are the Coins. Coins come in bronze, silver and gold and carry a random money value between 1-time and 1,000-times your bet size. Coins cannot naturally land in the grid. How they land and how they work exactly will be described in our Feature Overview section.
Once again it is time now for stats. Rabbit Garden comes with a base RTP of 96.05%, pretty solid on the edge of the average. The max win potential of Rabbit Garden is capped at 10,000-times your bet size, which is double the amount of the usual cap of Pragmatic Play games. Your chances of hitting a max win are round about once every 7,575,000 spins. Obviously not the greatest chance, but definitely far away from being the worst. On average you will get a win once every 4 spins and trigger Free Spins once every around 406 spins. As always, these are just average numbers and do not guarantee anything.
Rabbit Garden: Feature Overview

Rabbit Garden comes with a few interesting features that we're going to take a look at and describe to you as best as we can.
As we mentioned before, Coins do not appear naturally on any reel. They rather come in through a random feature in the base game. You may have already noticed the right side of the screen. On here you will see 5 different reels with different amounts of coins on them. On any spin you have the chance that the rabbit will spin one of the reels, placing the amount of coins that is shown on the reel onto the grid. The amount of Coins is fixed, but which kinds of Coins you get is not. So for example, if the reel shows 4 Coins and one of them is golden, you are guaranteed to get 1 golden Coin. The pattern in which the Coins appear on the grid is randomly chosen from a pre-set of possibilities.
But how do you actually collect the coins? Well, in order to collect them you will need to have a cluster win that is adjacent to any Coin. Every Coin that was adjacent to a winning combination will be collected and the amount that is shown will be payed out. Quick example: If you get a winning combination with two 1x Coins, you will get the payout for the winning combination as well as 2-times your bet size on top.
4 or more Scatter symbols will award you with the Free Spins Feature. You will be granted 5 Free Spins, no matter the amount of Scatter symbols you have triggered with. The game board changes slightly, on the left side you will now notice a meter. Filling this meter is important. Everytime you fill this meter, the feature is retriggered and you will be awarded a multiplier based on your current stage. The meter is filled by winning combinations. Every symbol that was part of a winning combination contributes to filling the meter. There are 5 stages in total with multipliers x1, x2, x3, x5 and x10. Every stage gets harder and harder to reach. Multipliers apply to all wins. Every stage consists of 5 spins that have to be played in order to go to the next stage.
During the Free Spins Feature, the rabbit will spin the reels on the right side on every spin, beginning at the bottom and going to the top, advancing with every spin. If you did not manage to fill your meter after the last spin, the Feature is over. It will also end immediately once the max win potential of 10,000-times has been reached.
Rabbit Garden also comes with a Bonus Buy Feature. If you don't want to wait until a bonus drops in, you can just buy one for 100-times your bet size. Doing so will guarantee you at least 4 Scatter symbols to drop in, with the chance of hitting additional Scatter symbols. Buying a Bonus Feature has a slightly higher RTP of 96.08%.

Rabbit Garden: Conclusion
Pragmatic Play did a wonderful job when they designed Rabbit Garden. It has everything it needs to be a great game. Beginning with a beautiful spring-fever-catching design, cute bunnies, naughty foxes and a very nice background music. Only the classic winning symbols could have been a bit better, but that's hardly worth mentioning.
Although Rabbit Garden isn't the first game from Pragmatic Play that uses something like coins to determine wins, it is one of the first games from this provider that uses the Coins design in this particular way. Sort of like an hommage to many games from the also well-known online slot provider Push Gaming. They've been known to use coins to determine wins, now Pragmatic Play implemented it their own way.
Having a Bonus Buy Option is a really welcome feature, especially since it can take quite a while to get a bonus on Rabbit Garden. The base game is not something we would call boring, but also not really exciting. It has its thrilling moments though if you manage to get one of the sweet golden Coins on the grid. Now all you need to do is land a winning combination and boom! Big Win!
All in all, Rabbit Garden is a very nice game that we enjoyed playing and testing. It is a more original approach and that's what we all love to see. This concludes our online slot review about Rabbit Garden. We hope that we answered all of your questions without leaving anything open.