Temple of Torment (Hacksaw Gaming) Slot Review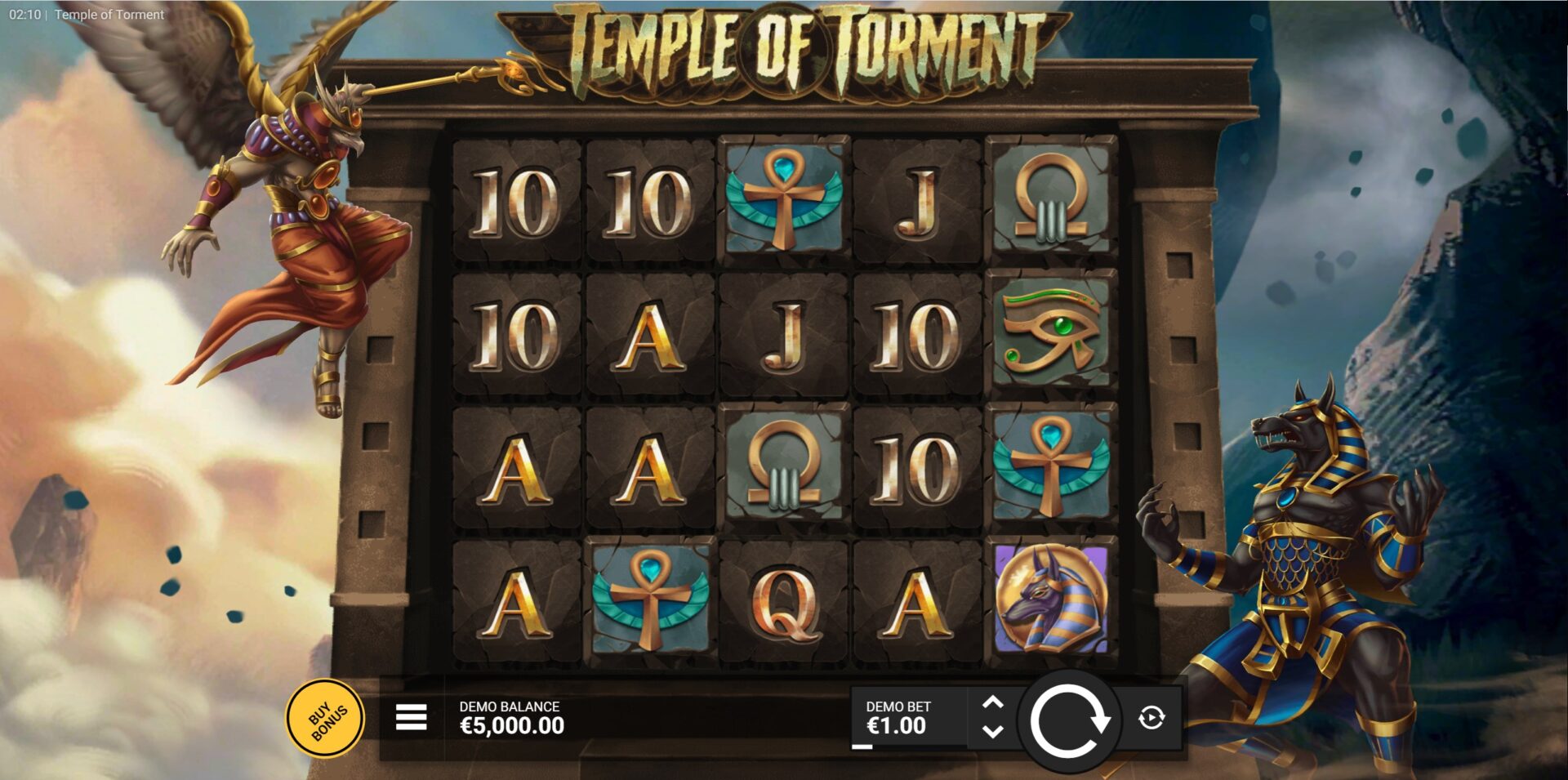 Play
Temple of Torment

on
Stake Casino
Skycrown Casino
Bitkingz Casino
Cadoola Casino
Ivibet Casino
Casino Rocket
BetandPlay Casino
Bizzo Casino
Lucky Elektra Casino
Vinyl Casino
King Billy Casino (Malta)
Stay Casino
Scream Casino
Loft Casino
Winawin Casino
BoaBoa Casino
Metaspins Casino
Crocoslots Casino
Slotozen Casino
SlotHunter Casino
Neon54 Casino
National Casino
SlotsPalace Casino
Oshi Casino
Asino Casino
Joo Casino
Zoome Casino
Igu Casino
Platincasino
Qbet Casino
Fezbet Casino
Goodman Casino
N1 Casino
BC.Game Casino
Casino Buck
Megaslot.io Casino
Run4Win Casino
Neospin Casino
Sportaza Casino
LuckyStart Casino
Lucky Dreams Casino
Lucky 7even Casino
Mirax Casino
Fight Club Casino
Legzo Casino
LetsLucky Casino
Boomerang Casino
Nine Casino
Richard Casino
Cazimbo Casino
JeetCity Casino
Kas.Casino
N1Bet Casino
K8 Casino
Manga Casino
20Bet Casino
Hellspin Casino
Casinoly Casino
Dolly Casino
Buran Casino
GreatWin Casino
JustCasino
Cashwin Casino
Axe Casino
Dbet Casino
QuickWin Casino
SpinFever Casino
Empire.io Casino
OhMySpins Casino
SG Casino
Casino Infinity
Rockwin Casino
Vave Casino
Freedom Casino
Westpoint Casino
Temple of Torment: Slot Overview
There are many unsolved mysteries about the old egyptian mythology. Hacksaw Gaming took the chance and designed a slot around two of the most famous egyptian gods of all time, Ra and Anubis. But unlike you might expect, these two will not cooperate. They will battle in a divine clash to see which one will prevail and which one will fall to their knees. This is Hacksaw Gaming's Temple of Torment.
Playing Board
Temple of Torment is played on 5 reels with 4 rows. To determine wins, the game will use a set of 12 set paylines. Although pretty unusual for Hacksaw Gaming, Temple of Torment has only received a medium volatility rating of 3 out of 5 by its creators themselves. Bet sizes range from 0.10€ to 100€ (or equivalent), though they may vary depending on where you play.
Winning Symbols
In Temple of Torment you will find 10 or rather 11 winning symbols, that are all designed around the old egyptian theme. There are 5 low-tier symbols, as well as 5 higher paying symbols. Let's waste no time and take a look at the lower paying symbols. These symbols are occupied by classic winning symbols, the so-called Royals. In the case of Temple of Torment, they will range from 10's to A's. While 10's and J's will clock in at 5 times your bet size per full line, the Q's and K's will pay you 7.5 times your bet size. And at the end of the line are the A's, which come in at 10 times your bet size. And this already concludes the low-tier section.
On the higher end we will find symbols that directly fit the egyptian theme. The first symbol looks a bit obscure to us, but we will try our best to describe it to you. It looks like the greek omega letter with an egyptian touch, paying you 15 times your bet size per full way. Next is the famous egyptian eye, some might even say the eye of Horus, which will net you 17.5 times your bet size. Coming in next is the egyptian cross, called ankh, which will clock in at 20 times your bet size. Now on to the final two, which are none other than our gods themselves. So first is the god of death, Anubis, which will pay you 25 times your bet size. And the last symbol is the god of the sun, Ra, which will pay you 30 times your bet size per full line.
If you have paid attention, you will notice that these are only 10 winning symbols, so where is the missing one? Well, for those of you who know Hacksaw Gaming, we're sure many of you already know the last symbol. But if you're not familiar with them, keep on reading, everything will make sense in the end.
Temple of Torment: Special Symbols and Stats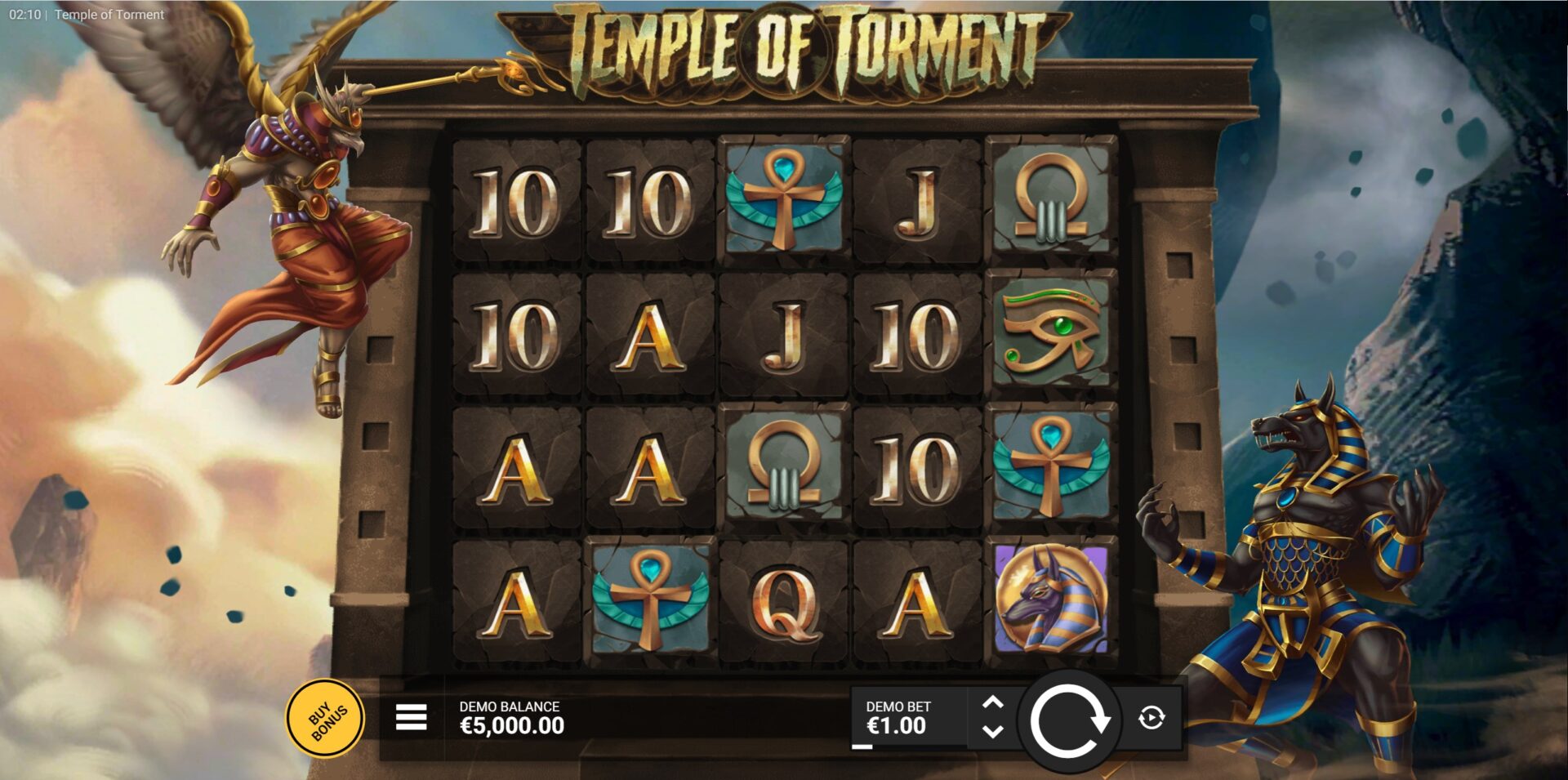 Even gods as powerful as Ra and Anubis will need a bit of outside help when they clash. Luckily for them, there are a few special symbols that will help them out.
Scatter Symbols
In Temple of Torment you will find two different types of scatter symbols. These are rather boringly designed and just shown by the two big letters "FS". They come in two different colours, red and blue, hinting at their respective gods. Landing 3 or more of the same scatter symbol in the same spin, will allow you to enter one of the two available feature games. In our Feature Overview section we will cover in detail what these features are and what they do.
Wild Symbol
Wild symbols can appear naturally on any reel during the base game and both feature games. They are simply portrayed with the label "WILD". These symbols will substitute for any winning symbol except scatter symbols. Wilds will play a pivotal role, both in base game and the feature games, as they are used in various features. We will cover these in detail later on. Wild symbols will also have their own payout. With 40 times your bet size for a full line, the wild symbol will be the missing 11th winning symbol and therefore be our top symbol.
Wild Golden Scarabs
The wild golden scarab symbol is one of, if not the most important special symbol. These are shown by, you guessed it, golden scarabs. Whenever golden scarabs land, they will expand either upwards or downwards, turning the upper or lower part of their respective reel to wilds. The only condition for this, is that they need to be able to form a winning combination. You can actually see which way they will expand: if Ra moves, they will expand upwards, if Anubis moves, they will expand downwards. All golden scarabs will expand in the same direction. Just like wild symbols, they will also play an important role throughout the game.
Stats
Now that we've cleared the special symbols, let's look at some stats of Temple of Torment. The game will be played with a base RTP of 96.22%. The maximum win possible will be capped at 10,000 times your bet size, which is pretty standard for Hacksaw Gaming. Hitting the max win will be a difficult task though, as it will occur once every 16,500,000 spins on average. This has of course to do with the medium volatility of the game. The hit frequency of Temple of Torment is set to 27%, which means that you can expect a win round about every 3rd to 4th spin.
Temple of Torment: Feature Overview

We've already talked a lot about the features of the game. Now it's time that we actually take a closer look at them.
Wild Multipliers
One of the reasons the wild symbols and wild golden scarab symbols are so important, is because of the Wild Multiplier feature. Whenever a golden scarab expands through a wild symbol, this wild symbol will reveal a multiplier. This multiplier will then be applied to the whole section of the reel that is wild. Now every winning combination, that passes the wild section of the reel, will receive that multiplier on its win. If multiple wilds reveal a multiplier, the multipliers are added together. The same goes for multiple golden scarabs.
Anguish of Anubis
The first of the two feature games is called Anguish of Anubis. In order to trigger it, you will need to land at least 3 blue scatter symbols in the same spin. You will then be granted 10, 12 or 14 free spins for 3, 4 or 5 scatter symbols respectively.
In the Anguish of Anubis feature, you will encounter more wild symbols and golden scarabs than in the base game. What now happens is that wild symbols are sticky, which means that they will be kept in place until the end of the feature. This, in theory, allows for more multipliers to appear through the golden scarabs. Ideally you want to have as many wild symbols as you can, and of course as early as you can. Free Spins will gain in value once you have reached a good setup.
Retriggering this feature is also possible. Landing 2 or 3 scatter symbols in the same spin will grant you 2 or 4 extra spins. The feature will end once you have used all of your free spins or the max win potential of 10,000 times your bet size has been reached.
Reign of Ra
The other feature game will be the Reign of Ra feature. This one has the same trigger conditions like the Anguish of Anubis feature. Hit 3 or more red scatter symbols in the same spin. You will get 10, 12 or 14 free spins for 3, 4 or 5 scatters.
This feature works a bit different than the Anubis feature. First of all, you will notice a big increase in wild symbols. Second, there will be a multiplier shown at the top of the playing board. This will be your global multiplier. How do you increase it, you might ask? Well, that's rather simple. Every multiplier, that is a result of wild symbols and golden scarabs, will be added to the global multiplier. This multiplier, however, is not active at all times. In order to activate it, you will need to get a wild multiplier. If you don't get one, the multiplier will not be active. Once it is active though, it will multiply all winning combinations with the currently accumulated multiplier.
Retriggering is also possible here. Just like with the Anubis feature, hit 2 or 3 scatters to get 2 or 4 additional spins. This feature will also end once you've run out of spins or the max win cap has been reached.
Bonus Buy Feature

Many modern Hacksaw Gaming games will comes with a variety of bonus and feature buy options. Temple of Torment is no exception. Below we have listed all of the different features you can buy, as well as their price and their respective RTP:
| | | | |
| --- | --- | --- | --- |
| Name | Price | Feature | RTP |
| Bonushunt | 3x per spin | 5 times more chance of triggering a bonus | 96.43% |
| Scarabs | 50x per spin | One spin with 3 golden scarabs guaranteed | 96.25% |
| Anguish of Anubis | 100x | Guaranteed entry to the Anguish of Anubis feature with up to 5 scatters | 96.28% |
| Reigns of Ra | 200x | Guaranteed entry to the Reign of Ra feature with up to 5 scatters | 96.29% |
Interesting to see here are the RTP differences. While the scarabs, Anguish of Anubis and Reigns of Ra feature buys all are not too far away from the base RTP of 96.22%, the bonushunt feature comes with a rather big difference in RTP: 0.2% don't seem like a lot at first glance, but for a feature buy it definitely is.
Temple of Torment: Conclusion
Temple of Torment is definitely not the most beautiful game of Hacksaw Gaming. When we think back at games like Cursed Seas or Mayan Stackways, that were oozing with beautiful design and creativity, Temple of Torment feels way more generic in terms of the art style. But this could also possibly be because the egyptian theme has been used very heavily in online slot games, and for some it may be tiring to see.
Nonetheless, Temple of Torment is a very fun game. It is by far not the most innovative game from Hacksaw Gaming, but Temple of Torment shows that not every game has to be something entirely new that the world has never seen before. The game comes with a solid base game, two very interesting features and a very pleasant volatility. We are sure that Temple of Torment is a game for almost every player, as it combines lots of features that made Hacksaw Gaming what they are right now, together with an enjoyable volatility with lots of potential.