Mayan Stackways (Hacksaw Gaming) Slot Review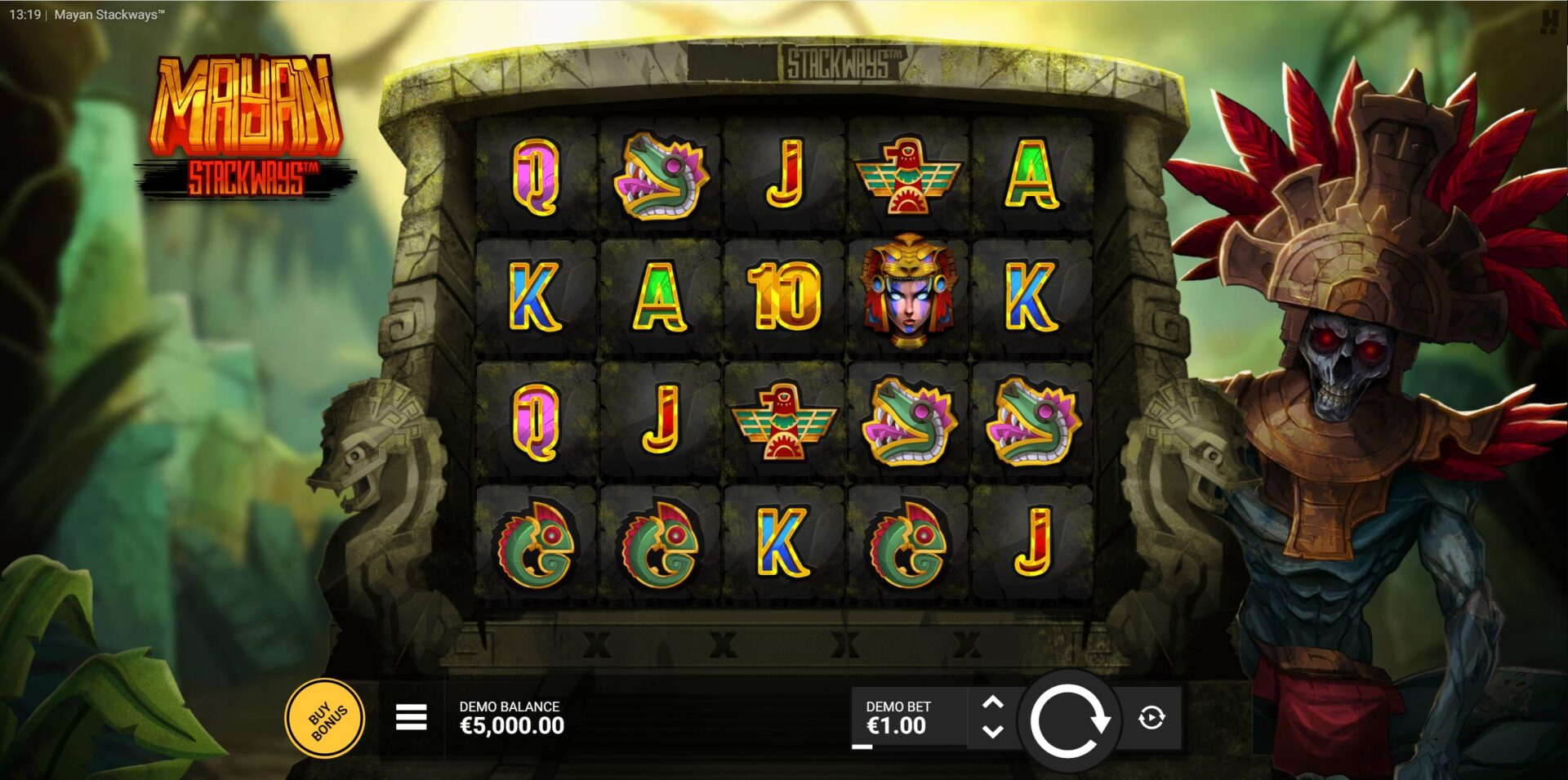 Play
Mayan Stackways

on













































Mayan Stackways: Slot Overview
Mayan, Aztecs and Inkas are all ancient civilizations that are popular themes for online slot games. In fact, they are so popular, that it needs a lot of creativity in order to create something that will stay in the mind of players. Luckily we know by now that the creators over at Hacksaw Gaming can exactly do that. So they present to us Mayan Stackways.
Playing Board
Mayan Stackways is played on 5 reels with 2 to 10 rows. We know, this sounds weird, but Mayan Stackways, as the name suggests, introduces the Stackways technology. Later we will explain in detail what this technology is all about, but one with we can tell you upfront, is, that this technology allows for up to 100,000 winning ways. Bet sizes range from 0.10 to 100€ (or equivalent). Though these bet sizes may vary depending on where you play.
Winning Symbols
10 winning symbols are featured in Mayan Stackways. These can be divided into 5 low-paying, 3 mid-tier and 2 higher paying symbols. As always, let's start at the bottom end of the line. As low-tier symbols you will find the so-called Royal symbols, which are displayed by the classic winning symbols from 10 to A. And to make it short, they all share the same payout of 0.7 times yourbet size per full way.
The mid-paying symbols are designed around the general Mayan theme of the game. Since we are no experts of the Mayan culture, we might interpret some symbols wrong, so please excuse us. So first up we have the chameleon, paying you 2 times your bet size per full way. Next up is the eagle-looking totem, coming in at 2.2 times your bet size. And the last mid-tier symbol will be the snake's mouth, clocking in at 2.5 times your bet size per full way.
Now on to the high paying symbols. These are occupied by two members of the Mayan people. First is the blue-eyed woman with the lion's headdress, paying 3 times your bet size. And the other high paying symbol is the green-eyed man with the snake's headdress, netting you 4 times your bet size per full way.
Mayan Stackways: Special Symbols and Stats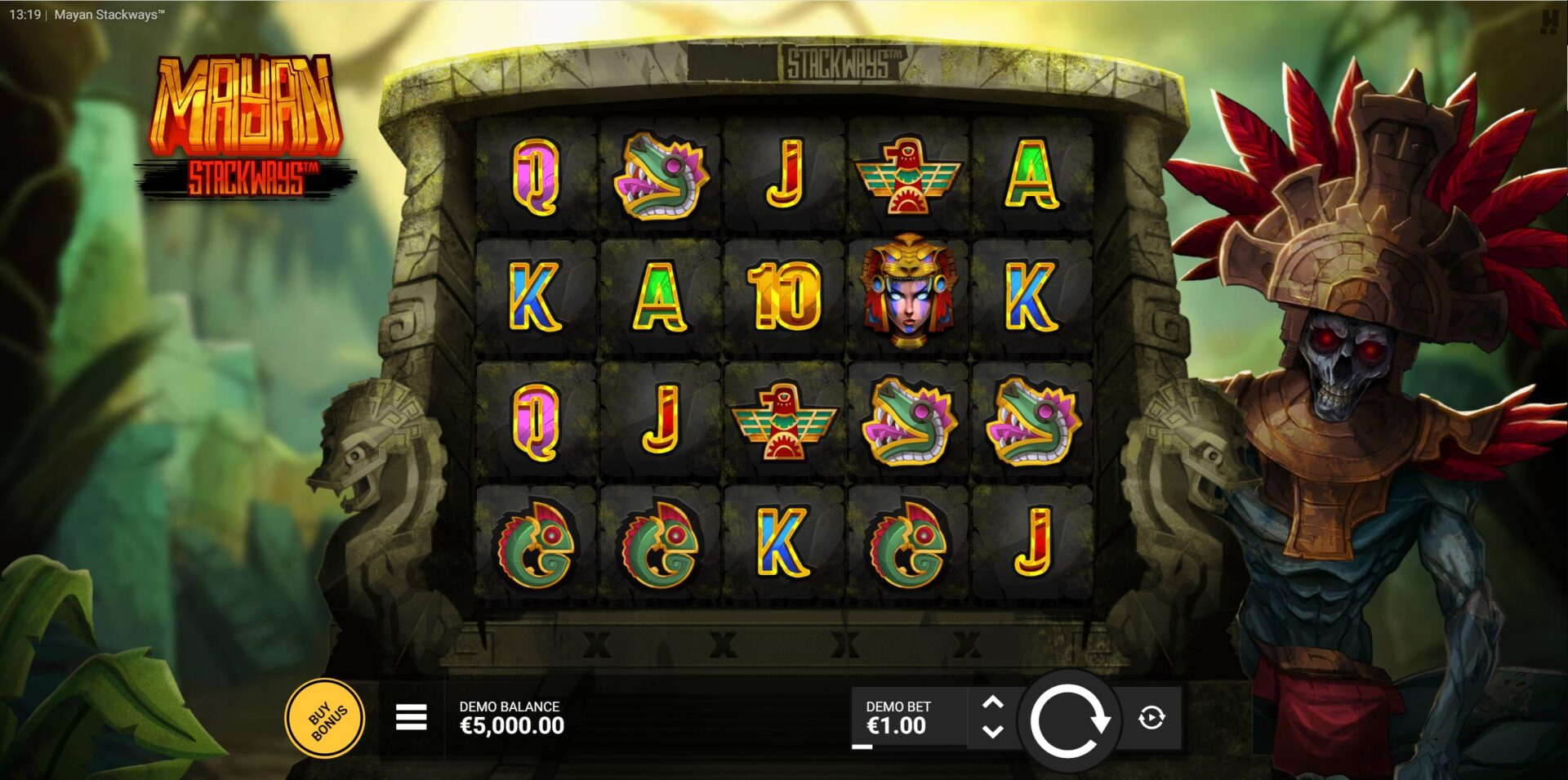 The might of the Maya alone is not enough to help you get big wins. So Mayan Stackways also has some special symbols to help you achieve that goal.
Scatter Symbol
Scatter symbols are shown by a golden skull and the label "FS". Landing 3 or more of these in the same spin will grant you access to one of the two features. Which features there are and what exactly they do will be covered in our Feature Overview section later on.
Stackways Symbol
Now we will get to the bottom of the Stackways technology. Because, you see, Stackways cannot appear naturally, so they are not compareable to something like the Megaways technology. Without Stackways, reels will always have 4 symbols. In order to trigger the Stackways mechanic, you will need to land the Stackways symbol. This one is simply shown with the label "Stackways" and a number on it. The number indicates how many stacks you will get, these range from 2 to 10. But this is not the only way the mechanic works, we will go over it in detail later.
Feature Exclusive Symbols
There are a few more special symbols we need to talk about, but these only ever play a role in one of the two features. So we will go over them as soon as we come to their respective features.
Stats
Mayan Stackways comes with an RTP of 96.23%. The max win potential is capped at 10,000 times your bet size, which is pretty standard for Hacksaw Gaming releases. Your chances of winning one of those, however, are not even that big. On average you will get a max win once every 3,000,000 spins. Definitely not the worst chances, but also obviously not the greatest. Mayan Stackways has been rated with a 4 out of 5 volatility by Hacksaw Gaming themselves, making the game rather volatile.
Mayan Stackways: Feature Overview

Let's see what the old Maya have in store for players. There are a few interesting features to talk about, let's get to it.
Stackways Mechanic
We have talked about how to trigger the Stackways mechanic, but how exactly does it work? First of all, you can land up to 5 Stackways symbols, one on each reel. If a Stackways symbol lands, it will show a number, which indicates the stack size. What then happens, is, that the game will pick the symbol with the longest possible winning way. So for example, if you have a 4OAK of 10's and a 5OAK of A's, the Stackways symbol will pick the A's. It will then transform the reel to only hold the specified amount of symbols. If more than one symbol qualifies for the longest winning way, the symbol is chosen at random. We actually don't know what happens on a full screen, but since you would easily reach the max win cap, it doesn't really matter.
Stack Spins
Landing 3 scatter symbols at the same time in the base game will allow you to enter the Stack Spins. You will then be granted 10 Free Spins. In its core, the Stack Spins work exactly like the base game, but there is one major twist. This is where our first feature exclusive special symbol comes in play, the Reel Activator. This symbol is simply portrayed by a red square with a big "S" on it. Landing this symbol on any reel, will let the respective reel light up in red. This means, that in each spin, there's a guarantee the lid up reel will land a Stackways symbol. But of course, Stackways symbol can also land naturally.
This feature can also be retriggered. 3 scatter symbols will grant you 4 additional Free Spins. These can be extremely valuable, especially when you have already landed a few Reel Activator symbols. The feature will end once you have used all of your free spins or the max win potential of 10,000 times your bet size has been reached.
Mayan Gold
The Mayan Gold feature is the second available major feature. This one is triggered by landing at least 4 scatter symbols in the same spin. In this feature, the game will change a bit. The reels will now have a counter above them. To increase this counter, you will need to land coins. But the coins are not the only new symbol here, there are 2 other symbols that will help you in this feature. Here's a list of all of the new symbols:
Bronze Coin – Holds a value of 1, 2, 3, 4 or 5
Silver Coin – Holds a value of 10, 15 or 20
Gold Coin – Holds a value of 25, 50, 100, 150, 200, 250, 500 or 1,000
Multiplier – Multipliers the value of the its respective reel by 2, 3, 4 or 5 times
Collector – Collects all locked reels and unlocks them again
We maybe need to clarify the role of the collector here. You see, even in the Mayan Gold feature, there are Stackways symbols. Once they land, they will, as always, show a number. Then they will take the current value of the reel and put coins equal to its number on the reel. The coins will have the same value than the reel. If this happens, the reel will be locked, no more coins can land there. But with the collector you will be able to unlock that reel again. The collector will store the total value of all locked reels in a vault. Once that happened, the reels are free to spin again.
The feature will end once all reels are locked by Stackways or the max win cap of 10,000 times your bet size has been reached.
A Golden Opportunity
The Golden Opportunity is a feature that is very rare and only achievable in the base game. If you manage to land 5 scatters in the same spin, you will also be granted access to the Mayan Gold feature. But the reels will not start with a value of 1. Instead, all reels will start with a value of 50. This will guarantee you a win of at least 500 times your bet size.
Bonus Buy Options
Many modern Hacksaw Gaming releases come with a variety of feature and bonus buy options. So does Mayan Stackways. In this game you will be able to choose from 4 different options to buy. Here's an overview over all of the different options:
| | | | |
| --- | --- | --- | --- |
| Name | Price | Feature | RTP |
| Bonushunt | 3x per spin | 5 times increased chance to trigger a bonus | 96.33% |
| Stackways | 40x per spin | Guarantees 2 Stackways symbols in each spin | 96.27% |
| Stack Spins | 110x | Guaranteed entry to the Stack Spins feature | 96.32% |
| Mayan Gold | 200x | Guaranteed entry to the Mayan Gold feature | 96.32% |

Note, that if you buy the Mayan Gold feature, you will not be able to trigger with 5 scatter symbols. Therefore you will never be able to trigger the Golden Opportunity feature when buying. Mayan Stackways is a very volatile game, keep that in mind if you want to buy any bonus. Features often pay little to nothing, so it can be quite expensive. Consider this before buying.
Mayan Stackways: Conclusion
Hacksaw Gaming have successfully introduced their own new game mechanic and technology, the Stackways mechanic. Although it is a rather simple and easy-to-understand mechanic, it is still fascinating to see and allows for a lot of fun and excitement. So are we going to see more of those in the future? Hopefully. However, it might be a bit tricky to implement it in future games, without copying the exact same thing Mayan Stackways has done.
But one thing is for sure, Hacksaw Gaming have proven again that they are full of innovative ideas and that they know how to create a good game. Both the base game and the bonus features are packed with thrilling moments, despite the high volatility of the game.
In the end, all there's left to say, is that Hacksaw Gaming took a widely used theme and made something special out of it. We've had a lot of fun testing the game and we're sure that you will have too.