Olympus Hades Megaways (iSoftBet) Slot Review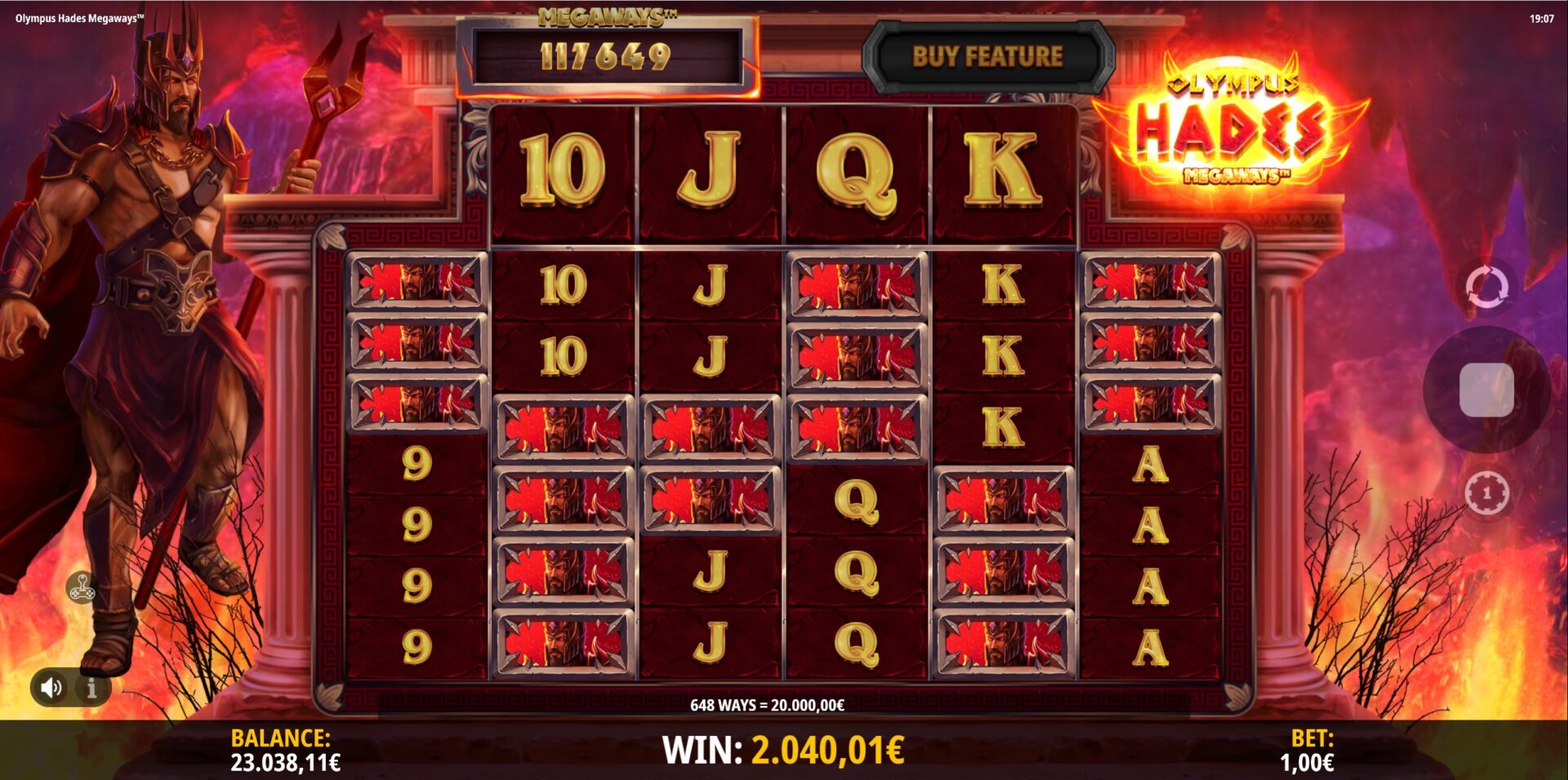 Play
Olympus Hades Megaways

on




























Olympus Hades Megaways: Slot Overview
We're sure everyone of you has heard of the greek mythology before. It is the Mount Olympus where all the greek gods reside, like Zeus, Ares, Poseidon or Hera. But where there's light, there has to be shadow. Where there's life, there has to be death. And where there are gods watching over the living, there has to be a god watching over the death. So iSoftBet introduces us to Olympus Hades Megaways.
Playing Board
In Olympus Hades Megaways you will play on 6 reels with 2 to 7 rows and one extra row. The game uses the Megaways technology, hence the name, where reels can carry a random amount of winning symbols between 2 and 7, allowing for up to 117,649 Megaways. In addition, Olympus Hades Megaways uses the Cascade mechanic, which is pretty much the same as Tumbling Wins. For those of you that are unfamiliar with both terms, it means that symbols, that were part of a winning combination, are destroyed and new ones drop in. Bet sizes range from 0.20€ to 20€ (or equivalent), but can vary depending on where you play.
Winning Symbols
Olympus Hades Megaways features 10 different winning symbols, which is pretty standard for Megaways games. Determining how many low- and high-tier symbols there are isn't even that easy, because their payouts are very similar. So let's say we have 4 lower paying symbols, 4 mid-tier symbols and 2 high-tier premium symbols.
Let's start right off with the low- and mid-tier symbols. These consist of the classic winning symbols from 9 to A. So at first you'll find the 9's, coming in for 0.8 times your bet size per full way, followed very close by the 10's for 0.9 times your bet size. Now, sharing a payout are J's and Q's, both clocking in at 1 time your bet size.
As for the mid-tier symbols, you will find K's and A's among them, sharing a payout as well, with 1.75 times your bet size per full way. Next up are the Amphora and Medusa, both with the same payout of 2 times your bet size.
Now we'll get to the 2 high-tier symbols. First up is the Cerberus, paying you 7.5 times your bet size. And last but not least, with a huge gap, our top symbol will be Hades himself, clocking in at a whooping 50 times your bet size per full way. We must say, these payouts look a bit random, since many of them actually share a payout for full ways, but have differences in smaller chains.
Olympus Hades Megaways: Special Symbols and Stats

Even the lord of the underworld sometimes needs help in order to keep control over the restless souls of the dead. Luckily there are some Special symbols that will help him with this task.
Scatter Symbol
Let's start off with the Scatter symbol. This symbol is represented by the bident of Hades, a two-pronged fork. It also carries the label "Hades". 4 or more of these in the same spin will let you enter the Hades Free Spins. What exactly they do will be covered in our Feature Overview section, along with all of the other features the game holds for us.
Wild Symbol
The Wild symbol is a bit similar looking. It shows a golden coin, holding the bident of Hades and the label "Wild". This symbol will substitute for any winning symbol except Scatter symbols. As far as we know, as it is not specifically stated in the game rules, and our tests didn't show otherwise, Wild symbols cannot appear naturally and have to be added to the game by a specific feature.
Stats
As there are not many Special symbols present in Olympus Hades Megaways, we'll jump right into the stats. And we would love to give you lots of them, unfortunately though iSoftBet don't publish a lot of them. Olympus Hades Megaways comes with a base RTP of 95.95%, which is just under the average of 96%. The max win potential is capped at 10,000 times your bet size. The game was rated with a high volatility by iSoftBet themselves. And that's unfortunately everything we can tell you.
Olympus Hades Megaways: Feature Overview
Now that we've gone through all of the Special symbols, let's see how we can utilize them and how they actually work.
Max Megaways
On any spin, Hades can aid you by giving you the Max Megaways feature, forcing the middle reels to a height of 6 and the outer reels to a height of 7. This will grand you one spin with the maximum number of 117,649 winning ways. Although not specifically stated in the game rules, and according to our tests, this feature can only appear in the base game.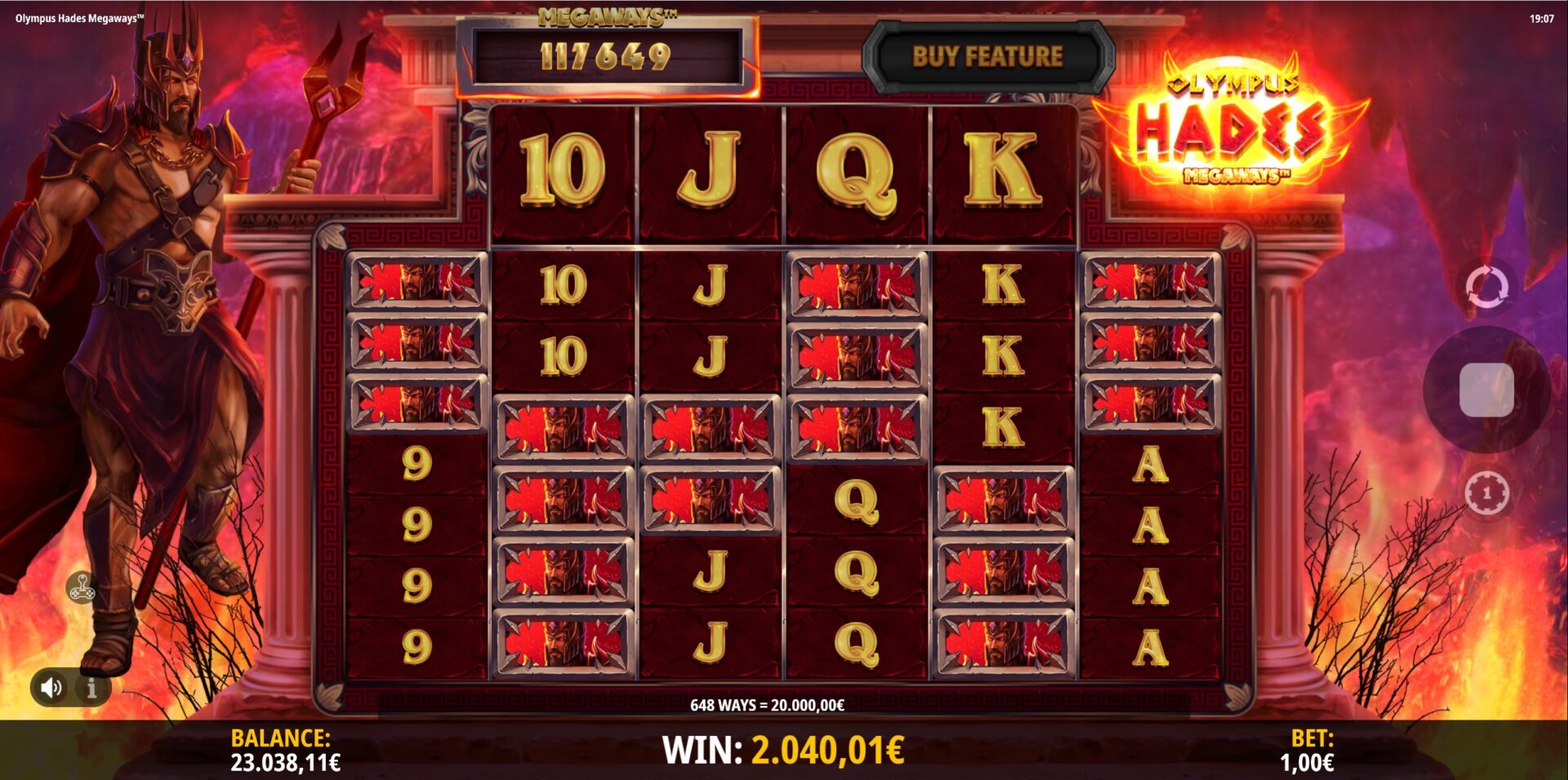 Hades Wild Modifier
This feature will allow you to get Wild symbols on the playing board. On any spin, Hades can swing his bident, adding 1 to 4 Wild symbols to the extra row. If  that happens, you are guaranteed to get a win in this spin.
Hades Free Spins
4 or more Scatter symbols will allow you entrance to the Hades Free Spins. Depending on if you triggered with 4, 5 or 6 Scatters, you will be granted 12, 17 or 22 free spins respectively. A few interesting things change compared to the base game. First of all, the most obvious thing, you will now have a multiplier on the left side. This multiplier will increase by +1 for every Cascade/Tumbling Win. Furthermore, the multiplier will be kept and will not reset in between spins.

But there is another addition. Do you remember the Hades Wild Modifier? There is a very similar feature in the Free Spins called Hades Walking Wilds. On any spin, Hades can add a burning patch on the rightmost position of the extra row. This patch is guaranteed to be a Wild symbol at the beginning of the coming spin. If you manage to get a winning combination with this Wild symbol, the burning patch cannot be a Wild symbol again in this spin. After a spin ends and the next one starts, the Walking Wild will move one position to the left, until it reaches the left end of the extra row. Hades can put multiple Walking Wilds on the extra row, up to a total of four.
Retriggering is also possible, if you manage to land 3 or 4 Hades Scatter symbols, you will be granted 5 or 10 additional free spins respectively. The feature will end once you have run out of Free Spins or the max win potential of 10,000 times your bet size has been reached
Bonus Buy Option
As with many modern games, iSoftBet have implemented a bonus buy option in Olympus Hades Megaways. For a fee of 75 times your bet size you can skip ahead and instantly trigger a bonus. This bonus will of course always be triggered with at least 4 Scatter symbols, with the chance of triggering with more of them for more spins. Interestingly, the bonus buy option comes with an RTP of 96.43%, which is almost half a percentage point over the base RTP, which is actually not that small of a difference.

Olympus Hades Megaways: Conclusion
Is Olympus Hades Megaways finally the innovation that will boost iSoftBet's popularity to the maximum? Unfortunately not. Olympus Hades Megaways feels like many other Megaways games from iSoftBet, with features that we've seen a million times before and probably still see in the future.
But that doesn't mean that Olympus Hades Megaways is a bad game, not in the slightest. The gameplay is a lot of fun, just like with most of the other Megaways games of iSoftBet. The Hades Wild Modifier allows for a lot of exciting moments in the base game, as well as the Hades Walking Wilds do in the bonus game. The only thing that bothers us is that certain things are not really stated in the game rules, like the existence of Max Megaways in the bonus game. Only time will tell.
All in all, Olympus Hades Megaways is a good game. Not great, but good. It definitely has the potential for lots of excitement and thrill, and who knows what iSoftBet will do with their Olympus series. It was fun testing the game for you and we hope that you will have lots of fun too. This concludes our online slot review.