Moon Princess Trinity (Play'n Go) Slot Review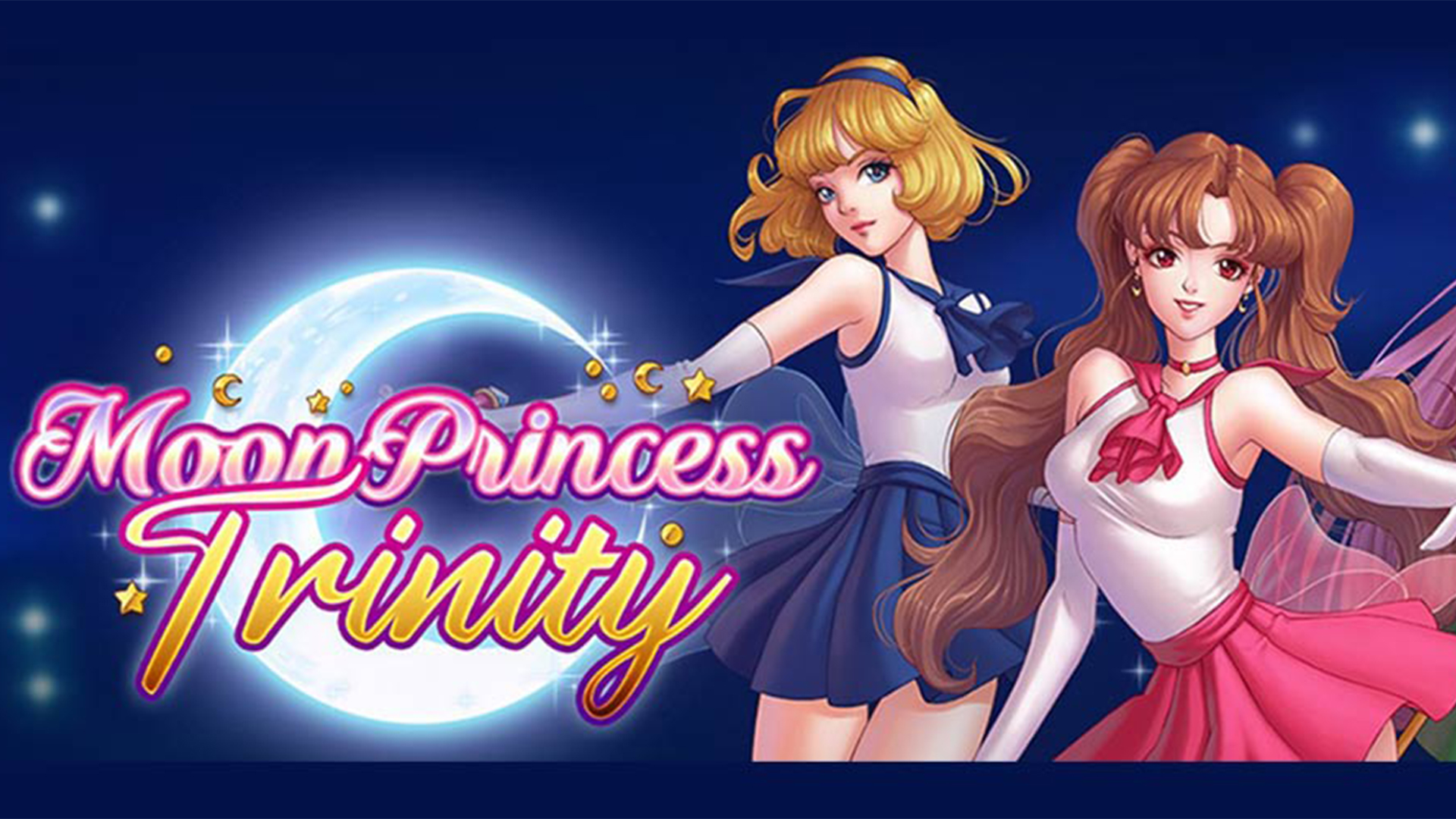 Play
Moon Princess Trinity

on















































Moon Princess Trinity: Slot Overview
As you might know, not all online slot games are innovative. Sometimes games are adapted with another feature, like Book of Ra Fixed, which is pretty much the same like the original but with an additional feature. Play'n Go took this one a step further and designed an online slot game around a mechanic of one of their previous games. So in this online slot review we will be going over Moon Princess Trinity.
Moon Princess Trinity is played on a 5×5 grid and uses a sort of Cluster Pay. To get wins, you need to connect 3 to 5 of the same symbol horizontally or vertically. Bet sizes range from 0.10€ to 100€ (or equivalent), but may vary depending on where you play.
For the winning symbols, Play'n Go didn't change anything compared to the three previous iterations of Moon Princess. There are still 7 winning symbols in total, with 4 on the lower end and 3 on the higher end. The symbols on the lower end are the green Crest, the blue Star, the red Heart and the golden Bell, all clocking in at 1-time your bet size for 5 in a row.
On the higher end you will find the 3 Moon Princesses Love (red), Star (blue) and Storm (green). These can be connected in any combination for 2-times your bet size for 5 in a row. But if you manage to get a matching 5 in a row, you will be awarded with 3-times your bet size. The funny thing is, the Princesses are not our top symbols though.
Moon Princess Trinity: Special Symbols and Stats

Moon Princess Trinity only features one single Special symbol. But this symbol is crucial for big wins.
The only Special symbol in Moon Princess Trinity is the Wild symbol. This symbol is portrayed by a moon with a golden border. Wild symbols substitute for any winning symbol and cannot appear naturally. Instead, you will get a Wild symbol whenever you land a win with any symbol. This is already a change to previous iterations of Moon Princess, where you only can get Wild symbols when you connect 3 in a row. Wild symbols also have their own payout. They will net you 5-times your bet size for 5 in a row, making it our top symbol.
Determining wins in Moon Princess Trinity can be a bit hard, thanks to the Wild symbols. Sometimes you will find yourself wondering why under certain circumstances a win is counted as 2 or 3 wins, or why there are more Wild symbols than you would have expected. This is because Wild symbols will substitute for any winning symbol. So for example, let's say you have a row of Love, 3 Wilds and Storm. The game will count 4 of Love, 3 of Wilds, 4 of Storm and 5 of any Princess, meaning that you had 4 wins with this row alone. And as any win will leave you with 1 Wild symbol, and 2 are consumed with each win, you will end up with 3 Wild symbols. Don't worry, the longer you watch the game, the easier you will recognize it.
Let's look at the stats of Moon Princess Trinity. Unfortunately, we can't give you much information, since Play'n Go doesn't put out any. The game comes with a base RTP of 96.20%. The game is rated with a High volatility level by Play'n Go themselves, which we agree with. And sadly, the last stat we can give you, is that Moon Princess Trinity has a max win potential of 4,000-times your bet size.
Moon Princess Trinity: Feature Overview

Of course, Moon Princess Trinity comes with a load of features that spice up the game. Let's take a quick look at them.
Girl Power is the name for the random feature of Moon Princess Trinity. On any spin, the active princess can intervene and grant you her power. The active princess can always be seen on the right and the background changes according to her colour. The rotation of the princesses is set, you will always get Love → Star → Storm. The only condition is, that you did not get any win in this spin. Here are the princesses and their features:
| | |
| --- | --- |
| Princess | Feature |
| Love | Converts one set of symbols to another, e.g. blue Stars to Storm |
| Star | Places 1 to 2 Wild symbols on random positions on the grid |
| Storm | Removes two sets of symbols, prefers lower tier symbols |
On the grid are enlightened grid positions. These positions are vital, as they will increase your multiplier. In order to collect these multipliers, you will need to have a win with a symbol that is present in this grid position. Each of these positions will increase your multiplier by +1. Multipliers are uncapped and will reset after every spin. This is a huge contrast to previous iterations of Moon Princess, where you get a multiplier everytime you have a win.
Now we come to the name-giving feature of Moon Princess Trinity. On the lower left side of the playing screen you will see a meter. This meter is divided into 6 sections. Each of these sections has to be filled in order to trigger the Trinity feature. To fill up this meter, you need wins with Princesses. Any 3 princesses will fill 1 section, any 4 princesses will fill 2 sections and any 5 princesses will fill 3 sections. So let's go back to our example of Love, 3 Wilds and Storm. As the game counts Wilds as substituting any symbol, you would get 4 of Love, 4 of Storm and 5 of any princess, meaning you would fill up 7 sections theoretically, thus definitely triggering the Trinity feature.
In the Trinity feature, you will be granted 1 spin. In this spin, every Princess will help you with her power. The order in which they appear is always Love → Star → Storm. They will only ever start their features when no win is possible anymore. So it could definitely happen that you clear the grid without their help. If you manage to clear the grid, with the exception of Wild symbols, you will be granted another Trinity spin. Additionally, multipliers are not reset between Trinity spins.

Clearing the grid outside of the Trinity feature will not grant you any Trinity spins, but will net you 50-times your bet size as a reward.
Moon Princess Trinity: Conclusion
Play'n Go did something very few online slot providers have done so far. They took one of their most popular games, along with one of their most iconic features, and built a game around this feature. Together with the usual charme of Moon Princess, this idea is bound to come to fruition.
The slight change of game mechanics compared to the original Moon Princess game, like getting Wild symbols on any win, was a great idea. Maybe it was also necessary to implement some changes, so it wouldn't be too frustrating to get almost nothing out of the Trinity feature. Players who know the original Trinity feature maybe know what we mean.
The changes to the multiplier are a pity, as it depends on the position of the symbols to get your multiplier as high as possible. But in the end, it makes sense, because otherwise the multiplier would just skyrocket into infinity and beyond.
All in all, Play'n Go did a great job with Moon Princess Trinity. They successfully managed to build a slot around the most iconic feature of Moon Princess, without losing the ambience and charme of the original game. We had lots of fun testing it and we're sure that you will have lots of fun too if you already liked the original. This concludes our slot review about Moon Princess Trinity.