Mega Heist (Relax Gaming) Slot Review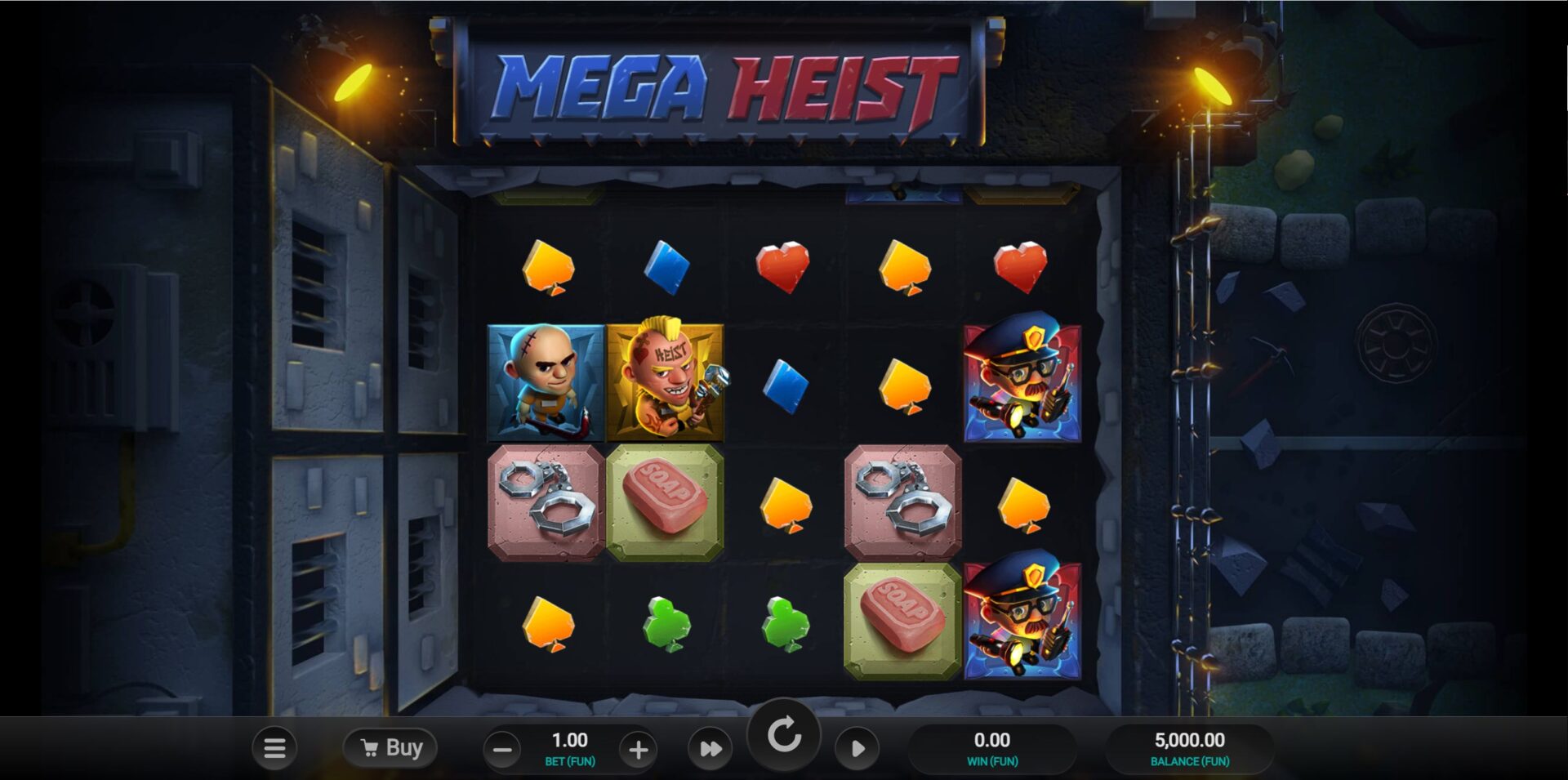 Play
Mega Heist

on























































Mega Heist: Slot Overview
Let's imagine, you are sentenced to life and you're doomed to spend the rest of your time behind bars. What's the first thing that comes to your mind should you ever be free again? Changing your life? Or maybe start a complete new one? Nah, you will rob a bank of course. At least that's what Relax Gaming think when they introduce us to Mega Heist.
Playing Board
Mega Heist is played on 5 reels with 4 rows. To determine wins, the games uses 178 Connected Ways/Lines. What this means is, that symbols need to be horizontally or diagonally adjacent on following reels to be counted as connected. Bet sizes range from 0.10€ to 50€ (or equivalent), but may vary depending on where you play.
Winning Symbols
Mega Heist features 11 more or less unique winning symbols. These are divided into 4 lower paying, 3 mid-paying and 4 higher paying symbols. Let's start off by taking a look at the low-paying symbols. And this is actually done pretty fast, on the lower end you will find card suits, namely clubs, spades, hearts and diamonds, all of them clocking in for 2 times your bet size per full connected way. Nothing too fancy here.
For the mid-paying symbols you will find more unique winning symbols that fit the theme. But these will also be done pretty fast, since they too share a payout. So for the mid-tier symbols we have the soap bar, the dice and the handcuffs, all of them paying you 3 times your bet size per full connected way.
Let's head to the final winning symbols, the higher tier. Do you want to take a guess regarding their payouts? Don't worry, they don't all share the same. But you will find the three robbers, the blue, green and yellow one. These will net you 6 times your bet size. But there's one more winning symbol left, and that is the policeman, netting you 20 times your bet size for a full connected way. So, to summarize, we have 4 different payouts for 11 winning symbols.
Mega Heist: Special Symbols and Stats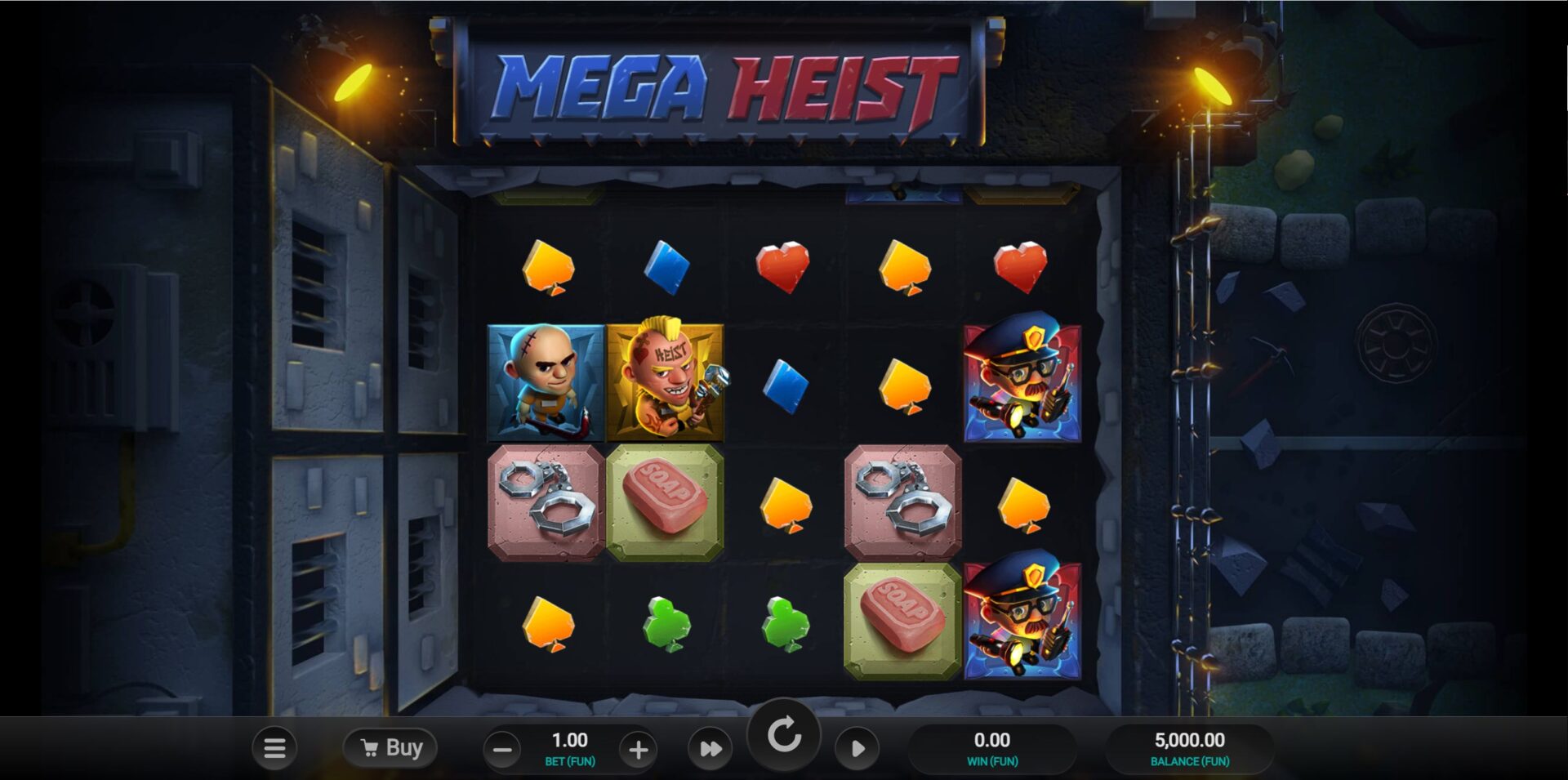 To make life in prison more joyful and eventually help escaping it, there are a few special symbols that will help you with this task.
Scatter symbol
First we'll take a look at the scatter symbol. This one is portrayed rather simple with an emergency light and the label "BONUS". If you manage to land 3 or more of them in the same spin, you will be able to start your Mega Heist. But, there is also a feature with 2 scatter symbols. Don't worry, all will be explained later on in our Feature Overview section of this online slot review.
Wild Symbol
Wild symbols will make life in prison a lot easier, at least in Mega Heist. These symbols are portrayed by a big "W" with sunglasses. Don't ask. Wild symbols will substitute for any winning symbol except scatter symbols. Other than that, they're not that special.
Feature Exclusive Symbols
There are actually a lot more special symbols than the ones we have just mentioned, but they are only ever relevant in specific features. We will cover them as soon as we get to the respective feature in our Feature Overview.
Stats
The base RTP of Mega Heist is set to 96.19%. The maximum win you can achieve is capped at 16,591 times your bet size. So it should come as no surprise that the game was rated with a 5 out of 5 volatility by Relax Gaming themselves, making Mega Heist a highly volatile slot. The game comes with a hit frequency of 20.07%, meaning that, on average, you will get a win round about once every 5 spins.
Mega Heist: Feature Overview

Now that we've told you about special symbols, let's take a look at more exciting things, like the features the game has to offer.
Escape Bonus
If you manage to land exactly 2 scatters in one spin, the Escape bonus is triggered. The playing board will change, so that you will get an extra row at the top. Up to 4 robbers will appear on the first reel, while the last reel is lid up. Robbers will carry either a money prize or a scatter symbol. Unfortunately we have no information about how high the money prizes can be. In order to collect any prize, the robbers need to make their way to the last reel. Once they reach it, the prize is yours. In every round, robbers will move one reel to the right. But beware, policemen will appear on the upper row. 1 to 4 policemen will appear every round. If they appear on the same reel as a robber, they will bust one of them, randomly selected. Getting at least one scatter symbol to safety will allow you to enter the Mega Heist bonus. The feature will end once every robber has been busted or has made their way to the end.
Mega Heist Bonus
Landing 3 or more scatter symbols in a single spin, or getting a scatter symbol through the Escape bonus, will allow you to enter the Mega Heist bonus. Depending on how many scatters you have triggered with, you will get 10, 15 or 30 robbers. Before policemen will act, all robbers will be sent onto the grid. If a robber manages to escape without getting busted, they will add another robber to your counter. This bonus, in its core, works just like the Escape bonus, but with a twist. There are 3 heist targets with a set amount of money that can be stolen. Once this money reaches 0, you will be able to go to the next target. Additionally, you will be able to benefit from Power-Ups. These special symbols will help you on your mission. Power-Ups can appear randomly on any free position during the bonus. Here's a list of all Power-Ups:
Multiplier – Multiplies robber's prize between 2 times and 10 times
Added Robbers – If the robber makes it through, 1 to 5 robbers are added to the counter
Disguise – Robber becomes disguised, meaning they can't be busted until they reach their goal
Signal Distractor – Police will not appear in this round
Motorcycle – Takes up to 2 robbers from its row to the end
Bus – Takes up to 8 robbers from its and adjacent rows to the end
Which Power-Ups you can get depends on your stage. While in the first stage you will only have 4 Power-Ups available, you will already unlock all of them in the second stage. The feature will end once every robber has been busted or the max win potential of 16,591 times your bet size has been reached.
Bonus Buy Feature
Just like many other Relax Gaming slot games, Mega Heist comes with its own bonus buy option. If you have no intentions on waiting until a bonus triggers, you can pay 150 times your current bet size to trigger a bonus yourself. This will trigger the Mega Heist feature with 3, 4 or 5 scatter symbols. The bonus buy option comes with an RTP of 96.50%. However, we advise you to be careful when buying bonuses. Mega Heist is a very volatile game, meaning that many bonuses can pay little to nothing. Be aware of this before buying bonuses.

Mega Heist: Conclusion
It is always nice to see that Relax Gaming come up with great new ideas to spice up the world of online slot games. Sure, something like walking money prizes, in any way, shape or form, might not be the newest or biggest invention of all time. However, it is very nice to see creative slot games from time to time.
But what we don't really like about Mega Heist is the base game. There is little to nothing happening, except for the 2 scatter Escape bonus once in a while. But other than that, you're really just waiting for something to happen. And even though the game uses connected ways, it feels rather difficult to ever get a big win in the base game.
In the end, Mega Heist is a beautifully designed game, that lacks a lot of fun in the base game, but makes it better with thrill and excitement once you have entered the feature games.