Fly Cats Dream Drop (Relax Gaming) Slot Review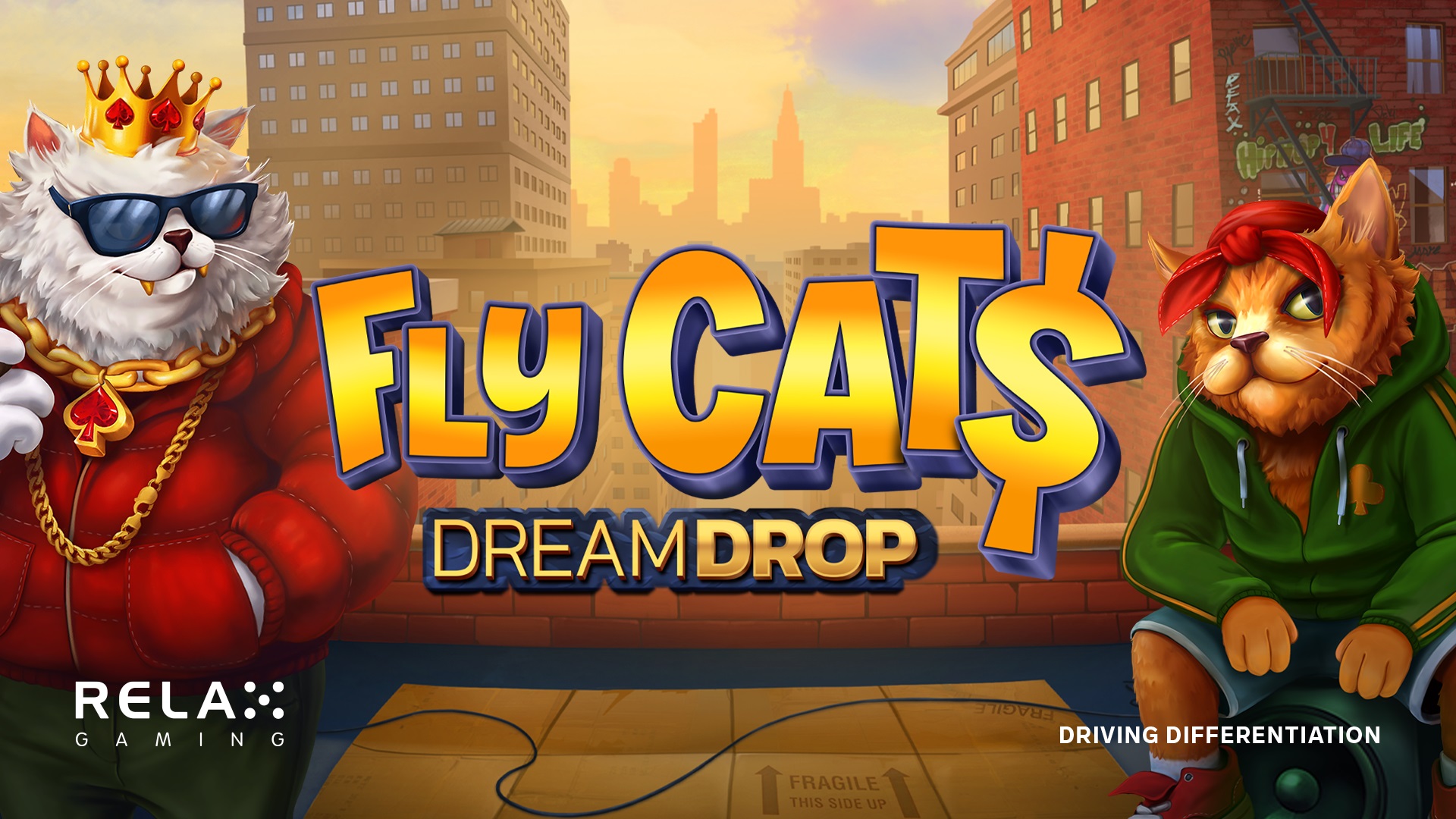 Play
Fly Cats Dream Drop

on






















































Fly Cat$ Dream Drop: Slot Overview
Does anyone of you remember the game Top Dawg$ by Relax Gaming? This was a game where a bunch of dogs were dressed up like they were about have a battle rap contest. And to be honest, we wouldn't have thought that we would ever have to think about them again. But here we are, this time not with dogs though, but rather cats. Relax Gaming introduces us to Fly Cat$ Dream Drop.
Playing Board
Fly Cat$ Dream Drop is a 5-reel slot with 4 rows and 40 set paylines. The game received the highest possible volatility rating by its creators at Relax Gaming, getting a 5 out of 5 on the volatility scale. Bet sizes range from 0.20€ to 100€ (or equivalent), but may vary depending on where you play.
Winning Symbols
In Fly Cat$ Dream Drop you will find 8 different winning symbols, which can be divided into 4 low paying and 4 higher paying symbols. Let's take a look at the lower winning symbols first. Here you will find the classic card suits, namely: the blue diamonds, the green hearts, the yellow clubs and the red spades. All of these will clock in at 1 time your bet size for a full winning line of these.
Next up are the higher paying symbols. These are represented by cats, who would have thought? As we are no experts on this topic, we will just refer to their background colour. Although they actually also where their respective card suit we've just talked about. But anyway, let's get into it. So first will be the cat on the blue background, clocking in at 5 times your bet size per full line. Next up are the cat on the green and yellow/orange background. These will both pay you 7.5 times your bet size. And last but not least will be the king cat on a red background, wearing a crown. This on will net you 15 times your bet size per full line. And this already concludes our winning symbols.
Fly Cat$ Dream Drop: Special Symbols and Stats

Fly Cat$ Dream Drop offers a few special symbols that will help you achieve your goal of winning big.
Scatter Symbol
The scatter symbol is one of the main special symbols. This one will be represented by a goldfish in a water glass, wearinga hat, a golden necklace and the label "BONUS". Landing 3 or more of these in the same spin will grant you access to the free spins feature. We will cover this feature later on in detail in our Feature Overview section of this online slot review.
Wild Symbol
The wild symbol is simply shown by a big ol' "W". Wild symbols will substitute for any winning symbol except scatter symbols. They also have a payout. With 15 times your bet size for a full line of these, it will pay you exactly the same like the top symbol cat. Wilds will play a very important role in the free spins feature, which will be covered later on.
Mystery Symbols
Mystery Symbols can land at any time and on any reel during the base game. These are portrayed by speakers with a big green question mark on them. Landing any amount of these will let you enter the mystery respins.
Stats
Fly Cat$ Dream Drop will be played on a base RTP of 94.00%. Although this sounds low, this is explained by the Dream Drop feature, which we will take a look at soon. The maximum win potential is capped at 5,000 times your bet size, Dream Drop not included. The average hit frequency is set to 22.98%, which means that you will get a win round about every 4th to 5th spin.
Fly Cat$ Dream Drop: Feature Overview

There are a lot of features we need to take a look at, so let's waste no time and dive right into the action.
Dream Drop
Let's focus on the prominent feature first, the name giving Dream Drop feature. For those of you unfamiliar with Dream Drop, this is the provider-wide progressive jackpot of Relax Gaming. It is one of, if not the biggest competitor of progressive jackpots like the Mega Moolah or WOWPot jackpot known from Games Global (former Microgaming). With every spin you make, a portion of your bet will flow right into the jackpot pool.  There are five jackpots that can be won: Rapid, Midi, Maxi, Major and Mega. The latter two have a limit, which means that they will pay out before they reach the limit. These limits are 50,000€ (or equivalent) for Major and 10,000,000€ for Mega. As you can see, these are big prize pools.
But how do you actually win these jackpots? This varies from game to game. In the case of Fly Cat$ Dream Drop, you will have the chance in any base game spin. Before any spin, a hoop can appear on your screen. A basketball is then thrown. If the basketball lands inside the hoop, you will enter the jackpot feature and are guaranteed to win one of the available jackpots. If it doesn't land inside, well, tough luck.
In the jackpot feature you will be presented with 15 golden spray cans. Clicking on them will reveal one of the five available jackpots. In order to win one of the jackpots, you will need to reveal 3 of the same jackpots. Once you've done that, the feature is over and you will be granted the win. Just like with other progressive jackpots, having a higher bet size will more likely trigger the feature.
Mystery Respins
Just like we mentioned earlier, landing any amount of mystery symbols will result in the trigger of the mystery respins. During this feature, all symbols on the reels, except for mystery symbols, will be removed. Now all reels will be spun anew. Any existing and future mystery symbols will be kept throughout the feature. The reels will keep spinning as long as at least one mystery symbol has landed. If no mystery symbol has landed, the reels will stop and the mystery symbols will reveal one of 8 winning symbols at random. The symbols will then pay out their wins on any winning line they are on. As we mentioned earlier, this feature can only ever happen in the base game.
Free Spins Feature

Landing 3 or more scatter symbols in the same spin will result in the trigger of the free spins feature. You will be granted 6, 8 or 10 free spins for 3, 4 or 5 scatters respectively. Having more spins in this feature can be very crucial. Because in this feature, any wild symbol that will land, will become sticky. Sticky meaning that they won't leave their positions they landed on until the feature is over. So it goes without saying that you want as many wild symbols as you can possibly get, and therefore of course have as many spins as you can.
But that's not the only mechanic that comes into play here. You can also land scatter symbols in this feature, and this will be vital as well. Any scatter symbol that lands during the feature, will grant you 1 additional free spin. That's not everything though. Every scatter symbol will also increase the multiplier on any wild symbol that has already landed by +1, up to a maximum of x3. The feature will end once you have run out of free spins or the max win potential of 5,000 times your bet size has been reached.
Fly Cat$ Dream Drop: Conclusion
Fly Cat$ Dream Drop is a generally well designed slot game with lots of humoristic approaches. But overall it feels like a downgrade to its spiritual predecessor Top Dawg$. While its brother in spirit had a max win potential of 25,000 times your bet size, Fly Cat$ Dream Drop only has a fifth of that. But with that being said, Top Dawg$ felt way harder and unforgiving than its successor. And given that Fly Cat$ Dream Drop is played on a lower RTP thanks to the jackpot feature, it is probably the right approach from Relax Gaming.
All in all, Fly Cat$ Dream Drop is a fun slot to play, no doubt about that. It takes everything that made its predecessor unique and wraps it in a fresh design. Combine that with one of the most played progressive jackpots and you will find yourself having created a pleasant and fun experience for lots of players.