Disturbed (Nolimit City) Slot Review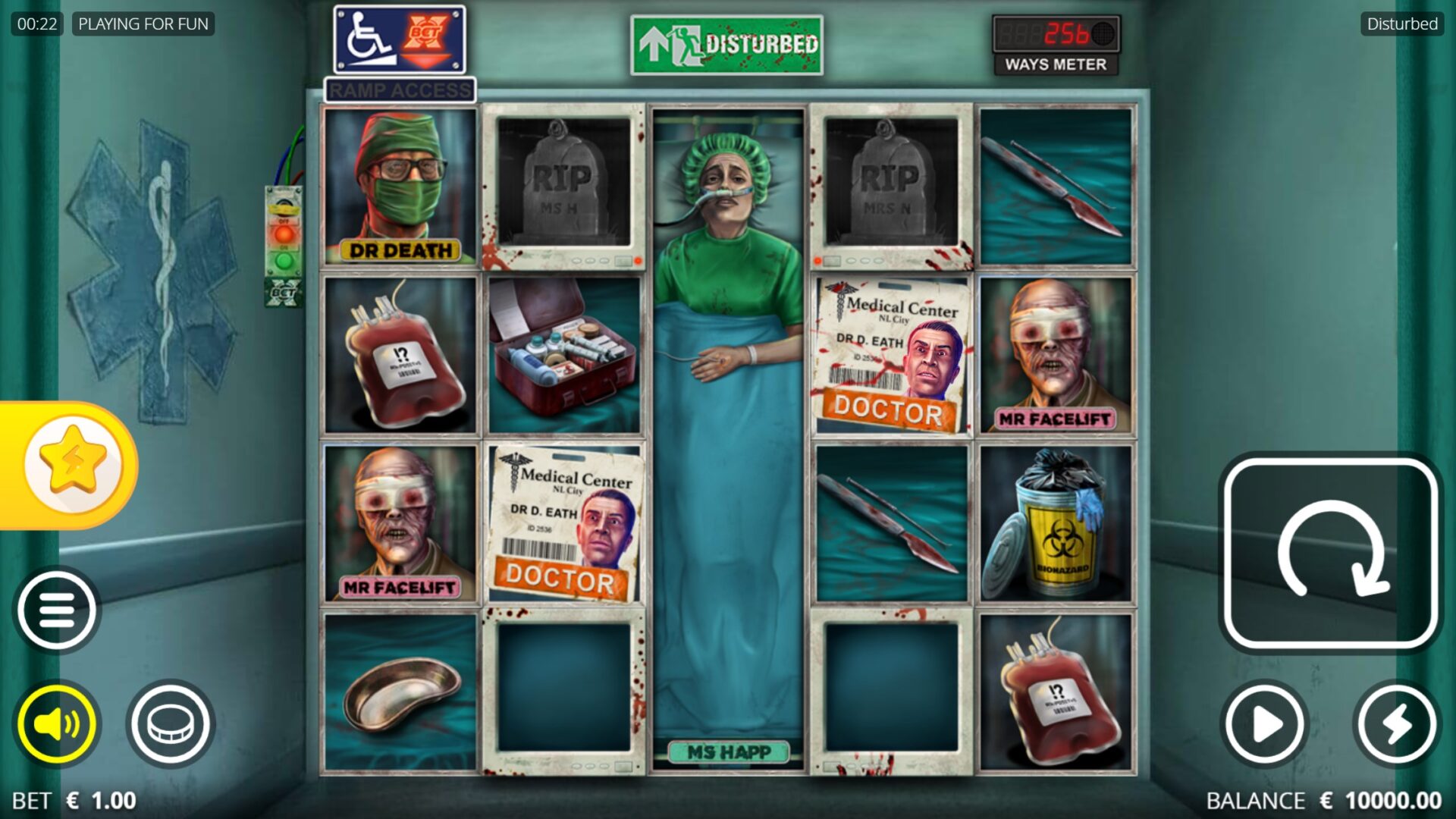 Play
Disturbed

on




















































Disturbed: Slot Overview
By now we know that NoLimit City have kind of developed a reputation of designing online slot games that don't feature the usual theme, something like the old Egypt or Greek gods for example. We have seen NoLimit City tackling themes like asylums in Mental, mass murderers in Serial or the threats of being hitchhikers in Kiss My Chainsaw. But now they are once again going for a rather unconventional theme. Get ready to visit the doctor in Disturbed.
Playing Board
Disturbed is played on 5-reels with a 4-2-4-2-4 layout. To determine wins, the game uses winning ways. For those of you unfamiliar with them: with winning ways you will need at least 3 of the same symbol on adjacent reels from left to right. The position of the symbols does not matter, as oppose to paylines. Bet sizes range from 0.20€ to 100€ (or equivalent), these can vary though, depending on where you play.
Winning Symbols
Disturbed features 10 unique winning symbols, of which some are indeed a bit disturbing. You will find 5 lower paying, 2 mid-tier and 3 high-paying symbols. As always, we will start off by showing you the low paying symbols. And these are done rather quickly, because they all share the same payout. So, as low-tier symbols you will find the stethoscope, scalpel, drill, vomit bowl and the med-kit, all paying you 2 times your bet size per full way.
Let's go on to the mid-tier symbols. These are already a bit more macabre. First you'll find the blood bag, clocking in at 2.5 times your bet size. Next up is the trash can with a biohazard lable. This one will pay you 3 times your bet size per full way. And this already concludes the mid-tier section.
On the higher end of the line are 3 characters. First up is Ms. Happ, who seems to be the poor patient at this hospital, paying you 3.5 times your bet size per full way. Next is Mr. Facelift. His name, of course, is a bit ironical when you take a look at him. He is clocking in at 5 times your bet size. And last but not least, our top symbol, will be Dr. Death. Pleasant name, isn't it? He will pay you 10 times your bet size for a full way.
Disturbed: Special Symbols and Stats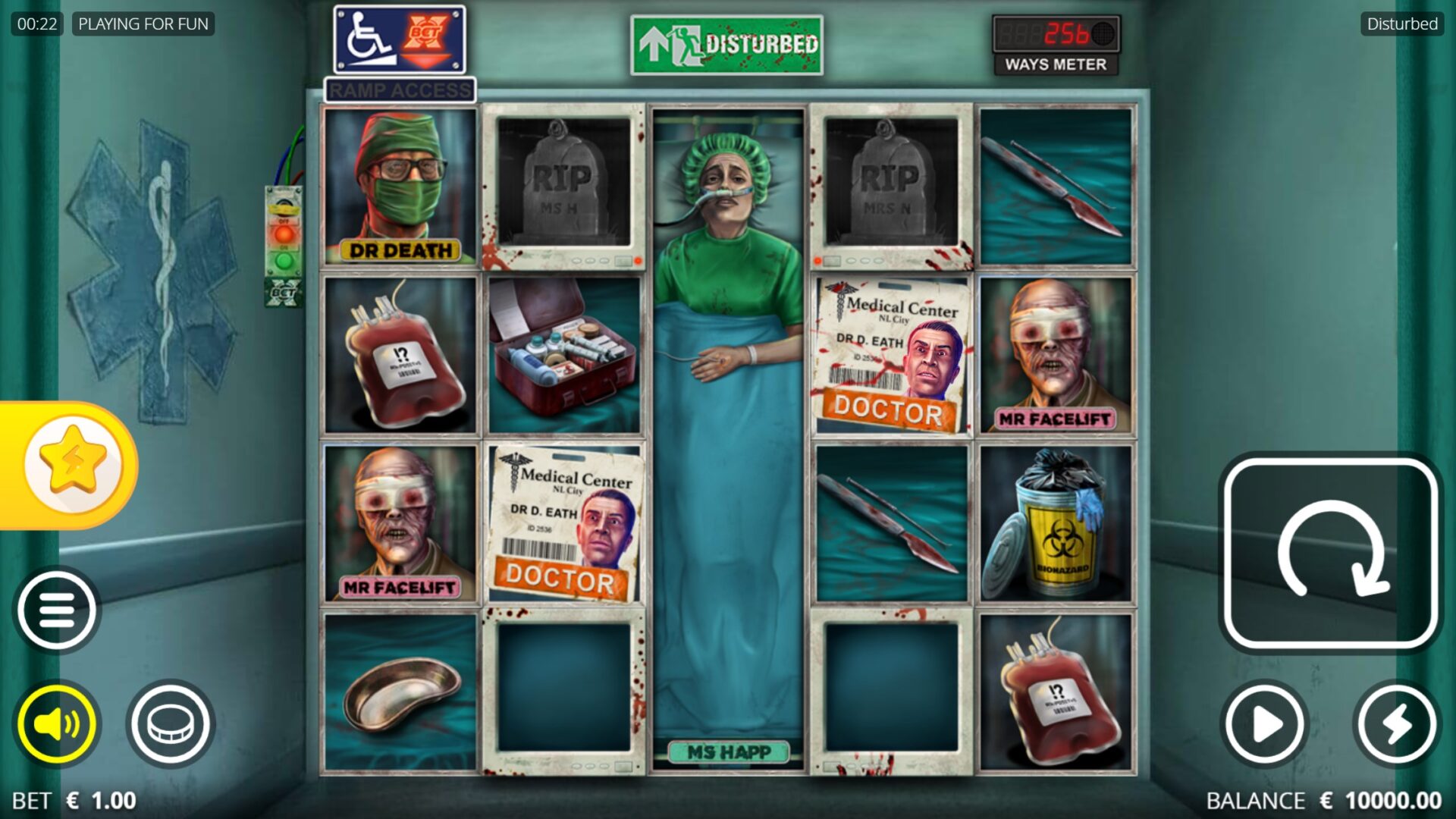 As we all know, NoLimit City games rarely come with just a few special symbols, so we have lots to cover in this section.
Enhancer Cells
Although Enhancer Cells are more of a feature than a special symbol, we felt like we should mention it here. Because, you see, most of the special symbols can only ever appear in the Enhancer Cells. On every spin, up to 4 Enhancer Cells can light up and show a special symbol. All special symbols are shown by x-ray recordings.
Scatter Symbol
Scatter symbols are shown by a doctor's ID card. They can appear on any reel in the base game. Landing 3 or more of these will put you in either the Pre-op Spins or the Annihilation Spins. What exactly these features do and how they are actually triggered will be covered in our Feature Overview section.
xWays
An x-ray of a chest will indicate an xWays symbol. When this lands in the Enhancer Cell, a random symbol on the playing board is chosen, which will receive an xWays treatment. This means that the chosen symbol is split into 2 to 4 of the same symbol, indicated by the number in the top right corner of the symbol.
xSplit
If you see an x-ray of a broken hand in the Enhancer Cell, you will be getting an xSplit. With this special symbol, a random row is split, turning every symbol on it into two of the same. Additionally, the symbol that has been split on reel 3 will turn into Mr. Split. This lovely fella will always act as a wild symbol.
Wild Symbol
Talking about wild symbols, these will substitute for any winning symbol except scatter symbols. They are either portrayed by a medication bottle with the label "WILD", by Mr. Split or by Mrs. Nudge. Both of these cannot occur naturally, and have to be brought on the playing board by either the xSplit mechanic, by an abdominal x-ray with a medication bottle in one of the Enhancer Cells or by Mrs. Nudge.
Disturber
When landing an x-ray of a skull in the Enhancer Cell, you will have landed a disturber. The disturber will initiate a respin, reactivating all of the currently landed Enhancer Cells. All reels will spin again, including Enhancer Cells that have not yet held a special symbol. Positions affected by xWays, Wild or xSplit will not be reset in the respin.
Gravestones
Gravestones are extremely rare and can also only appear in the Enhancer Cells. They will only ever play a role in a single feature, which is pretty exciting though. We will cover this in detail in our Feature Overview.
Mrs. Nudge
We already mentioned Mrs. Nudge briefly, but now things get even more disturbing. Occasionally, you will see a trash bag on reel 3. Say hello to Mrs. Nudge. When landing "her" on reel 3, she will nudge to full visibility on the reel. With every nudge, she will gain a multiplier, up to a maximum of x4. Mrs. Nudge will also count as wild symbol.
Stats
Disturbed will be played on an RTP of 96.10%. The maximum win potential has been reached when the player gets 54,391 times their base bet size. Since this is a high winning amount, it should come as no surprise that the games was rated with a high volatility by NoLimit City themselves. However, your chances of getting the maximum win are rather slim. On average you will see a max win occur once every 10 million spins. But what about the hit frequency? This one is set to 32.96%, which means that a win will occur round about every 3 to 4 spins. Triggering the Free Spins Features is not that easy though, it will take you around 395 spins on average for a trigger.
Disturbed: Feature Overview

Now that we've talked about all of the special symbols, let's see how we can utilize and use them in our features.
Ramp Access
The ramp access is the xBet function of Disturbed. When activated, the player will pay 100% of their bet on top. In return they will get a guaranteed scatter on reel 1, as well as at least 1 lit up Enhancer Cell in each spin. Be aware though, that the payout for symbols will not change. So for example, if you are on a 1€ bet and activate ramp access, you will pay 2€ per spin, but getting the same payouts as if you where on a 1€ bet.
Wild Reels
Landing any character symbol fully on reel 3 will turn the whole reel into a wild reel. This can occur in the base game as well as any feature game.
The 3rd Reel & xSplit
There is actually a special interaction between the 3rd reel and the xSplit symbol. When the xSplit symbol lands while there is a stacked character symbol present on the 3rd reel, the xSplit symbol will actually turn the whole character symbol into Mr. Split, if Mr. Split would have landed on one of the positions occupied by the character symbol. Additionally, the xSplit symbol will split any symbol currently present on the playing board, if it splits a full wild reel.
Pre-op Spins
Landing 3 or more scatters in the same spin will allow you to enter the Pre-op Spins. You will be granted 12, 15 or 20 free spins for 3, 4 or 5 scatters respectively. The Pre-op Spins pretty much work just like the base game, with the difference being that 1 Enhancer Cell is guaranteed to light up in every spin. Additionally, disturbers will not only grant a respin but also an extra spin. The feature will end once every spin has been used or the max win potential of 54,391 times your bet size has been reached.
Annihilation Spins
The Annihilation Spins can be triggered by having all 4 lit up Enhancer Cells and landing 3 or more scatter symbols in the same spin. This will grant you 12, 15 or 20 free spins for 3, 4 or 5 scatters respectively. In its core, the Annihilation Spins are the same like the Pre-op Spins, with the difference that you are guaranteed to have 4 lit up Enhancer Cells on every spin. Just like the Pre-op Spins, the feature will end when you have run out of free spins or the max win has been reached.
Angel of Death
Angel of Death is an incredibly rare feature. This feature can only be triggered by getting 4 gravestones in all 4 Enhancer Cells and landing Dr. Death fully on reel 3. If you manage to get this, you will be directly brought to the Six Feet Under screen, which means that you will be awarded with the max win of 54,381 times your bet size instantly.
Bonus Buy Feature

Many modern NoLimit City games feature bonus buy options, and Disturbed is no exception. In this game you will have the choice between 3 different options to buy. Here's a list of all of the available options:
| | | | |
| --- | --- | --- | --- |
| Name | Price | Feature | RTP |
| Pre-op Spins | 112x | Guaranteed entry to the Pre-op Spins with 3 or more scatters | 96.12% |
| Annihilation Spins | 666x | Guaranteed entry to the Annihilation Spins with 3 or more scatters | 96.21% |
| Lucky Draw | 250x | Mystery buy (75% Pre-op Spins; 25% Annihilation Spins) | 96.25% |
Disturbed: Conclusion
We don't know why we're still surprised, but NoLimit City have done it again. They have used a pretty dark theme, and managed to create something astonishing out of it. Disturbed brings a great mix of an exciting base game, together with fun bonus games. Although we must say, the general macabre theme gets a bit lighter through the 80's synthie music.
Being able to trigger a max win directly through the base game is something we haven't seen in this way, shape or form. Sure, something like max wins in the base game happens all the time in different slot games, but having an actual feature that grants you the max win is something you don't see every day.
All in all, Disturbed is a very well-made slot by NoLimit City, that comes with a very high volatility though. Keep that in mind when playing, as both base game and bonus games can be pretty rough.