Dino P.D (Push Gaming) Slot Review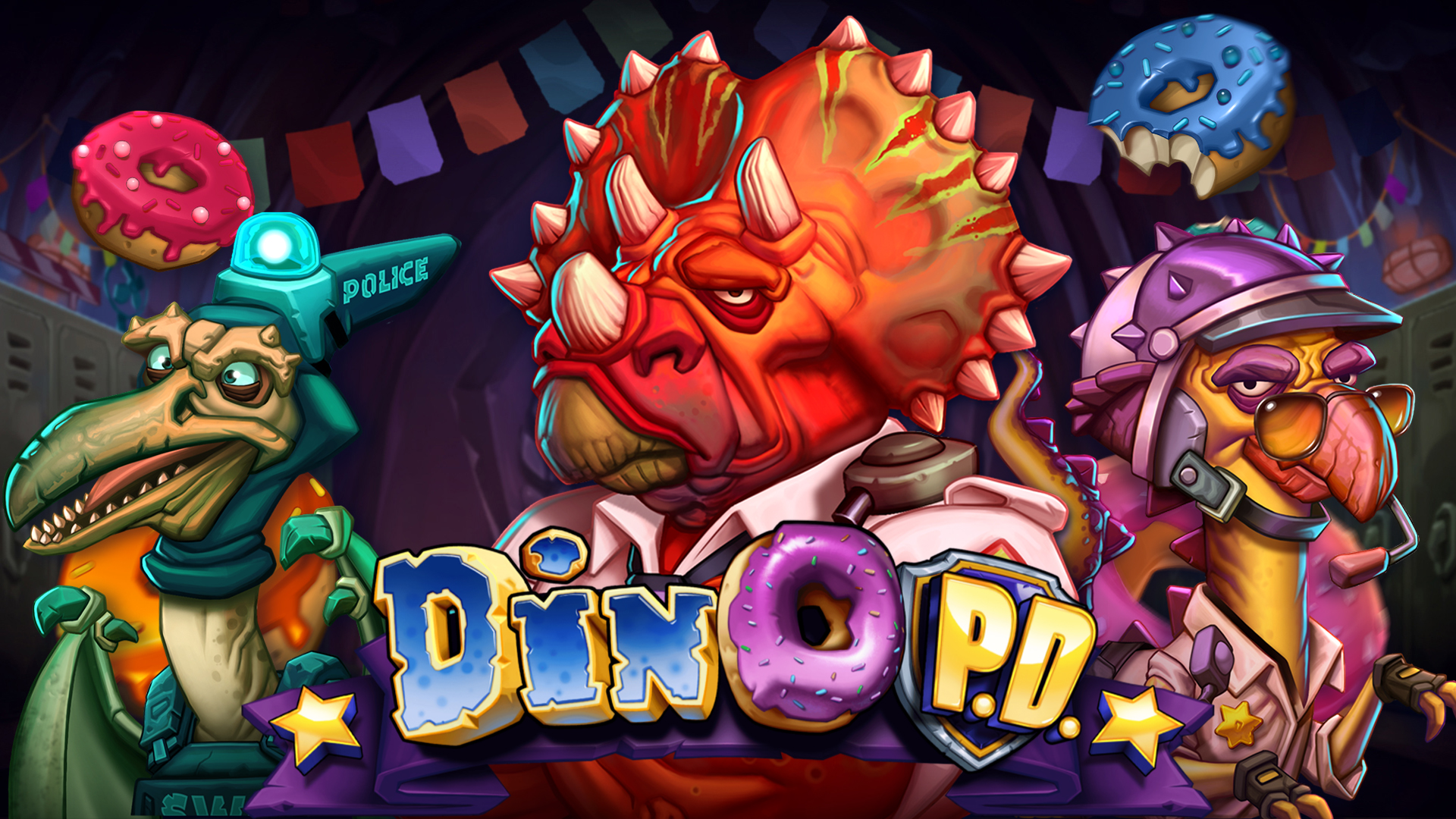 Play
Dino P.D

on












































Dino P.D.: Slot Overview
When we first heard about Dinopolis, we were pleasantly surprised by some of the mechanics Push Gaming were trying out. Now they'll take a step further, and present us with the spiritual successor to Dinopolis. Can Push Gaming do it again and surprise us? Get your donuts out and catch the outlaws, it is time for a trip to the Dino P.D.
Playing Board
In Dino P.D. you will play on 5 reels with 4 rows and 20 set paylines. The game received a medium to high volatility rating by its creators at Push Gaming. Bet sizes at Dino P.D. range from 0.10€ to 100€ (or equivalent), but may vary depending on where you play.
Winning Symbols
Push Gaming got very creative when it comes to the design of the symbols that will determine your wins. There are 11 winning symbols in total, with 4 rather non-unique winning symbols on the lower end, 4 mid-tier symbols and 3 higher paying symbols.
The low-tier symbols are actually all the same and only have a real use in a feature we will cover later on. On the lower end you will find 4 different types of donuts, which all share the same payout of 3 times your bet size per full line. Nothing too fancy here.
In the middle you will find symbols that are more unique and represent some tools the Dino P.D. will use on a busy day. It can be a bit tricky to decipher what they actually are, so bear with us. First you'll find the handcuffs and some sort of radio, both clocking in at 7.5 times your bet size. These tools are then directly followed by the final tools of the mid-tier section, the fire extinguisher and the megaphone, coming in for 10 times your bet size per full line.
Now let's get onwards to the higher paying symbols, these are actually far more worth than any other symbol. First you will find the armoured police dino, paying you 30 times your bet size per full line. The second symbol in line will be the older looking patrol officer, clocking in at 40 times your bet size. And last but not least will be the Triceratops fire fighter, paying you a whopping 50 times your bet size for a full line. These payouts don't seem too bad, right? But there's another symbol, that easily takes the spot as top symbol.
Dino P.D.: Special Symbols and Stats

Fighting criminals and keeping the streets clean is not an easy task. Luckily the Dino P.D. has a few interesting special symbols to help with this.
Scatter Symbols
Every good police department needs a scatter symbol, obviously. This symbol is portrayed by a golden dino egg with wings and a police hat, together with the label "BONUS". It can only appear on reels 1, 3 and 5. Although we must say, that the symbol on reel 5 is actually called Gamble Scatter Symbol, but for the sake of simplicity we will just treat it as a normal scatter symbol. Whenever you land all 3 of these in the same spin, you will be granted access to the free spins feature. The Gamble Scatter symbol will play a vital role in that, but we will cover this in more detail later on in our Feature Overview section.
Wild Symbols
Dino P.D. also comes with a wild symbol. This one will be displayed by a big golden "W" and two crossed batons on it. While it will substitute for any winning symbols except scatter and dino coin symbols, it also has its own payout. For a full line of wild symbols, you will be paid 250 times your base bet size, making the wild symbol easily our top symbol at the Dino P.D.
Dino Coin Symbols
As we kind of already teased in the section before, Dino P.D. also features dino coin symbols. These symbols are pretty easily recognizeable, they just look like bronze, silver and gold coins. These will always carry a fixed money value on them. These values can range from 1 time to 1,000 times your base bet size. But how do you collect them? That's actually pretty simple. In order to collect any values of these coins, you will need to land 5 or more of them in a single spin. You will then receive any value that is currently in view. Dino coin symbols will play a huge role in the free spins feature, which we will cover soon.
Stats
Usually at this point we would feed you with stats about the game we're currently reviewing. Unfortunately we do not have a lot of information regarding Dinopolis' spiritual successor. Dino P.D. comes with a base RTP of 96.38%. The max win is capped at 10,000 times your bet size. However, we do not have a reliable information about the max win probability for you. And that's already everything we can give you.
Dino P.D.: Feature Overview

Dino P.D. does not have a lot of unique features, but the ones they do have are pretty interesting. Here's a list of the things that the game of online software provider Push Gaming has in store for you.
Extra Bet
Dino P.D. features an optional extra bet. For an added value of 20% your bet size, you will be able to boost your chances of triggering the bonus feature. Unfortunately we have no exact information about how much this influences the chances of a bonus trigger. What we can tell you though, is that the RTP with extra bet on changes to 96.50%. Keep in mind, that winnings will still be calculated for your base bet size.
Free Spins Feature
Hitting all 3 scatters in one spin will allow you to enter the free spins feature. Before you enter though, there's another mechanic taking place. Upon landing, the third scatter will spin its badge, choosing your initial free spins as well as your initial stage. Bronze will start on stages 1 or 2, Silver will start on stages 3 or 4, Gold will always start on the last stage. The avilable free spins range from 8 to 10. Before you start the feature you can also gamble your free spins for a chance to receive more or a higher stage. Keep in mind though, that, if you lose this gamble, you will lose all of your available free spins.
Your main objective in the free spins feature is to collect coins. However, you cannot just collect any coin, it has to be coins that have lighting around them. These will automatically be collected and saved on the right side. There you will see the 4 low-paying donuts as well as another bar. For every 4 coins you collect, one donut will get eliminated and turned into dino coin symbols. Additionally, you will receive a multiplier. This multiplier does only count for dino coin symbols, not for any line wins. The avilable multipliers are: x2, x3, x5 and x10.
If you manage to advance from one stage to another, you will not only gain an increasing multiplier, but also free spins. You will gain 4 spins, then 3 spins, then 2 spins and then 1 spin for advancing to the next stage. The feature will end once you have no more spins left or the max win potential of 10,000 times your bet size has been reached.
Bonus Buy Feature

Dino P.D. also comes with a bonus buy feature. If you have no intentions on waiting for the bonus to trigger, you can pay a fee and get directly into the action. You will actually have four different options, we have listed here for you:
| | | |
| --- | --- | --- |
| Stage | Price | RTP |
| Bronze | 70x | 96.26% |
| Silver | 140x | 96.38% |
| Gold | 450x | 96.24% |
| Random | 100x | 96.30% |
Dino P.D.: Conclusion
Let's get back to our opening question. Did Dino P.D. surprise us just like Dinopolis did back when it came out? Unfortunately not that much. Dino P.D. is nothing that brings epic new game mechanics that everyone has been waiting for. But nonetheless, it is a well-made slot and a worthy spiritual successor to Dinopolis.
Dino P.D. might not be the craziest and most innovative game, but it takes the features of Big Bamboo and Dinopolis, merges them and creates something that can stand alone. The only we thing we are a bit disappointed in is the boring base game. Besides of sometimes a few coin symbols and some teasers, there's nothing really happening. But Dino P.D. can make up for it with a very thrilling feature game.
All in all, Dino P.D. is a very well-made successor to maybe one of Push Gaming's more popular slot games. And Dino P.D. could very well take its spot in this regard. But that's something only time can tell.