Cresus Fortunes (iSoftBet) Slot Review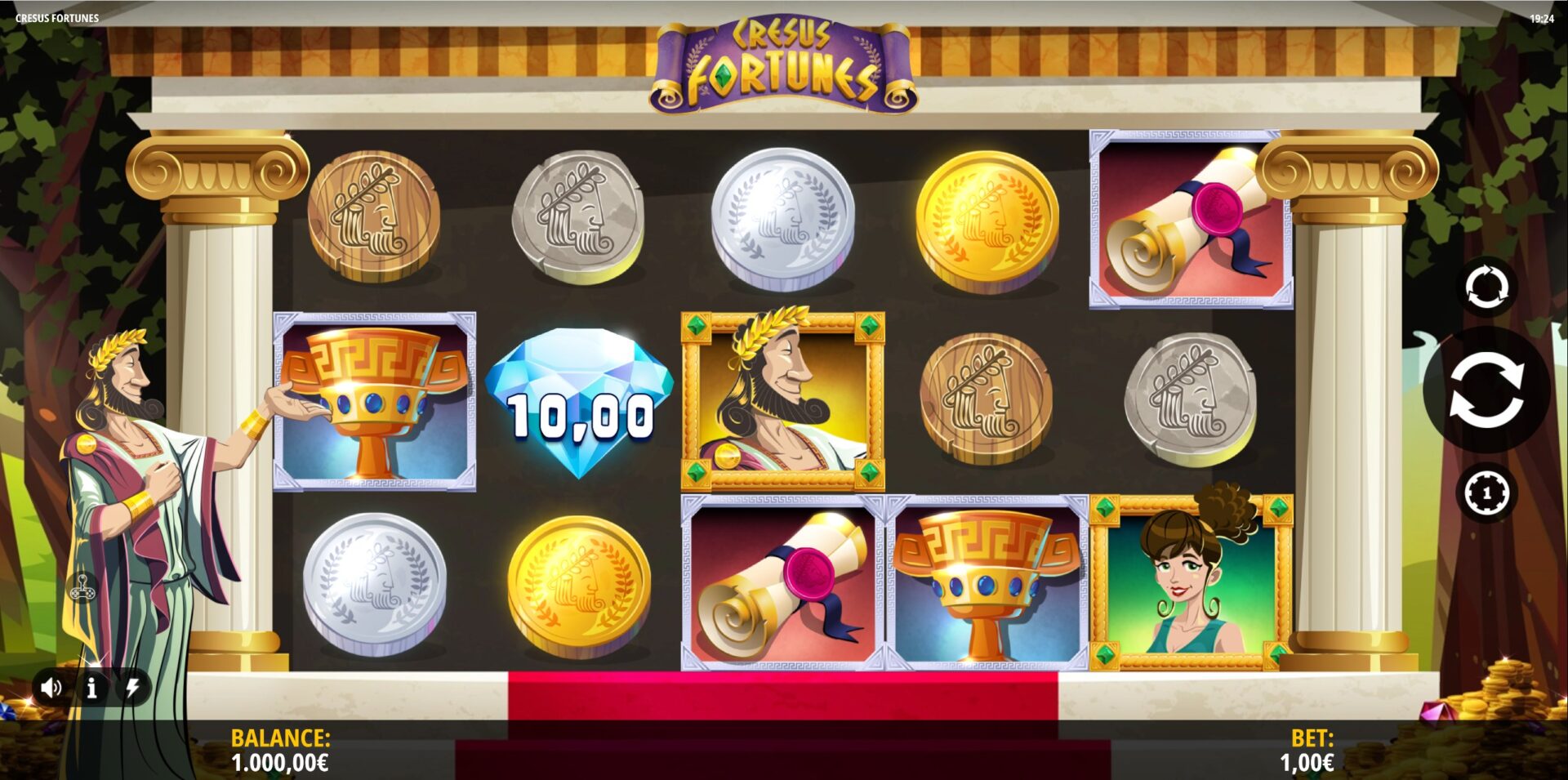 Cresus Fortunes: Slot Overview
Let us start with a short history lesson. Did you know that Croesus, the King of Lydia, was the first ruler using standardized gold coins for a currency? Now you do. So, no wonder that Cresus Fortunes is covering coins, Paper rolls and golden jugs taking us back to the ancient Greece.  Let´s have a closer look and see if iSoftBet is doing him justice.
Playing Board:
Cresus Fortunes is played on 5 reels, 3 rows and 20 pay lines. 3 identical symbols on adjacent reels from left to right result in a win. The bet sizes range from 0.2€ to a maximum bet of 20€ (or equivalent). Bet sizes may vary depending on where you play.
Winning Symbols:
The slot comes with 8 paying symbols, 4 low-tier, 2 mid-tier and 2 high tier symbols. We are referring to the payouts for a full line for each symbol. Starting with the lower paying symbols we got the wooden coin being the lowest paying symbol with a payout of 1.5x, followed by the slightly paying stone coin with a payout of 2x. The silver coin has a payout of 3x, the best coin being the gold coin with a payout of 4x. For the mid-tier symbols, we got the paper roll paying 5x and the golden jug with a payout of 7.5x. The second-best symbol is Lydia with a payout of 15x followed by Croesus being the top symbol with a payout of 25x.
Cresus Fortunes: Stats and Special Symbols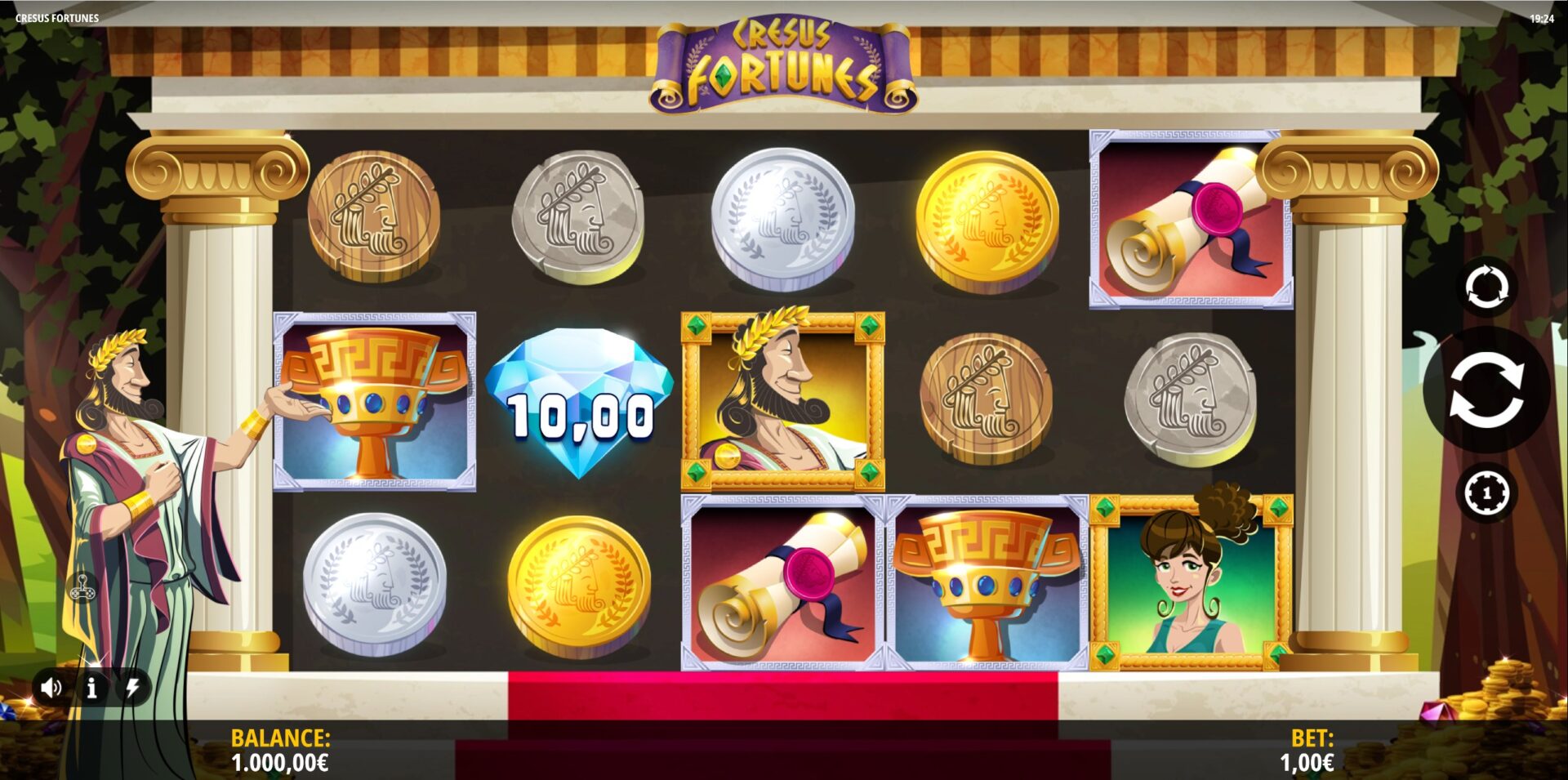 Cresus Fortunes comes with a couple of special symbols with interesting functions we need to cover. Let´s take a closer look on each of them.
Diamonds
The diamonds carrying cash values ranging from 1x and up to 1,250x, 5 diamonds unlock the gem link Re-Spins rewarding you with 3 Re-Spins to start with. The diamonds can land on any position.
Wild Symbol
Wild symbols can replace every symbol except the diamonds and gems. The wild symbols do not land naturally, under which conditions they appear will be covered in the special features section of this review.
Gems
The slot comes with 4 gems exclusive for the bonus.
Red Gem: The red gem ads 1 extra spin for every stage
Blue Gem: The blue gem unlocks an extra row, up to 3 rows in total
Purple Gem: The purple gem adds a multiplier to the total win with 3 stages being 2x, 5x and 10x for the last stage
Green Gem: The green gem works as a value upgrader, increasing all landed values.
Stats
Now let us have a look at the stats. The stats for Cresus Fortunes are as follows: The RTP for the slot is 96% and it is coming with a maxwin of 8,320x your bet. Cresus Fortunes is classified as a medium volatility game, meaning that it is harder to hit a big win, but having more frequently return over play time. Sadly, we don't have any information in which frequency the Free-Spins can be triggered or how the high the chance for the maxwin is.
Cresus Fortunes: Feature Overview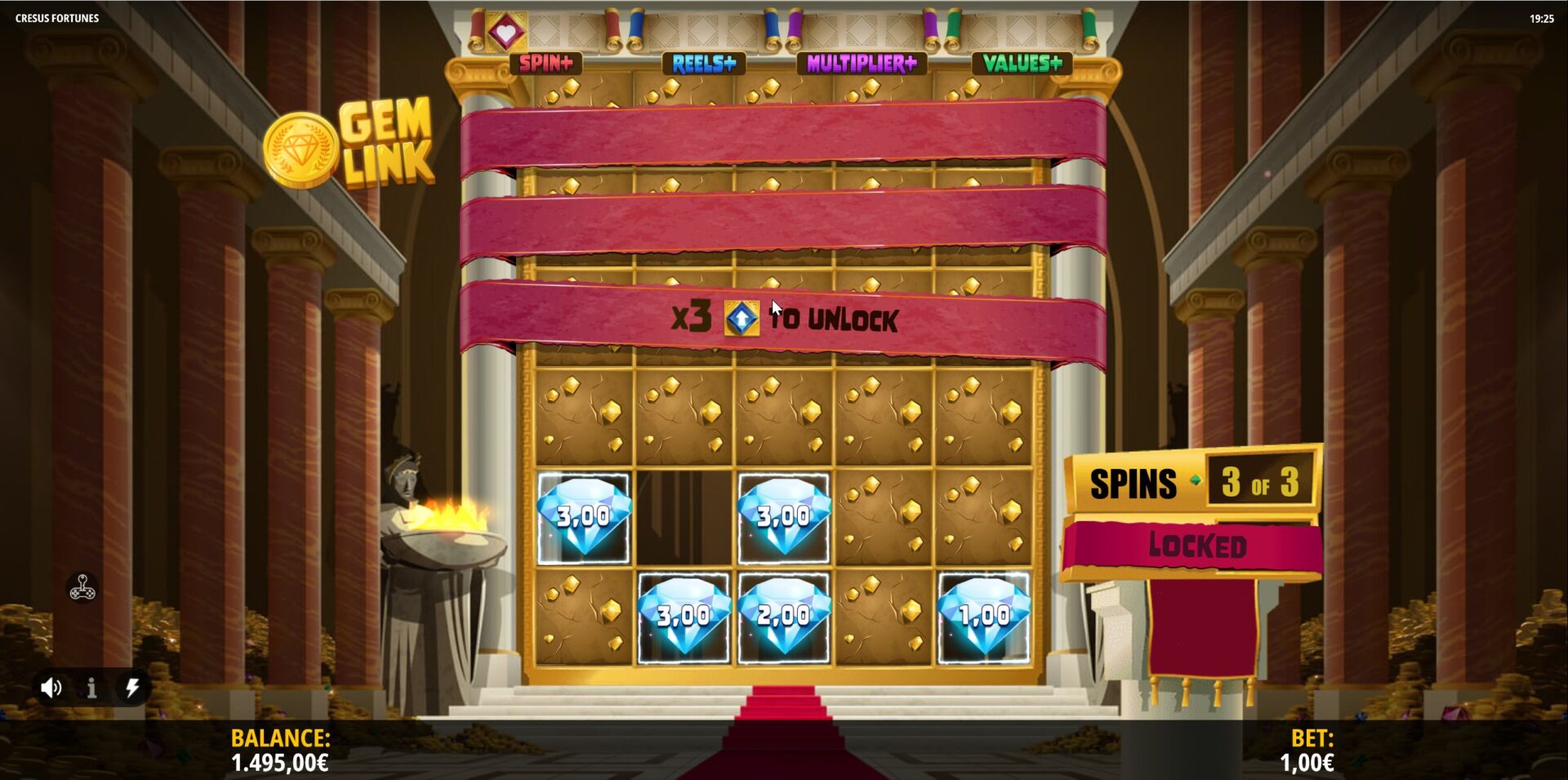 After landing 5 or more diamonds you will receive 3 gem link Re-Spins. Every gem or diamond that lands during the feature will reset your spins back to the maximum amount. You will start with no multiplier, 3 rows and 3 Spins, but there are multiple ways to upgrade the Re-Spins feature. As mentioned before the different colored gems have upgrading functions. To unlock the first stage of any upgrade you need to collect 3 identical gems, same goes for every following stage.
Diamonds landed during Free-Spins stay for the entire time the Re-Spins feature. When you run out of Re-Spins all landed diamonds will be collected and added up, if there is a multiplier unlocked it will apply to the total value of the collected diamonds.
Special Features:
In addition to the feature there are the multiple modifiers for the base game. These modifiers occur randomly and there are 3 different modifiers in total being:
Amphora: turning 3 or up to 5 symbols into wilds
Coins: will turn a random number of symbols into diamonds
Riches: eliminates all low-tier symbols and turns them into mid- or high-tier symbols
Cresus Fortunes: Conclusion
iSoftBet took us on a journey to the origins of modern-day currency with Cresus Fortunes. The slot works fluently and the overall design with the symbols to match the ancient Greece idea hit the nail on the head.
There are a couple slots with coin collect bonuses, in this case being diamonds, but Cresus Fortunes having multiple upgrading functions help it to stand out. Same goes for the random modifiers in the base game. Without these modifiers the base game could have been boring since there is not much to a slot with 20 lines if that wouldn't be the case.
So, what do we think about Cresus Fortunes? Being a medium volatility slot, it could be your next go to place if you´re trying to beat your wager. It is a solid game with some exciting moments in the Re-Spins feature and only because it is a medium volatility slot does not mean it can't pay, the maxwin of 8,320x is still very convincing. We enjoyed playing Cresus Fortunes and appreciate it for not being just another slot with a coin collect feature.