African Elephant (Pragmatic Play) Slot Review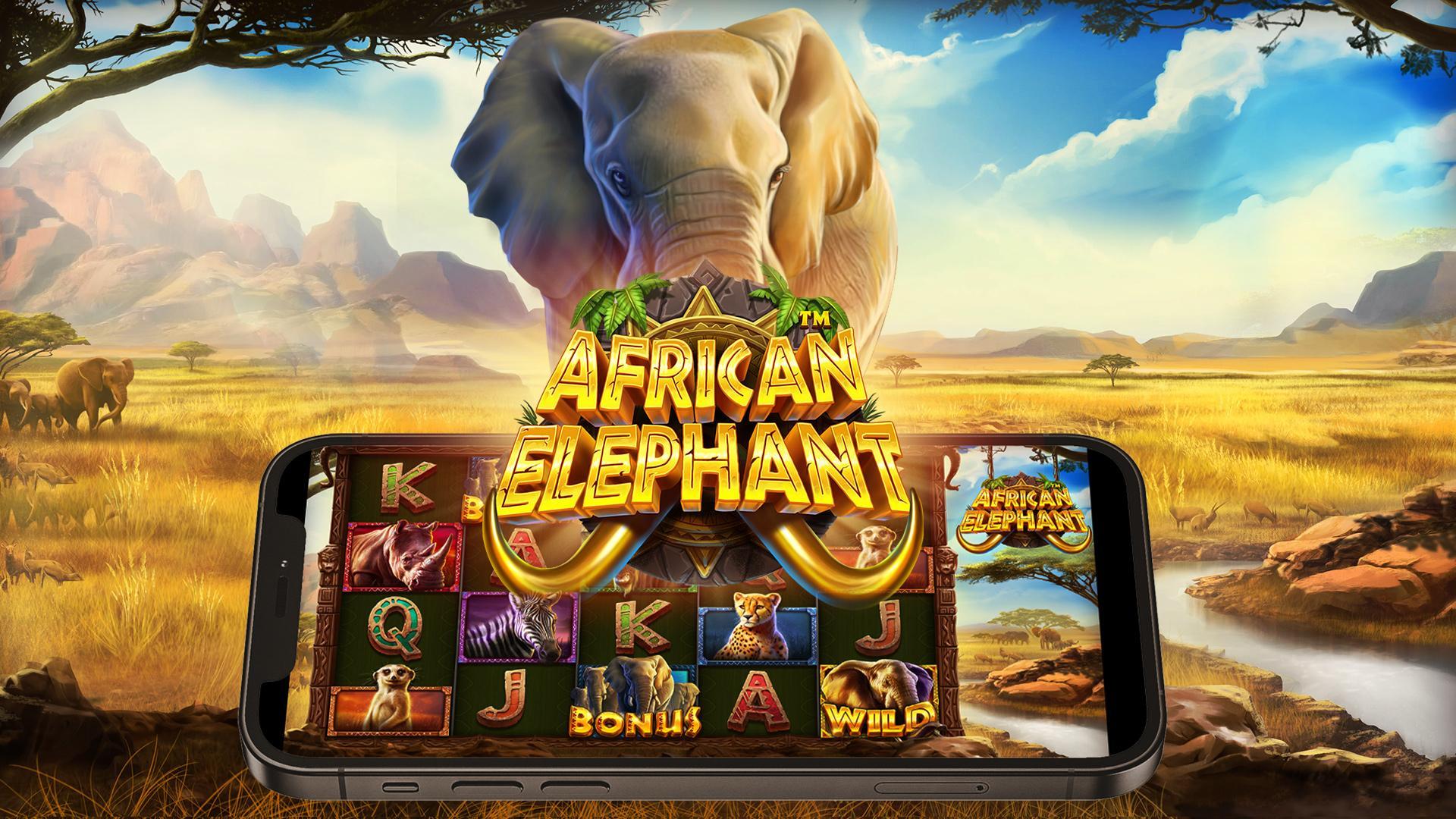 African Elephant: Slot Overview
When you hear the word "Africa" what do you first think about? Is it the desert? Maybe it's the savanna? Or is it the countless animals that life in the wilderness of it? The latter is probably what Pragmatic Play where thinking about when they designed a slot that honors the majestic African Elephant.
Playing Board
African Elephant is played on 5 reels with 4 rows and 20 set paylines. The game received a 4.5 out of 5 volatility rating from Pragmatic Play themselves, making it a highly volatile slot. Bet sizes in African Elephant range from 0.20€ to 100€ (or equivalent), but can vary depending on where you play.
Winning Symbols
The game from Pragmatic Play features 9 different winning symbols. You will find 4 lower paying symbols and 5 higher tier symbols. The lower tier symbols are displayed by the classic winning symbols from J to A, and they all share a very similar payout. Full lines of J's, Q's, K's and A's will net you 4 times your bet size. The only real difference there is between these symbols are the payouts for the 4-of-a-kind. J's and Q's will pay 0.75 times your bet size for a 4-of-a-kind, while K's and A's will net you 1 time your bet size. A weird design choice, but let's go with it for now.
Now, the higher tier symbols are more fit to the theme. Here you will find various wild animals that are home to the african savanna. So the first two animals you will find are the orange Meerkat and the blue Leopard, the colours obviously resembling their background, both of them for 5 times your bet size for a full line. Next up is the green Bison, netting you 7.5 times your bet size. Second to last is the purple Zebra, clocking in at 12.5 times your bet size. And last but not least is the red Rhino, paying you 30 times your bet size. Now we know what you're thinking, something is missing. Don't worry, we'll get to it, because the Rhino is not our top symbol.
African Elephant: Special Symbols and Stats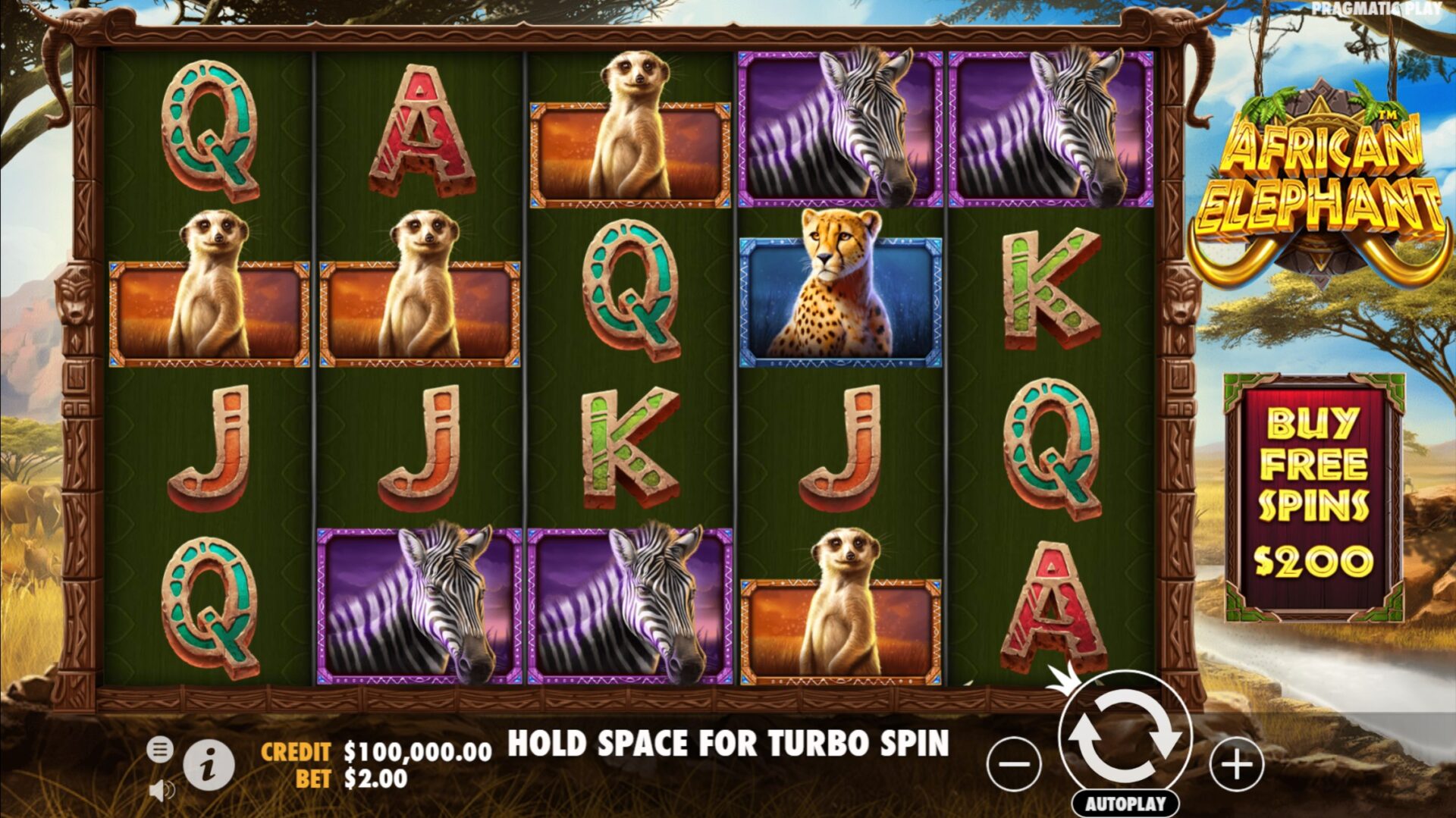 In African Elephant you will find a few Special symbols that will help you on your journey through the wilderness of Africa, so look out for them.
Scatter symbol
First up we will take a look at the Scatter symbol. This one is portrayed by a herd of elephants and the label "BONUS". Landing 3 or more of those in the same spin will grant you entry into the Free Spins Feature. What exactly this feature is and what it does will be covered in the Feature Overview Section of this online slot review.
Wild Symbol
Now we will get to the bottom of things and find out why this game is called African Elephant. Because the Wild symbol plays a vital role in generating big wins. This symbol is displayed by a single elephant with the label "WILD". This symbol will substitute for any winning symbol except Scatter symbols. On top of it, it also has its own payout. For a full line of Wild symbols you will get a whooping 75 times your bet size, making the Wild elephant our top symbol by far. But the catch is, Wild symbols cannot appear naturally and are bound to a certain feature.
Stats
African Elephant does not offer a lot of Special symbols, but we can give you a few more stats. The game comes with a base RTP of 96.04%, just at the edge of the average RTP. Nothing too crazy yet, but what really surprised us is the max win potential of 15,000 times your bet size, which is something you don't see often at Pragmatic Play games. And the chances of hitting that are not that bad either, with a chance of 1 in 11.494.253 spins. Of course, this is still not great, but we have seen way worse chances for a way lower max win. And lastly, your chances of triggering the Free Spins Feature are round about once every 124 spins, which is pretty average.
African Elephant: The Hunt for Ivory
Elephants have always been endangered by humans. That's because their tusks are made of a material called ivory. This highly sought after material was one of the major trading goods of african countries such as Kenya and mostly the southern african region. Ivory was and still is being used to carve decorations, such as little statues, mostly depicting biblical figures and persons. It was also used for many of the statues in the old Greek and Roman civilizations. But it was not only used for decorational purposes, the Chinese also valued ivory for utilitarian objects, such as end pieces of opium pipes.
As a result of the hunt on elephants, most of the Syrian and North African elephants populations were reduced to extinction. Still to this day, elephants get hunted for their precious tusks, mostly because of the mass production of souvenirs and jewelry that was introduced in the late 1970s. That's why the population of the Afrian elephant was more than halfed in the decade of the 1980s. Although mostly banned, or maybe especially because of that, ivory tusks are still a very valuable trade good, witch leads to many poachers.
African Elephant: Feature Overview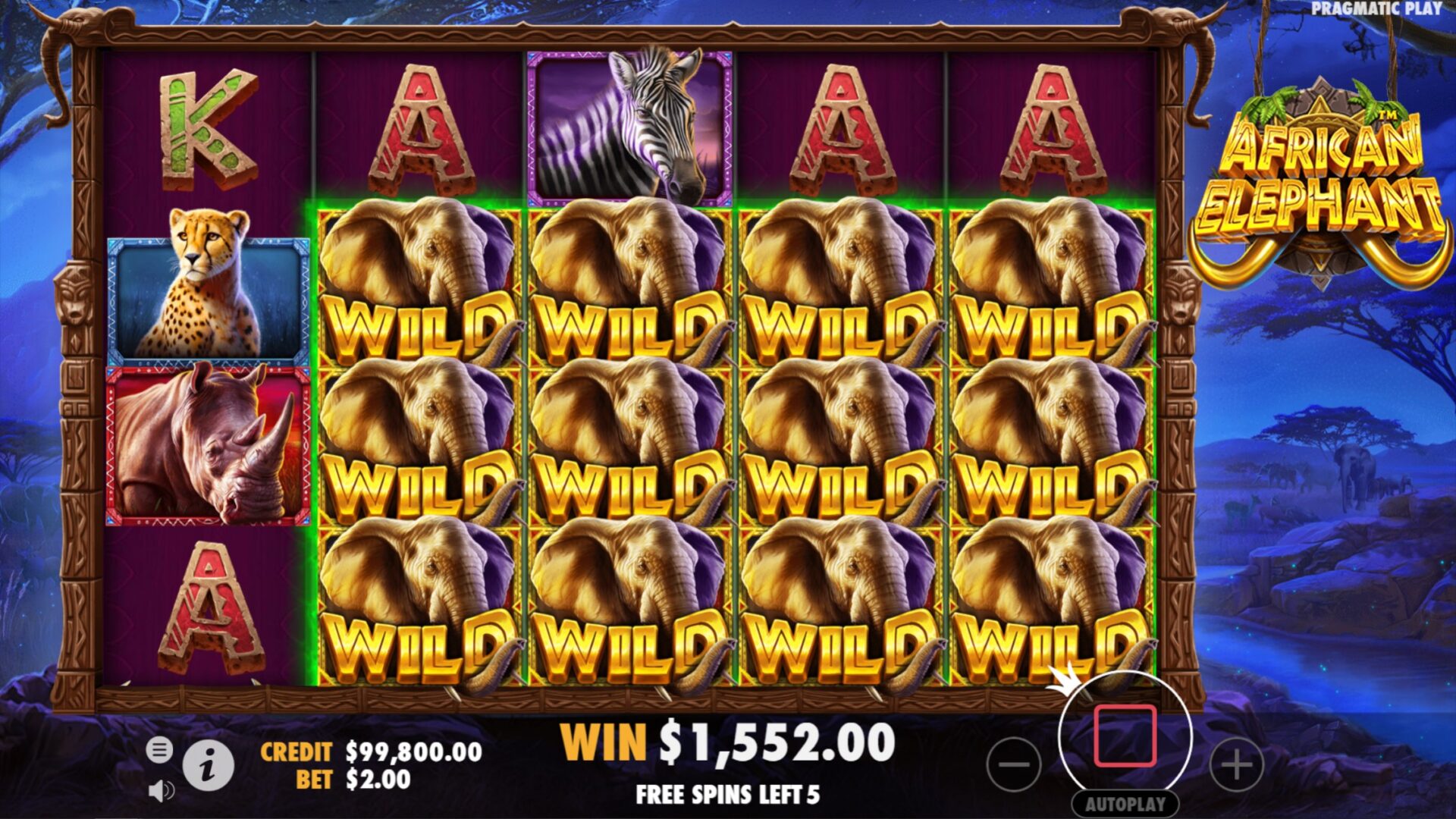 Now let's see how African Elephant actually can pay. We will cover all of the features the online slot game has to offer and try to describe them to you as best as we can.
The Wild Shape Feature is something that was used by Pragmatic Play before, but not in this specific way. You see, on any spin, it can happen that you will see green glowing patches spinning by. If these patches land on the playing board after the reels have stopped spinning, they will transform every symbol that is covered with a green glowing patch into Wild symbols. This is the only way you can get Wild symbols in African Elephant.
The Free Spins Feature can be triggered if you land 3 or more Scatter symbols in the same spin. 3, 4 or 5 Scatter symbols will reward you with 10, 15 or 25 Free Spins respectively. The Free Spins Feaure is actually pretty much the same like the base game, with one big exception. On every spin you are guaranteed to get Wild Shapes. So optimally you want as many Free Spins as possible. Retriggering is also possible, just like in the base game, 3, 4 or 5 Scatter symbols will grant you 10, 15 or 25 additional Free Spins.
The Feature will end once you have used all of your Free Spins or the maximum win potential of 15,000 times your bet size has been reached.
As with many modern Pragmatic Play games, African Elephant comes with a Bonus Buy Option. If you are impatient, you can just skip ahead if you pay 100 times your bet size. The Bonus Buy Option even comes with a slightly higher RTP of 96.07%.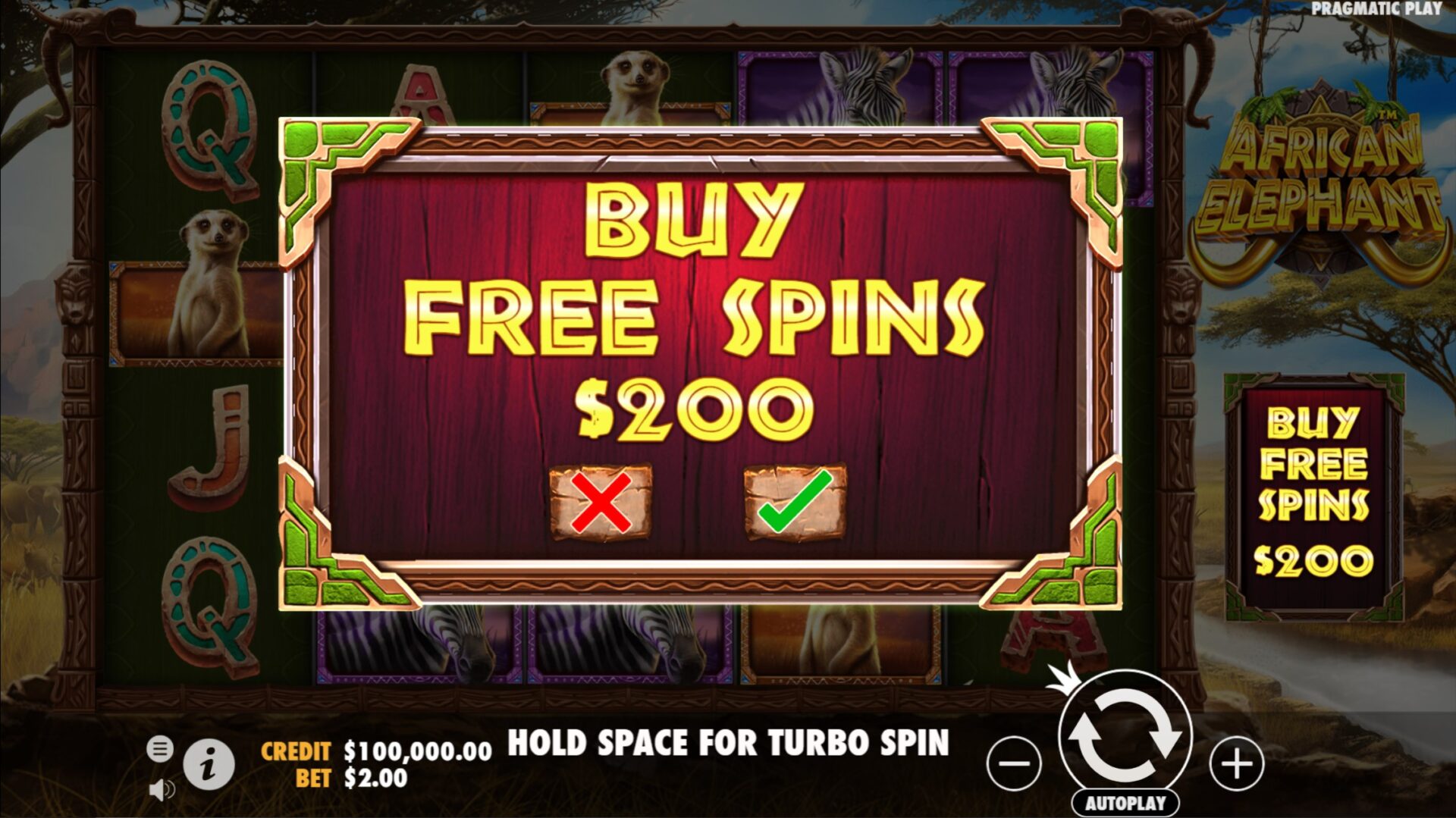 African Elephant: Conclusion
This one is tough. One thing in advance, African Elephant is definitely not a bad game. We wouldn't call it a very good game either, it definitely has its ups and downs. One thing Pragmatic Play have definitely proven is that they really know how to optically aud audibly design a game. African Elephant is very beautifully designed with great background music and ambient sounds.
But African Elephant kind of lacks, especially in the base game. There is not enough thrill or excitement in the base game, besides the Wild Shapes, and even if they land, often it is just not satisfying.
In the Feature Game however things get a bit more spicy and exciting, even though it isn't that much different to the base game. However, there are special reels in play during the Free Spins Feature, which make landing the Wild Shapes more thrilling.
With that being said, African Elephant is alright, not more, not less. Not the worst game, not the best game, pretty much very average. This concludes our online slot review about African Elephant. We hope we left no questions unanswered and who knows, maybe you will have more fun with it than we had.