9 Pots of Gold Megaways (Gameburger Studios) Slot Review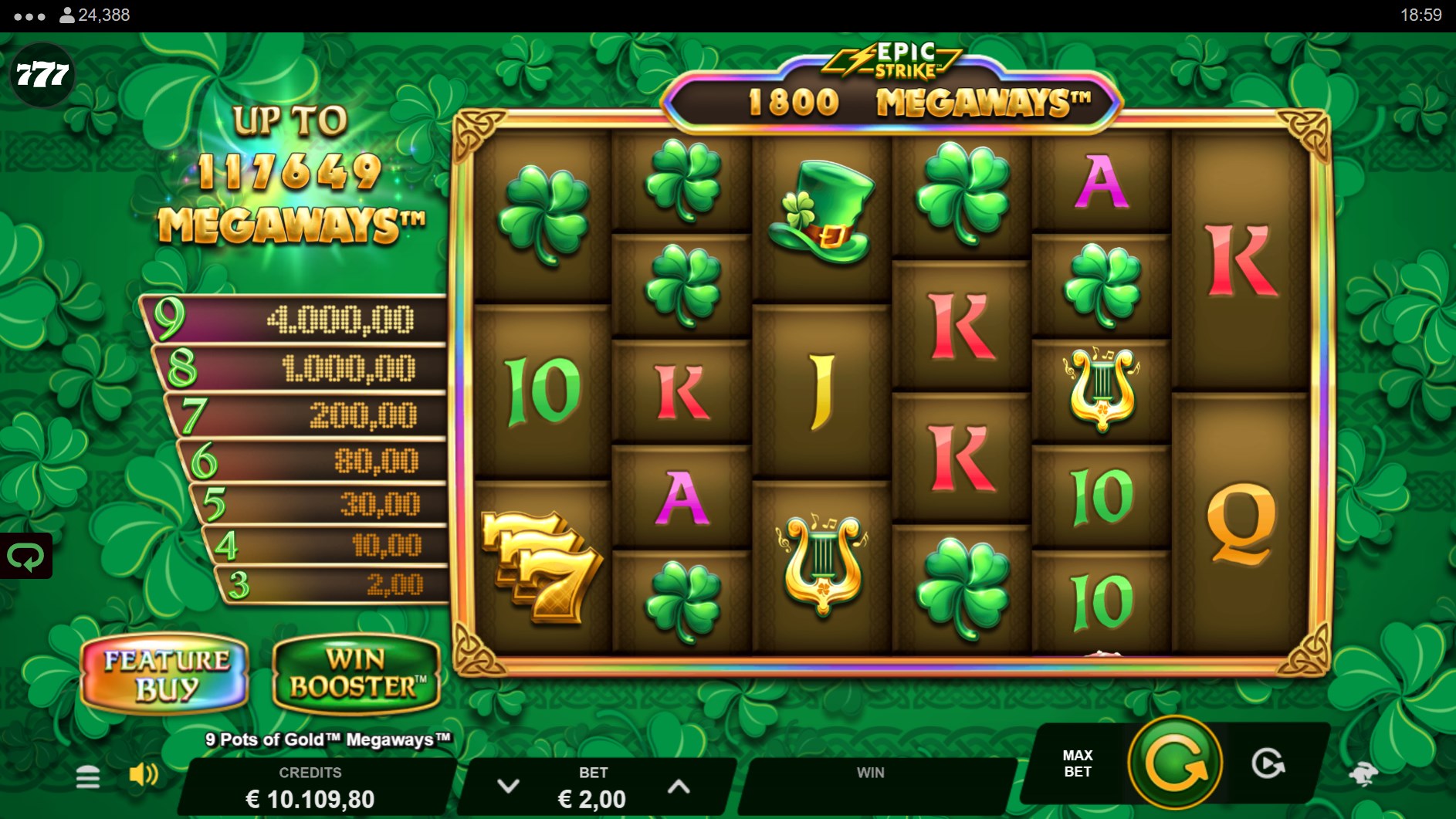 Play
9 Pots of Gold Megaways

on




























9 Pots of Gold Megaways: Slot Overview
Everyone knows the tale of what's at the end of a rainbow. A pot filled with gold, of course. But what if there's not only one pot, but actually 9 of them? Over the last years there have been many iterations of 9 Pots of Gold, but that wasn't enough. So Games Global decided to work with their partners over at Gameburger Studios again to bring you 9 Pots of Gold Megaways.
Playing Board
9 Pots of Gold Megaways is played on 6 reels with 2 to 7 rows. As the name suggests, the game uses the Megaways technology, originally introduced by online software provider Big Time Gaming. This technology allows reels to have a random amount of winning symbols between 2 and 7 on each spin, allowing for up to 117,649 winning ways at maximum. Additionally, the game uses Tumbling Wins, where symbols, that were part of a winning combination, are destroyed and new ones fall onto the playing board. Bet sizes in 9 Pots of Gold Megaways range from 0.20 to 50€ (or equivalent), though it can vary depending on where you play.
Winning Symbols
There has been a change to the winning symbols compared to the original. You will find 9 winning symbols in total, with 5 of them being on the lower end and the remaining 4 on the higher end. Let's take a look at the lower paying symbols first. Here you will find the classic winning symbols from 10 to A. We can actually go pretty quickly through them, since they are very similar in payout. For the 10's, J's and Q's you will be paid 1 time your bet size per full way. And next are already the remaining K's and A's, clocking in at 1.2 times your bet size. This already concludes our lower tier symbols.
As for the higher paying symbols, these are more oriented to the theme, as with many Megaways games. So first we have the four-leaf Clover for 1.6 times your bet size per full way. Next up is the leprechaun's Hat, clocking in at 2 times your bet size. Second to last already is the Harp, netting you 2.5 times your bet size. And the last symbol will be the golden 7's, paying you 5 times your bet size per full way.
Now you might wonder that these payouts are rather low, compared to many other Megaways games. Well, there is a reason for that, which we will cover later on.
9 Pots of Gold Megaways: Special Symbols and Stats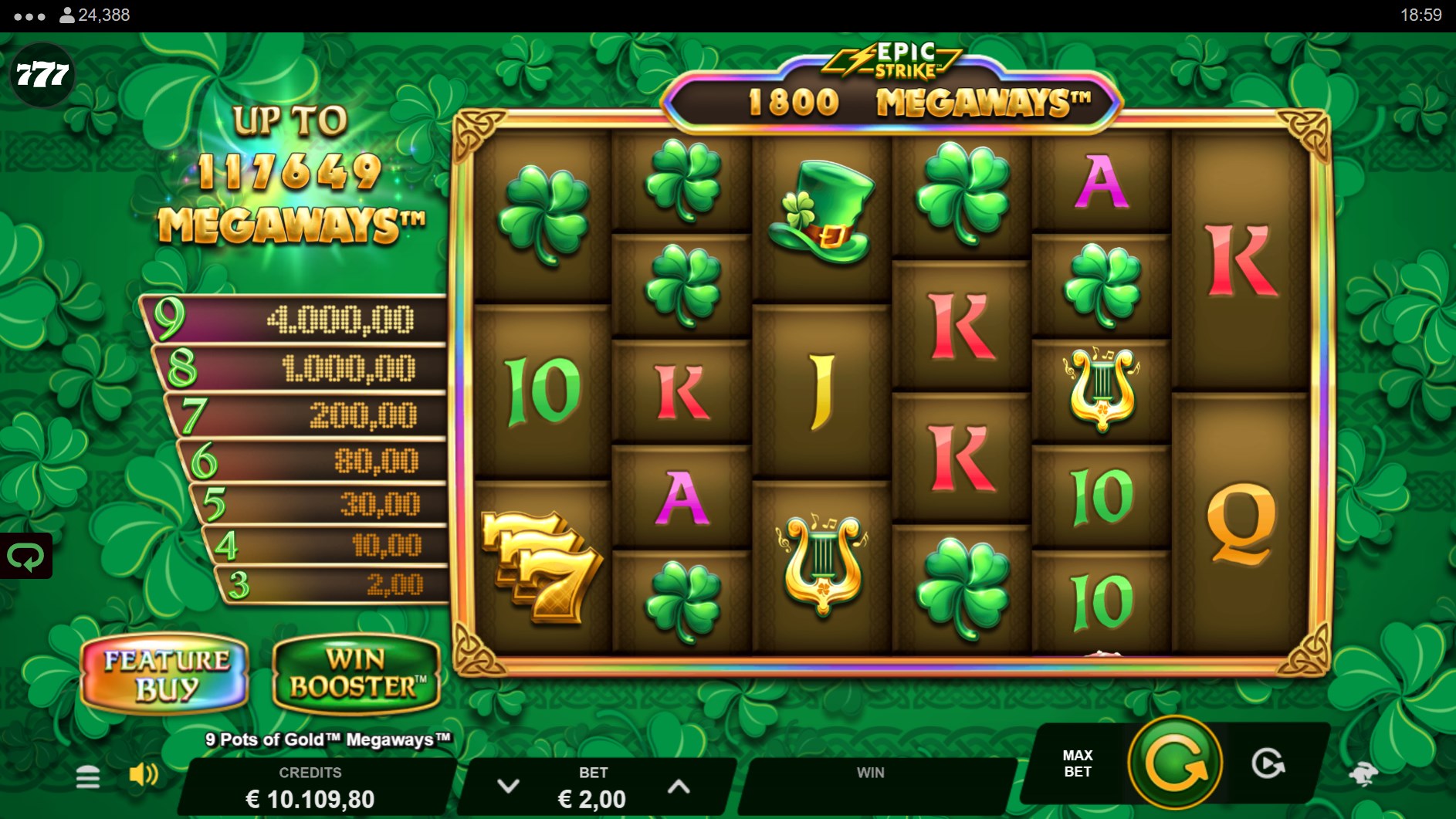 Let's see which Special symbols will help you in achieving your goal of collecting all of the 9 pots of gold.
Scatter Symbol
First we'll take a look at the Scatter symbol. Well, to be exactly precise, there's not only one, but actually 5 of them. Because you see, the Scatter symbols are portrayed by letters. These letters will form the word "GOLD", and are, of course, golden. Landing all 4 letters in the same spin will allow you to enter the Free Spins feature. But aren't we missing a Scatter, if we only have 4 letters? Yes, the fifth Scatter is a golden +5, which will grant you 5 extra free spins. But we will go into more detail later on in our Feature Overview.
Wild Symbol
To help you on your search for the 9 pots of gold, you will encounter fly agarics. These represent our Wild symbols. They will substitute for any winning symbol except Scatter symbols and Gold Pot symbols. They can only ever appear on the reels 2 to 5.
Gold Pot
From time to time you will encounter Gold Pot symbols. These play a pivotal role in 9 Pots of Gold Megaways, who would have thought? Gold Pot symbols are portrayed by, well, Gold Pots. But they are overflowing with gold and a magical rainbow leads the way to them. What exactly they do, and how you can benefit off of them, will be covered in the Feature Overview section.
Stats
Alright, now it is time to see what stats we can give you about 9 Pots of Gold Megaways. The game comes with a base RTP of 96.10%. The maximum win potential is capped at 5,000 times your base bet size, which is actually rather low for a Megaways game. These types of games are usually known for big win potentials. The game received a high volatility rating by its creators, Gameburger Studios, themselves. 9 Pots of Gold Megaways has a hit frequency of 34.89%, which means that you will get a win round about every 3rd spin.
9 Pots of Gold Megaways: Feature Overview

Now that we've taken a look at all of the Special symbols and the stats, let's observe what else 9 Pots of Gold Megaways has in store to take us to the gold.
Epic Strike
Epic Strike is the name of the mechanic that actually gives 9 Pots of Gold Megaways its name. Well, at least a part of it. As we mentioned before, there are Gold Pot symbols. These actually have no function on their own. But on the left side of the playing board you will find a sort of paytable, with prizes associated to numbers. These numbers show how many Gold Pot symbols you will need to land in order to get the corresponding prize. These can go as low as 1 time your bet size for 3 Gold Pots, but can also go massive, with the top prize being 2,000 times your bet size for, you guessed it, 9 Gold Pots.
However, getting these Gold Pots can be a difficult task. Because they can achieve high prizes, they are also somewhat rare in larger amounts. Luckily, there is a feature that makes this a tad bit easier.
Win Booster
The Win Booster is an optional extra bet that you can turn on or off at any time in the base game. With the Win Booster active, you will have to pay double your base bet size in every spin. And for that you will receive not only higher chances of getting Gold Pots, but also increased chance of triggering a Free Spins feature, as well as a minimum of 4096 Megaways. Keep in mind though, that all winnings will still be counted for your base bet size. So for example, if you play on a 1€ base bet, and have the Win Booster enabled, your bet will increase to 2€, but the payouts will still be for your 1€ base bet. Interestingly, enabling Win Booster will result in a slightly lower RTP of 95.98%.
Free Spins Feature
Getting all 4 golden letters in a single spin will reward you with Free Spins. Any +5 Scatter symbols, which can only land after the 4 golden letters, will reward you with 5 extra Free Spins. We cannot say for certain that you can land more than 6 Scatter symbols in total, as the game rules do not state anything. So we'll go with 10 initial Free Spins, with 5 additional Free Spins for any +5 Scatter symbol.
The feature itself is actually pretty much like the base game, but there is one big difference. During the whole feature, there is an active multiplier. This multiplier will increase by +1 for every tumbling win (not winning combination), and will be kept throughout the feature. This multiplier, however, does only count for ways wins, it will not be applied to an Epic Strike scatter win.
It is also possible to retrigger this feature. In the Free Spins feature, you will encounter golden coins with a leprechaun on it. These coins will be collected and saved in an accumulation trail at the left side of the playing board. If you manage to collect 4 of these coins, you will be granted 4 additional Free Spins, and the trail is reset. The feature will end once you have used all of your available Free Spins, or the maximum win potential for 5,000 times your base bet size has been reached.
Bonus Buy Feature
Just like with many Megaways games nowadays, 9 Pots of Gold Megaways features a bonus buy option. Here you will actually have 3 different options to choose from:
10 Free Spins for 50 times your bet size
15 Free Spins for 70 times your bet size
20 Free Spins for 85 times your bet size
But not only can you just buy a regular bonus, you can also activate the Win Booster to apply its features to your bought option. Keep in mind though, that, of course, the prices will change with an active Win Booster. Just as your base bet size doubles, the prices for the bonus buy option will also double, which obviously makes a lot of sense.

In terms of RTP, these features are a bit curious. First of all, all of the bonus buy options have a higher RTP than the base RTP of 96.10%. But all of them have an even higher RTP with an active Win Booster, although the Win Booster itself has a slightly lower RTP.
9 Pots of Gold Megaways: Conclusion
So, is this what the market of online slots has been waiting for for a long time? Are players going to love 9 Pots of Gold Megaways? Very hard to tell. But what we can surely say is that 9 Pots of Gold Megaways is the best iteration of the series so far. If you can call it a series, that is. As a matter of fact, this game is actually fun. Something we maybe wouldn't have said about previous versions of 9 Pots of Gold.
Having something like an optional extra bet is generally a good idea, because it brings a bit more spice to the otherwise pretty lame base game. There isn't actually much that can happen, besides a few Gold Pots if you get really lucky. The real action is in the Free Spins feature, which can be pretty exciting once you have accumulated a high multiplier. Getting lots of ways of the same symbol is actually not that hard, or at least it feels easier to achieve than in other Megaways games.
With that being said, 9 Pots of Gold Megaways is not a really innovative or creative game, but it does what it's supposed to do: it is fun to play and has its thrilling moments, just not in the base game. This concludes our online slot review about 9 Pots of Gold Megaways.