Wolf Blaze WOWPot! Megaways (Fortune Factory Studios) Slot Review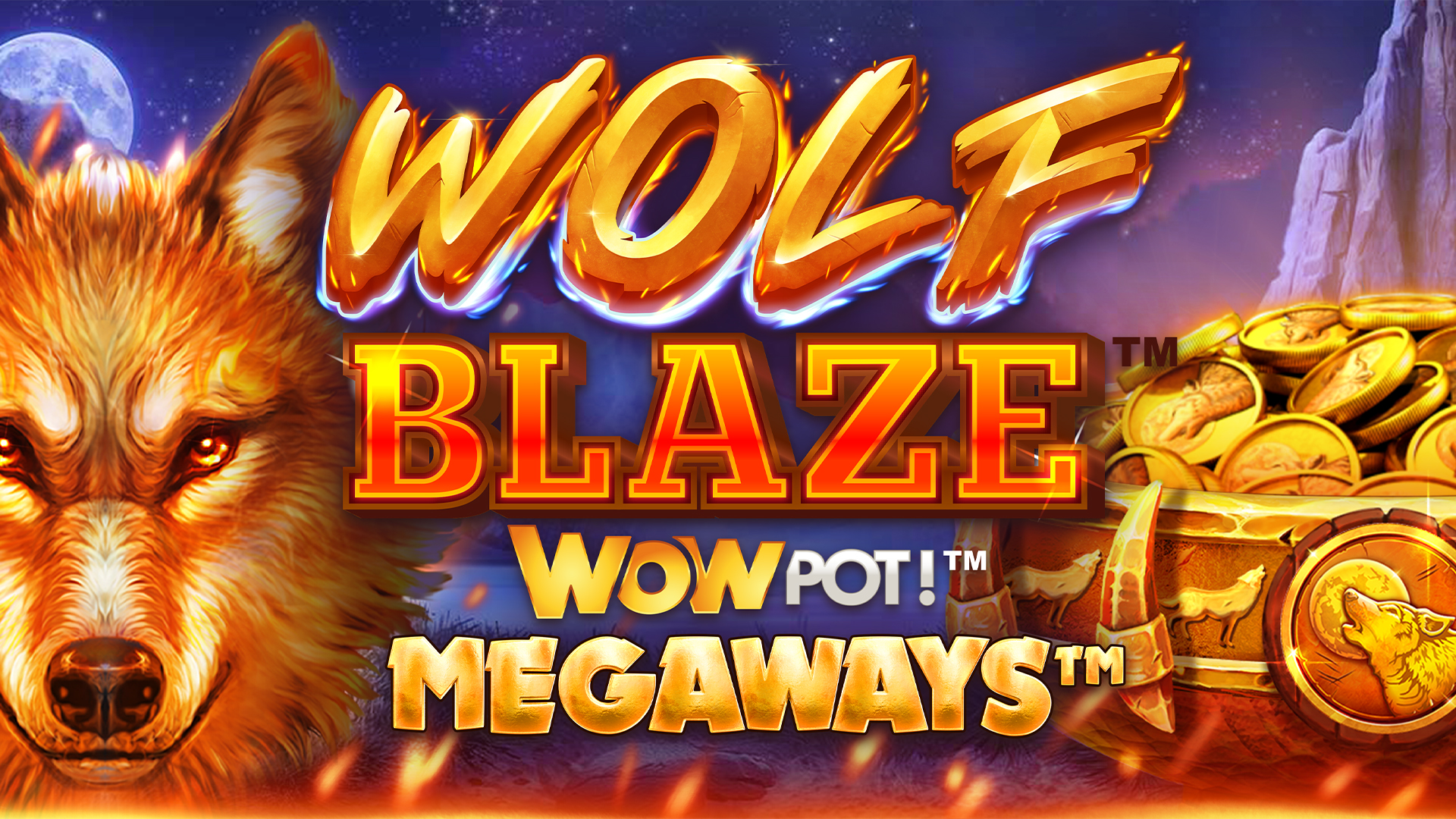 Play
Wolf Blaze WOWPot! Megaways

on
Wolf Blaze WOWPot! Megaways: Slot Overview
Did you ever hear a wolf's howl? At least we didn't, but it's said to send chills down your spine and and cut you to the quick. Wolves, and the wildlife around them, are a theme often found among many online slot games. So it's no wonder that Fortune Factory Studios, partner of famous online software provider Games Global, used this theme for their WOWPot series. This is Wolf Blaze WOWPot! Megaways.
Playing Board
Wolf Blaze WOWPot! Megaways is played on 6 reels with 2 to 7 rows and one extra row. The game uses the Megaways technology, which was invented by the popular online software provider Big Time Gaming. This mechanic allows reels to have a random amount of winning symbols between 2 to 7 on them, allowing for up to 117,649 possible ways to win. In addition, Wolf Blaze WOWPot! Megaways uses Tumbling Wins, which means that winning symbols, that were part of a winning combination, are destroyed and new ones will fall onto the playing board. The bet sizes rnge from 0.10€ to 20€ (or equivalent), but may vary depending on where you play.
Winning Symbols
The winning symbols in Wolf Blaze WOWPot! Megaways are nothing out of the ordinary, but still beautifully designed. You will find 10 different winning symbols, of which 4 are low-tier, another 4 are mid-tier and the 2 high paying symbols. We will begin at the bottom end. In the low- and mid-tier section you will find the Royals, which are classic winning symbols from 9 to A. The 9's will pay you 0.8 times your bet size per full way. These are followed by the 10's for 0.9 times your bet size. After that you'll find the J's and Q's, which clock in at 1 time your bet size and conclude the lower tier symbols.
In the mid-tier the Royals will continue with the K's and A's, both paying you 1.8 time your bet size for a full way. This tier is then continued with beautifully designed and coloured animals. The first two you will find are the Bear and the Puma, both netting you 2 times your bet size. And this already concludes the mid-tier section.
For the higher paying symbols you will find another two animals. These two make quite a difference in payouts. First is the Eagle, which will pay you 7.5 times your bet size for a full way. This is already quite the contrast to the other symbols. But the biggest contrast will be the red and blue Wolf, clocking in at a whooping 50 times your bet size per full way. Needless to say, the Wolf will be our top symbol.
Wolf Blaze WOWPot! Megaways: Special Symbols and Stats

As with pretty much every Megaways game, you will find a few Special symbols in Wolf Blaze WOWPot! Megaways. Let's see what we've got.
Scatter Symbol
First up we'll take a look at the Scatter symbol. These are actually portrayed by 5 different symbols. These symbols will spell out the word "WOLF". But now you might wonder, if there's 5 different symbols and "WOLF" only has 4 letters, which one is the 5th symbol? This is an easy question to answer, the fifth Scatter symbol is a +5 Scatter, which can only land after the first four Scatter symbols. Landing 4 or more Scatter symbols in the same spin will grant you access to the Free Spins Feature. What exactly it does and what the +5 Scatter is there for, will be covered in our Feature Overview section.
Wild Symbol
Of course we will also need a Wild symbol. These are displayed by a golden coin with a wolf howling at the moon. Wild symbols will substitute for any winning symbol except Scatter symbols. Additionally, they can only ever appear in the extra row at the top. They also play an important role in another feature, which we will cover soon.
Stats
Because there aren't too many Special symbols, we will jump right into the stats of Wolf Blaze WOWPot! Megaways. The game comes with a base RTP of 91.23%, which is pretty low, but explainable through the WOWPot! feature, which we will explain in a bit. The max win potential, outside of jackpots, is capped to 18,720 times your bet size, very solid. Wolf Blaze WOWPot! Megaways was given a high volatility rating by their creators over at Fortune Factory Studios. That is unfortunately everything we can tell you.
Wolf Blaze WOWPot! Megaways: Feature Overview

Special symbols done, stats done. Now it is time to focus on what Wolf Blaze WOWPot! Megaways has in store for us.
Jackpot Pick Game
Wolf Blaze WOWPot! Megaways features a jackpot pick game. But how do you actually trigger it? You see, everytime you land a Wild symbol, you will collect a coin, which is saved in the brazier on the left side of the playing board. After tumbling wins have ended, there is a chance that you trigger the pick game at random. The more coins you have collected so far, the higher are your chances. Even your bet size influences your chances, the higher your bet sizes, the more likely you are to trigger the feature.
After triggering the pick game, 12 coins will be shown to you. These coins will reveal gems, which are associated with one of the jackpots on the side: Green for Mini, Blue for Minor, Red for Major and Purple for the WOWPot. You are allowed to turn as many coins as you want, but as soon as you collected 3 of the same colour, you will be granted the jackpot and the pick game is over.
Free Spins Feature
4 Scatter symbols that spell out the word "WOLF" will let you enter the Free Spins feature. You will be granted 12 Free Spins, with every +5 Scatter symbol granting 5 additional Free Spins. The Free Spins feature is pretty much the same like the base game, which one huge difference. During the whole feature, you will have an active multiplier. This multiplier will increase by +1 for every tumbling win. In addition to that, the multiplier is not reset between spins and keeps increasing throughout the feature, as long as you have tumbling wins, that is. The multiplier is applied to all winning combinations.

Retriggering the feature is also possible, you will need to land 3 or 4 Scatter symbols in the extra row. This is the only place where Scatter symbols can appear in the Free Spins feature. But landing the necessary amount of Scatters will reward you with 5 or 10 additional free spins respectively. The feature will end once you have no free spins left or the maximum win potential of 18,720 times your bet size has been reached.
Wolf Blaze WOWPot! Megaways: Conclusion
It is hard to find closing words for Wolf Blaze WOWPot! Megaways. Is this a game that brings lots of innovation and new mechanics? Absolutely not. Wolf Blaze WOWPot! Megaways is nothing but a generic Megaways game we have seen countless times over the last years. The game by Fortune Factory Studios brings zero innovation, nothing new, just the millionth copy of a Bonanza-like game.
Does this mean Wolf Blaze WOWPot! Megaways is no fun? Not at all. Yes, it is a straight up copy and there's nothing new, but that doesn't have to be a bad thing. Anyone who loves Bonanza or similar Megaways games will have their fun with this game. Keep in mind though, that you are playing with a rather low RTP of 91.23%. This is due to the WOWPot feature, where a portion of your bet goes right into the jackpots. But if this is the reason why you want to play this game, then you're all set for a fun ride.
In the end, Wolf Blaze WOWPot! Megaways might be a generic Megaways game, but its doing a great job in this regard, especially with its beautiful design. Experienced players might not enjoy this as much, but newer plays should definitely have a look.