Wild Wild Riches Megaways (Pragmatic Play) Slot Review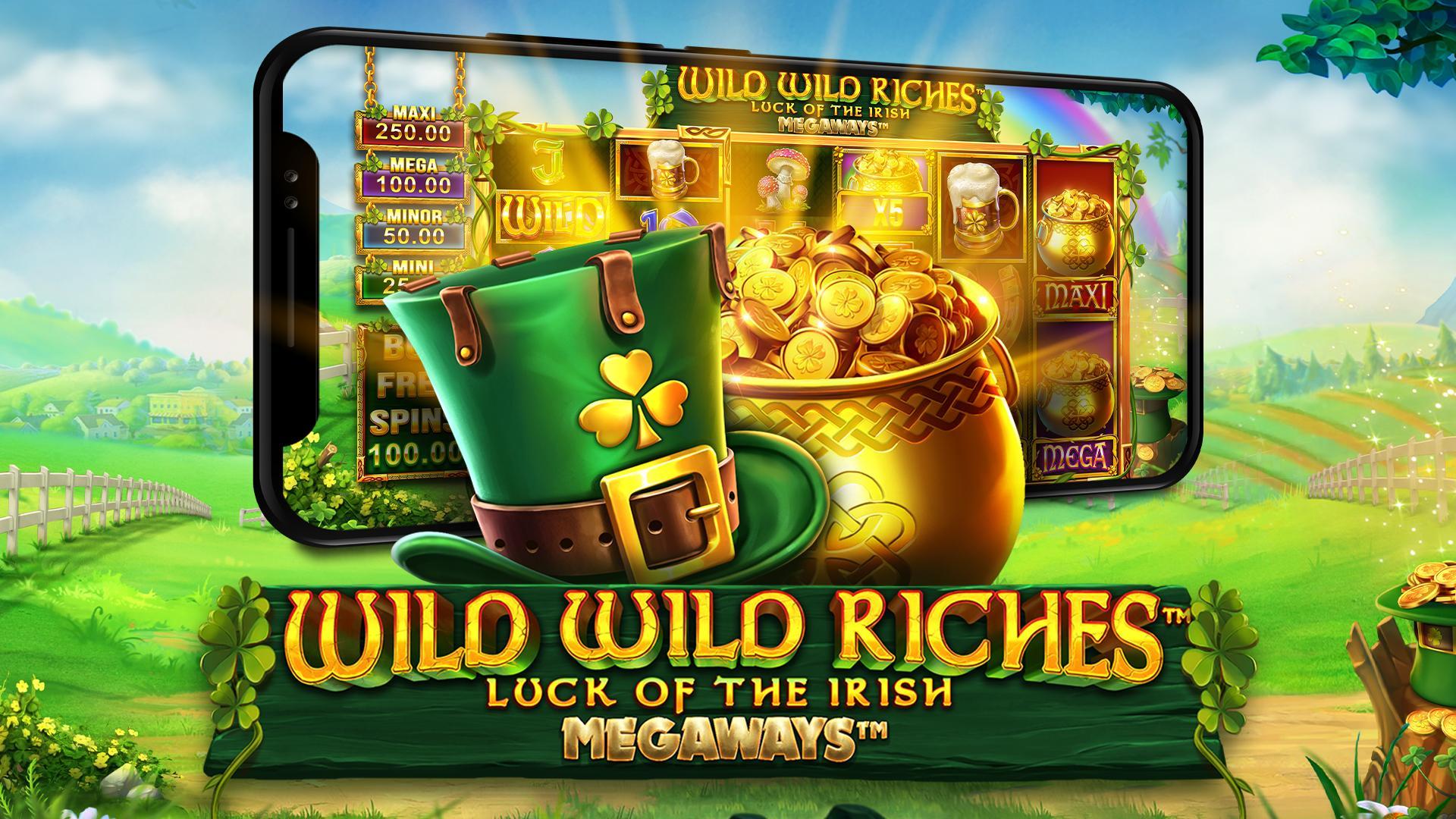 Wild Wild Riches Megaways: Slot Overview
Ever since Pragmatic Play acquired the Megaways license from online slot provider Big Time Gaming, they have been eager to convert some of their most famous online slot games into a newer version with said Megaways technology. Pragmatic Play already has converted lots of their slots, for example Dog House, Great Rhino or Buffalo King. And now they added another one to their list: Wild Wild Riches Megaways.
Wild Wild Riches Megaways is played on 6 reels with 2 to 7 rows. As the name suggests, and as we already mentioned, it uses the Megaways technology, which means that on any spin reels carry a random amount of symbols between 2 and 7, allowing for up to 117,649 winning ways. Bet sizes range from 0.20€ to 100€ (or equivalent) and can go higher and lower, depending on where you are playing.
Let's take a look at the winning symbols. There are actually quite a few, 11 of them to be more precise, with 5 of them in the lower segment and 6 in the upper segment. When we take a look at the lower tier symbols we already see a change compared to the original Wild Wild Riches. While the original had symbols like Hearts, Clubs, Diamonds and Spades, the Megaways version uses the classic 10's to A's. 10's and J's clock in at 0.5-times your bet size for a full way, while Q's, K's and A's come in at 1-time your bet size.
On the higher end there has been a change too, compared to the original version. Besides the payout changes for symbols, which we don't really understand, we also have a new symbol. But let's begin from the bottom. At first we have the Pipe, the Toadstool and the Harp, all clocking in at 1.5-times your bet size. Next up we already have the new symbol, the Lucky Clover for 2-times your bet size. Our second-to-last symbol is the Horseshoe for 2.5-times your bet size. And last but not least, just like in the original, our top symbol will be the Beer Keg for 10-times your bet size per full way.
Wild Wild Riches Megaways: Special Symbols and Stats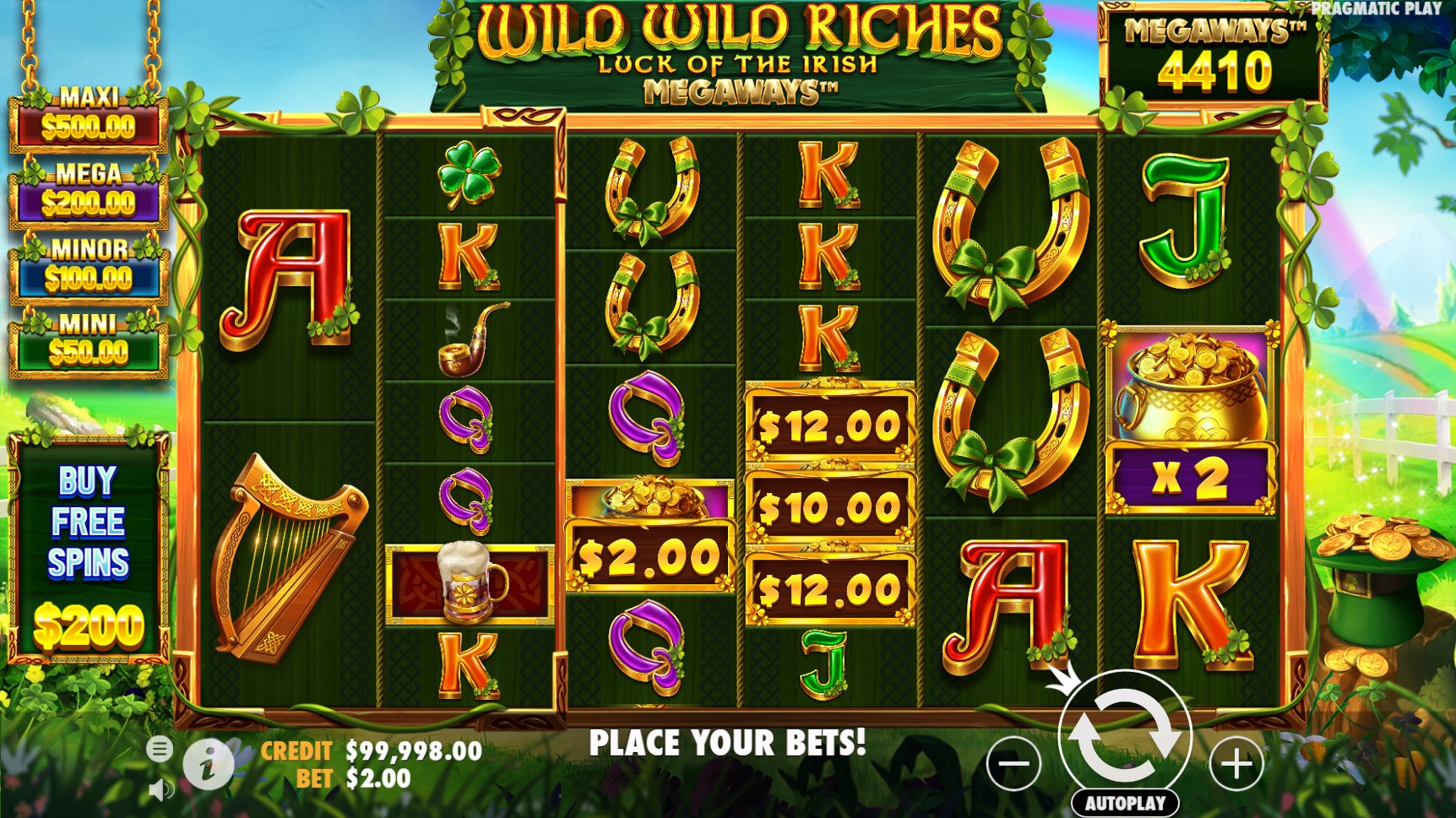 Of course Wild Wild Riches Megaways also features several Special symbols that we will take a look at.
First up we have the Wild symbol. This one is portrayed with the label "WILD" and a rainbow background. It substitutes for all winning symbols except Bonus symbols and Gold Pots. Wild symbols will play a pivotal role in Wild Wild Riches Megaways.
Speaking of Bonus symbols, of course this one is also featured. It is portrayed by the green leprechaun hat and the label "BONUS". This symbol is needed in order to enter the Free Spins feature and can only ever appear on reel 3.
The Gold Pots, or Money symbols, are portrayed by, you guessed it, golden pots. They carry random amounts of money on them from 1x to 20x. But there are also fixed jackpot wins. We will cover this in detail in our Feature Overview section.
Last but not least we also have the Multiplier Gold Pots. These look pretty much the same like the normal Gold Pots, but instead of money they carry mutlipliers of 2x, 3x or 5x. They also play a vital roll in big wins, so watch out for them. These can only appear on the last reel.
Alright, let's take a look at the stats. Wild Wild Riches Megaways comes with a base RTP of 96.02%, which is alright, just on the edge of being average. The max win potential of the game is 10,000-times your bet size. We expected such a potential, given it is a Megaways game and these usually have a higher win cap. However, the odds of getting this max win potential are very very slim. On average you will see a max win hit once in every 17,241,400 spins. We're sure we don't have to mention, but this is a really low chance. But what about the Free Spins? You will see one of these roughly once every 363 spins, quite usual for a Megaways game. On average you will get a win every 3 to 4 spins. And the chances of getting a win over 1,000-times your bet size is once every 101,153 spins. We're gonna be honest with you, the stats don't look that great.
Wild Wild Riches Megaways: Feature Overview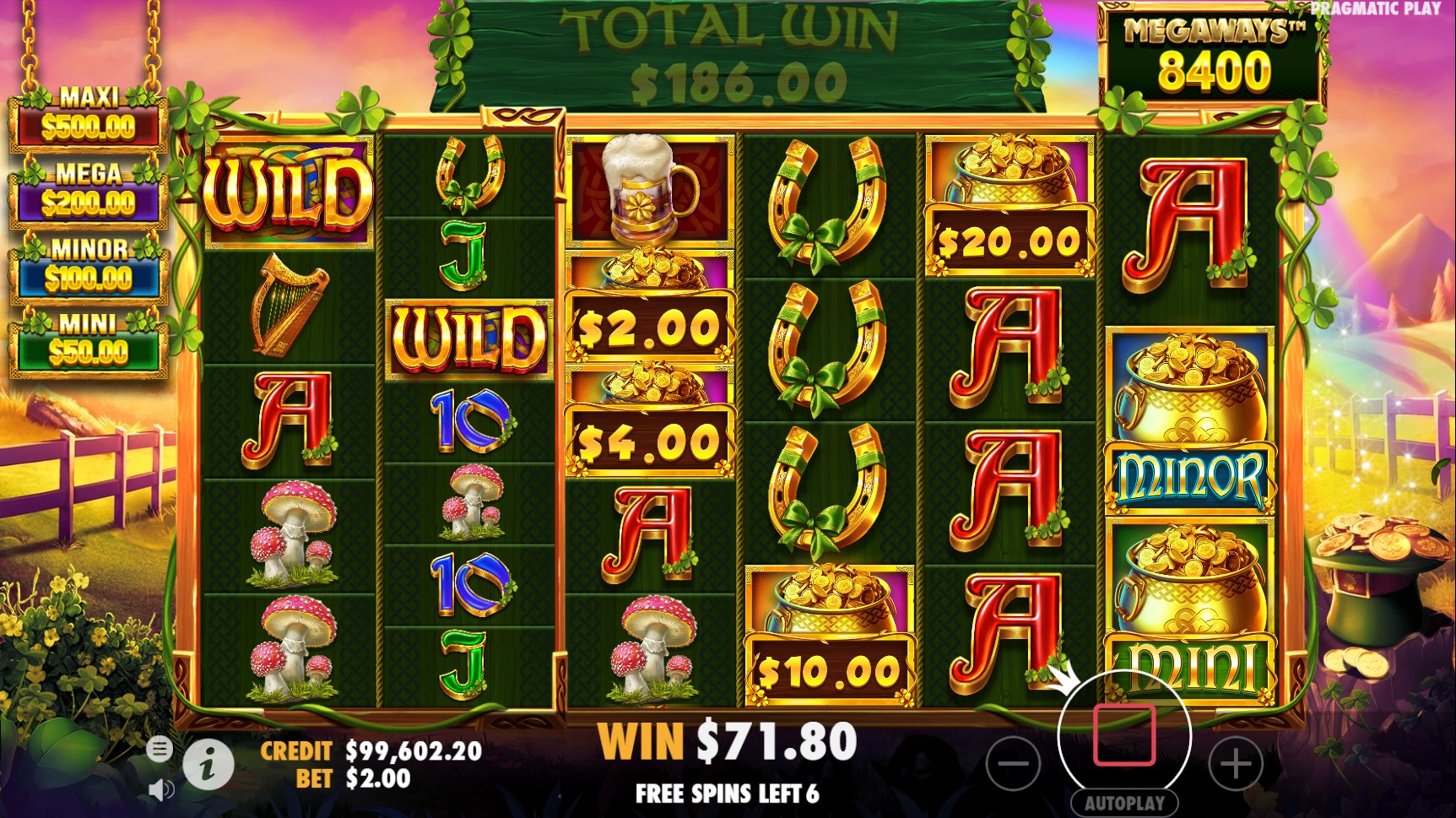 Wild Wild Riches Megaways features some interesting mechanics, that are unfortunately mostly known.
The Money Collect feature is where the Wild symbols play a very important role. You see, the Money symbols only ever appear on the reels 3 to 6. So in order to collect them you will need to have a Wild symbol on reels 1 and 2. Once you landed them on said reels, the Wild symbols will collect any Golden Pot that lands on an adjacent reel. So for example: Golden Pots on reel 4 cannot be collected if there is not at least one Golden Pot on reel 3. Although, you don't have to connect them all the way through to get a multiplier. Since the Golden Pot multiplier symbols can only land on the last reel, they will come in play whenever they land and Wild symbols on reels 1 and 2 are present.
As mentioned before, the Golden Pots can also have fixed Jackpots on them. These Jackpots are Mini, Minor, Mega and Maxi, paying you 25-times, 50-times, 100-times and 250-times your bet size respectively. They only ever appear on reel 6. In order to collect these you will need to connect the Golden Pots all the way through to the end. The Jackpots can also be multiplied.
In order to get the Free Spins Feature, you will need to land Wild symbols on reels 1 and 2 and the Bonus symbol on reel 3. Once you managed to do that, you will be brought to the lucky wheel. The wheel will spin for you, revealing your amount of Free Spins. Now you can choose if you want to gamble your Free Spins. You can win up to 20 Free Spins, but be aware, if you loose, you loose all of your Free Spins.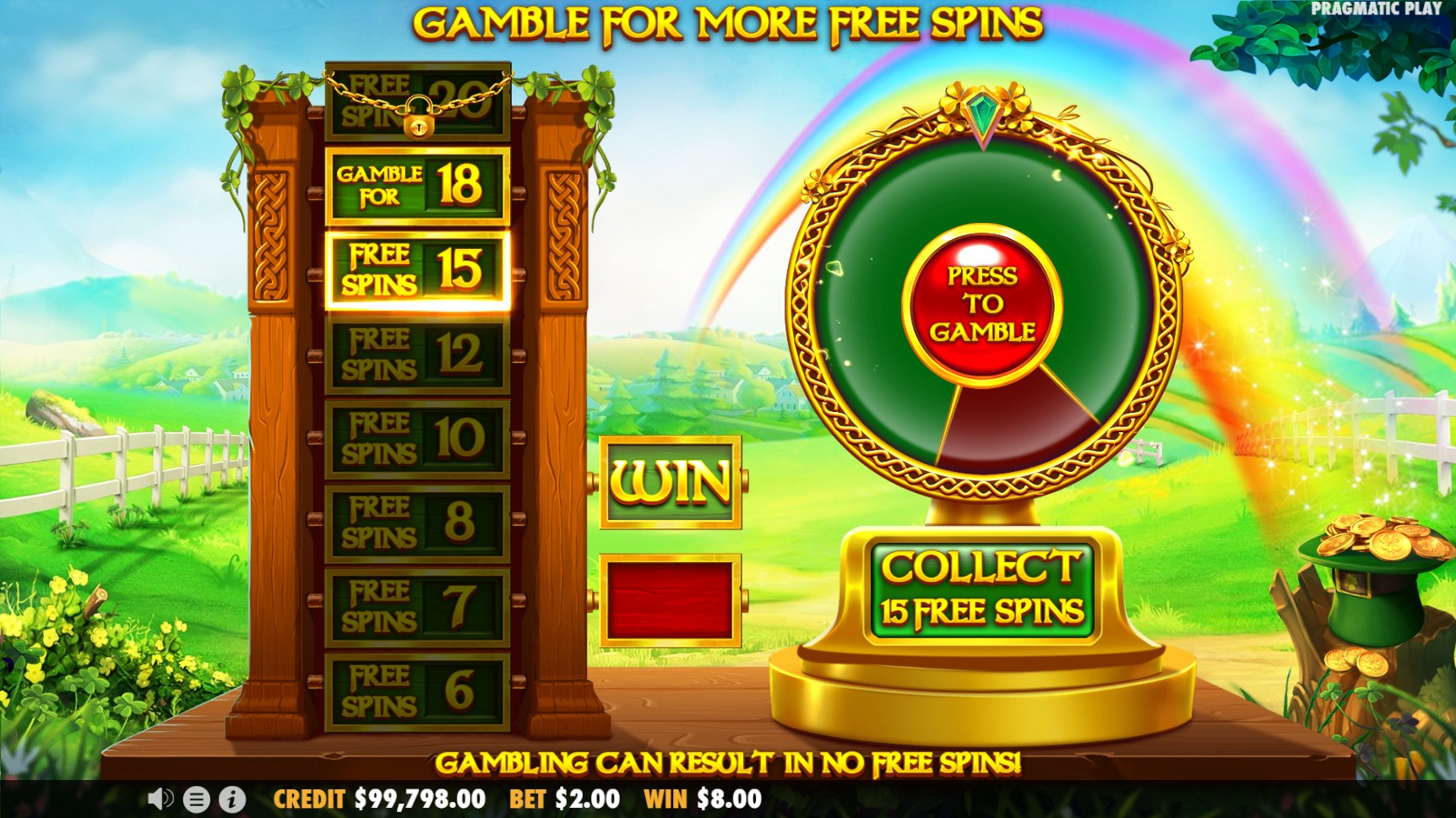 The Feature itself pretty much works exactly like the base game, with the exception that Wilds tend to land more often on reels 1 and 2. The Bonus can be retriggered, landing Wilds on reel 1 and 2 as well as a Bonus symbol on reel 3 will grant you 6 additional spins.
Wild Wild Riches Megaways comes with a Bonus Buy Feature. If you don't want to wait for a bonus, you can buy it for 100-times your bet size. Surprisingly, there is no RTP difference between the Bonus Buy Feature and the base game, which is pretty unusual.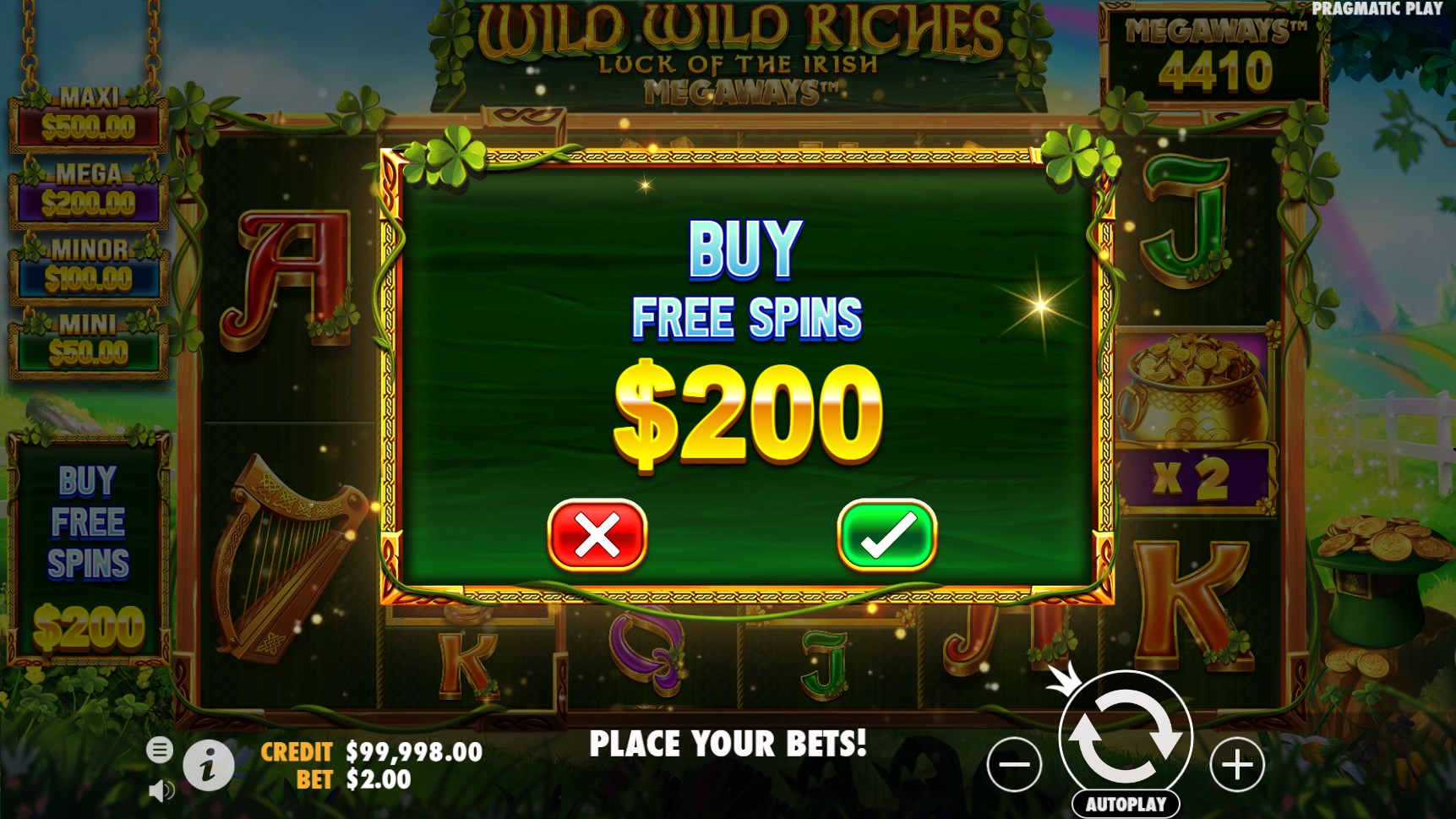 Wild Wild Riches Megaways: Conclusion
Of course we knew that Pragmatic Play would continue their efforts to convert many of their slots to Megaways versions. So it was no surprise that sooner or later they would convert another one of their slots to one that would use the technology that is licensed under Big Time Gaming. But we would have never thought that it would be Wild Wild Riches. And then we have to ask: Why? Did anyone ever ask for this? Is Wild Wild Riches actually so popular? It seems so.
Don't get us wrong, Wild Wild Riches Megaways is not a bad game or anything, Pragmatic Play managed to decently convert it into something that works. But it's not really something new. It is Wild Wild Riches, but with more winning ways. We don't really see the point in playing the Megaways version when it is basically just the same as the original. But that's just our view, maybe it will be your next favorite game?
On top of that, the stats of the game are really bad. There are games out there with far better max win potential and probability. Of course these stats are only an average and there will probably be a max win hit sooner or later, but there's still a stale taste to it.
However, if you don't care about stats than Wild Wild Riches Megaways will probably bring you lots of fun This concludes our slot review about Wild Wild Riches Megaways. It was fun trying it out for you. Hopefully we left no question unanswered and we hope you will have lots of fun with it.