Wild Wild Bananas (Pragmatic Play) Slot Review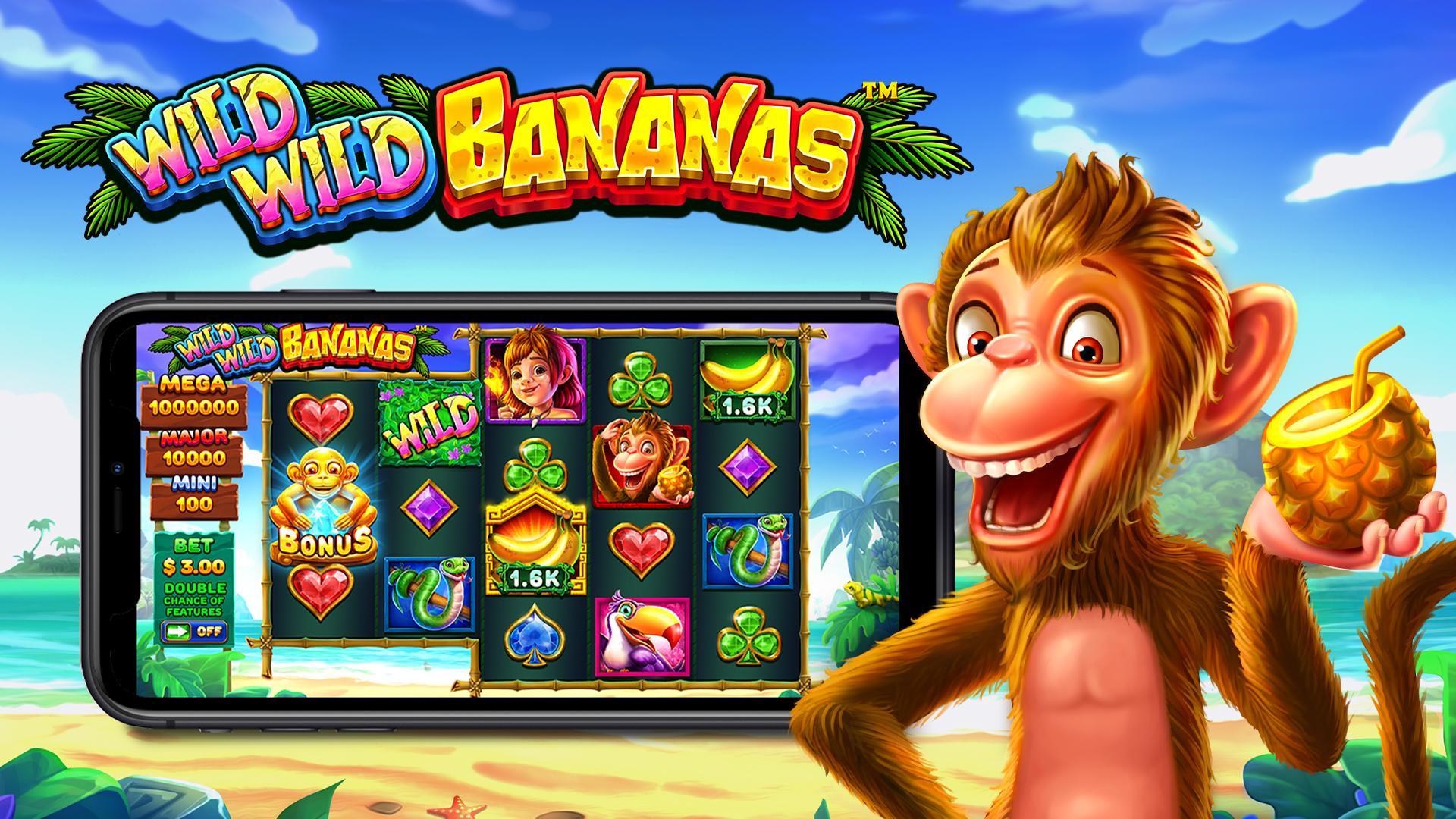 Play
Wild Wild Bananas

on

























































Wild Wild Bananas: Slot Overview
Wild Wild Bananas is the second Pragmatic Play entry that has the "Wild Wild" slogan. Releasing on January 9th 2023, it becomes the successor to Wild Wild Riches which was released in late 2020. The game features similar mechanics to its predecessor, while it`s not just a reskin.
First of all the theme got changed for this machine, Wild Wild Riches is a leprechaun slot featuring pots of gold and Wild Wild Bananas changes the setting to a jungle theme with a kid Mogli like top symbol. Of course a slot with a name like this needs to have wild banana symbols right? There are banana featured in this slot but those doesn`t count as wild symbols, nor can you connect them on a classic win way. Whoever is already familiar with the predecessor might gets a clue what the bananas are used for in this slot, so without further ado, lets dive into the mechanics of Pragmatic Play`s Wild Wild Bananas slot machine.
Wild Wild Bananas: Stats and Special Symbols

The slot machine has a 5 Reels layout, with 3 rows on the first 2 reels and 4 rows on the last 3 reels. The game is played on 576 possible ways to win, basically everything from left to right counts when landed on adjacent reels. There is a freespins feature that can be triggered by landing a scatter symbol on the third reel, for the scatter symbol to count you also have to land a wild symbol on reel 1 and 2 on the same spin. The scatter symbol is a golden monkey statue that shows "BONUS" and is holding a shiny gem. For low symbols Wild Wild Bananas has basic card symbols just as diamonds, clubs, hearts and spades, all of which having below 1 times the bet payouts for a full five of a kind winway. The premium symbols from lowest to highest in the following order are a pink blossom, a green snake, a toucan bird, a monkey which is holding a coconut drink with a straw in it and a kid Mogli like character that is holding a torch as the top symbol. All of this symbols have quite low payouts topping out with a 4 times the bet top symbol reward per five of a kind kid Mogli symbol. There are wild symbols that can only land on reel one and two, those wilds symbols are green jungle leaves showing "WILD" on the symbol itself.
As mentioned, there are also banana symbols features in this slot, those can only appear on the reels 3, 4 and 5 and have cash prizes on them. The value of the cash prizes can be 1, 2, 3, 4, 5, 6, 8, 10, 15 or 25 times the bet. There are also jackpots that can be granted from the bananas, the jackpots are as followed: Mini – 50 times the bet, Major – 100 times the bet and a Mega jackpot as the top prize with a 500 times the bet reward on it. Those Jackpot bananas can only be landed on reel 5. Just as with the Scatter symbol, you can only collect banana symbols while they are adjacent to wild symbols on reel 1 and 2. They must build a winning way throughout the reels meaning the prizes wont be collected if there are no bananas on the reels in between the wild symbols and the bananas you want to collect the prizes from.
Rather rare for a 2023 Pragmatic Play release is that there is no bonus buy option. Not a typical is the ante bet option, the player can opt-in the extra bet of 20% extra to get a twice as high chance to trigger the bonus. The game rules state that the ante bet will increse the likelyhood of the wild symbols landing, meaning you should also expect more bananas to be collected from the basegame. The top RTP version for Wild Wild Bananas is 96.10% and reaches 96.15% when the ante-bet is activated. Depending on the casino you playing on, they might choosed to implement a lower RTP version of the game, the other two versions come with 95.10% and 94.10% as the lowest possible initial RTP version for Wild Wild Bananas. On a side note, Wild Wild Riches came with the same RTP options but all numbers were flat, so it ranged from a flat 96% down to a 94%. This might only be a small increase, but RTP increases on successors are always welcomed. Wild Wild Bananas is capped on a maximum win of 12,000 times the betsize.
Wild Wild Bananas: Free Spins Bonus Feature

If the player managed it to land a wild symbol on the first two reels followed up with a scatter symbol on the third reel, the player is awarded with 10 freespins. During the freespins there are special reels in place that holding more wild and banana symbols on them. There is also a special golden banana symbol that only occurs on reel 3, 4 and 5 during freespins. This golden banana symbol will act just as a regular banana symbol when it comes to the cash prizes but will increase the rows for the specific reel it landed on by one extra row for each landed golden banana symbol. This row increase will be active till the freespins ended and caps out on a maximum of 8 rows per real, so landing 4 golden bananas on a reel will increse the reelsize to the maximum of 8 positions. The row increase also happens no matter if the player has adjacent wild or banana symbols on the other reels.
The player can retrigger the freespins, this happens by landing a golden banana symbol on a full extended reel. When the player achieves the retrigger, a random amount between 5 to 10 additional freespins is awarded. A retrigger can only be achieved once per reel, for every following spin after the bonus was retriggered, there are no more golden bananas on a reel that retriggered the bonus already.
Wild Wild Bananas: Conclusion
Luckily we can compare Wild Wild Bananas with its predecessor Wild Wild Riches. An increased RTP on a follow up slot is always great and Wild Wild Bananas is not a cheap reskin. That being said, multipliers for the whole winscreen as in Wild Wild Riches would have been a cool addition and made the max win more realistic to achieve. A 12,000 times the bet wincap sounds great at first but for Wild Wild Bananas with a rather rare max Jackpot prize of 500 times the bet, even if achievable multiple times at once, is quite unrealistic to get. The other changes made like increasing reel rows are a great idea that works out as something fresh for this kinda slots. We have seen increasing reels on this "wild wild collect" mechanic on Lucky Lightning by Pragmatic Play`s Wild Streak Gaming, but those changes came randomly and improved the reels only for the spin it happened. Overall Wild Wild Bananas is a fun slot that comes, for our taste, in a mid variance even though Pragmatic Play rates it a 4 out of 5 on their volatility scale.