Wild Bison Charge (Pragmatic Play) Slot Review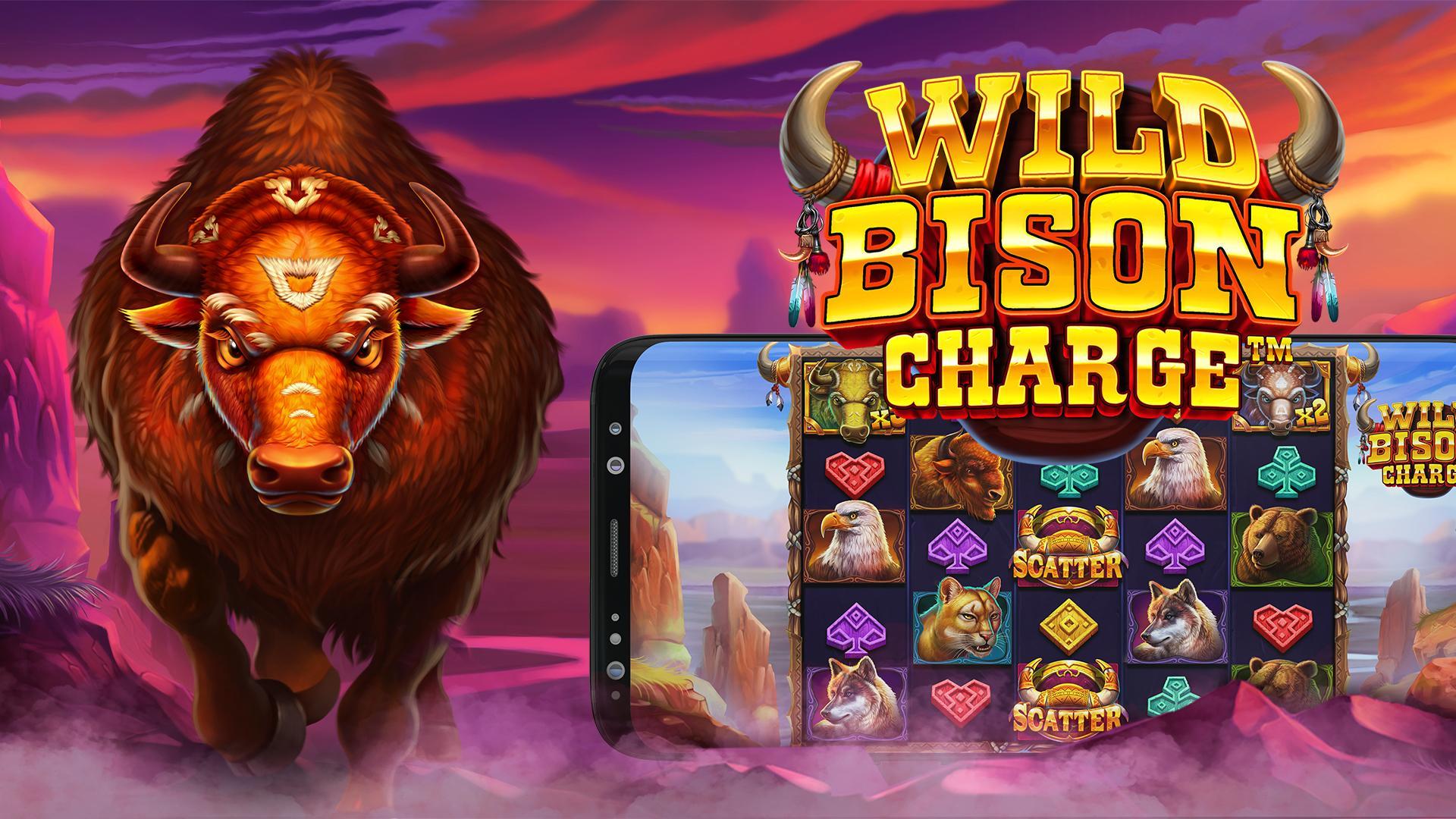 Play
Wild Bison Charge

on

























































Wild Bison Charge: Slot Overview
In online slot games, there are a number of themes that keep reoccuring. One of the greatest examples is the theme of the ancient egypt. Barely any online software provider does not have an online slot game themed around the ancient gods and rulers. But that's of course not everything, one of the most used themes are simply bisons and their wildlife fellas. In this online slot review we will be going over Pragmatic Play's Wild Bison Charge.
Playing Board
Wild Bison Charge is played on 5 reels with 5 rows. To determine winning combinations, the game uses a mechanic, that is actually rarely used nowadays. This mechanic is called Scatter Pays, where winning symbols pay anywhere on the screen, as long as a certain amount of them is in view. In the case of Wild Bison Charge, you will need at least 8 of the same symbol to form a winning combination. Bet sizes range from 0.20€ to 100€ (or equivalent), but may vary depending on where you play.
Winning Symbols
In Wild Bison Charge you will find 10 different winning symbols. On the lower end you will find the first 4, and the other 6 on the mid to high paying end. Let's start right off with the low winning symbols. These are occupied by so-called Royals, which are classic winning symbols. In the case of Wild Bison Charge, you will find the winning symbols from J to A. The J's are the lowest symbol and will net you 45 times your bet size for a full screen. Next up are the Q's for 60 times your bet size. These are followed by the K's, clocking in at 75 times your bet size. And the last of the Royals will then be the A's for 100 times your bet size for a full screen.
On the higher paying end you will find various animals. We'll start off with the wolf, netting you 125 times your bet size. Next is the eagle, clocking in at 150 times your bet size. Right in the middle is the puma, paying 175 times your bet size. Second to last will be the brown bear, coming in for 200 times your bet size. And last but not least, the name-giving bison, which will pay you 250 times your bet size for a full screen. But despite being the name-giving animal, the bison is technically not our top symbol
Wild Bison Charge: Special Symbols and Stats

As with many Pragmatic Play games, Wild Bison Charge features a few special symbols that will help you on your objective to win big.
Scatter Symbol
First let's talk about the scatter symbol. This symbol is portrayed by two bison horns with a golden ornament and the label "SCATTER". Scatter symbols can appear on any reels. If you manage to land 3 or more in the same spin, you will be able to enter the free spins feature. What exactly awaits you in this feature, will be covered in our Feature Overview section of this online slot review.
Wild Symbol
The wild symbol will play a vital role in Wild Bison Charge. The symbol will be represented by one of three possible bisons, a brown one, a green-ish one and a red one. Wild symbols will substitute for any winning symbol except scatter symbols. But what makes wild symbols so special in Wild Bison Charge, is the fact that they always carry a multiplier. Depending on which bison is shown, they will have an x2, x3 or x5 multiplier, which is then applied to any winning combination the wild is part of. And the best thing is, since Wild Bison Charge uses Scatter Pays, wild symbols will always be part of any winning combination if they are on the screen. If more than one multiplier is part of a winning combination, the multipliers are added together and are then applied to any winning combination. Technically, wild symbols even have their own payouts. If you somehow manage to get a full screen of wild symbols, you will be awarded the maximum possible win, making wild symbols the top symbol.
Stats
Wild Bison Charge has a base RTP of 96.03%, barely on the edge of the average. The max win potential is capped at 12,000 times your bet, which is pretty surprising, since many of Pragmatic Play's games are capped between 5,000 to 10,000 times your bet size. The chances of hitting a max win are round about once every 6,810,734 spins. Not the best, but definitely not the worst, that's an okay chance. Pragmatic Play themselves rate Wild Bison Charge with the maximum volatility of 5 out of 5, making it a very volatile slot. The hit frequency is set to 4.07, which means that you can expect a win to occur round about every 4 spins. And, last but not least, your chances of triggering a free spins feature are around once every 227 spins.
Wild Bison Charge: Feature Overview

Wild Bison Charge does not offer a lot of features, but the ones it does feature are very interesting. Let's take a look.
Free Spins Feature
Hitting 3 or more scatter symbols in the same spin will allow you to enter the free spins feature. Depending on with how many scatters you have triggered you will get 9, 12 or 15 free spins for 3, 4 or 5 scatters respectively. The feature game is actually not really that different from the base game, but there is one big twist. This is where our wild symbols will shine to their fullest, because wild symbols will become sticky in the free spins feature. This means that, once they have landed, they are stuck on their positions and will not leave them. Retriggering the feature is possible, landing 2 or more scatters will reward you with the same amount of spins.
The feature will end once you have used all of your available free spins or the max win potential of 12,000 times your bet size has been reached.
Bonus Buy Feature
Just like many modern Pragmatic Play games, Wild Bison Charge also comes with a bonus buy option. If you don't want to wait the average 227 spins for a bonus to trigger, you can also just buy one. For a fee of 100 times your bet size you can skip the base game and head directly into the free spins feature. Keep in mind though, that Wild Bison Charge is a very volatile game, meaning that feature games often pay little to nothing. So be careful when buying bonuses, it can get expensive quickly. RTP-wise there's no spectacular change, the bonus buy options has a slightly higher RTP of 96.04%, barely worth mentioning.

Wild Bison Charge: Conclusion
Wild Bison Charge is a prime example of how to create a good online slot game without anything fancy. Let's face the facts, Wild Bison Charge does not have a ton of special symbols nor does it have lots and lots of features. But even though it is such a minimalistic slot game, it does a great job in entertaining players.
The only real negative point we can mention here is the base game. Probably because the game is rather minimalistic, the base game can get a bit boring. Pragmatic Play maybe knew that, that's why the base game reels will spin way faster than we are used to. And while we would criticize this most of the time, in this case it is a welcome sight, because there is pretty much nothing you could miss in the base game.
In the end, Wild Bison Charge is a very well designed slot with barely any features, that it really doesn't need. Especially fans of sticky wild games could be in for a treat with this one. And even if you're not a fan, try it out yourself, we're sure you will have lots of fun with this game, just like we did.