The Red Queen (Pragmatic Play) Slot Review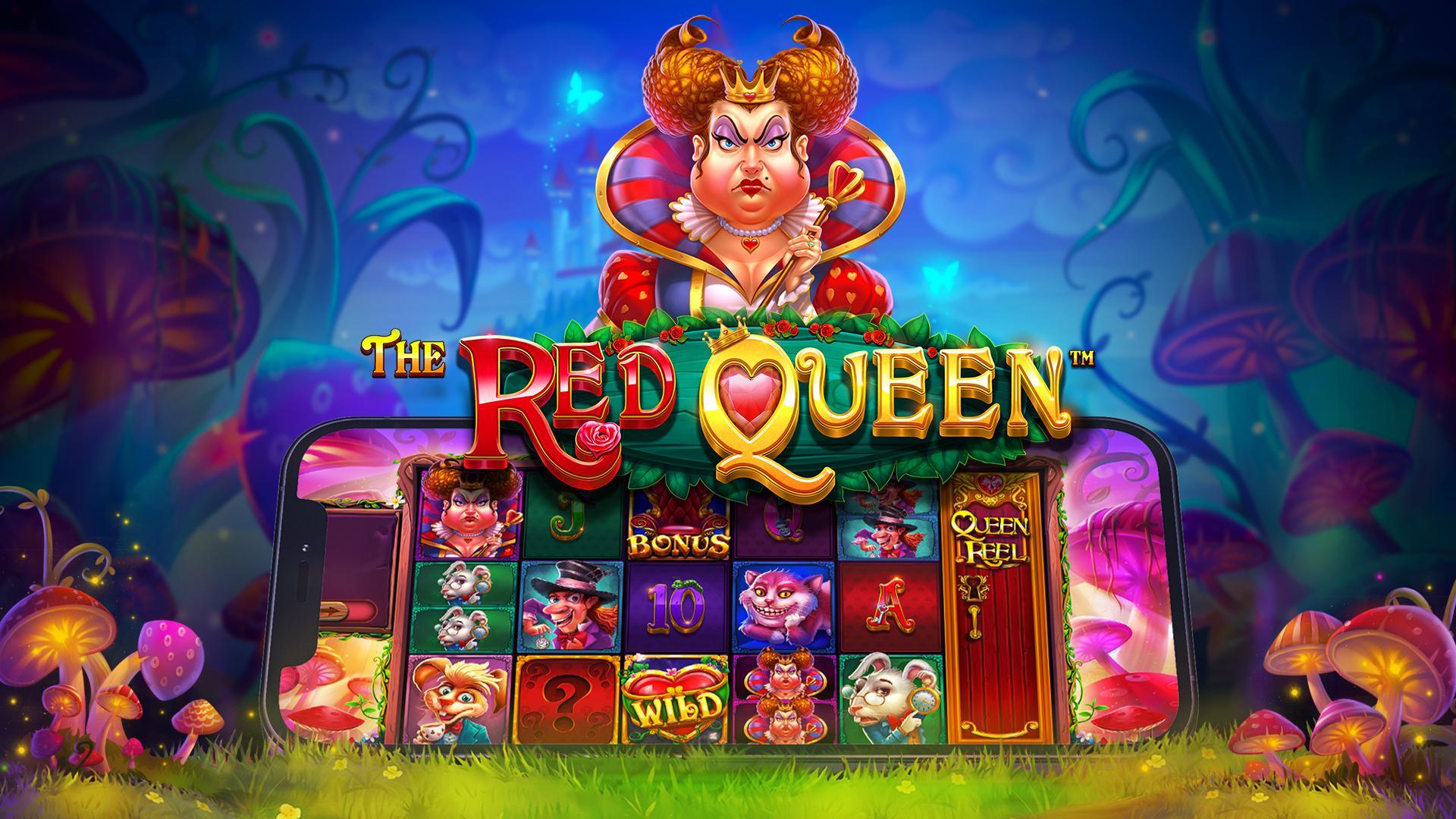 Play
The Red Queen

on


























































The Red Queen: Slot Overview
Fairy tales are a common theme found among many online slot games. With them they bring a perfect template for stories, crazy game mechanics or just beautifully designed slot games. So it should come as no surprise that one of the biggest online slot providers, Pragmatic Play, took one of the greatest fairy tales and designed an online slot game around it. So let's dive down the rabbit hole and get ourselves an audience with The Red Queen.
Playing Board
The Red Queen is played on 5 or 6 reels with 3 rows. The game uses Winning Ways to determine its wins. This means that at least 3 of the same symbols on adjacent reels from left to right form a win, no matter their position on the reels. So in the base game, there are at least 243 ways present at all times. This number can be increased through game mechanics to up to 248,832 ways, although highly unlikely. Bet sizes range from 0.20€ to 100€ (or equivalent), but could vary depending on where you play.
Winning Symbols
As for our winning symbols, we will find 10 different winning symbols, consisting of 5 low-tier symbols and 5 high-tier symbols. Definitely not too shabby. For the lower tier symbols Pragmatic Play went with the classic winning symbols from 10 to A, all designed with a little details known from Alice in Wonderland.
Important note from our side: The payouts of the symbols will be written in the format 5 of a kind/6 of a kind, since they are both relevant and represent full ways in the base game/bonus game.
Let's begin with the 10's. These are by far the lowest symbol, clocking in at 0.3 times/0.5 times your bet size for a full way. Next up are the J's and Q's, sharing a payout with 0.4 times/1 time your bet size. And lastly, at the higher end of the lower paying symbols, are the K's and A's, both netting you 0.5 times/1.25 times your bet size per full way.
The higher end holds more iconic characters from the fairy tale of Alice in Wonderland itself. With that being said, on the lower end of the higher tier symbols you will find what is probably supposed to be the March Hare for 1 time/1.5 times your bet size per full way. Next in the line is the Mad Hatter, coming in at 1.25 times/2 times your bet size. The third high-tier symbol is the infamous Cheshire Cat, netting you 1.5 times/3 times your bet size for a full way. Second to last is the White Rabbit, who leads Alice into the Wonderland, clocking in at 2 times/3.75 times your bet size. And last but not least, you probably already guessed it, is the Red Queen herself, paying you 2.5 times/5 times your bet size for a full way.
The Red Queen: Special Symbols and Stats

It should not be a surprise that a magical fairy tale slot game comes with some interesting Special symbols that promise great features. Let's take a quick look at them.
Scatter Symbol
First up, let's talk about the Scatter symbol. This symbol resembles the throne of the Red Queen and carries the label "BONUS" on it. Landing it 3 or more times in the same spin will result in the entrance of the Free Spins Feature. But that's not everything Scatter symbols can do. We will talk about it in detail in our Feature Overview section of this online slot review.
Wild Symbols
Of course The Red Queen also comes with Wild symbols. These symbols are displayed by a red heart and a banner with the label "WILD". Although not specifically stated, Wild symbols will substitute for any winning symbol except Scatter symbols. That's not all though. Wild symbols can also randomly carry a multiplier of x2 or x4, multipying every win that passes through them. Another thing that is not specifically stated in the rules, is that multiple multipliers are multiplied with each other before being applied to wins. What a sentence, eh?
Mystery Symbols
What would a fairy tale slot be without some mysteries? The Mystery symbol is portrayed by a big question mark on a red background and a golden border. If a Mystery symbol lands on the screen, it will transform itself into one, two or four instances of the same symbol. Even if more than one Mystery symbol lands, it will always transform into the same random symbol. As far as we know, it can only transform into one of the 10 winning symbols, not a Wild symbol nor a Scatter symbol.
Additionally, the Red Queen herself is some sort of Special symbol, but only under certain circumstances. What these circumstances are and what the function of the Red Queen is will be explained in the Feature Overview section.
Stats
Now it is time to feed you with some stats about The Red Queen. Pragmatic Play's fairy tale slot game comes with a high volatility, getting a rating of 4/5 thunderbolts by Pragmatic Play themselves. The base RTP of The Red Queen is set at 96.06%, barely at the average of 96%. The maximum win potential is capped at 5,000 times your bet size. However, getting one of these max wins is very unlikely, as you will need 29,282,000 spins on average to ever get a max win. But when we talk about "hard to get", then we also need to mention the chances of getting a bonus. On average you will need around 349 spins to get a bonus. So, the bonus is not that easy to trigger.
The Red Queen: Feature Overview

It's time to take a look at all of the features The Red Queen has to offer. Let's see how the game works and where the true potential lies.
The Sixth Reel plays a major role in both the base game and the bonus game. True, the sixth reel is locked in the base game. But there is a way to open it. Upon landing 2 or more Scatter symbols, the sixth reel will open. On this reel you will find 3 different symbols: Scatter symbols, Red Queens and blanks. Blanks obviously do nothing. Scatter symbols will guarantee you entry to the Free Spins Feature, if you did not yet land 3 Scatter symbols. And the Red Queen will trigger another feature called Queen Respin.
Upon landing the Red Queen while the sixth reel is open in the base game, you will be granted one Queen Respin. In this Respin, just like the name suggests, the reels are spun again. But here is where the actual feature comes in play. You see, the Scatter symbols you landed are kept, but during the Respin they are transformed into Wild symbols with random multipliers of x2, x3 or x5.
Like we mentioned earlier, 3 or 4 Scatter symbols in the same spin will put you into the Free Spins Feature. Before the feature begins, you will see a clock. The clockhand will spin, revealing your number of free spins. You will also notice a green area. If you manage to land in this area, the clockhand will spin again, adding Free Spins and stacking them. When triggering with 3 Scatter symbols, the clock will have a green area from 12 to 4. Four scatters however will advance it from 12 to 6. But be aware, according to the game rules, which we have to use since we didn't get it ourselves during testing, the 12 on the clock does not count as being in the green area, whereas the 4 and 6 do count so. Once the clockhand lands outside the green area (or on 12) the Free Spins will start.

During the Free Spins, the sixth reel is always open and carries regular winning symbols. This means that the lowest possible number of ways will increase to 729 ways. Above reels 2 to 5 you will notice 4 little card soldiers. On every spin they will hold up a sign with either a feature or nothing on it. There are 3 features that can be shown:
| | |
| --- | --- |
| Name | Feature |
| +WAYS | 1 to 3 symbols that are split into 2 or 4 will hit |
| +WILD | A Wild symbol with a guaranteed multiplier of x2, x3 or x5 will land |
| +1 SPIN | One more Free Spin will be awarded |
The Feature will end once all your spins are over or the max win potential of 5,000 times your bet size has been reached.
The Red Queen: Conclusion
243 ways that can be enhanced almost endlessly, Splitting symbols, Wild symbols with multipliers, a sixth reel that opens under certain circumstances, Respins. Call us conspiracy theorists but having all these features in a single slot kind of looks like Pragmatic Play is taking on out of the playing book of NoLimit City. Of course, they were not the first ones that used these types of game mechanics. But they do use them a lot with their xMechanics, And maybe Pragmatic Play is launching an offensive against them and say "You guys are not the only ones who can do that".
But let's put these thoughts aside and focus on the important things. The Red Queen is definitely an online slot game that promises a lot of fun and thrill. There isn't really a single feature in this game that does not promise lots of excitement whenever it lands. The sixth reel tease is especially thrilling, since you can get both a bonus or the Queen Respin. Or you are unlucky and hit blanks.
The Free Spins Feature is also a little sideswipe against NoLimit City, since they use very similar mechanics. But these mechanics are what makes them so entertaining, and Pragmatic Play adapted them very well. In the end, The Red Queen is another wonderful attempt at transforming the story of Alice in Wonderland into an online slot game. With a beautiful design choice and lots of exciting and thrilling mechanics, we had a blast testing this game for you. Hopefully we answered all of your questions without leaving anything open. This concludes our online slot review about The Red Queen. We are sure that you will have just as much fun with the game as we had.