San Quentin xWays (Nolimit City) Slot Review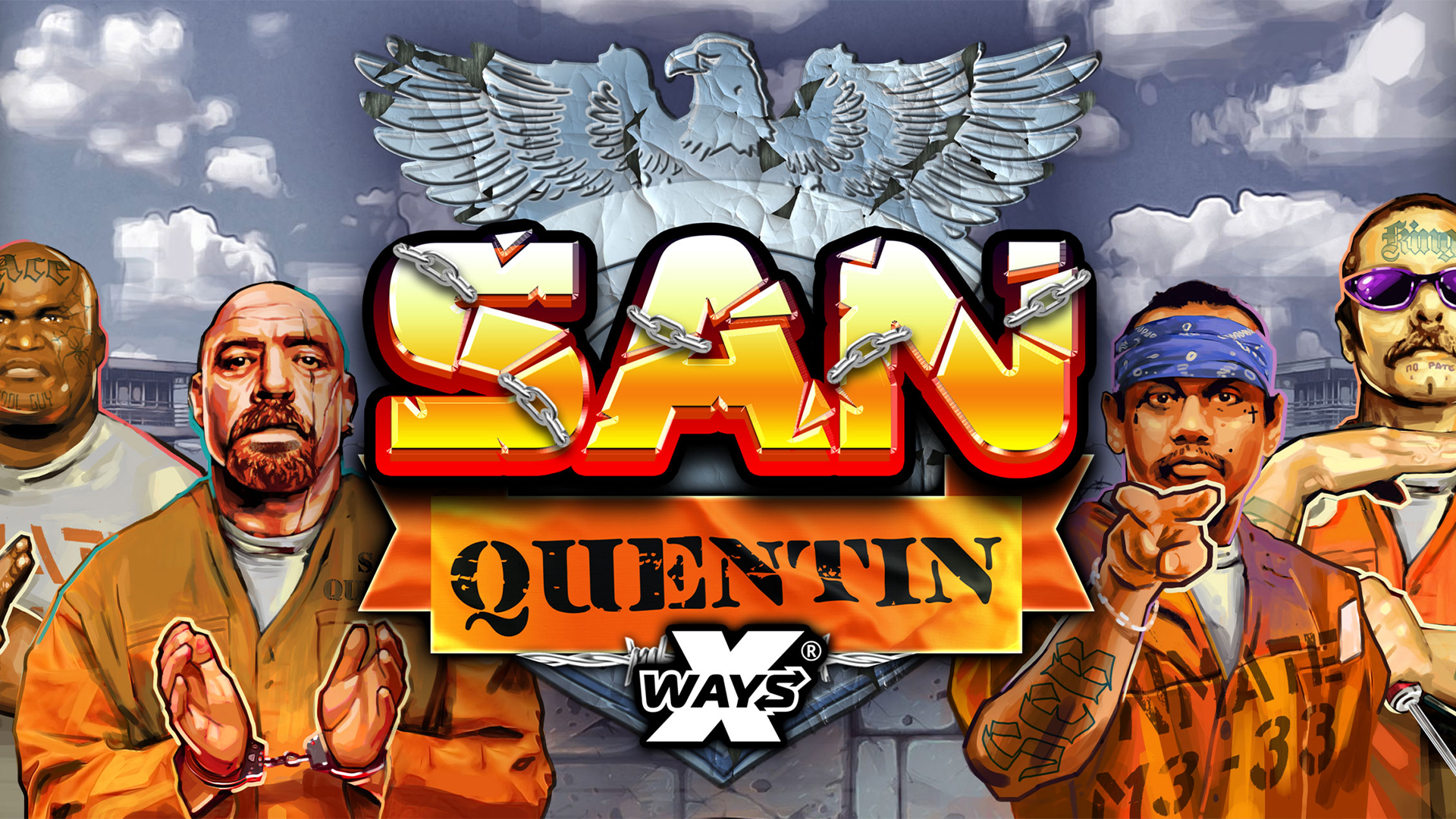 When it comes to creativity for online slot games, Nolimit City have been on the top of the board for quite a long time now. San Quentin xWays was a highly anticipated game by many online slot fans, so Nolimit City had quite the job to do in order not to disappoint. And one thing we can without a doubt say up-front: It did not. In this slot review we will be going over all things you need to know about San Quentin xWays.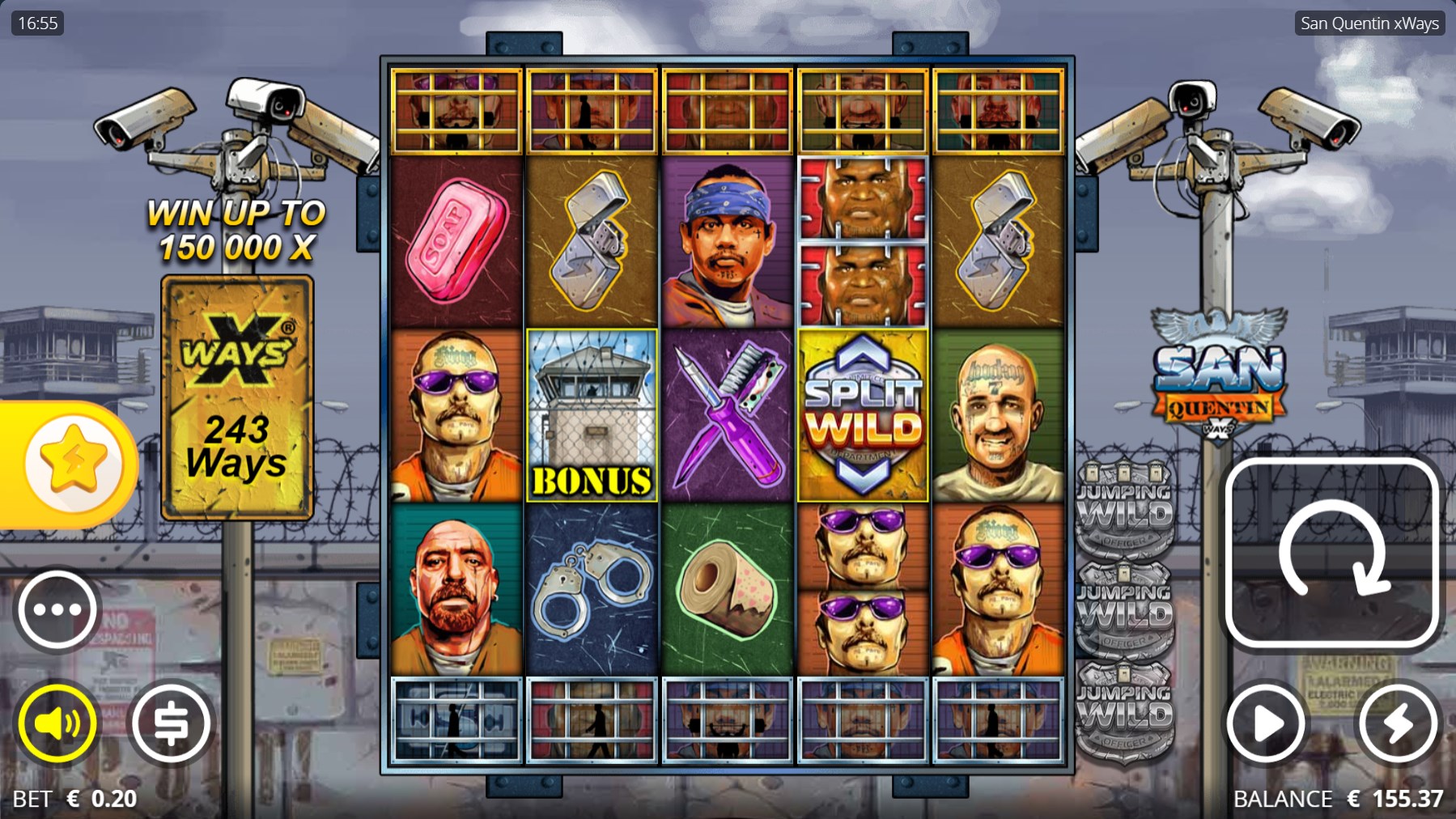 San Quentin xWays consists of 5 reels with 5 rows, two of them being barred at the top and bottom of the game board. Paylines are actually ways in this game, 243 ways are at least active at any time but can be brought way up to massively high numbers through game mechanics which we will feature later on in this slot review. San Quentin xWays allows for a lot of different bet ranges, with the lowest being 0.20€ and the highest available bet being 32€ (or equivalent in other currencies). Bet ranges may vary depending on where you play.
Not only are there a lot of bet ranges, but also a lot of paying symbols at San Quentin xWays. Nolimit City decided not to go with the usual stuff of symbols like Jacks, Queens or Kings. Instead, all paying symbols are designed to fit the theme of San Quentin. We have 5 low-paying symbols and 5 high-paying symbols. On the lower end you will find toilet paper, handcuffs and something that looks like a combination of a toothbrush and a razor blade, combined with a makeshift tattoo machine. Those symbols clock in at 1.5 times the bet per full way, along with the other two lower symbols, the lighter and the soap bar, which clock in at 2 times the bet per full way.
San Quentin xWays features 5 protagonists, namely, from lowest to highest: Crazy Joe, Biker Bill, Loco Luis, Heinrich 3rd and Beefy Dick. Yes, Nolimit City have outdone themselves with these names. These high-paying symbols will give you up to 5 times your bet for a full way. They also play a very crucial role in the bonus feature, which we will cover later on in this slot review. The scatter symbol looks like a guard tower and can come on any of the 5 reels. Of course there are also other feature symbols, these will also be covered later on. San Quentin xWays also has a pretty decent Hit Frequency at 34.25%, meaning that you will get return roughly every third spin.
San Quentin xWays comes with a bonus buy feature, and this one is hefty. When buying a bonus you will come across the choice of 3, 4 or 5 scatters. Buying 3 scatters will cost you 100 times your bet, 4 scatters are priced at 400 times your bet and 5 scatters are clocking in at 2000 times your bet. Of course we should mention that San Quentin xWays can pay up to 150,000 times your bet, but it is also an extremely volatile slot, so 2000 times the bet is a big risk to take.
San Quentin xWays: What is San Quentin?
For those of you unfamiliar with the name "San Quentin": San Quentin State Prison is the oldest prison in US state California and counts as one of the most brutal prisons in California. San Quentin has become sadly infamous for it's death sentences up until 2006, when the state of California decided not to perform any executions. San Quentin has been featured mutliple times on film, radio, music and television. Honorable mentions are Marvel's Venom and Vemon: Let There Be Carnage as well as Metallica's St. Anger, to which the music video was filmed at San Quentin.
San Quentin xWays: Feature Overview
Nolimit City did not go short when designing the features for San Quentin xWays, so there's quite the barrage of them put on the player. We will be covering all of the features in this slot review and what exactly they do.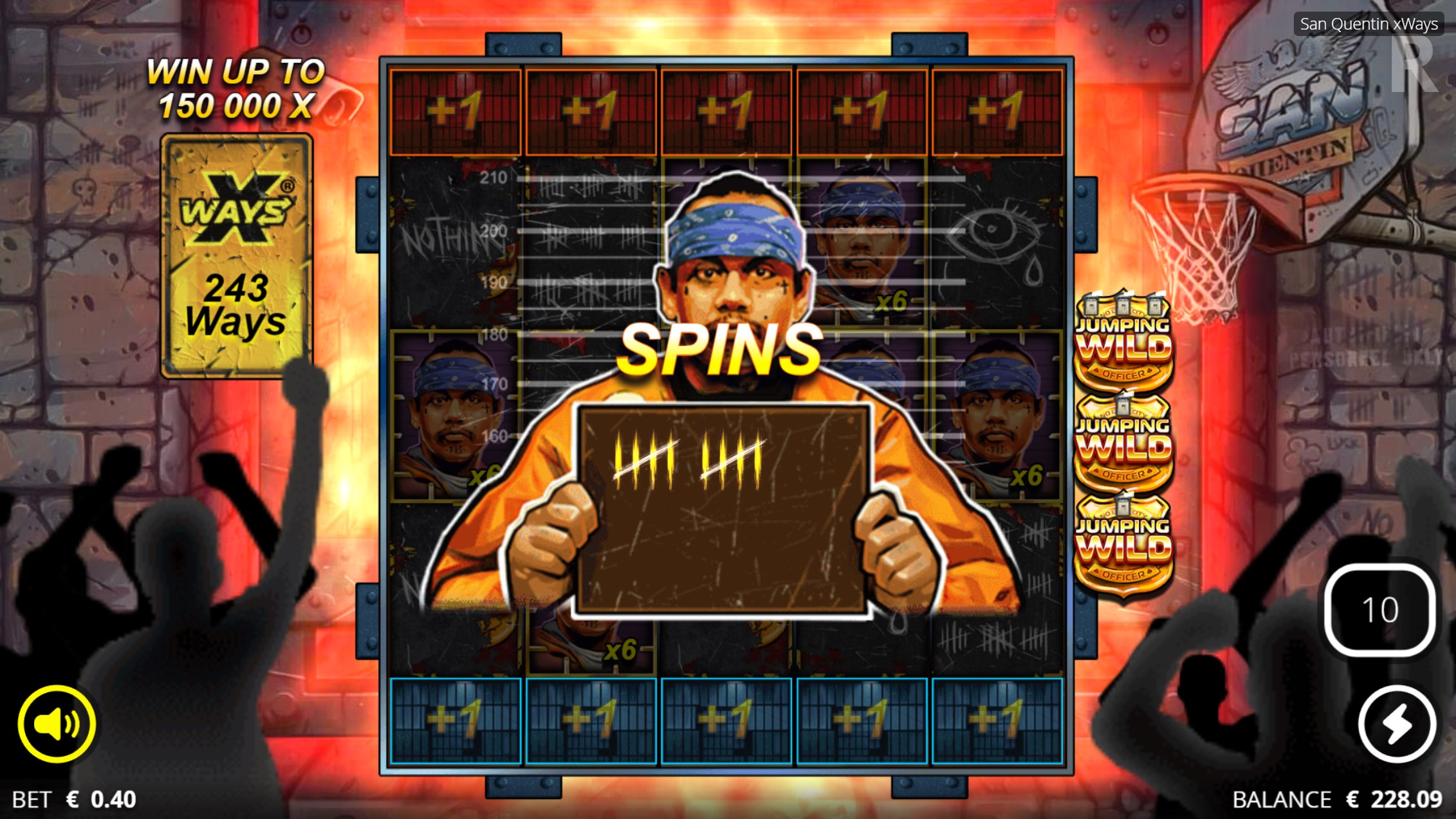 Enhancer Cells
As mentioned before, San Quentin xWays features barred rows at the top and bottom of the game board. These are the so-called Enhancer Cells. Opening them up isn't too hard to do, just land 1 or 2 scatters and the Enhancer Cell of their respective reel will open up. Behind these you will find 1 of the top 5 paying symbols, a Wild, a Razor Split or an xWays symbol. The regular Wild symbol will substitute any paying symbol except for scatters or feature symbols. Razor Split will split all symbols on the respective reel. They can also double-land on the same reel, splitting all symbols twice. The xWays symbols are known from other games and do the exact same: Each xWays symbol holds the same mystery paying symbol stacked at 4. Even those xWays symbols can double-land on the same reel, forcing this particular reel to become a Wild reel for one spin.
Split Wilds
Split Wilds can only be found in the base game. Once they land, they split every regular symbol on their respective reel, but won't split themselves. Only one Split Wild can land on a reel at the same time.
Jumping Wilds and Lockdown Spins
Lockdown Spins are triggered when 3, 4 or 5 Scatters are landed at the same time in the base game. Each of the scatters will open up their respective reel's Enhancer Cells. At the start of the bonus feature, 5 reels with a random prisoner will spin, enhancing the multiplier for every prisoner landed. Once all 5 reels stop, the prisoner is revealed and the final multiplier is applied to this symbol. After that, the open Enhancer Cells will spin, revealing any number from +1 to +3. Those numbers are added afterwards and the sum becomes your available free spins.
Depending on the number of scatters you triggered with you get 1, 2 or 3 Jumping Wilds. These Jumping Wilds just act like regular Wild, meaning they substituate any paying symbol except for scatters and feature symbols. On every spin, these Jumping Wilds will jump to a random position on the game board, hence the name. If a Razor Split lands on a reel that carries a Jumping Wild, it gets a multiplier of x2, with each additional Split doubling the multiplier. Multipliers persist throughout the whole feature game and are not reset. The maximum multiplier is 512x. Keep in mind that this multiplier is not put on your win, but rather on the number of Wilds that is helt on this position.
Lockdown Spins can be upgraded if you triggered with 3 or 4 scatters, by landing a scatter symbol on a reel with locked Enhancer Cells. When landing a scatter in the bonus feature, the Enhancer Cells will once again spin a random number between +1 and +3, giving you additional free spins as well as another Jumping Wild.
The Policeman
The Policeman is a hidden feature that is nowhere to be found within the game description, but has been confirmed by Nolimit City to exist. When entering Lockdown Spins and waiting for your prisioner to be revealed, on very rare occasions you won't see a prisoner but a policeman. So what does he do? First of all, the policeman can only come if the multiplier number is x4 or x8. Second, he adds the shown multiplier not to one of the prisoners, but to all available Jumping Wilds instead. Unfortunately we can not tell you how likely it is that you will ever see the policeman, since this feature is not mentioned in any game description.
San Quentin xWays: Conclusion
Nolimit City did a splendid job when creating San Quentin xWays. As some of you might know, Nolimit City have a reputation of touching themes and issues no other online slot provider dares to delve into, and San Quentin xWays is no exception, thinking about for what this place is known for. Although we have to mention that the approach is rather humoristic than serious compared to other similiar creations like Mental. San Quentin xWays has a lot to offer, including a whooping max win potential of 150,000 times your bet. This will obviously not occur too often as the theoretical chance of hitting one of those is once every 1.83 billion spins and therefore very unlikely. But it does happen and there are a lot of videos proving it. Hitting the max win potential of 150,000 times your bet can probably only happen in a 5 scatter bonus feature and will end your betting round and therefore the Lockdown Spins.
One thing we need to talk about is the bonus buy feature, or rather the price of it. While 100 times your bet for 3 scatters and 400 times your bet for 4 scatters does sound pretty "average" for bonus buy features, the hefty amount of 2000 times your bet for 5 scatters, which is more or less mandatory if you ever want to see your Lockdown Spins end early, is very expensive. Of course there is a reason for it to be so pricey, since San Quentin xWays has a huge max win potential, but it is also extremely volatile as we mentioned earlier in this slot review. Be careful with these if you ever feel like buying them. They come with a great risk.
In the end we can't say much negative about San Quentin xWays. We definitely had a blast playing and testing it. As we said, the buy-in price for 5 scatters is something you won't see every day, but nonetheless is justified given the stats. What might be a negative point for some people is that this online slot game can be a bit hard to understand at first, especially for newer players or players that have never seen Nolimit City's so-called xMechanics, But still we will end this slot review in favor of San Quentin xWays and we're sure you will have a fun time as well as we did.