Rabbit Royale (ELK Studios) Slot Review
Rabbit Royale: Slot Overview
Spring has officially started, and the first thing we think about when we hear spring, are blooming plants, warmer and longer days and of course cute animals that you see more often at this time of the year, like rabbits. Or, in the case of ELK Studios, they will fight until the last one stands, hence the name of the game in this online slot review, Rabbit Royale.
Playing Board
Rabbit Royale is played on 5 reels with 5 rows. To determine wins, Rabbit Royale uses so called Connected Lines/Ways, which means that a win is formed as long as at least 3 symbols are connected on adjacent reels eather horizontally or diagonally. So kind of a mix between Winning Lines and Ways. Bet sizes in Rabbit Royale range from 0.20€ to 100€ (or equivalent), though they might vary depending on where you play.
Winning Symbols
As for the winning symbols, ELK Studios where creative as usual. You will find 8 different winning symbols, with 4 of them being low-tier and the other 4 on the higher end. Let's take a look at the lower paying symbols first. And these actually all share the exact same payout. You will find the Bear Trap, the Spiked Mailbox, the Rabbit Poison and the Junction Box, all paying 0.5 times your bet size for a full connected line. Although these payouts might seem very bad, they come in great stacks. And since the game uses Connected Lines, there can be a lot of lines that connect, when the symbols land stacked.
Next up are the high-tier symbols. These are a little more detailed. So first you will find the Tractor and the Sewing Machine, both clocking in at 1 time your bet size for a full connected line. Already at second to last you will find the Grumpy Grandpa with a pitchfork, netting you 2.5 times your bet size. And last but not least, our top symbol will be the Old Granny with a Butcher's Knife, paying 5 times your bet size for a full connected line.
Rabbit Royale: Special Symbols and Stats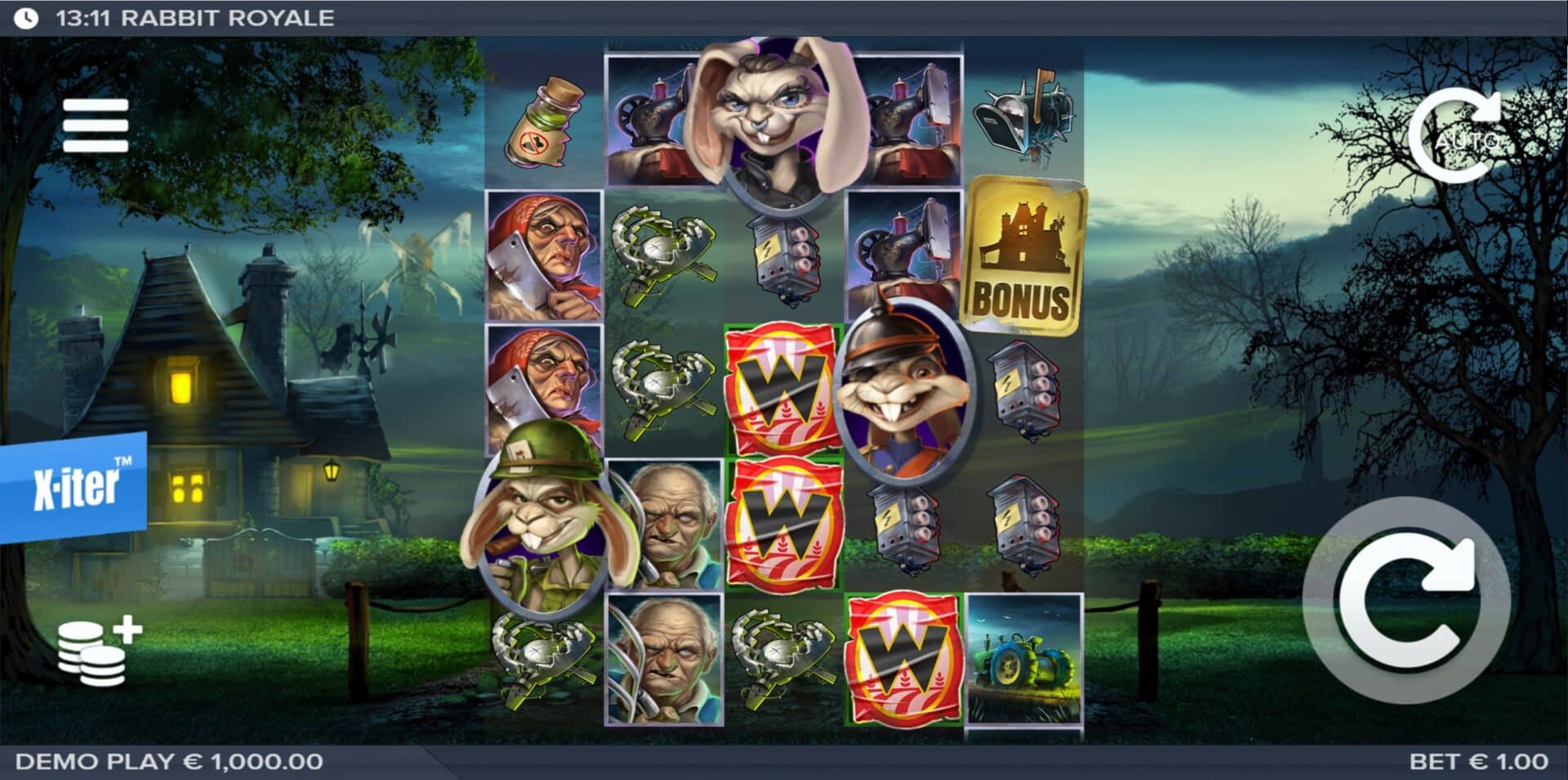 ELK Studios love to implement lots of Special symbols with crazy mechanics into their games, so its no wonder that Rabbit Royale does also feature very interesting Special symbols.
Scatter Symbol
First we'll take a look at the Scatter symbols. These look more or less like a golden road sign with a mansion on it and the label "BONUS". Landing 3 or more of these in the same spin will allow you to enter the Free Spins Feature. Landing more than 3 Scatter symbols will benefit you greatly. What exactly it does and how it works will be covered in the Feature Overview section of this online slot review.
Carrot Symbol
The Carrot is a very important symbol. As you might have already guessed, this symbol is displayed by a carrot. These Special symbols will always carry a random money value. Unfortunately ELK Studios do not state what the actual range of the money values is, but we would guess it can range from 0.5 times to 50 times your bet size, at least that is what we experienced in testing. Keep reading and find out how to collect these money values in the Feature Overview section.
Wild Symbols
In Rabbit Royale you will of course also find Wild symbols. These symbols are portrayed by a red and white poster with a grain field in the background and a big "W" on it. Wild symbols will substitute for any winning symbols except Scatters, Carrots and Rabbits. Additionally, if a Wild symbol is part of a winning combination, the poster will fall off and reveal a Carrot with a random money value.
Rabbits
What would a Rabbit Royale be without Rabbits? These Special symbols, paired with the Carrots, are the key for big wins. There are 5 different Rabbits you can encounter on the playing board. They will always show up in the same order. Although this doesn't really matter, the only thing that matters is the amount of Rabbits that are present at the same time. You see, Rabbits and Carrots have special interactions, and then again Rabbits have special interactions with themselves. They might look cute and innocent at first, but when it comes down, they are armed to their teeth.
Stats
Usually at this part of the online casino review we would present you various stats around the game we're reviewing. Unfortunately, ELK Studios does not publish lots of stats, so we can only give you what the online slot provider lets us know. So let's begin with the theoretical return to the player. The base RTP of Rabbit Royale is set to 94%, which is quite below the average of 96%. But what's average for ELK Studios is the max win potential of 25,000 times your base bet size. This has become pretty standard for the provider. The game is rated with an 8/10 volatility ranking, making it a very volatile slot. The hit frequency of Rabbit Royale is around 24%. That means that you will get a win roughly around every 4th spin.
Rabbit Royale: Feature Overview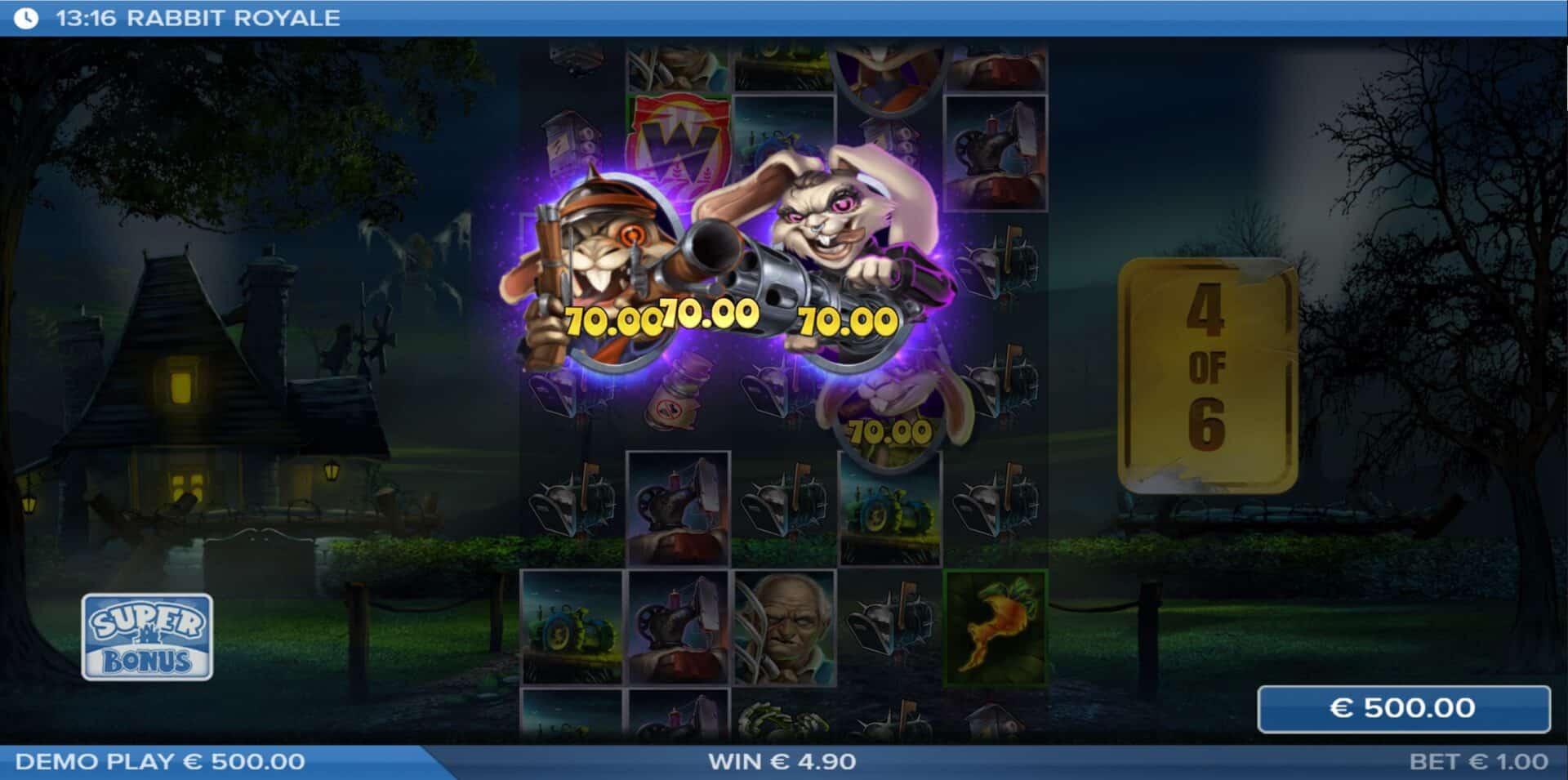 Now that we're done with the Special symbols, let's see what exactly they do. Rabbit Royale is loaded with different features that all promise a lot of exciting moments.
In order to collect any Carrots you will first have to land one or more Rabbits. Carrots count for every Rabbit, so if there is one Carrot with a value of 1 time your bet size and 2 Rabbits, both Rabbits will collect the value.
Upon collecting one or more Carrots, the Rabbits will initiate a Respin. Any Rabbits that are currently on the screen, will stay on the screen, but they will move. Rabbits will move 1 position horizontally, vertically or diagonally, unless there is another Rabbit on any of these positions. In this case, this position is blocked. Scatter symbols are not kept in between Respins. The Respins will end as soon as no Carrot lands during a Respin. Keep in mind that Wilds also transform to Carrots if they are a part of a winning combination.
If the Rabbits manage to land horizontally or vertically, not diagonally, adjacent to each other, they will fight until the bitter end. Okay, it's not that tragic, but they do have a special interaction. When two or more Rabbits land near each other, they will collect each other. The highest value will be shot at another Rabbit, then the second highest and so on.
A quick example: Rabbit A has a value of 10€ and Rabbit B has a value of 20€. Rabbit B will shoot its 20€ at Rabbit A, so that Rabbit A has a value of 30€. Rabbit A will then shoot its value of 30€ on Rabbit B, so that Rabbit B will have a value of 30€. Sounds more complicated on paper than it actually is visualized.
The Free Spins Feature is the culmination of all of the other features. To enter it you need at least 3 Scatter symbols in the same spin. Doing so will grant you 3, 4 or 5 Free Spins depending on the amount of Scatters you have triggered with. Additionally, triggering with 3, 4 or 5 Scatters will also guarantee you 1, 2 or 3 Rabbits. You can also land additional Rabbits at any time. Retriggering is also possible, every Scatter symbol that lands will grant you 1 additional Free Spin.
You now might be wondering why you only get so few Free Spins. This is because all of the features are in play, including the Rabbit Respins. In the best case you want as many of them as possible, and usually you will get quite a few on a decent bonus. The Free Spins Feature will end once every spin has been used or the max win potential of 25,000 times has been reached.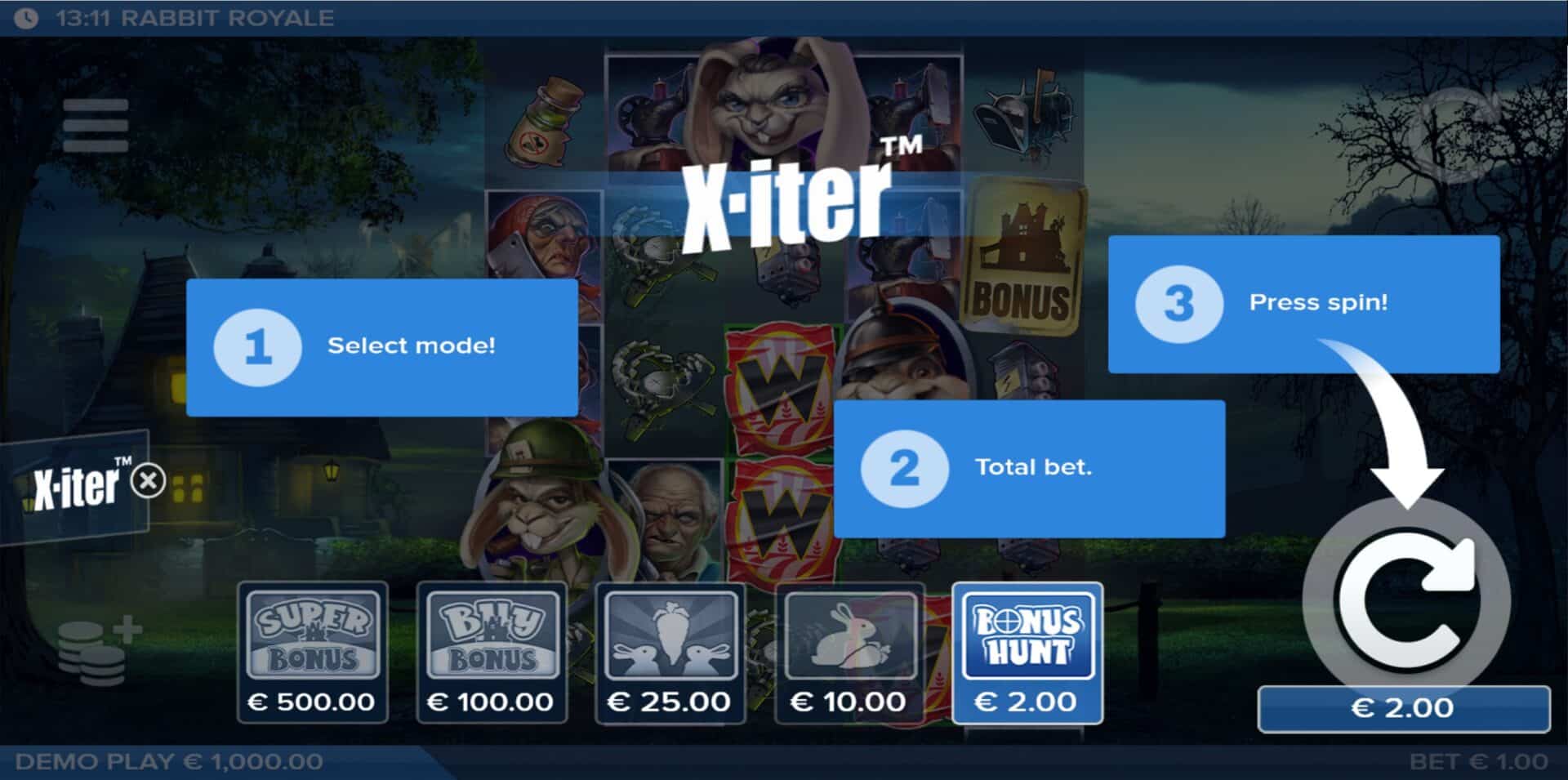 X-iters are the Bonus Buy Options of ELK Studios. Usually, the newer games from ELK Studios come with 4 to 5 different Bonus and Feature Buy Options. Most of the time these options include 2 Bonus Buys and 2 to 3 Base Game Feature Buys. Here is a list of all the available options and their prices:
| | | |
| --- | --- | --- |
| Name | Price | Feature |
| Bonus Hunt | 2x | More than double the chance to trigger the Bonus Game |
| Rabbit Respins | 10x | Guaranteed Rabbit Collect with Rabbit Respins |
| Double Trouble | 25x | Guaranteed Rabbit Collect with 2 Rabbits and Rabbit Respins |
| Bonus Buy | 100x | Guaranteed Free Spins with at least one Rabbit |
| Super Bonus | 500x | Guaranteed Free Spins with 3 Rabbits |
Unfortunately we have no information about if the X-iter Buys have a changed RTP compared to the base RTP of 94%, but we would guess that the RTP stays the same.
Rabbit Royale: Conclusion
ELK Studios have proven once again that their imagination and creativity hardly knows any limits. Armed psycho-rabbits that fight until only the last one stands? Sure, why the heck not? Rabbit Royale has everything one might love about ELK Studios: a crazy scenery, lots of weird game mechanics and interactions and exciting betting rounds and moments.
Unfortunately, it also has everything one might dislike about ELK Studios, like the base RTP of 94%. While some might think that a 2% difference between the RTP of Rabbit Royale and the average RTP of 96% is not that big of a deal, they might be right in short terms. But if you plan to play Rabbit Royale for a bit longer, you will definitely feel a difference between this game and one that has a higher RTP. So that's a bit of a mood dampener.
The X-iter features however are fun as always. Having more options than just plain Bonus Buys is always a welcome sight and surely guarantees some interesting and thrilling moments.
All in all, Rabbit Royale is another crazy game from ELK Studios that is a lot of fun. Like we mentioned, the RTP is not great, but if you're someone that doesn't care about these kind of stats, you are very likely to have a lot of fun with this game. This concludes our online slot review. We hope that we answered all of your questions without leaving anything open.