Pinup Girls (Pragmatic Play) Slot Review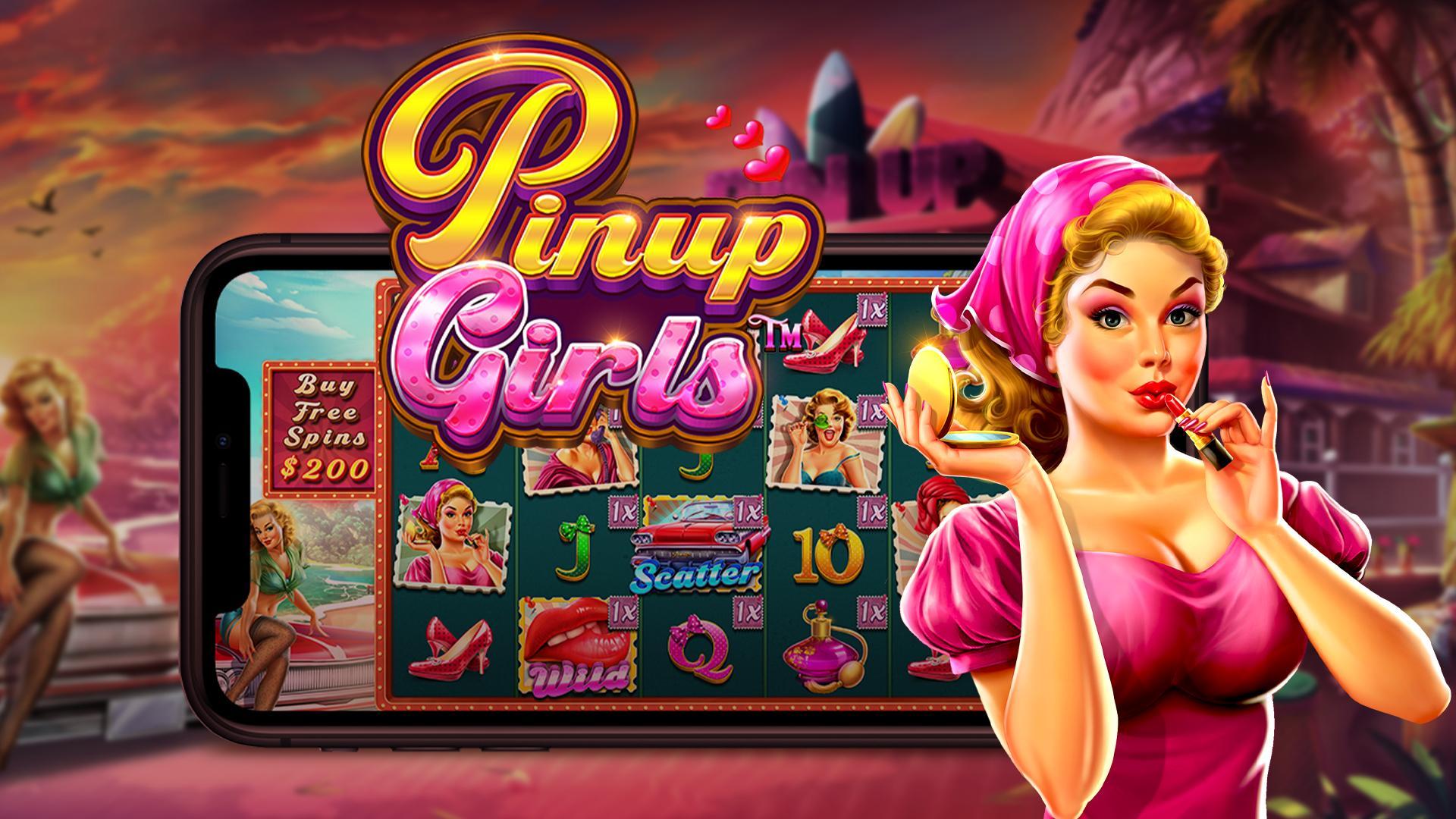 Pinup Girls: Slot Overview
Pinup Girls is Pragmatic`s first entry in pin-up girl themed slots. While it seems odd to mention this, there are multiple providers out there that already created a slot machine based on pin-up girls.
The art of pin-up`s was usually used as drawings or photos in magazines or newspapers, people were able to cut them out and hang them on the wall, thats where the name comes from. Another big usage of pin-up`s were military propaganda, pin-up`s with erotical messages or pro war slogans got released by military commissioned pin-up artists to raise morale and the will to participate.
The slot machine is released on January 12th 2023. As the name suggests, Pragmatic Play`s Pinup Girls is based around a fitting theme with pin-up girl symbols in a drawn pin-up setting. Without going too deep into the lore and design of pin-up`s, lets hop into a more slot machine focused view of the game mechanics and find out what kinda slot machine this is.
Pinup Girls: Stats and Special Symbols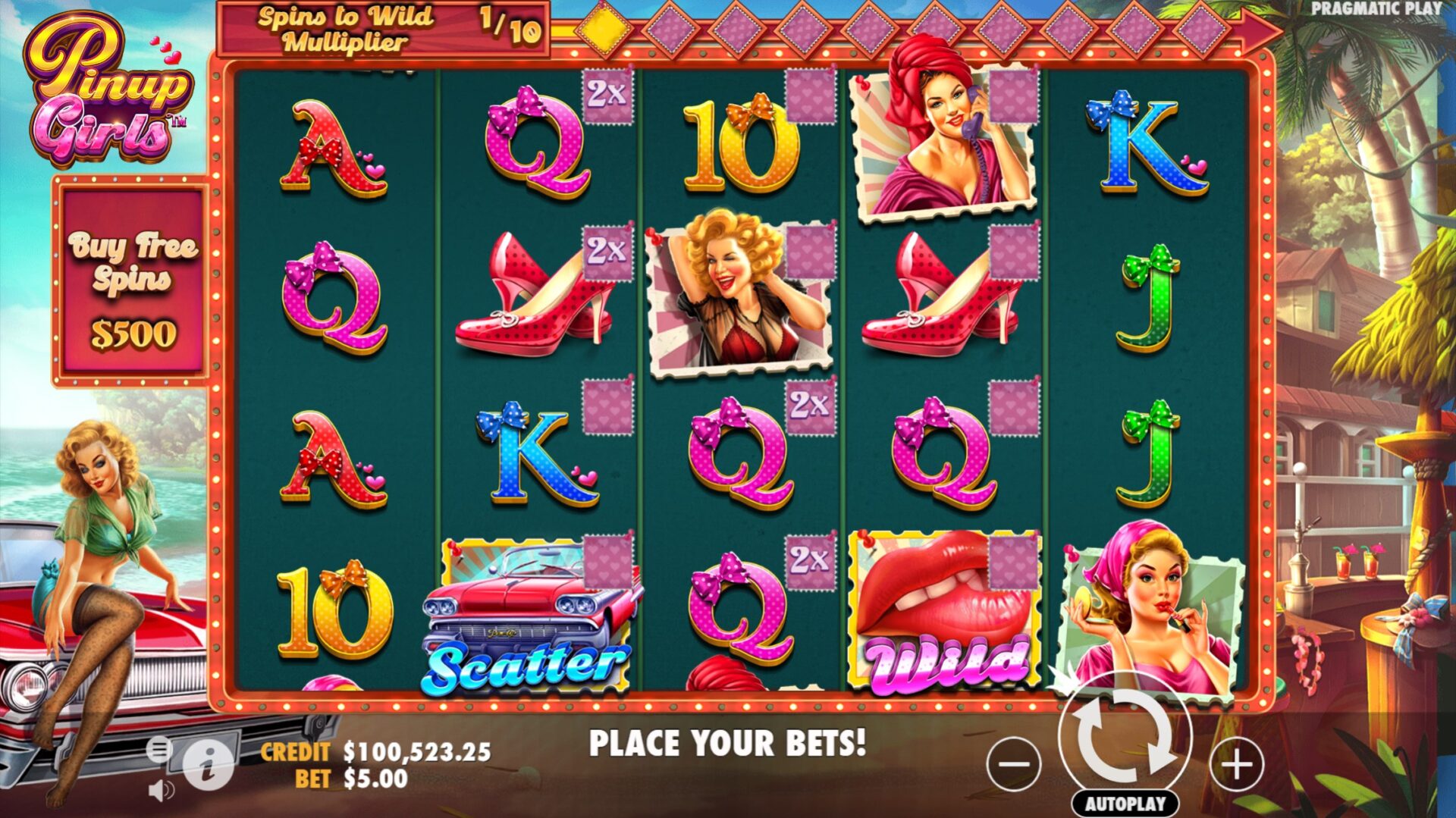 The slot machine has a 5-reel, 4-row layout and is played on 20 fixed paylines. The game features royals of 10 to A as the low symbols with a payouts between 2 times- to 3 times the initial bet for a full line of those. Two slightly better premium symbols represented as a red-highheels symbol and a pink parfume which pay 5 times- and 6.25 times the bet for a full line. And four different premium symbols represented as pin-up girls, ranging from as low as 8.75 times- to 37.5 times the bet as the highest for a full five of a kinds on a payline. The scatter symbol is a red caddilac and the symbol shows "scatter" on it. There are also wild symbols, shown as a red lipstick painted mouth performing the classic lip biting gesture and showing "wild" on the bottom of the symbol. Those wild symbols can only land on reel 2, 3 and 4.
The basegame is played with a progressive feature that plays out in a 10 spin increment. All positions on reel 2, 3 and 4 are marked with a possible multiplier. At every spin in the 10 spin cycle, random positions can have their multiplier increased by 1x. Their value remain on the screen until the 10th spin. At the 10th spin of a cycle all Wild symbols that land on reel 2, 3 and 3 will take the attached multiplier from the reel position they landed on. Multipliers apply to all winning combinations that the wild symbols are part of. If more than one wild symbol with a multiplier is part of the same winning combination, the multipliers will be added up for that combination. The 10 spin  multipliers and cycle progression will be fixed on the specific bet they were collected and played on.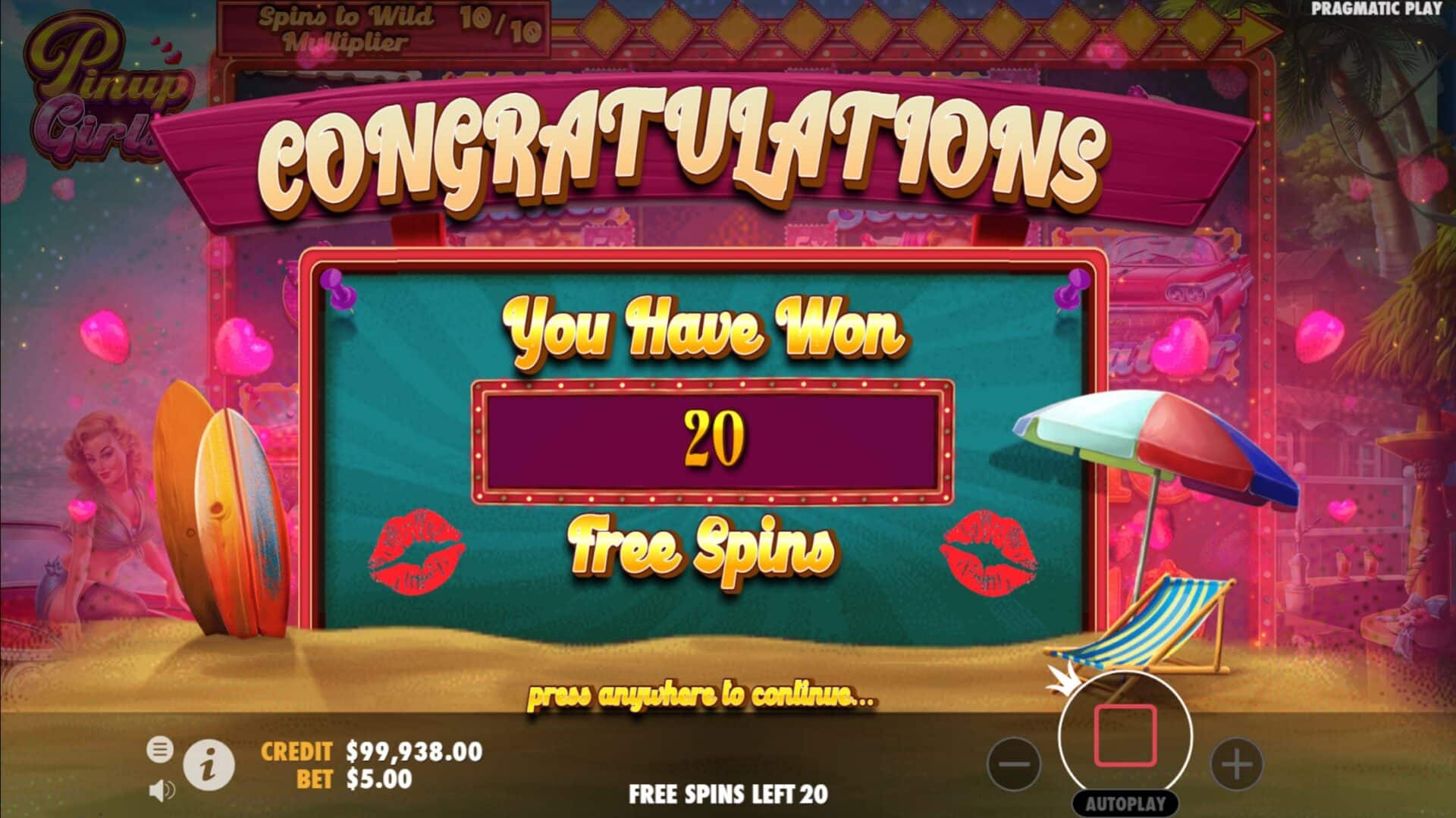 There is a freespins feature that can be triggered by landing three or more scatters. Landing 3, 4, or 5 scatters will result in 10, 15, or 20 freespins, respectively. A bonus buy option got included aswell, on Pragmatic Play`s Pinup Girls the player can buy a guaranteed freespins triggering spin for the cost of 100 times the bet. If so, the 100 times the betsize freespins buying spin will guarantee to land 3, 4 or 5 scatters, a classic bonus buy that is.
Depending on your casino, Pinup Girls RTP should be 96.44% but could also be a bit lower with 95.28% or 94.43% as the lowest possible RTP version Pragmatic Play offers casinos to choose from. On the 96.44% RTP version of the game (highest possible), the bonus buy option plays out on a slightly lower RTP of 96.33%. This lowered bonus buy RTP is rather atypical and the player usually gets rewarded with a slightly higher RTP compared to the basegame, when buying bonuses. Pinup Girls is capped on a maximum win of 3.000 times the initial betsize.
Pinup Girls: Free Spins Bonus Feature
The freespins bonus gets triggered if the player lands at least three scatters in view. Depending on whether the bonus was triggered with 3, 4, or 5 scatters, the player will achieve 10, 15 or 20 freespins respectively. While in the freespins feature, the progressive increment feature is still active but the increment cycle of spins is changed to 5. In addition, every wild symbol that lands will mark it`s position for the rest of the 5 spin increment, if this happens the multiplier will be shown in yellow instead of grey. A yellow multiplier basically means that the player collected a wild symbol on this position. If the 5 spin increment is finished, every yellow multiplier will create a wild symbol on the position the yellow multiplier was achieved (a wild landed in previous spins of the cycle). The wild symbol will have the multiplier that was achieved from the progressive feature that is active during freespins and randomly increses the multipliers on positions of reel 2, 3 and 4 just as in the basegame.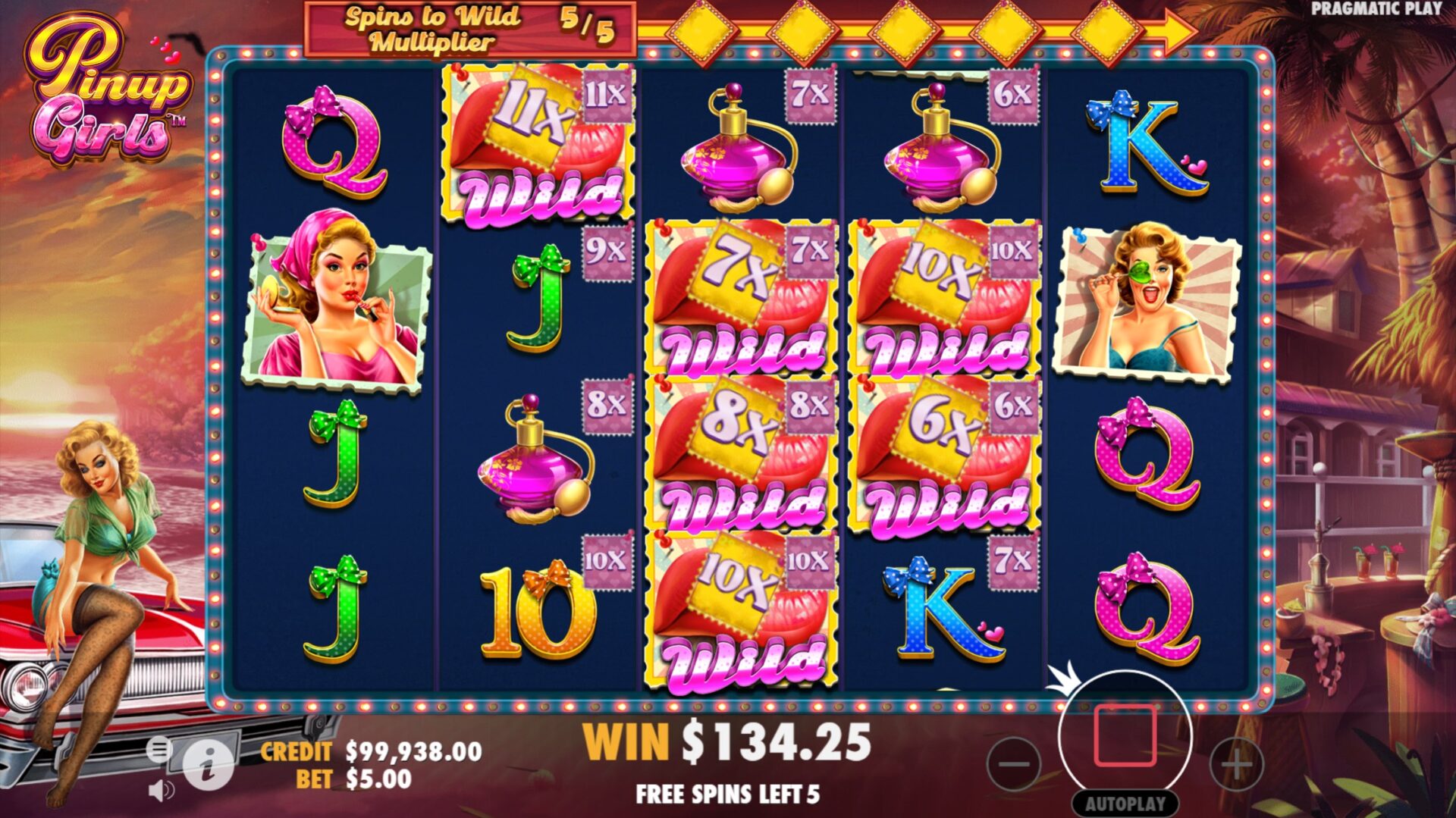 When the next 5 spin cycle starts, all multiplier positions on reel 2, 3 and 4 will turn grey again and the player needs to collect a new setup of wild symbols for spin 10 when the next cycle will end. Altough multipliers will turn grey after each cycle, the hight of the multipliers won`t reduce and can be enhanced even more for the next wild symbols to be achieved. This makes it much more interesting to start the freespins with 4 or even 5 scatters to top up the cycles that will be played out to 3 or even 4.
Pinup Girls: Conclusion
Pinup Girls has the classic "land wild symbols on reel 2, 3 and 4" mechanic which is best known from games like The Dog House or The Golden Hand of Midas, but it comes with a twist here. Sice those wild symbols won`t remain sticky during the freespins, it sounds like it is a much less fun mechanic, but it feels much easier to land wild symbols in Pinup Girls as in the other mentioned games. Also the multiplier can be increased much higher for winning lines, since there is no multiplier cap per wild and the freespins can be triggered with 20 spins to start with. That being said, in direct comparision Pinup Girls will still lose the potential rallye. A 3.000 times the bet win-cap seems a bit outdated for modern volatility, especially when the slot machine comes with a 100 times the bet bonus buy option. Afterall it`s a fun to play machine but if you aim for really big x-wins you shouldn't have any trouble to find something better.