Monster Superlanche (Pragmatic Play) Slot Review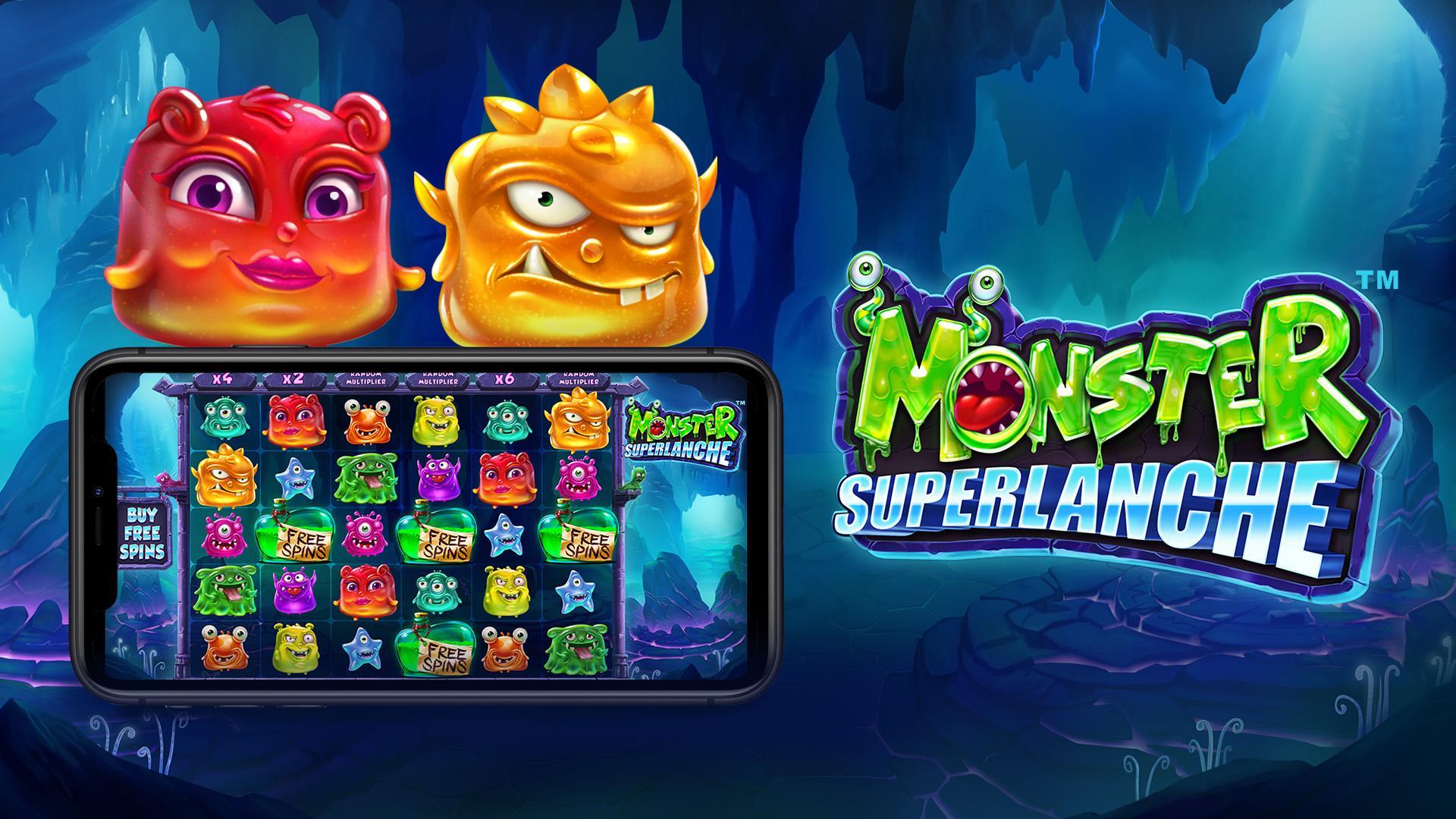 Monster Superlanche: Slot Overview
Pragmatic Play is always eager to put out online slot games that are quite unique in either their mechanics or their design, or mabye even both. So it's no suprise that many people are excited about new releases from Pragmatic Play. In this online slot review we'll be talking about Monster Superlanche, one of the newer releases of the gibraltarian studio.
Monster Superlanche is played on 6 reels with 5 rows where 30 symbols can appear on the board at once. Bet sizes range from 0.25€ up to 125€ (or equivalent). Bet ranges may vary depending on where you play. The game does not use Paying Lines or Win Ways, but uses Scatter Pays instead. This means that as long as you have at least 8 of the same symbol on the board you will get a win. But that's not all, as you might have already guessed, the word "Superlanche" is a combination of "Super" and "Avalanche". So of course, Monster Superlanche does use the mechanic of Tumble Wins. So, let's imagine you hit 8 of the same symbol on the board. Now every other symbol is removed from the board and the one's you have a win with are hold and fall down. Now you will get more or less "infinite" respins, as long as you hit a symbol that is part of a winning combination or a Scatter Symbol.
Talking about symbols, let's see what we deal with here. First of all, as already mentioned, you need at least 8 of the same symbol to get a winning combination. The more you have, the more it will pay, up to a maximum of 20 of the same symbol. No matter how much more you have, 20 will pay you the maximum for that symbol. There are 5 lower paying symbols. We will stick to the colours of the monsters since Pragmatic Play did a good job with the details of these so it's not as easy to describe them. So, with that being said, going from lowest to highest we have: The Teal monster, the Blue monster, the Purple monster, the Pink monster and the Orange monster. While Teal and Blue will pay you 10-times your bet size per 20 of them, Purple and Pink yield 15-times your bet, and on the higher end we have the Orange monster with 25-times your bet.
Now we also of course have the higher tier symbols. On there we will find the Lightgreen monster, the Green monster, the Red monster and on top of it all the Yellow monster.These are also slightly larger than the lower tier symbols, so you should have no problem recognizing them. These can pay a lot, starting with the Lightgreen monster at 50-times your bet per 20 of these, then 75-times your bet for the Green monster, 100-times your bet for the Red monster and last but not least a whooping 150-times your bet for the Yellow monster.
Monster Superlanche: Special Symbols and Stats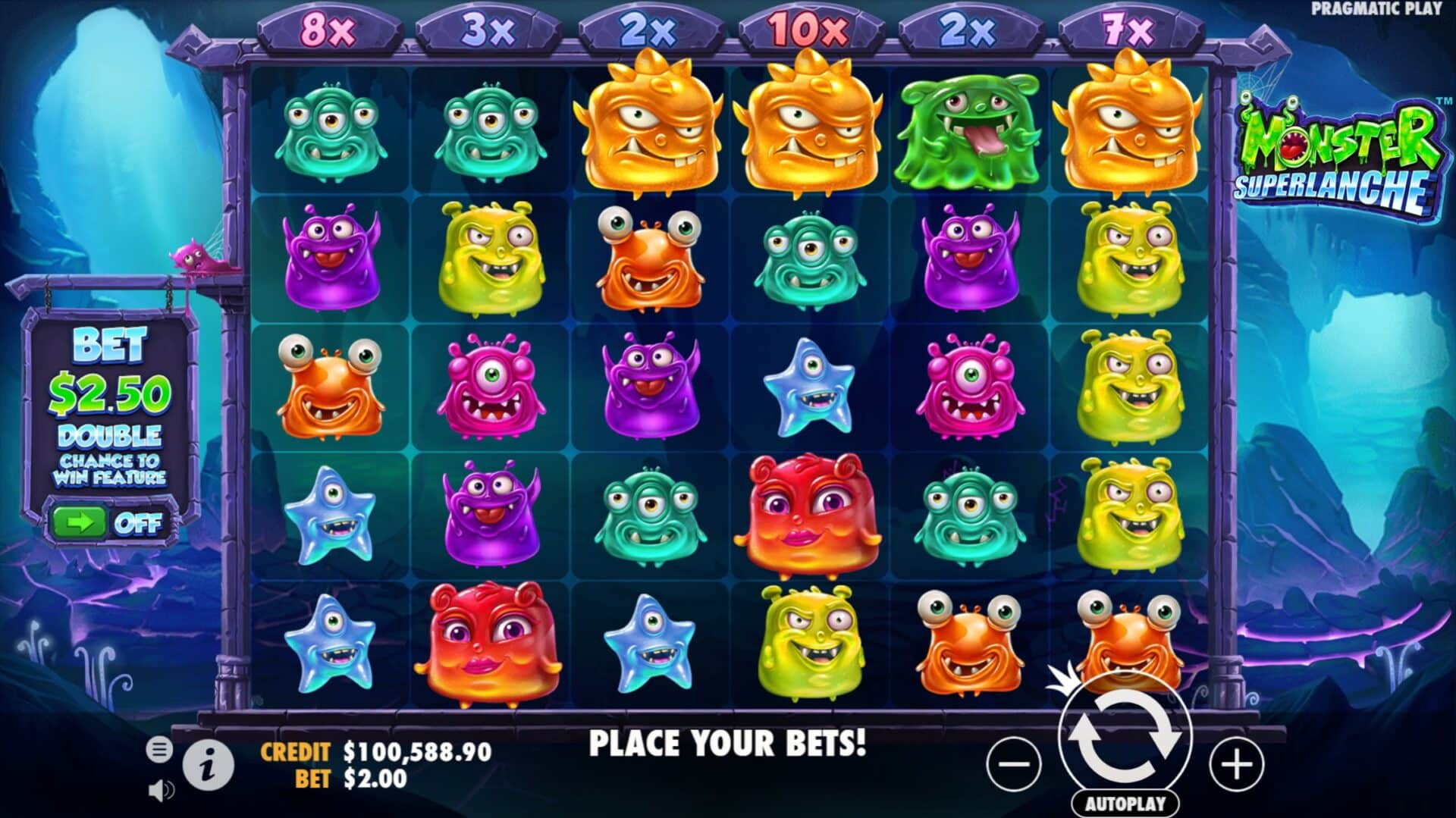 Of course we also have our special symbols. Well, to be fair, it's actually only one. And this one is, as you might have already guessed it, the Scatter Symbol. These are represented by a green potion with the label "FREE SPINS". Now what makes this symbol special is not only the most obvious reason that it grants Free Spins, but it also resets the Tumble. This means, if you did not hit your winning symbol in a respin, but you landed a Scatter, it will be counted as a winning symbol and you will get another respin. If you manage to land 4 of the Scatters you will be awarded with the free spin feature and a payout depending on how many you have landed. 4 Scatters will award you 3-times your total bet, 5 scatters will grant you 5-times your total bet and 6 Scatters will pay you 100-times your total bet, so we guess that that is going to be pretty rare.
Let's take a quick look at the stats of Monster Superlanche. The game comes with an RTP of 96.03% and has a max win potential of 5,000-times your bet size which is pretty standard for Pragmatic Play. And although the max win potentials of Pragmatic Play are realistic and achieveable, Monster Superlanche has a pretty low chance of ever showing that. In theory a max win will occur once in every 3.745.318 spins. This is a very low chance compared to other games by Pragmatic Play. Free spins will occur once roughly every 292 spins. Let's do some math, shall we? We cannot guarantee that the max win will only occur in the free spins feature, but let's say it works that way: You will need around 12.827 bonuses to ever see a max win, theoretically of course. That's quite a lot of bonuses. But this is only if the Extra Bet is not activated, which we will cover in detail later on. Basically what it does is doubleing your chances to get a bonus. So we can cut that down to roughly 6.414 bonuses, which is still a lot. The Extra Bet also has a little bit lower RTP of 95.98%.
Monster Superlanche: Feature Overview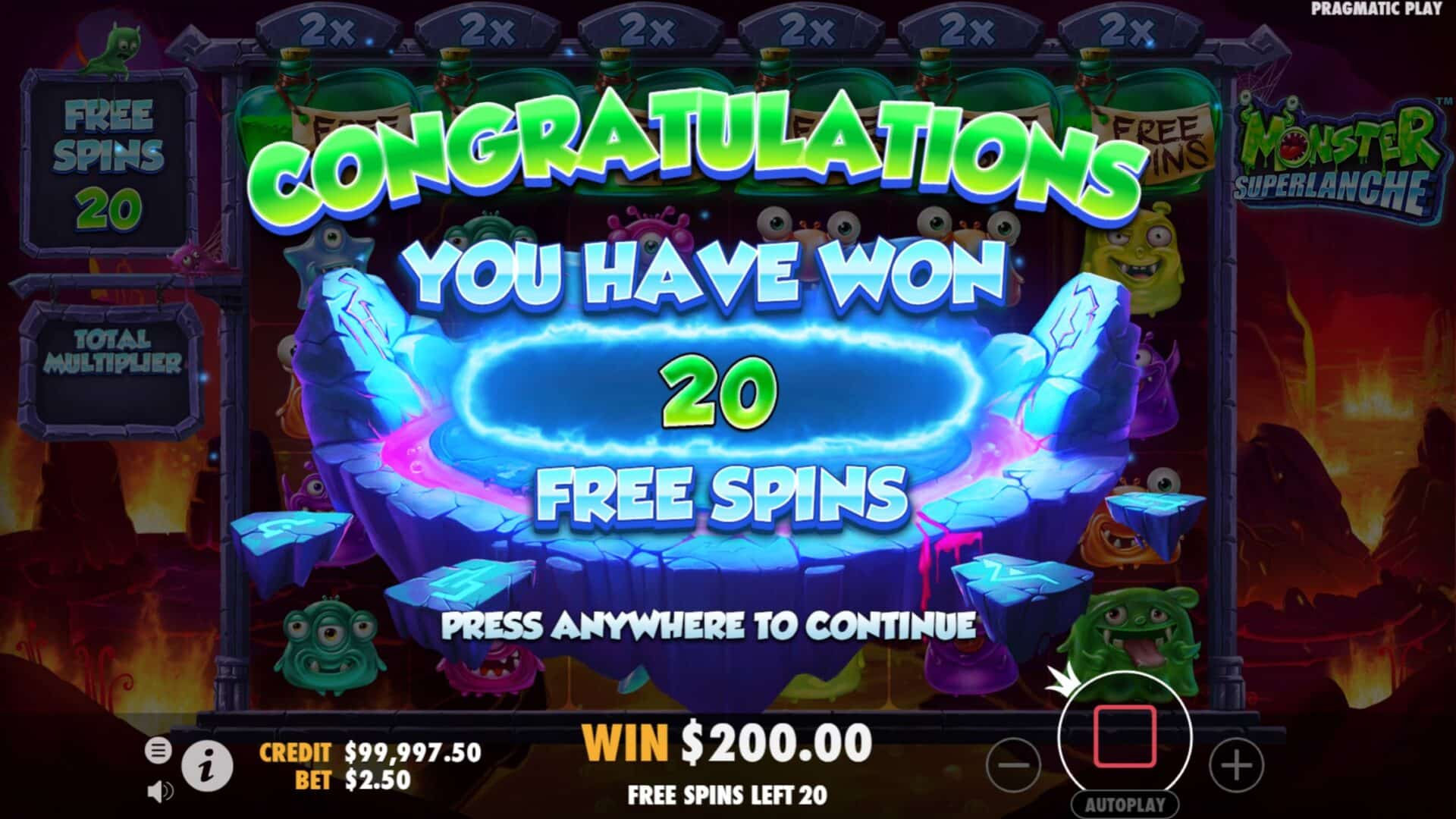 Monster Superlanche has some interesting features and mechanics that we would like to show you. We will try to describe everything as best as we can.
Tumble Wins and Multipliers
As we mentioned before Monster Superlanche makes use of Tumble Wins with more or less infinite respins. But one we didn't mention yet are the multipliers. These are shown over every reel and are randomly generated on every spin, not on respins though. So how do you get to those multipliers and what do they multiply? So, first of all, to reach these multipliers you need to fill the reel with a winning symbols or Scatter symbols. Once a reel is filled with eligible symbols, the multiplier is applied to every winning combination. If you get more than one reel filled, two multipliers add to each other, so for example a 2x and a 3x multiplier add to a 5x multiplier. There are 17 multipliers available, ranging from a 2x multiplier up to a stunning 100x multiplier. You can expect those to be pretty rare, although we have seen and hit one of the 100x multipliers while testing, but we guess that was pretty lucky.
Landing 4 or more Scatter symbols on the board in the same spin will activate the Free Spins Feature. Depending on how many Scatters you have landed you will get 8 Free Spins with 4 Scatters, 12 Free Spins with 5 Scatters and 20 Free Spins with 6 Scatters. And more Free Spins are valuable here. You see, the Free Spins Feature isn't really that much different from the base game. But what is different is that the multipliers you reach are safed for later use. All multipliers you achieve will add up over the whole Bonus Feature. And every single time you reach a multiplier, the multiplier gets added to the total multiplier and this one is then applied to your winning combinations. There is one thing though that kinda dampens the mood. The multiplier is only ever applied if you actually hit a multiplier. So if you have a spin that didn't reach the end of a reel, your winnings will not get multiplied, no matter how many of them you already safed. This is a bit disappointing but ultimately it makes sense if you think about games like Gates of Olympus that use the same kind of multiplier mechanic.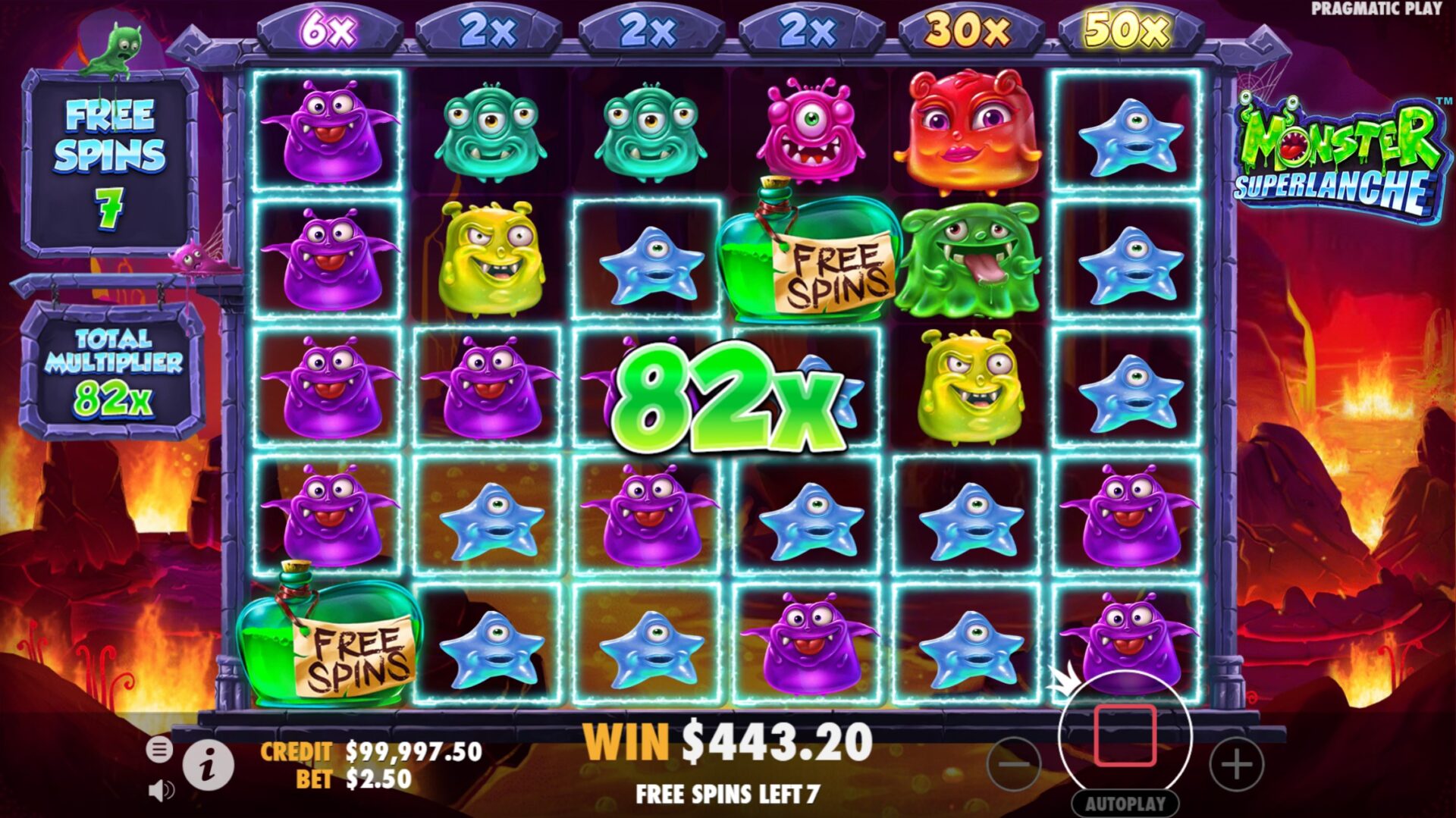 The Extra Bet is an opt-in you can choose to alter your experience with the game. What the Extra Bet does is doubleing your chance to get a bonus. The average Free Spins Frequency is once in roughly 292 spins. With Extra Bet on this cuts down to once in every 146 spins. Now of course it's called "Extra Bet" for a reason. To activate it you will have to pay 25% of your bet size extra. So for example, if you play with a bet size of 1€ (or equivalent) and activate Extra Bet, you will now have to bet 1.25€ on every spin, while the payouts stay the same. Not all of the payouts though, Scatter payouts are tied to your total balance, so Scatter payouts will pay the same factor even with Extra Bet.
Monster Superlanche: Conclusion
Alright, what can we say about Monster Superlanche by Pragmatic Play? First of all, it is a fun game without a doubt. The design is great, Pragmatic Play did a great job with the monsters and the overall details of them. Just the music can get a bit annoying after some time, but that's personal preference.
What we don't really like is the max win probability. This one is rather low for a 5,000-times max win potential. There are games out there, also from Pragmatic Play, that feature a far better probability at reaching the max win. Let's just take Fruit Party for example. This game has a 5,000-times max win potential as well, but this one comes once every roughly 96,000 spins. So you are 37-times more likely to get a max win at Fruit Party than you are at Monster Superlanche. Kinda ruins the mood, doesn't it?
Putting that aside though, Monster Superlanche is a great game, especially with the Extra Bet feature. Be careful of the high volatility though, bonuses are not a guarantee that they pay anything, many of them can leave you disappointed.
This concludes our slot review about Monster Superlanche by Pragmatic Play. We had a fun time playing and trying it out for you. Hopefully we left no question unanswered and we're sure you will have just as much fun as we had.