Money Cart 3 (Relax Gaming) Slot Review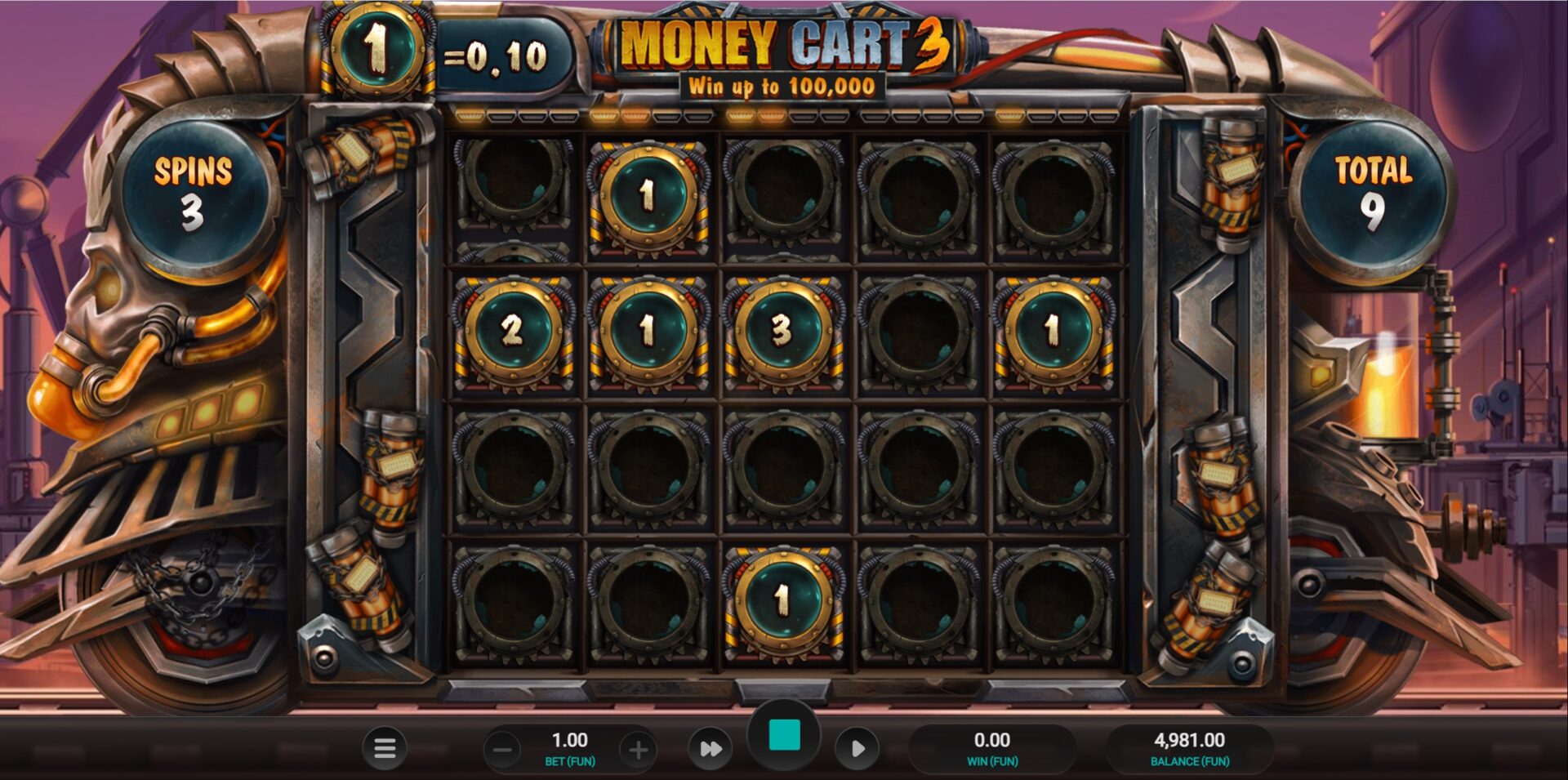 Play
Money Cart 3

on























































Money Cart 3: Slot Overview
When Relax Gaming first introduced Money Train, people were baffled how much fun a simple "Hold & Spin" game can be. But apparently people were not completely satisfied. They desperately wanted the Feature Game of Money Train, but waiting for it takes so long, and buying bonuses is so expensive in the long terms. So, they introduced Money Cart, a simplified version of Money Train. And now that Money Train 3 is out, it was just a matter of time until Relax Gaming introduces us to Money Cart 3.
Playing Board
Money Cart 3 is played on 5 to 7 reels with 5 rows, so the game can hold up to 25 to 35 symbols at a time. As for paylines, there are none. Money Cart 3, together with its predecessors, is one of the few games that actually not have any paylines or winning ways. How this can be? No worries, we'll explain it in detail. Bet sizes for Money Cart 3 range from 0.10€ to 100€ (or equivalent), but may vary depending on where you play.
Winning Symbols
So, as we already mentioned, there are no paylines. But what about winning symbols? That's arguable. Money Cart 3 definitely does not feature any classic winning symbols you might know from other games. Instead, the only symbols that actually would qualify as winning symbols are the Bullseye Windows that hold a certain value from 1 to 10. These will be your main protagonists when it comes to win calculation. Because you see, the values they hold are coins. 1 coin is equal to a tenth of your bet, so for example, on a 1€ bet, a coin would be equal to 0.10€.
Money Cart 3: Features and Stats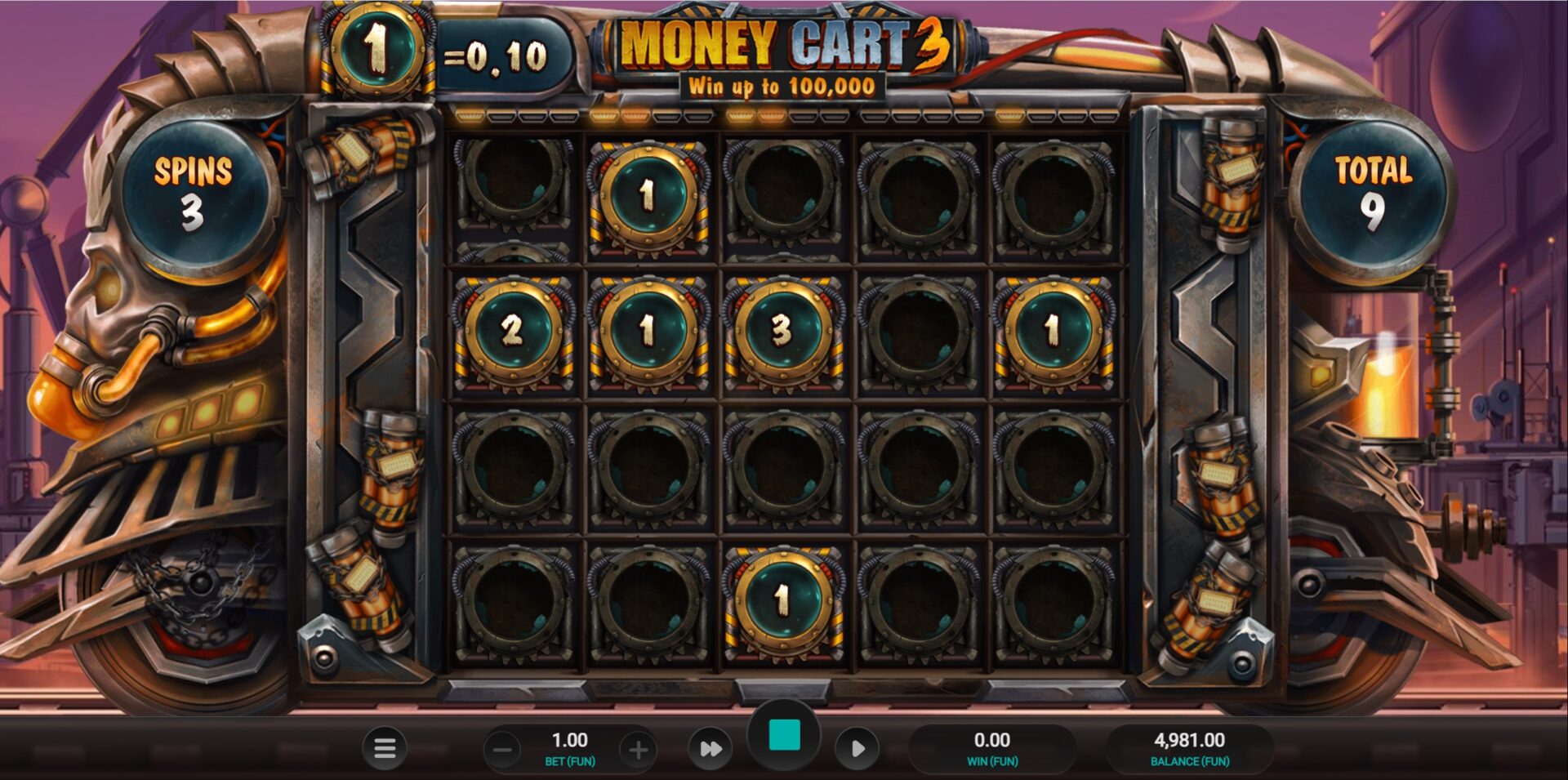 For the sake of simplicity, we will switch the Special Symbols and Feature Overview sections in this online slot review. Because in order to understand these Special symbols, you will first need to know where they actually appear.
Scatter Symbol
The Scatter symbol actually plays a vital role in Money Cart 3. These actually look the same like the Bullseye Windows, but with the label "BONUS" on it. This symbol is the only symbol that can ever land in the base game. Now you might be a bit confused how you are supposed to win anything if you cannot even land the Bullseye Windows. That is because the Scatter symbols have a very special function.
When landing 3 or more of them you will initiate the Respins Feature. The Scatter symbols will turn into Bullseye Windows, revealing a value of 1 to 10 coins. Now you'll be granted 3 respins, where all of the positions on the reels, except for the ones that are filled with Bullseye Windows, are respun. You will need to land more Bullseye Windows or Special symbols in order to restock your Respins to 3. Which symbols there are and what they do will be covered in detail in the next section.
Playing Board Expansion
During the Respin rounds, when two reels are filled from bottom to top, they will open up another reel to the left or the right side of the playing board.
Stats
We would now usually give you as much stats as we can about the game we are reviewing. Unfortunately, Relax Gaming do not publish a lot of stats about their games, so there's not much what we can give you. Money Cart 3 comes with an RTP of 96.0% amd the max win potential is capped at 10,000 times your bet size. The game is rated with a 5 out of 5 volatility by Relax Gaming, making it a highly volatile slot. And that's pretty much everything we can give you.
Money Cart 3: Special Symbols

Sometimes games have a few Special symbols. Other games maybe have some more Special symbols. And then there's Money Cart 3, which features a whole bunch of Special symbols. We will go through them one by one and explain to you what they do. One thing up-front: Every Special symbol has its name written on it, so we will not mention it on every symbol. They all can come with values between 1 to 10, which act like regular coin values.
The Collector is represented by a guy with sunshades and some sort of absorbing device. When he lands, he does exactly what he's known for: collect. The Collector will gather every single value on the board, excluding itself.
The Collector-Payer is arguably one of the best Special symbols you can get. Like the name suggests, when this symbol lands, it will not only collect 3 to 5 values on the board at that time. It will also, after it's done with collecting, shoot its value on all of the collected symbols. So it goes without saying that you want to have this as late as possible in your Respins, when you have high enough symbols.
The Sniper is not that obvious, at least you cannot deduce his function from his name. This green haired dude will get out his sniper rifle and double the values of 3 to 8 other symbols on the field. While doing so, it can act multiple times on the same symbol.
Maybe you can already guess this one. If the old Necromancer lands, he will revive any Special symbol again, between 2 to 7 times. His choice is not final, he can switch as much as he want, but he can also revive the same symbol multiple times. Pairing this with a Collector-Payer is incredibly strong.
The Absorber is the least exciting one of all of the Special symbols. All it does is it removes all of the normal Bullseye Windows symbols from the reels. Special symbols will not get removed. The value of the symbols is of course kept. This symbol can be a blessing and a curse, depending on your current setup.
A Tommy Gun Sniper sounds a bit weird, right? Nonetheless, he can be quite valuable. Because he is very similar to the regular sniper, but instead of switching his targets, he will stay on the target and double its value 2 to 6 times.
Now the Tommy Gun Payer is a name that actually makes a lot of sense. And she really lives up to her name, because she will reveal a random coin value between 5 and 100, then choose a symbol and shoot her value 3 to 10 times on that symbol, adding her value everytime she shoots.
Many of the aforementioned Special Symbols also have a Special version, called the Persistent Symbols. These are displayed with golden borders, their owners' weapons and the label "Persistent". When these symbols land, they will stay until your Respins are over. Additionally, they will reactivate themselves on every Respin, triggering their feature over and over again. The following Special symbols can also be persistent: Collector, Collector-Payer, Sniper and Necromancer. But there is one Persistent symbol that we not have talked about yet.
The Persistent Shapeshifter is an all new symbol. As you might have already guessed, this symbol will change its form after every Respin, revealing one of the following Special symbols and its feature: Collector, Collector-Payer, Sniper, Tommy Gun Sniper or Tommy Gun Payer.
Money Cart 3: Conclusion
The whole general idea of the Money Cart series is nothing new. Hold & Win Features have been part of the online slot market for years and years. But still, there is something with Money Cart and Money Train that is just better than other Hold & Win games.
Money Cart 3 shows how to perfectly adapt good game mechanics and put them in a single slot without the loss of quality. With Money Cart 3 you will have the same exciting and thrilling experience of Money Train 3, just without the base game, that many people got bored of, waiting for a bonus. Now you will not have to wait long for the action to happen, with the downside that the bonus is "only" a tenth of your initial bet.
But even then, Money Cart 3 can pay up to 10,000 times your bet. Although this is only a tenth of the original max win potential of Money Train 3, it is still not bad. If you can live with that downside and like the action and thrill of the Money Train 3 bonus, then Money Cart 3 will be just the right game for you. This concludes our online slot review.