Knight Hot Spotz (Pragmatic Play) Slot Review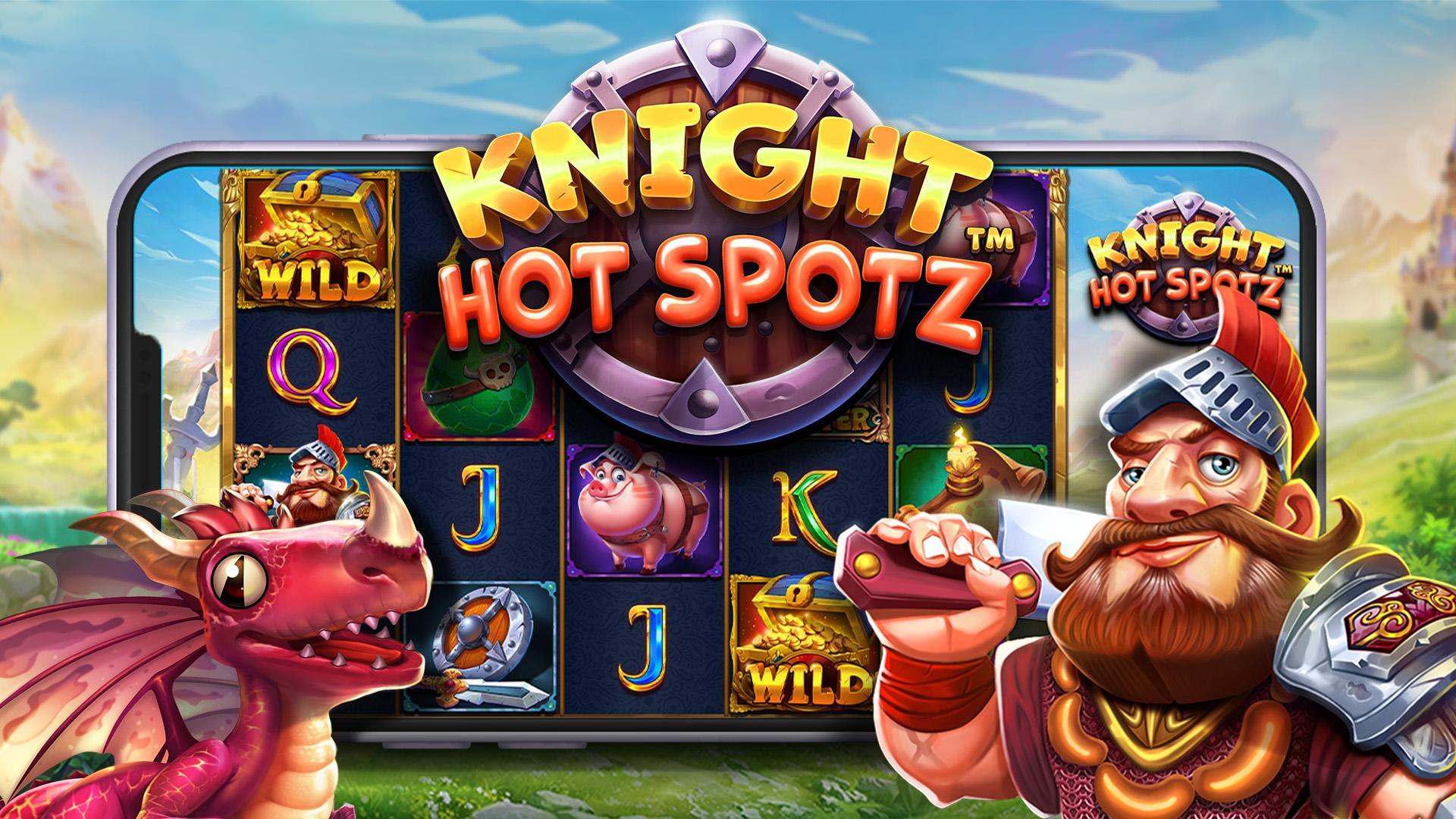 Play
Knight Hot Spotz

on


























































Knight Hot Spotz: Slot Overview
Knights fighting dragons is a popular theme we're used to from movies and books, so why shouldn't be there a slot too? By the looks of it Pragmatic Play asked themself the same question and took it in their own hands. They present us Knight Hot Spotz, a sausage loving knight fighting a dragon. So let us have a look if you got a dragon slayer in you!
Playing Board
Knight Hot Spotz is played on 5 Reels, 4 rows and 25 pay lines. At least 3 same symbols on adjacent reels from left to right result in a win. The bet sizes very from 0,25 € to a maxbet of 125€ (or equivalent). Bet sizes may vary depending on where you play.
Winning Symbols
The slot comes with 8 paying symbols, 4 low-tier, 2 mid-tier and 2 high tier symbols. We are referring to the payouts for a full line for each symbol. Starting with the low-tier symbols we the A, K, Q and J having the same payout of 5x for the full line. The two mid-tier symbols, displayed by a map and a compass, are paying 16x your bet. For the high-tier symbols we got the egg being the second-best symbol with a payout of 20x followed by the top-symbol displayed by a pig with a payout of 24x.
Knight Hot Spotz: Stats and Special Symbols

Now let us have a look at the special symbols Knight Hot Spotz has for us.
Scatter
The scatter can land on any position, 6 Scatter-Symbols rewarding you with 6 Free-Spins. Their position and number play a role besides the number of spins you receive. What their role and how the Free-Spins feature works will be covered in the feature overview section
Wild
The Wild-Symbol can land on all reels, substituting for all symbols except the scatter.
Dragons
The dragons only appear in the of the Free-Spins. They come in three different colors:
Red dragon: reveals low-tier values
Green dragon: mid-tier values
Purple dragon: high-tier values
We will have a closer look at how the dragons work in the feature overview section.
Stats
The stats for Knight Hot Spotz are as follows: The slot comes with a RTP of 96.5% and a maximum win of 2000x your bet. The chances for triggering the Free-Spins come at a frequency of 1 in 109 Spins. Knight Hot Spotz is classified as a high volatility game, meaning that it will pay less often in average but coming with a higher chance to hit big more often. A closer look at the stats reveal that the maximum win comes at a frequency of 1 in 1,470,600 and the chances of triggering the Free-Spins is 1 in 109 Spins.
Knight Hot Spotz: Feature Overview

Since we have cleared the special symbols out of the way let us have a look what their role is for the Free-Spins.
Free-Spins Feature
As mentioned before 6 Scatter-Symbols rewarding you with 6 Free-Spins, every additional scatter adds one Free-Spin. The positions where the Scatter-Symbols has landed will be framed and stay framed for the entire Free-Spins. During the Free-Spins you can land additional Scatter-Symbols to frame them too. If you land a scatter on an already framed position the frame will be upgraded up to three times.
Let us help you to tell apart the 3 different stages. The first stage frame is silver, the second is golden and the last stage is golden with jewels. Four Scatter-Symbols reward you with 4 additional Free-Spins and every additional scatter adds one more Free-Spin.
In the end of the Free-Spins different colored dragons will land on the framed positions, depending on how often the position was upgraded.

Possible rewards are:
1x,2x,3x,4x,5x,6x,8x,10x,12x,15x,20x,25x,30x,40x,50x,60x,80x,100x,150x or 200x your bet.
The money rewards will be added to your line winnings you may have won during the Free-Spins.
Knights Hot Spotz: Conclusion
Like we are used from Pragmatic Play they can choose any theme and form it into a slot that fits the setting just right. They gave us a Knight with a pig friend that he worked into sausages by the looks of it. And like always they did a good job with the design and game mechanics.
Knight Hot Spotz is a simple game with no hard mechanics to understand and a value collect Free-Spins feature we know from other games. The only difference being the possibility to upgrade the positions for better values.
So, what do we think of Knight Hot Spotz? Sadly we´ve to say the slot has not much to it. All the excitement lays in the Free-Spins feature, which ends in frustration very often. We are already used to the fact that Pragmatic Play slots almost always have a feature buy option to offer, Knight Hot Spotz is missing that. Although the Free-Spins aren't that hard to trigger (statistically) it still would have been a nice addition. As for the base game some special features wouldn't harm since it gets boring after a short time. On top of our critics the not so exciting max win of 2,000x is doing the slot no favor.
There are a lot of slots out there with money values to collect in the Free-Spins and if you are into that the best way to see if you will like Knight Hot Spotz is to try it for yourself.