Gluttony (Nolimit City) Slot Review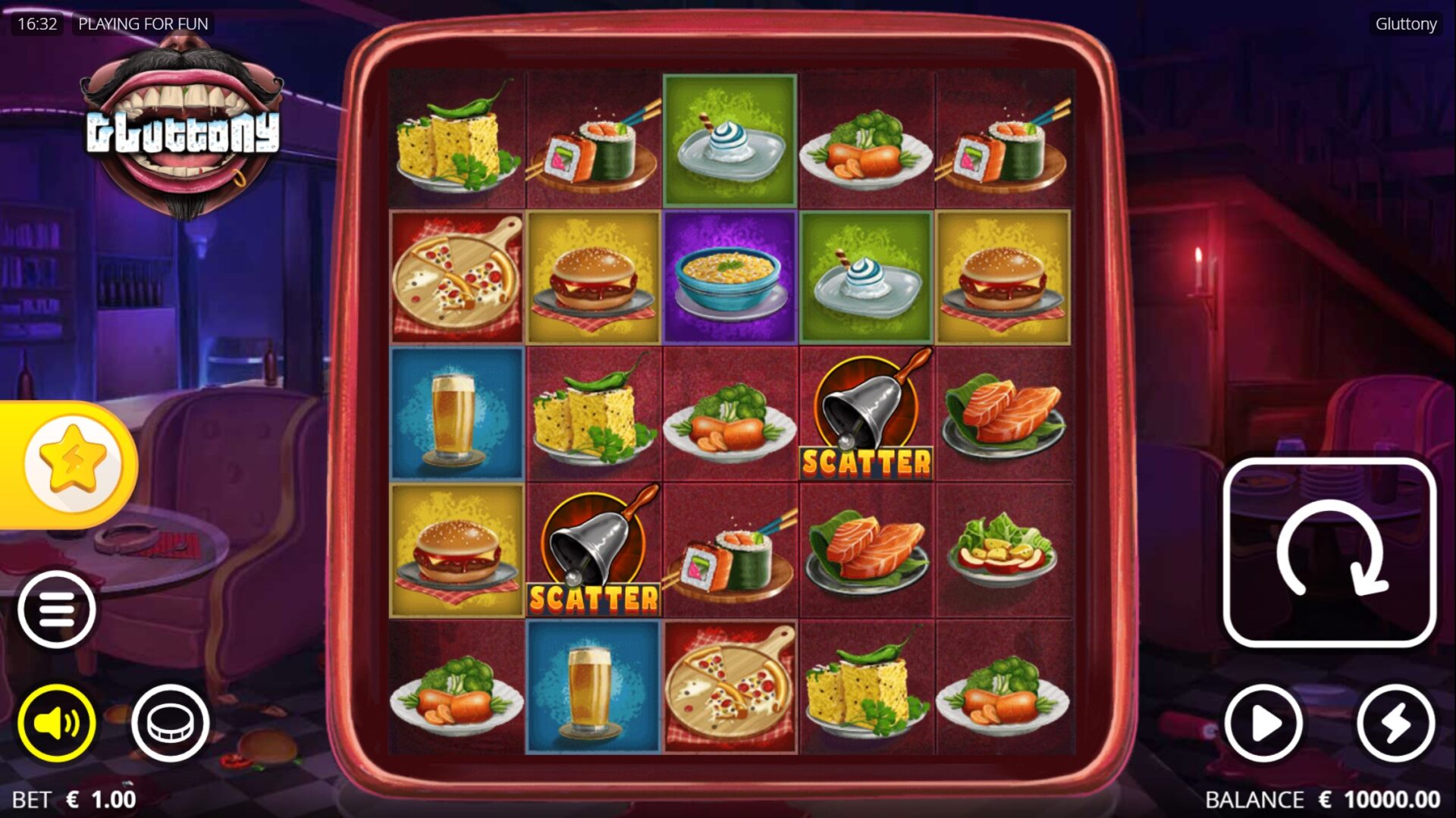 Gluttony: Slot Overview
Most of you are most likely familiar with the term of the seven deadly sins. These sins all come with names that describe them: Greed, Lust, Sloth, Wrath, Envy and Pride. But the last one is what we're focusing on in this online slot review. And it is the one that NoLimit City used to create yet another pretty unusual online slot game. So we hope you are well fed, because we will be taking a look at Gluttony.
Playing Board
Gluttony is a 5-reel slot with 5 rows. In order to determine wins, Gluttony will use winning ways. What this means, is that at least 3 winning symbols of the same kind, adjacent on reels from left to right, will form a winning combination. The big benefit, as oppose to the classic paylines, is that the position of the winning symbols does not matter. Additionally, Gluttony will use the Tumble Wins mechanic, which means that symbols, that were part of a winning combination, are destroyed and new symbols fall in. Bet sizes range from 0.20€ to 100€ (or equivalent), but may vary depending on where you play.
Winning Symbols
The winning symbols in Gluttony are truly interesting. As you might have guessed, all of the winning symbols are related to food. In fact, they all are some type of food. In Gluttony you will find 10 different winning symbols, of which 5 are lower paying, 2 are mid-tier and 3 are higher paying symbols. Now, some might argue that there are actually 30 winning symbols. Because you see, every symbol comes in 3 different version, ranging from small plates to stuffed plates. How exactly these version work and what they do, will be covered later on.
Let's take a look at the lower winning symbols first. Like we mentioned earlier, every winning symbol will be represented by food. So let's begin with the salad, paying 0.4 times your bet size per full way. Next up is the salmon, coming in at 0.6 times your bet size. This one is then followed by sushi, which will pay you 0.8 times your bet size. Second to last will be the plate of vegetables, clocking in at 1 time your bet size. And the last winning symbol will be something that we can't even figure out, it looks a bit like a sponge, paying 1.2 times your bet size for a full way.
Alright, now that we have left the more healthy stuff behind us, let's get to the junk food. In the middle section you will find a pint of beer, clocking in at 2 times your bet size. And the other mid-tier winning symbol is a scoop of ice cream, paying you 3 times your bet size per full way.
But honestly, a glass of beer, a scoop of ice cream, that's not too bad now and then, is it? That's why we will now take a look at the top paying symbols. These really should not be consumed too often. First is a bowl of noodles, probably ramen, paying you 4 times your bet size. Next up is a juicy burger, which comes in at 6 times your bet size. And the last winning symbol, and therefore our top symbol, will be the pizza, clocking in at 10 times your bet size per full way.
Gluttony: Special Symbols and Stats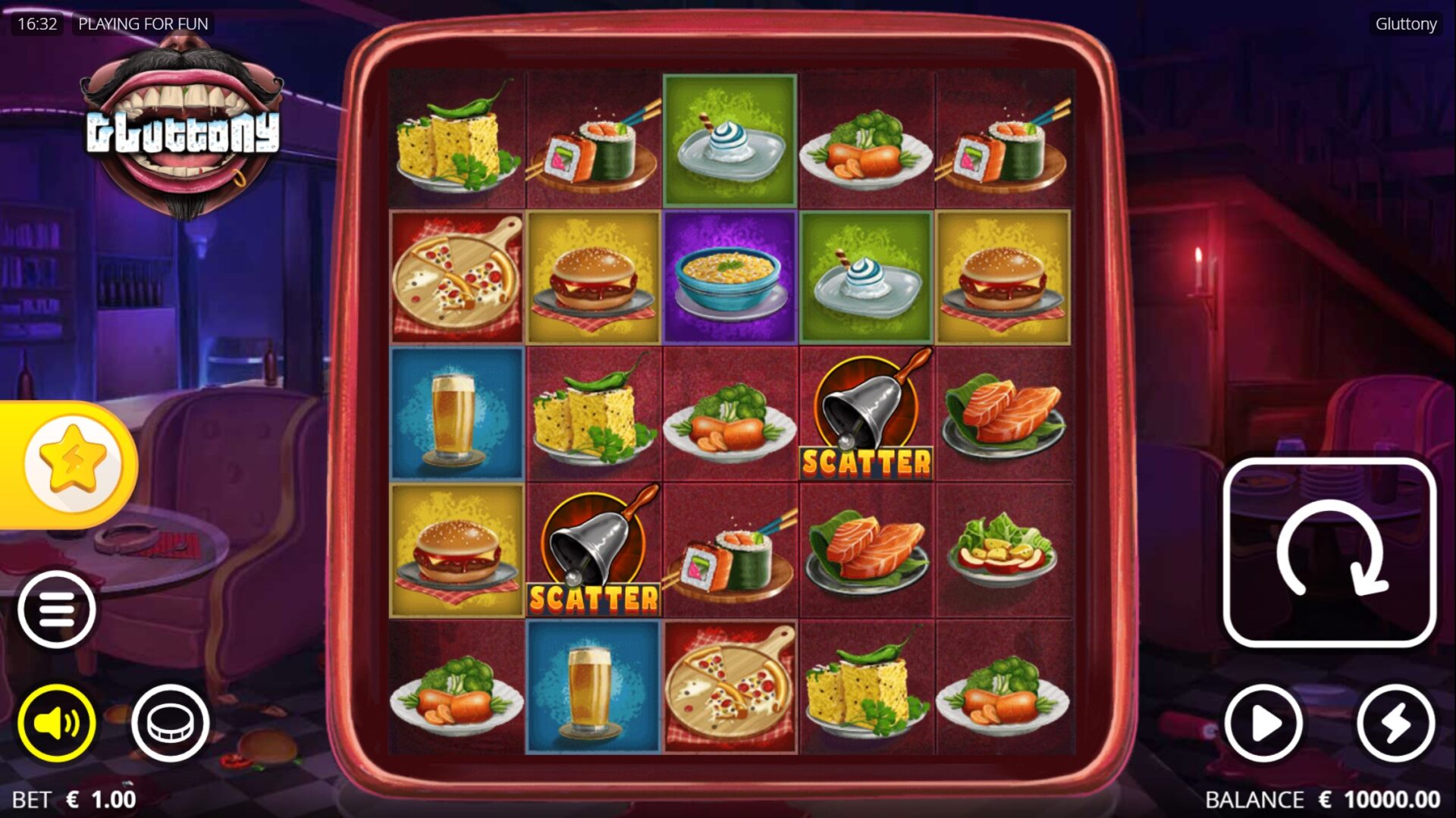 Wouldn't be a NoLimit City game if it wasn't packed with special symbols, right? Let's take a closer look at them and let's see what they are capable of.
Scatter Symbol
There are actually 2 types of scatter symbols in Gluttony. Both are represented by a bell, while one of them is silver and the other one is golden. This will actually play a very big roll in this game. While silver bells can land anywhere on reels 2 to 4, golden bells can only ever land on reel 3. Any 3 scatter symbols in the same spin will trigger the free spins feature. But there is much more to explore, we will take a detailed look at the free spins feature later on in the Feature Overview section of this online slot review.
xZone Symbol
In Gluttony, NoLimit City introduce a new xMechanic, called the xZone symbol. In this case, the symbol will be portrayed by a bag of ketchup. Whenever this lands, both in base game and free spins, it will spill its contents on all symbols that are vertically, horizontally or diagonally adjacent. Through this, the symbols will gain a +1 multiplier for every bag that spilled its contents on them.
Wild Symbol
Occasionally you will come across a cooked chicken with a big "W" on it. This will be our wild symbol. It will substitute for any winning symbol except scatter symbols. It can appear on any reel in both the base game and the feature games.
Feature Exclusive Symbols
As for the base game, we are already done with special symbols. But there is also a feature exclusive symbol, which will only ever appear in its respective features. Because it has no impact on the base game, we will go over it once we cover the features it will appear in.
Stats
Alright, for all of you stat lovers, let's see what Gluttony has in store. The game is played with a base RTP of 96.09%. Gluttony received the highest possible volatility rating of 5 out of 5 by NoLimit City themselves. The maximum achievable win in Gluttony is capped at 32,000 times your base bet size. However, chances of hitting that are rather small, with the max win occuring round about once every 52 million spins. Getting free spins seems rather hard, as on average you will need 309 spins to trigger them. Hit frequency is set to 25.27%, which means that you will get a win around every 4th spin. As always, these numbers are only an average and do not guarantee anything.
Gluttony: Feature Overview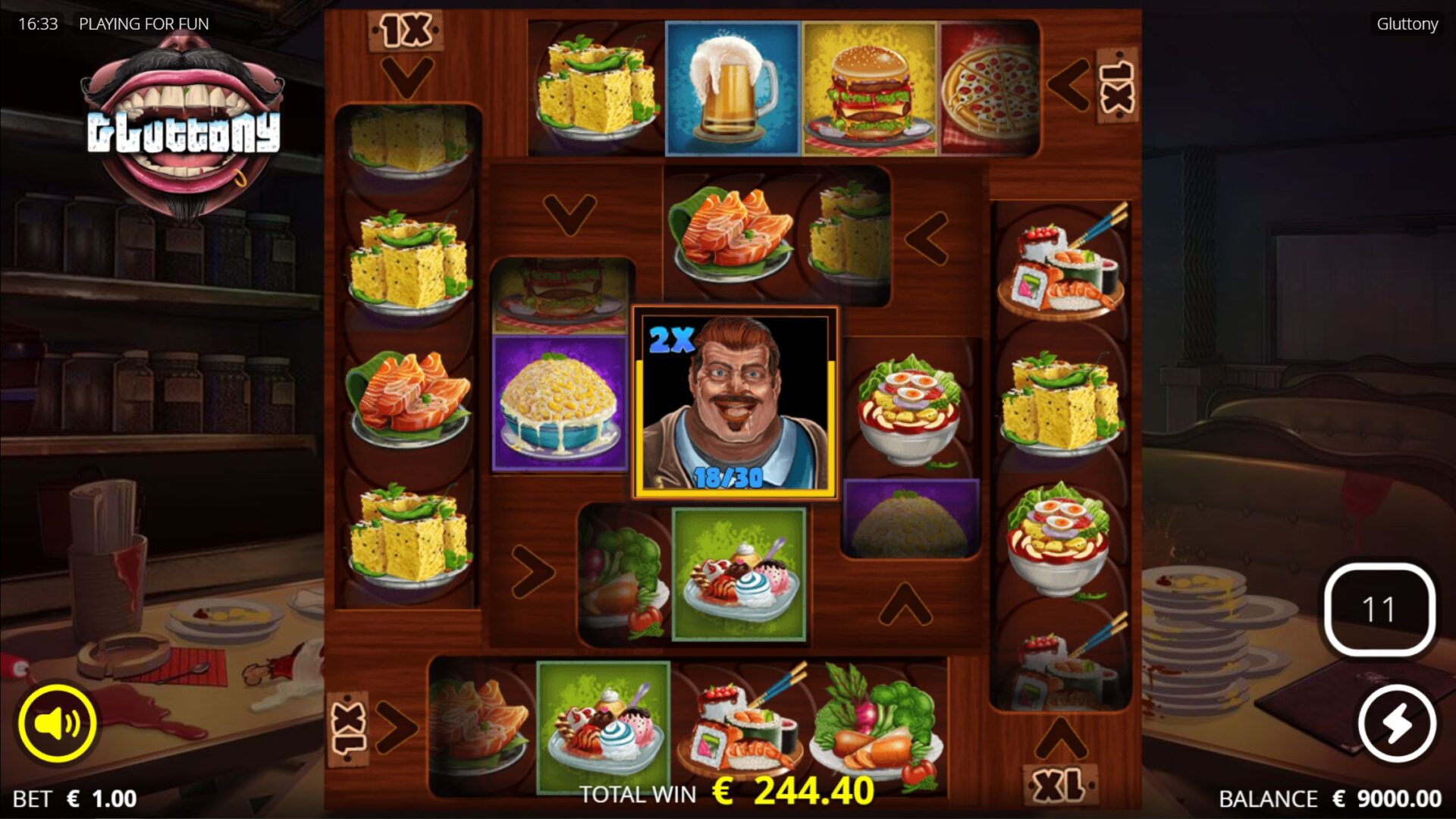 There is a lot we need to talk about when we take a look at all of the features Gluttony has to offer. So let's waste no time and delve right into it.
Golden Bell Spins
The Golden Bell Spins are actually pretty important in Gluttony. You see, whenever you land a golden bell on reel 3, you will be granted 2 spins. Additionally, all symbols will upgrade to their next stage. The plates will fill, and the symbols will double in value. If you now manage to land another golden bell on reel 3 within these 2 spins, you will get 2 additional spins, and the values of the symbols will double once again. This feature will end once you have acquired 3 golden bells or you have run out of spins.
Free Spins Feature
The Free Spins Feature is triggered by any combination of 3 bells, silver or golden. Golden bells will always "overwrite" silver bells, if you have landed 2 golden bells via the Golden Bell Spins, you will also trigger with 2 golden bells. This is actually very important, because depending on how much golden bells you have triggered with, you will either enter the Order Up!, Double Up! or Quadruple Up! Feature.
In their core, all of these features work the same. The only difference they have, is that, like the name suggests, the Double Up! Feature uses double valued and the Quadruple Up! Feature uses the quadruple valued symbols. Additionally, depending on which feature you have triggered with, you will get increasing spins. You will get 8 free spins for no golden bell, 10 free spins with 1 golden bell and 12 free spins with 2 golden bells.
The free spins feature works pretty much like the base game. The only difference is that we will encounter a new special symbol, called the Wild Pot. This symbol will act like a normal wild symbol, meaning that it will substitute for winning symbols. However, there is more to this symbol. Whenever the wild pot is part of a winning combination, it will try to collect horizontally and vertically adjacent food. If done so, the multiplier of the wild pot will increase by +1 per lower winning symbol and +2 for any mid-tier or wild symbol. After the wild pot is done collecting, it will stay in place until the next winning combination, applying its multiplier to it. If the spin ends without another winning combination, the wild pot will be gone. But it will also be gone after its next partake in a winning combination.
We cannot certainly say if upgrading the free spins feature is possible, since the game rules do not specifically mention that and our tests did not show anything like that. Though we would assume that it is possible, as most of NoLimit City's games have the chance to upgrade. The feature will end once every spin has been used or the max win potential of 32,000 times your bet size has been reached.
FEDCON 1
Now we will take a look at what happens when you reach 3 golden bells. Upon doing so, you will enter the FEDCON 1 bonus game. This bonus game is much different from the other features. The playing board will change drastically, so that you will find 4 outer reels and 4 inner reels. While the outer reels will hold 3 symbols at a time, the inner reels can only hold one. It will also introduce a new winning system called Crosslink. The starting point of every win will be the Fat Bastard (as he is officially called by NoLimit City). From him, every connection, that holds the same symbol in the inner and outer reels, will form a win. Naturally, the symbols in the FEDCON 1 feature will have the quadruple value.
This feature will of course come with a few special rules. First, the Fat Bastard will gain stage progress for every meal he eats. He will gain +1 to his counter for low paying symbols, and +2 for mid-tier and wild symbols. Upon reaching the next stage, the required counter will go up by +10 and his multiplier will go up by +1, up to a maximum of x5. You also gain 2 additional spins for every stage.
Next are the scatter symbols, represented by golden bells. These can only ever land on the outer reels. If they do so, they will double the value of all outer reel symbols permanently until the feature is over.
The xZone symbol will also play a role in the FEDCON 1 feature. These can now only land on the inner reels. If they do, they will increase the multiplier on the connected outer reel by +1.
Last but not least we have the wild pot, which also has a special role here. In the FEDCON 1 feature, wild pots can only land on the inner reels. They will collect any food on the outer reel, preventing the Fat Bastard to progress as long as the wild pot is present.
Just like with the regular bonus game, this feature will end once all of your spins have been used or the max win cap has been reached.
Bonus Buy Option
Of course, a NoLimit City game like Gluttony would not be released without a bonus buy option. In the case of Gluttony, you will have 3 different bonus buy options. Here's a list of all of them:
| | | | |
| --- | --- | --- | --- |
| Name | Price | Feature | RTP |
| Order Up! | 100x | Guaranteed entry to the Order Up! feature | 96.08% |
| FEDCON 1 | 1,000x | Guaranteed entry to the FEDCON 1 feature with 14 spins | 96.09% |
| Lucky Draw | 300x | Guaranteed entry to a random feature (40% Order Up!; 30% Double Up!; 20% Quadruple Up!; 10% FEDCON 1) | 96.11% |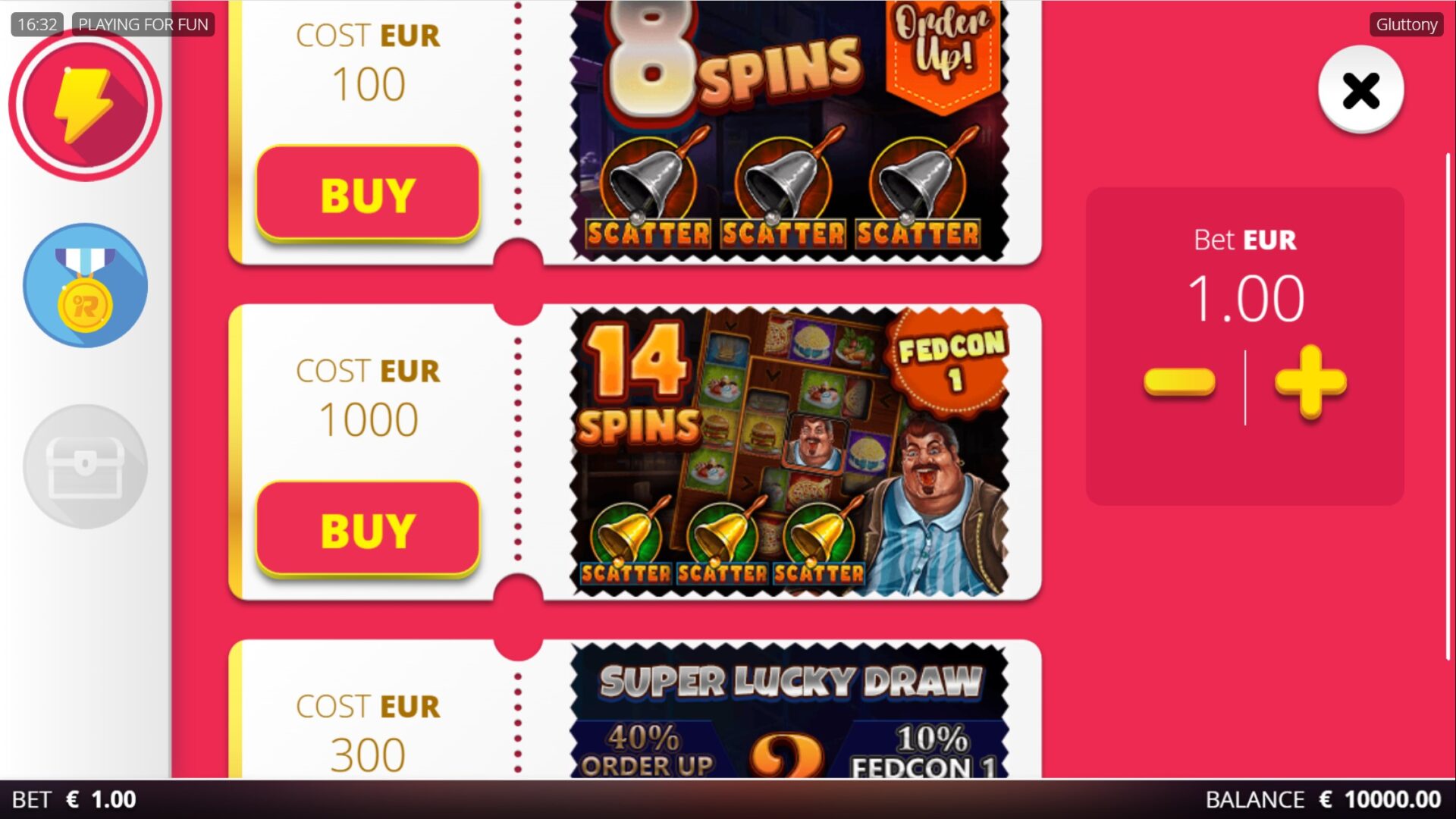 As with many NoLimit City games, be careful when buying bonuses. Gluttony comes with a very high volatility, which means that bonuses can often pay little to zero. So it can get very expensive if you plan on buying a few bonuses.
Gluttony: Conclusion
Gluttony is really something else. In an entirely positive way. While the last releases of NoLimit City were rather bland and always felt like they were missing something, we can't say that for Gluttony. We had lots of fun testing the game, and everything felt like it was there for a reason.
While NoLimit City struggled with things like the base game in past releases, in Gluttony the base game feels very round. Of course, there might not be a lot happening, but the Golden Bell Spins alone spice up the base game by a lot and allow for a lot of excitement. And so do the feature games, although they are very simple. But NoLimit City showed that they don't need 10 different xMechanics to provide players with a pleasant experience. The only thing we would criticize here is that the premium FEDCON 1 feature does actually not feel as exciting and thrilling as the normal feature games.
In the end we can say, that Gluttony is a game that should not be skipped, unless you can't handle the very high volatility. Other than that, Gluttony is a very fun game that allows for a lot of joyful moments for every kind of player.