Fire Archer (Pragmatic Play) Slot Review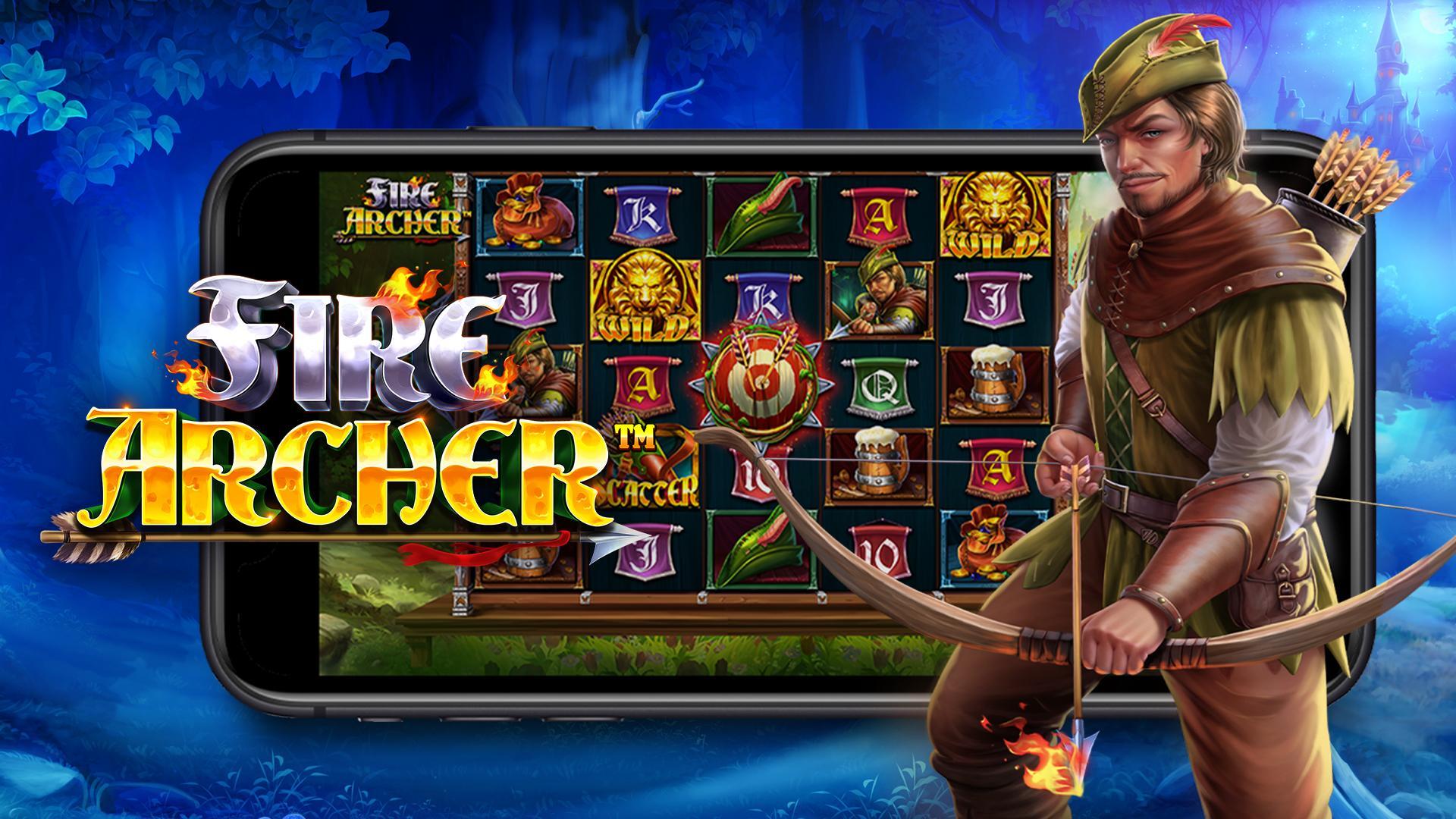 Fire Archer: Slot Overview
Fire Archer is Pragmatic Play's way to interpret the story of Robin Hood. Fire Archer takes you back in time to the 15th century, into the forests of Sherwood. Once again the skilled marksman is on the hunt to steal from the rich and give it to the poor. So let us see how Pragmatic Play managed to their iteration of the story of the legendary outlaw.
Fire Archer is played on 5 reels with 5 rows and 25 set paying lines. Bet sizes range from 0.01€ up to 125€ (or equivalent). Bet ranges may vary depending on where you play. Fire Archer makes use of 9 or 10 winning symbols respectively with 5 of them on the lower end and the other 5 on the higher end.
The lower tier symbols are very basic. These are the classic symbols from 10 to A on their respective banners. Only exception for that is the A symbol, which kind of stands out because the letter on the banner is golden. And there might be a good reason for that. Full lines of 10 and J will pay you 1.6-times your bet size, Q and K clock in at 3-times your bet size for a full line and the A's already pay double with 6-times the bet size. So they indeed are the most valuable lower tier symbol, that explains the golden letter on the banner.
Where the symbols on the lower end are pretty basic, the higher end symbols are more unique. From lowest to highest we have the Beer Keg which will pay 8-times your bet size for a full line, then the iconic green hat of Robin Hood with 10-times your bet, followed by a Gold Bag for 12-times your bet and finally the master-marksman himself, Robin Hood for 20-times your bet size for a full line. But although the general theme of the online slot game is the story around Robin Hood, he will not be our Top Symbol.
Fire Archer: Special Symbols and Stats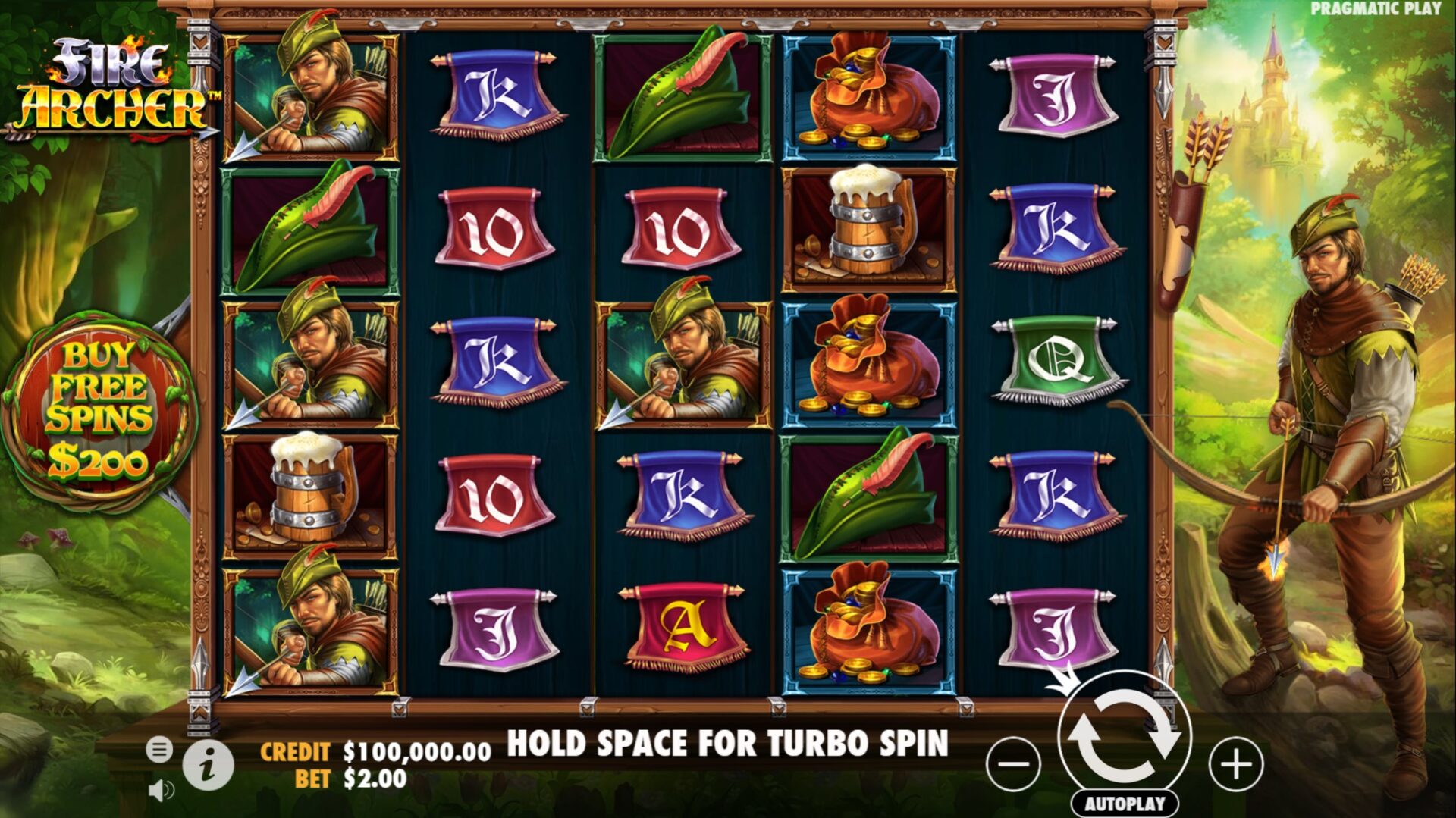 Of course, if Robin Hood is not our Top Symbol, there must be Special Symbols. And yes, we actually have 3 of those. Let's begin with the Scatter Symbol. This one is symbolized by a loaded quiver and the label "SCATTER". Those can only appear on the reels 1, 3 and 5. You will need to land it on all 3 reels at the same time to trigger the Free Spins Feature. The Scatter symbol also has another function in the Free Spins Feature which we will cover later on.
The second Special Symbol is the Wild symbol. This one is displayed by a golden lion relief and the label "WILD". This symbol substitutes for every other winning symbol except for Scatters. And since Wild symbols can appear anywhere on the screen, they also have their own payout. Wild symbols pay 30-times your bet size for a full line, making it our Top Symbol. But Wilds cannot easily land on any spin.
To get Wild symbols you will need to land a Super Wild symbol. This symbol comes in form of a target. What exactly it does and why it is crucial will be covered in our Feature Overview section.
Let's look at the stats of Fire Hunter. And these look daunting. Fire Archer has a base RTP of 96.07%, which is fine. The Bonus Buy feature, which we will cover later in details, has a slightly higher RTP of 96.10%, pretty usual so far. What is rather unusual though is that Fire Archer has a max win potential of 4,000-times your bet size, which is "slightly" smaller than Pragmatic Play's average of 5,000-times the bet size. Unusual, but still fine. On average you will hit roughly once every 5 spins. But what really surprised us is the max win probability. The chance to hit a max win, whether in base game or the Bonus Feature, is once in every 190,665,582 spins. This is an incredibly low chance on a max win potential of 4,000-times. And if that wasn't already a punch in the guts, the free spins frequency is once every 250 spins. This is all theoretically and on average of course but these numbers really left us with an open mouth.
Fire Archer: The origin of Robin Hood
Did you know that Robin Hood never existed? Well, at least we cannot prove it. Robin Hood is an outlaw that originates in the English folklore. Many balladeers besang his heroic deeds, his high skill of archery and swordsmanship, how he constantly helped the poor by robbing from the rich. Through many retellings and veriations over the years, Robin Hood became the leader of his own band, the Merry Men. Together with his lover, Maid Marian, he was eager to put his opponent, the Sheriff of Notingham, in misery. Robin Hood has been features many times in theatrical plays, film and TV series. Still to this day he is featured in modern pop-culture.
Fire Archer: Feature Overview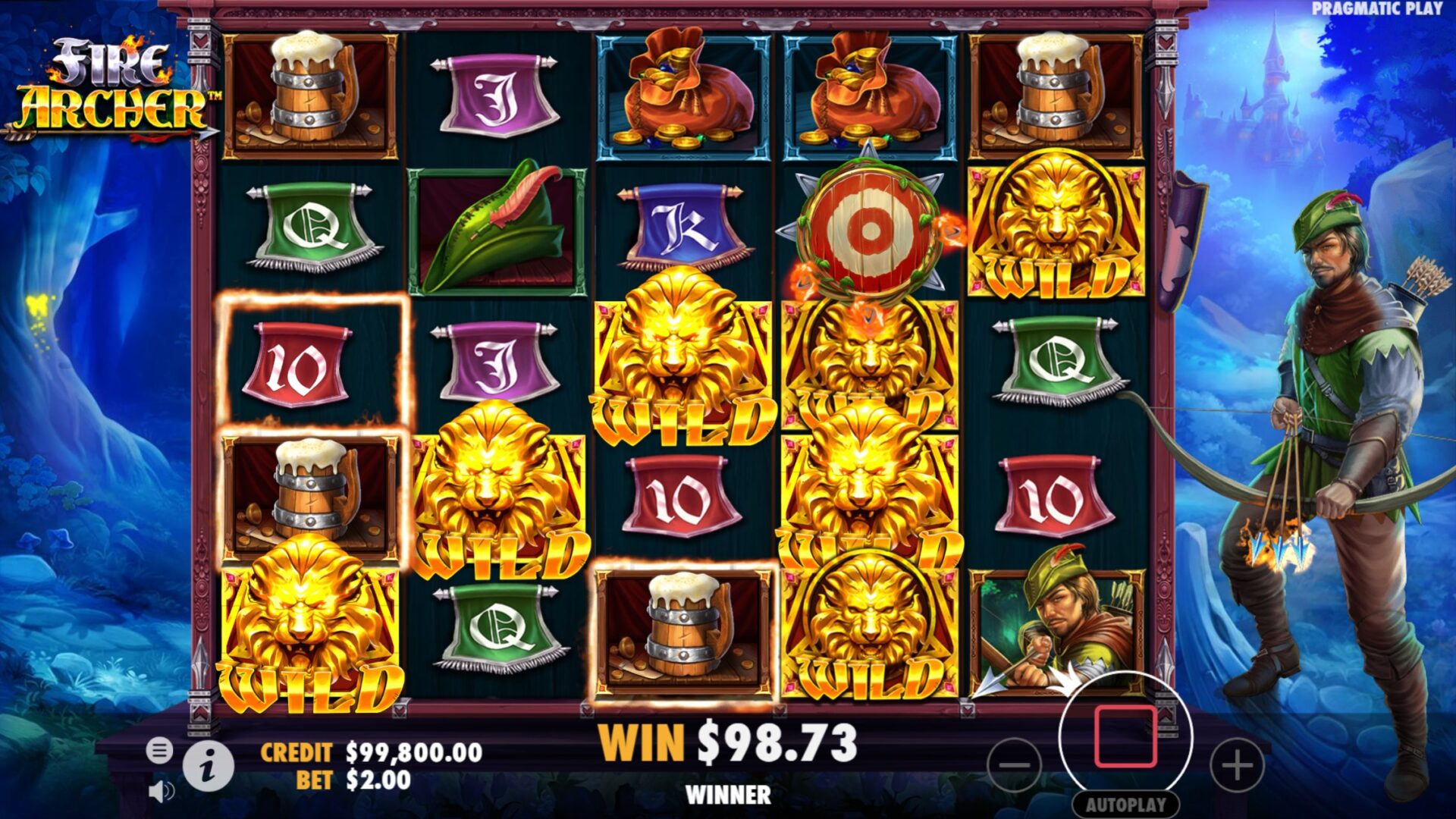 Fire Archer has some interesting game mechanics that we definitely want to share with you.
When the Super Wild symbol lands, 8 arrows in 8 different directions stick out of it. In the base game Robin Hood will fire a burning arrow on it and ignite a random amount from 1 to 8, transforming any symbol in their path to Wild symbols. Additionally the Super Wild symbol will behave like a normal Wild symbol, substituting for every winning symbol except Scatter symbols.
When landing Scatters on reel 1, 3 and 5 in the same spin the Free Spins Feature is triggered. You will be granted 5 Free Spins. While in the Free Spins Feature, the Super Wild symbol is now a Roaming Wild, which means that it wanders around on a different position in every spin. Of course it can also stick to its current position. The Super Wild is permanently active and present throughout the whole feature. Additionally, Scatters start appearing on any reel, and this is good. Because the Super Wild symbol now operates in levels. Every level increases the amount of arrows that are fired by 1. For every 2 Scatter symbols you land the Super Wild gains a level. They do not have to land in the same spin, you can actually see a quiver on the right side, just besides Robin Hood. Every Scatter fills up an arrow in the quiver, if there are 2 arrows they magically vanish and the Super Wild symbol is upgraded. Additionally, for every upgrade you are randomly awarded 1, 2 or 3 spins. And of course, the higher your Super Wild is leveled, the more valuable the spins become.
As we already mentioned in our Stats section, Fire Archer also comes with a Bonus Buy Feature. This feature clocks in at 100-times your bet size and is available right next to the playing board. Since it is a target board, you can't miss it.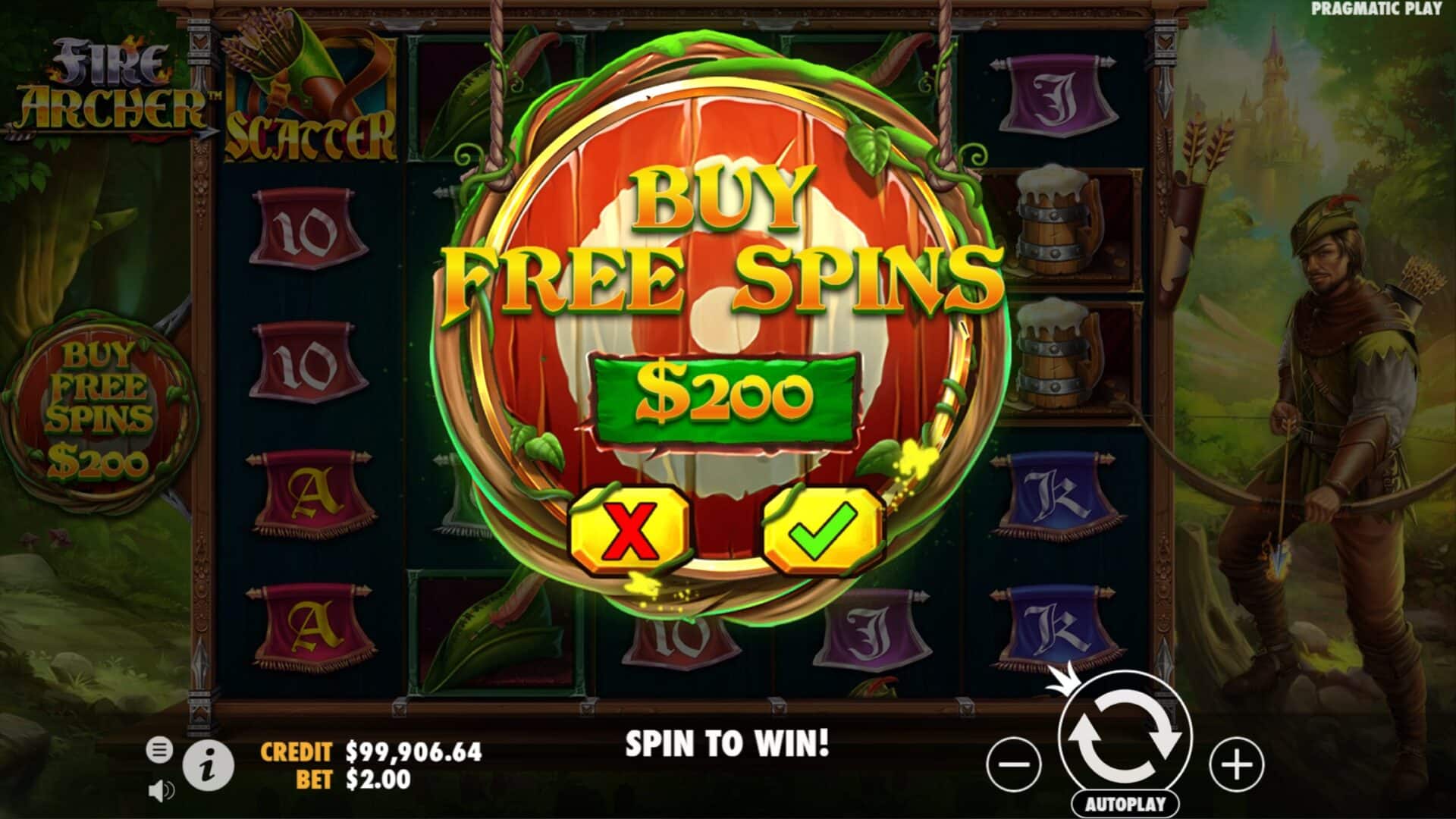 Fire Archer: Conclusion
So, what can we say about Fire Archer? It is definitely a fun game, we can't say anything else. Pragmatic Play did a great job in creating an atmosphere that perfectly fits the stories around Robin Hood. The winning symbols are very well designed, even if they are pretty basic. The music and ambience does a great job in immersing yourself, you almost feel like you're in Sherwood Forest yourself.
What concerns us though are the stats. These are just terrible for a game with a max win potential of 4,000-times your bet size. There are games out there, also from Pragmatic Play, where the chance of hitting the max win potential is 1,900-times higher than in Fire Archer. But this could be explained if the game behaves exceptionally well in base game or Free Spins. But does it do that? Not necessarily. Of course it can, no question, and the Free Spin Feature has lots of potential. But we're pretty sure that a max win on Fire Archer is something that will rarely be seen.
But if you're not someone who is interested in stats you will probably have a lot of fun with Fire Archer. We enjoyed the game mechanics and everything around it. This concludes our slot review about Fire Archer by Pragmatic Play. We had a fun time playing and trying it out for you. Hopefully we left no question unanswered and we're sure you will have just as much fun as we had.