Cowboy Coins (Pragmatic Play) Slot Review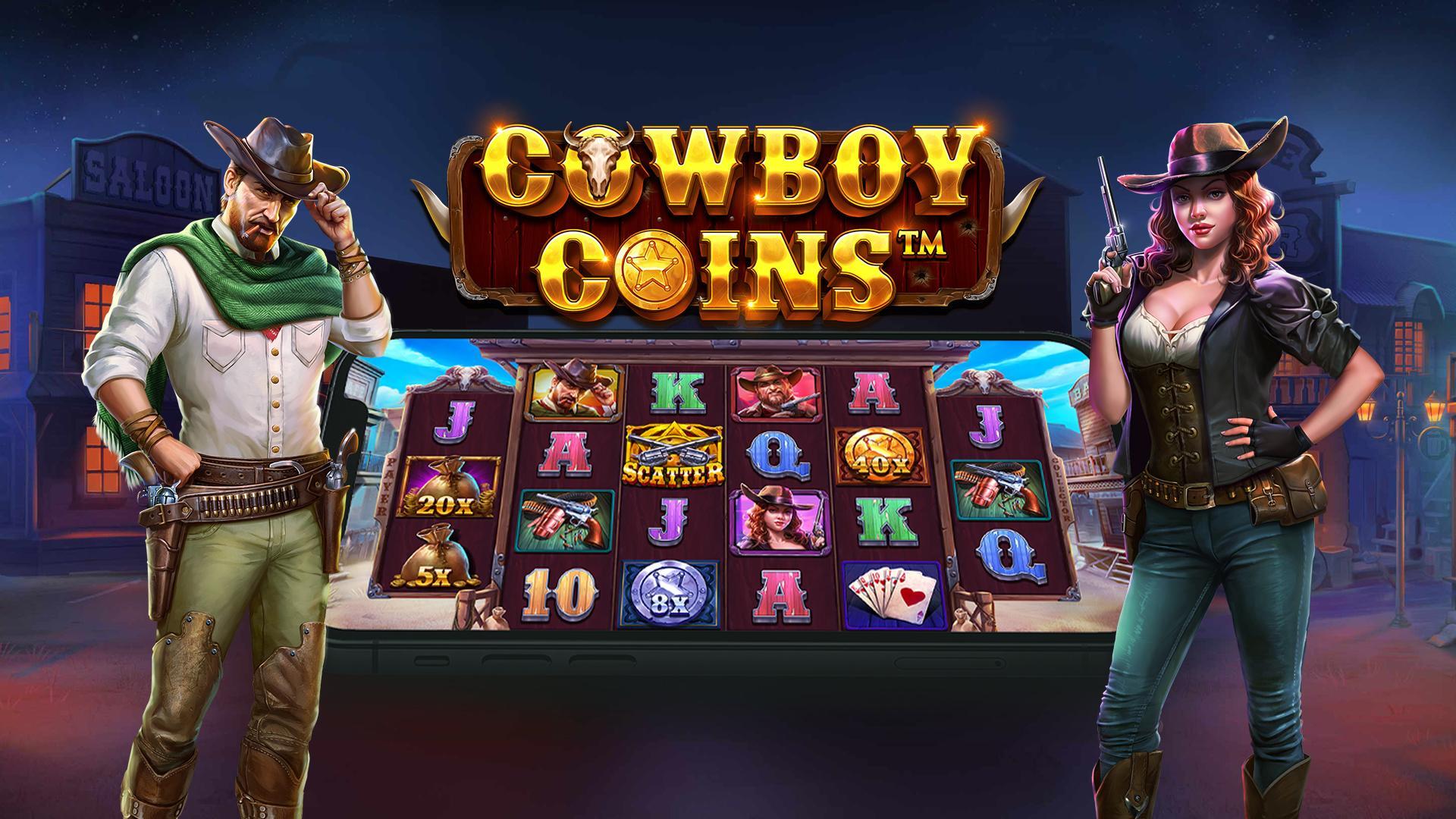 Play
Cowboy Coins

on


























































Cowboy Coins: Slot Overview
Pragmatic Play is always eager to tackle famous themes that are shared among the top online slot providers. One of these themes is the western/cowboy theme. Pragmatic Play had great success with this theme in the past. Just take a look at Wild West Gold or its Megaways counterpart. But this is just one example on how to successfully turn the western theme into a hit slot. And now they are trying it again with Cowboy Coins.
Cowboy Coins is played on 6 reels with a 3-4-4-4-4-3 layout and makes use of winning ways, meaning that you have a total of 2,304 available ways to win with. Bet sizes range from 0.20€ to 100€ (or equivalent), but may vary depending on where you play.
The new game from Pragmatic Play features 10 winning symbols, 5 on the lower end and 5 on the higher end. Pragmatic Play didn't decide for fancy stuff so they picked the classic winning symbols from 10 to A for their game. The 10's, J's and Q's share a payout of 1.25-times your bet size for a full way. So do the K's and A's, clocking in at 2-times your bet size for a full way.
The higher tier symbols are a more fitting sight to the theme. At first we have the Playing Cards for 3-times your bet size. Next up is the Gun with Halfter, clocking in at 3.75-times your bet size per full way. Coming in at third place is the Cowgirl for 4.5-times your bet size. Second position goes to the Cowboy with a Gun, paying 6-times your bet size. And last but not least, our top symbol is the Cowboy who grabs his Hat for 10-times your bet size per full way. Now you might think that these payouts are not really that promising. And you would be right, they aren't. But of course there's a twist to it.
Cowboy Coins: Special Symbols in Base Game

Cowboy Coins features a series of Special symbols that we would like to share with and explain to you.
Let's start with the easiest one, the Scatter symbol. Scatter symbols are portrayed by a sheriff star with two crossed guns on it and the label "SCATTER". These symbols can appear on all reels. Land 3 or more of them in the same spin to enter the Free Spins Feature.
Next up are the Money symbols. These are represented by silver or golden sheriff stars. Money symbols carry a random value between 1x and 9x in base game and 1x and 50x in the Free Spins Feature. Together with other Special symbols these will be your main characters when it comes to big wins.
The next following special symbols also have an upgraded super-version, that we will mention together. The Super symbols can only ever appear in the Free Spins Feature. Super symbols are easily recognizable, they look pretty much like their original version with a few additions.
First up we have the Payer symbol, shown by a money bag. This symbol can only land on the first/leftmost reel. When a Payer symbol lands, it comes with a random value just like the Money symbols do. Upon landing, the symbol will pay its value to any Money symbol in sight, then add all of them together and pay out the added value. The Super Payer symbol pretty much does the same in Free Spins, with the addition that it pays its value to all Money symbols in every spin it is present on the board.
Next is the Collector symbol, which is portrayed by a safe. This one can only appear on the last/rightmost reel. Whenever a Collector symbol lands, it comes with a random money value. The Collector symbol will collect any Money symbol values on the screen, then pay out their value as well as the coins' values. The Super version of this symbol will do pretty much the same, but it will collect all money values in every single spin it is present.
Cowboy Coins: Special Symbols in Free Spins and Stats

Cowboy Coins features Special Symbols that are exclusive to the Free Spins Feature. These special symbols also come with an upgraded version.
The first exclusive Special symbol is the Multi Collector, which is represented by a magnet. This one works a bit different and weird. It can only appear on the top row, which will be added in the Free Spins Feature. Upon landing the Multi Collector symbol, it will have a random money value. The Multi Collector will take one of the Money symbols in sight and pay its value a random amount of times between 2 times and 30 times. The Super Multi Collector will do the same, with the addition that it its feature is triggered in every single spin that it is present.
Our last Special symbol is the Double Booster. This one is portrayed by two dynamite sticks. It can only land on the bottom row, which is unlocked during the Free Spins Feature. Whenever this symbol lands it comes with a random money value. Additionally, it will choose between 2 and 5 Money symbols in sight and then double their values. The Super Double Booster will do the same in every spin it is present on the screen.
Let's take a look at the stats of Cowboy Coins. The game comes with a base RTP of 96.08%, which is decent. The max win potential of Cowboy Coins is capped at 30,000-times your bet size. This makes Cowboy Coins one of Pragmatic Plays top paying slot games. The chances of hitting this max win are pretty small though, with a max win occuring once every 10,452,449 spins. Although we must say that 10 million spins for a 30,000-times max win potential is not bad, we've seen way worse in the past. On average you will get a win roughly every 5 spins, and a Bonus Feature every 284 spins. So it might take a while until you get a Free Spins Feature. As always, these are just the average numbers and not a guarantee for anything.
Cowboy Coins: Feature Overview

As we already mentioned, Cowboy Coins comes with a Free Spins Feature. In order to enter it you will need to hit 3 or more Scatter symbols in the same spin. How many you trigger with doesn't matter, you will always be granted 3 Respins. Upon entering the Feature, you will get 2 additional rows at the top and the bottom, which are reserved for the two additional Special symbols that come in play here. During the Respins, you will collect Money symbols. Once a Money symbol lands in the middle of the screen, it will stay there until the end of the feature. Hitting any symbol anywhere on the board will reset your Respins back to 3. Additionally, if you manage to fill up one of the side rows that hold Special symbols, all Special rows, including the one you filled, will expand by 1 field. The feature will end whenever you have no Respins left or the max win potential of 30,000-times your bet size has been reached.
Cowboy Coins comes with a packed Bonus Buy Feature. If you don't want to wait until a Bonus has dropped in, you can skip the line and buy one. You can buy a regular bonus for 100-times your bet size, or you can buy a Super Bonus. But the great thing is, you can decide which Super Bonus you want to buy. Every single Super Bonus will guarantee you one of the four Super Special symbols, depending on which one you bought. However, every single Super Bonus will cost you 500-times your bet size, which is a pretty hefty price. Be careful with this one, they have a super high level of volatility. You might go out with much less than you have paid, so be prepared. Interestingly, the RTP differs a lot when buying a Bonus. The features with the lowest RTP when buying are the regular Free Spins and the Super Multi Collector Free Spins, coming with a 95.99% RTP. The best feature RTP-wise would be the Super Payer Free Spins with 96.27% RTP.

Cowboy Coins: Our Conclusion
Pragmatic Play did a great job with Cowboy Coins. They obviously didn't invent anything new with the features the game has to offer. But they took an already popular mechanic from games like Money Train and converted that into something of their own. Cowboy Coins will be a fine addition to Pragmatic Play's selection of games, especially with its high max win potential, the highest we have seen in many years from Pragmatic Play.
All there is left to say is that we are pleasantly surprised by how good the design of the game is. The athmosphere as well as the music fit the theme perfectly. Even the classic low tier winning symbols are a welcome sight in a western-themed game. The only thing that looks a bit weird is the animation when entering and leaving the Free Spins Feature. It felt like a flashback to early 2000s video game animations. But that's not really an issue and probably comes down to personal preference.
In the end, we are very happy with what Pragmatic Play came up in Cowboy Coins. We had lots of fun testing it for you. This concludes our online slot review about Cowboy Coins. Hopefully we left no question unanswered and we're certain that you will have just as much fun as we had.