Tropicool 2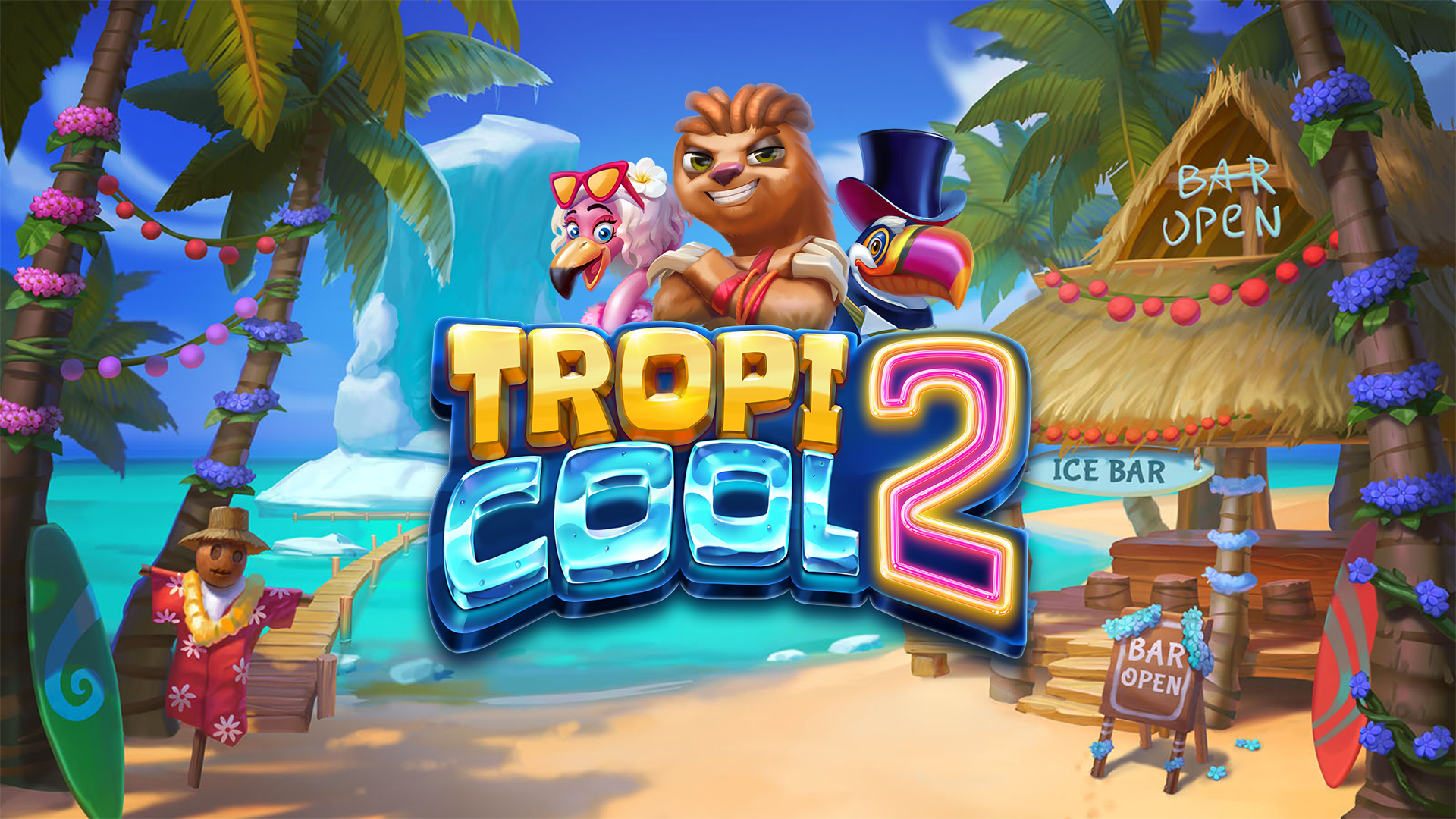 Tropicool 2: Slot Overview
Going for a walk at the beach, the heat of the sun burning on your skin, enjoying cocktails and going for a swim in the open water. Doesn't that sound like the perfect summer experience? Well, ELK Studios introduced us to these feelings with Tropicool back in 2021. But now they're back, even more tropicooler with Tropicool 2.
Tropicool 2 is played on 6 reels with 6 rows and 3 extra rows at the top of the screen. It uses win ways, which on a 6×6 screen means that there are 46,656 total ways to win. Tropicool 2 comes with the usual ELK Studios bet ranges from 0.20€ to 100€ (or equivalent). Bet ranges may vary depending on where you play. Tropicool 2 makes use of tumbling wins, which means that a spin only ends if there are no more winning combinations possible.
There are 11 winning symbols in Tropicool 2. Let's begin with the four lowest symbols. And to be honest, we don't even know what these fruits resemble. They all look like peaches in different colours. These colours are Purple, Green, Yellow and Red. Once you'll see them you'll know exactly what we mean. However, they all come with the same payout, granting you 0.25-times your bet size for a full way.
Next up we have the medium to high tier symbols. These are also resembled by fruits but way more identifiable. Here we have the Melons for 0.30-times your total bet size, the Limes for 0.60-times, Pineapples for 0.90-times, the Coconut for 1.5-times and the Strawberry for 3-times your bet size. All of these payouts are for a full way of course.
Now you might have already noticed that there are 2 winning symbols missing. That's because they are kind of special, but not special enough to be considered a Special Symbol. The two missing symbols are the Penguin and the Flamingo, old familiars who were already part of the first Tropicool. What makes them special is that they pay out in Scatters. In order to get their payout, 3 of the same bird have to land anywhere on the board. But keep in mind, they must be on 3 different positions. The reason we point that out is because these symbols can have any height from 1 to 6 cells. So having a 3 cell high Scatter symbol does not guarantee you a win. Payouts are as follows: The Flamingo pays 0.20-times your bet size for every cell, where the Pinguin pays 0.30-times your bet size for every cell.
Tropicool 2: Special Symbols and Stats

As usual for an ELK Studios game, Tropicool 2 comes with a lot of special symbols.
First up we are introducing a new friend called Elmo. Although, is he really a friend? However, if you see the little sloth on your screen, he's granting you Redrops. A Redrop is pretty much the same like a Respin. While Elmo is on the screen, he will continue to Redrop while he makes his way out of the right side of your screen. Additionally, Elmo will scare any birds on the screen to turn them into Wild symbols.
Talking about Wild symbols, there are actually two kinds of them. One of them is a regular one, which substitutes for any paying symbol except bird symbols and Bonus symbols of course. The other one is a Locked Wild symbol. It pretty much looks like a normal Wild symbol, but it has a lock with a number on its portrait. The Locked Wild will stay until it has been used the amount of times it shows on the portrait. So if you have a winning combination with one of the Locked Wilds, the number will go down by 1.
Another special symbol is the Mystery symbol, classicly portrayed by a big question mark. As you might have already guessed, these symbols turn into another random paying symbol. Keep in mind that every mystery symbol on the playing board turns into the same symbol.
The Row Swap symbol is portrayed by a pink and yellow arrow pointing to opposite sides. What it does is it randomly selects a symbol on its current row and swaps every other symbol (including itself) into the chosen symbol. These symbols however cannot be Wild, Bonus or Elmo symbols. What's interesting here, if you land 2 or more of the Row Swap symbols on the same row, one of them will change the symbols in this particular row, while all other Row Swap symbols will change the symbols of their corresponding reel, also adding Wild symbols above and under the Row Swap symbol.
Last but not least we have the Bonus symbol. This one is simply portrayed by a red neon B. 3 or more of them at the same time on the playing board will let you enter the Free Drops Bonus feature.
Alright, then let's look at some stats. Unfortunately ELK Studios are not that open like other online slot providers when it comes to stats. The general RTP of Tropicool 2 is 94.0% which is far from great to be honest. But sadly that's nothing new with ELK Studios. The max win potential is at 25,000-times your bet size, which is pretty good. Unfortunately we have no information about the chance to reach it. What we can tell you though is that the averagy hit frequency is at 24.9% which means that you will get a win roughly every 4 spins.
Tropicool 2: Feature Overview

Tropicool 2 comes packed with a lot of features that we will be going over in this section.
As you might have already noticed, we referred to "the playing board" when talking about Bonus symbols for example. The reason for that are the 3 extra rows at the top of the screen, the so-called "Cool Reels". You see, special symbols, except for Bonus symbols, cannot land in the base game that easily. To get a special symbol, you will have to get it from one (or all) of the Cool Reels. To do so, the first step is to have a winning combination. Now what will happen is that all of the free cells on the grid are at first filled with the ice and symbols from the Cool Reels, then the Cool Reels will move to the left to fill up. So special symbols are only ever active when they land on the actual playing board.
On every spin there is a chance that symbols will land way bigger than they usually are. You will notice them once you see them. They can have the regular 1×1 size, a 2×2 size or a gigantic 3×3 size. Same goes for special symbols on the Cold Reel by the way.
As we already mentioned, 3 or more Bonus symbols will trigger the Free Drops Feature. Depending on how many Bonus symbols you land you will get 6, 9, 12 or 15 Free Drops for 3, 4, 5 or 6 Bonus symbols.
The Free Drops Feature works pretty much like the base game with some exceptions. First of all, there are 2 new Special symbols added, the Multiplier symbol and the Free Drop symbol. Both of them can range from 1 to 3 and they do exactly what you think they do. While the Multiplier symbol will increase the multiplier throughout the whole feature, the Free Drop symbol rewards you with additional Free Drops. Both of them can only appear on the Cold Reels and need to be on the active playing board to show their effect. The active Multiplier is applied to every winning combination. Additionally, all Locked Wild symbols will not be removed on the end of a spin or as long as they are active.
Tropicool 2 also comes with a Super Bonus Feature. This one pretty much works the same way like the normal Bonus Feature does, with the exception that your multiplier will start at x10. As far as we know there is no way to trigger it in the base game and has to be triggered by X-iters.
X-iters are the Bonus Buy Feature of ELK Studios. They usually come with a few minor features as well as the option to buy a Bonus Feature or a Super Bonus Feature.
For 10-times your bet size you can buy one drop with guaranteed Big Symbols. For 25-times your bet size you will get 25 Turbo Spins, which do exactly what you think they would do. They are pretty fast spins. For 50-times your bet size you will get a guaranteed Elmo Redrop. For 100-times your bet size you a guaranteed to get a normal Bonus Feature and last but not least for a whooping 500-times your bet size you will be able to enter the Super Bonus Feature where you will start with an x10 Multiplier.

Tropicool 2: Conclusion
So, is Tropicool 2 an improvement to Tropicool 1? Yes and no. First of all, ELK Studios did a great job with designing the game. The relaxing music fits perfectly as well as the design of the winning symbols. The only thing we don't understand are the lower tier winning symbols that pretty much look and pay the same, and we couldn't even figure out which fruits they resemble.
What we do not like though is the RTP. While Tropicool 1 had a base RTP of 95.0%, which is still below average but playable, Tropicool 2 comes with an RTP of 94.0% and is therefore even worse than its predecessor. This is something we would like to see changed in future releases but we highly doubt that it will change.
Otherwise Tropicool 2 is a fun game to play. The additional features of the successor allow for lots of excitement and from a gameplay perspective ELK Studios did a great job with expanding the original idea of Tropicool. This concludes our slot review about Tropicool 2. It was fun trying out all of the new features. Hopefully we left no question unanswered and we hope you will have lots of fun with it.