Mochimon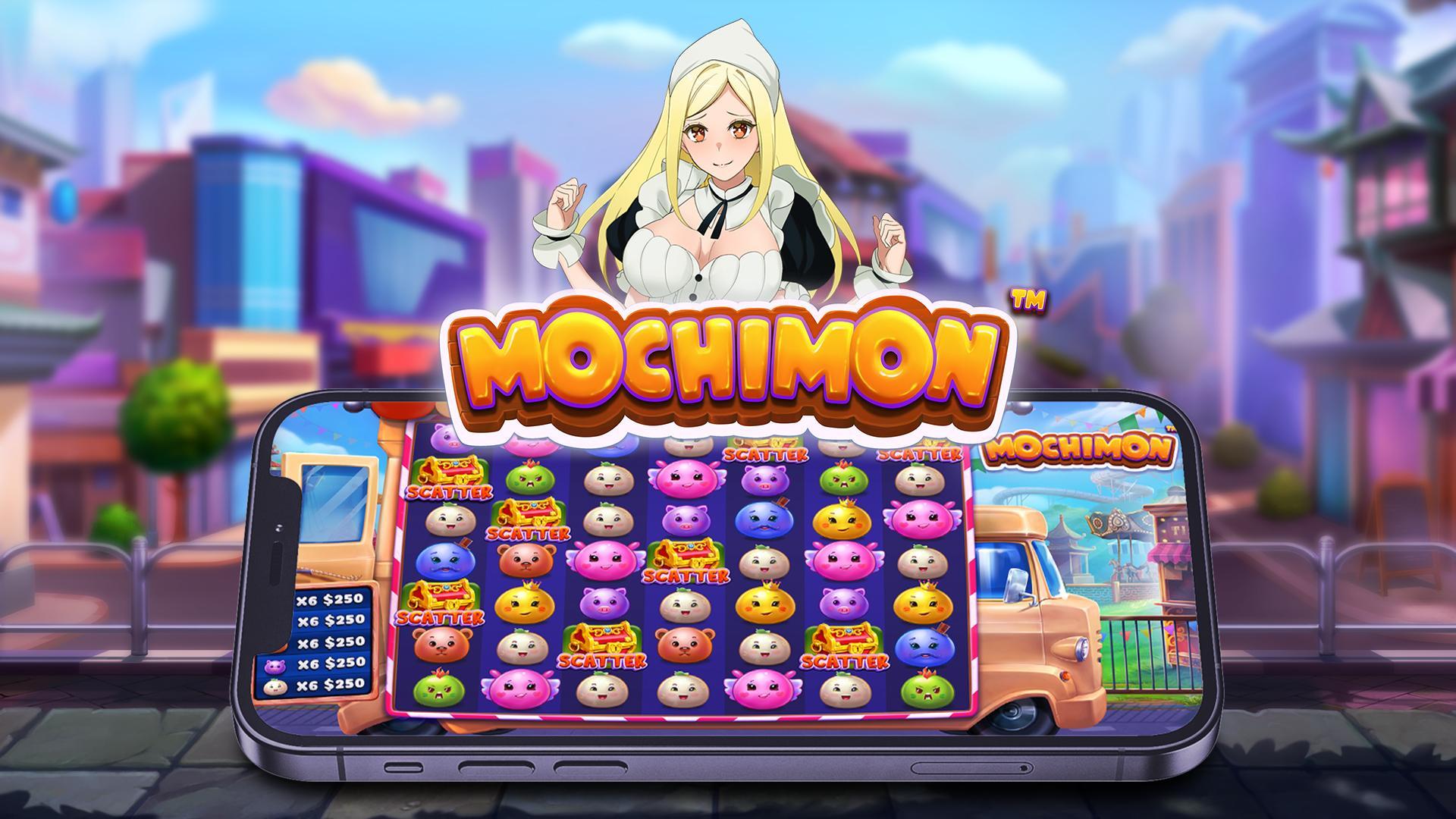 Mochimon: Slot Overview
As many of you might know, online slot games are usually designed around a certain theme. What exactly the theme is can be so different from game to game. Very often you will find an old egyptian theme or an asian theme. But a japanese or rather anime theme is something that doesn't occur that often, but it gets more and more popular. Pragmatic Play decided for such a theme when they created Mochimon.
Mochimon is played on a 7×7 grid with 49 symbols in it and makes use of Cluster Pays, which means that 5 or more of the same symbol need to be connected horizontally or vertically in order to form a win. Mochimon uses the mechanic of Tumble Wins, which means that if one or more winning combinations have formed, the respective symbols are removed and new ones drop in, with existing ones falling down. Bet sizes range from 0.20 to 100€ (or equivalent), but can vary depending on where you play.
There are 7 winning symbols in total featued in Mochimon. We were pretty surprised since that really is below average, but then again it's not that unusual for a Cluster Pays game. Describing these is going to be rather awkward, so we're going to stick with their colour. First up is the Beige one for 20-times your bet size per 15 or more of them. Next we have the Brown/Orange one for 25-times your bet size. Then incoming is the Green for 30-times your bet size. Pretty much in the middle you will find the Purple Piggy one for 40-times your bet size per 15 or more of them. Now on to our top 3, the Blue one with the hat will net you 60-times your bet size. Now the last two symbols have an increased payout. Second to last is the Golden Mochimon, coming in at 100-times your bet size. And our top symbol will be the Pink one with wings, clocking in at 150-times your bet size.
Mochimon: Special Symbols and Stats

Now normally in this section we would give you an overview of all the Special symbols in this game, what they do, how they look like, how they act, how vital they are for big wins, and so on. But unfortunately, Mochimon does only feature one single Special symbol.
The only Special symbol you will find in Mochimon is the Scatter symbol. This one is portrayed by a treasure chest and the label "SCATTER". They can land on any reel. Hit 3 or more Scatter symbols in the same spin to trigger the Free Spins Feature.
Let's take a look at the stats. And these don't look too bad to be honest. Mochimon comes with a base RTP of 96.50%, which is pretty solid. The max win potential of Mochimon is 5,000-times your bet size, a usual potential for Pragmatic Play games. The chance of hitting one of these is once every 2,340,000 spins on average. Not the best chances of course, but we've seen way worse in the past. On average you can expect a base game hit roughly every 3 spins. The chance to trigger the Free Spins Feature however is once every 323 spins, which is quite high, but not really unusual for Cluster Pays, especially with the Tumble Wins feature. And lastly, your chance of winning over 1,000-times your bet size is once every 37,900 spins. Again, not the best, but definitely not the worst also.
Mochimon: The Origin of the Name
Some of you might already guessed where the name Mochimon originates from, at least if you are a bit familiar with japanese culture. You can already take a guess when looking at the winning symbols. If that doesn't ring a bell to you, don't worry, we'll explain it to you.
Mochimon is a portmanteau of the words Mochi and Monster. While Monster is a term to pretty much everyone, Mochi probably isn't. Mochi are japanese rice cakes. You can get these at any time of the year, however, they are traditionally sold and eaten during the Japanese New Year. In Europe and America they can usually be bought in frozen form in stores, typically filled with ice cream.
Mochimon: Feature Overview

Mochimon has a few intersting and thrilling features. We will cover and explain them in detail.
Multipliers play a vital role in Mochimon. You see, when you get a winning combination of any sort, the fields under the winning symbols that were part of the combination will glow up. If these fields are now part of another winning combination, they will get a multiplier. This multiplier is starting at x2 and can go up to x128. Any time a winning combination takes place on "activated" fields, the multiplier will double. If more than one multiplier is part of a winning combination, the multipliers are added and then applied to the win. Multipliers are reset if no more tumbles are possible and the spin ends.
Free Spins are awarded if 3 or more Scatter symbols land in the same spin. More Scatters award more free spins. Hit 3, 4, 5, 6 or 7 Scatters to get 10, 12, 15, 20 or 30 Free Spins respectively. The Free Spins are pretty much the same as the base game. However, multipliers are not reset during Free Spins, meaning that they persist throughout the whole feature. The conclusion from this is that the more spins you have, the more valuable they become the more multipliers you have on the screen. The feature can be retriggered, hit 3 or more Scatter symbols in the same spin during the feature to get additional Free Spins. More Scatters award more Free Spins, just the same like the trigger does. So 3 Scatters award 10 spins, 4 Scatters award 12 spins and so on. The feature ends once all Free Spins have been used or the max win potential of 5,000-times your bet size has been reached.
Mochimon comes with a Bonus Buy Feature. For 100-times your bet size you can skip the line and get a guaranteed entry into the Free Spins Feature. The amount of Scatters triggered with is random, so you can get a 3 Scatters trigger or you can be lucky and trigger with 7 Scatters, everything is possible. Interestingly, the RTP of the Bonus Buy Feature is the exact same as the base RTP of 96.50%, which is pretty unusual. Normally Bonus Buy Features come with a slightly higher or lower RTP, but not in the case of Mochimon.

Mochimon: Conclusion
Mochimon is a straight up copy of Pragmatic Plays success game Sugar Rush. The only differences being the general theme itself and therefore the music, ambience and design.
That does of course not mean that it's a bad game or anything. Pragmatic Play tried to redesign one of their rather popular slot games into something that players might enjoy more. The colourful gummi bears and the sweet candyland have been exchanged for sweet sticky rice cake monsters and a more japanese ambience. Although the term "monsters" might be an exaggeration in this case.
The stats of Mochimon look decent enough to say that they are not bad. Of course, over 2 million spins for a max win to hit sounds like a really slim chance, but we have seen a max win of 5,000-times occur in Sugar Rush, and given that the stats are exactly the same in Mochimon, we are sure that we will see some max win hits in Mochimon as well.
The addition of a Bonus Buy Feature is a welcome sight. The base game of Mochimon is unfortunately not that great and doesn't allow for much excitement and thrill. The Free Spins Feature on the other hand does, and since it might take a while to get a bonus through the base game, the Bonus Buy Feature can help speeding that up a lot.
In the end we can say that Pragmatic Play did a great job with redesigning one of their more popular games in recent history. We are sure that many players will love the new theme and will go with Mochimon rather than Sugar Rush. This concludes our online slot review. We had much fun testing it for you. Hopefully we left no question unanswered and we're certain that you will have just as much fun as we had.