Peak Power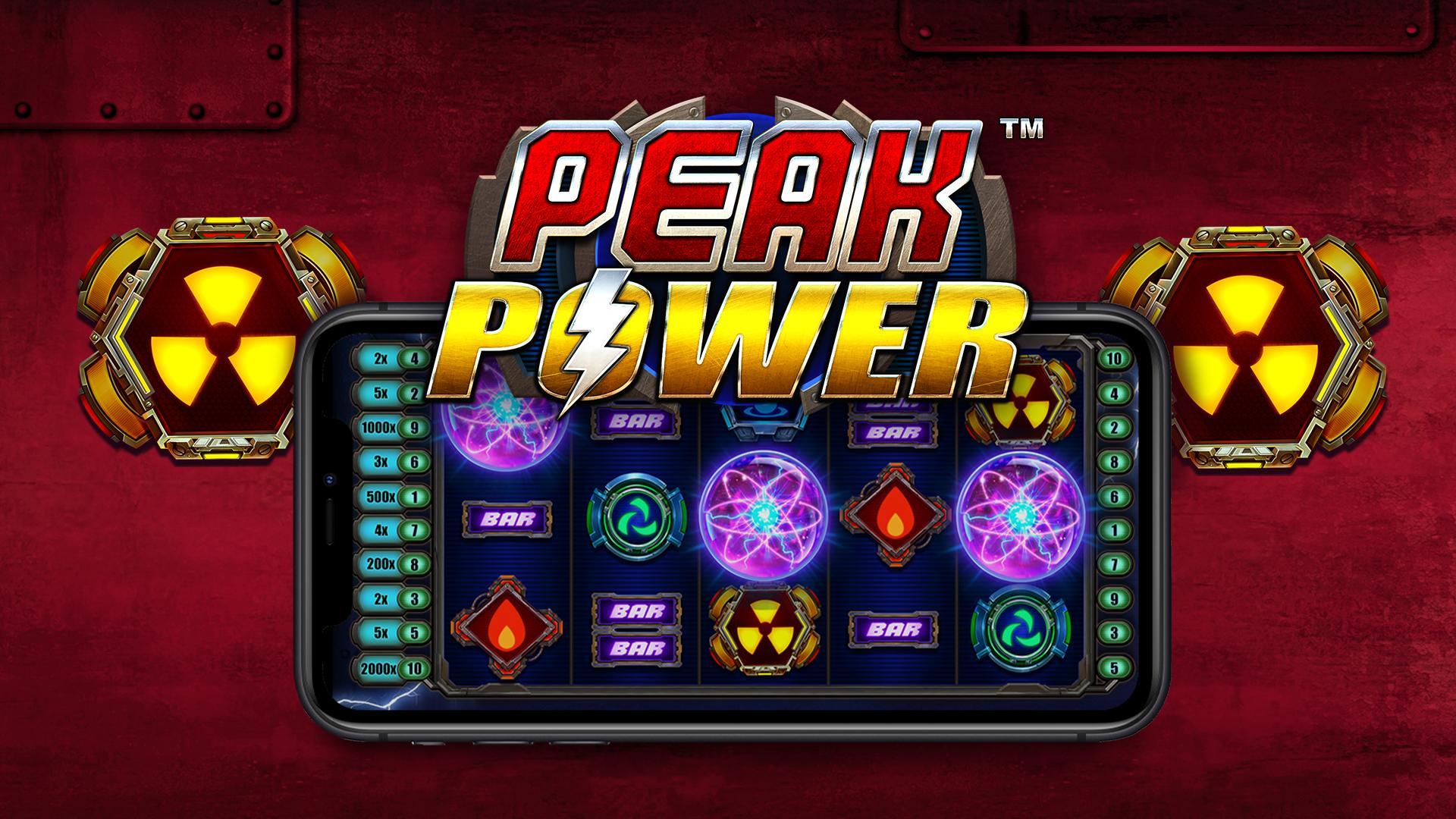 Peak Power: Slot Overview
Power is everywhere. It almost doesn't matter where we go, we always need some sort of power. Let it be your car when you're on your way to work, the coffee machine that brews our daily morning energy drink, or even the device that you're using to read this online slot review. That's why Pragmatic Play had the perfect idea to create a slot that kind of adresses the needs and sources of power. So they came up with Peak Power.
Peak Power is played on 5 reels with 3 rows and 10 set paylines, that play a crucial part in this online slot. Standard bet sizes range from 0.10€ to 100€ (or equivalent). Bet sizes may vary depending on where you play.
Peak Power uses 7 different winning symbols, which is not much compared to other online slots that usually have 8 to 10 different symbols. But Pragmatic Play thought that less is more and decided to go with 3 lower tier symbols and 5 higher tier symbols. Let's begin with the lower tier symbols and these are very uncreative. The lowest symbol is the purple Bar symbol which nets 0.4-times your bet size for a full line. Next up we have the purple Double Bar symbol, clocking in at 1-time your bet size for a full line. And our last low tier symbol, as you might have already guessed, is the purple Triple Bar symbol, coming in at 1.5-times your total bet size. Very unspectacular, isn't it?
Let's take a look at the higher tier symbols which are designed more fitting for the theme. At first we have the blue Waterdrop symbol. This one will grant you 2-times your bet size, followed by the green Wind Turbine, at least we think so. This symbol is paying 3-times your bet size for a full line. Second to last is the red Flame, already paying 5-times your bet size. Last but not least is our top symbol, the yellow Nuclear sign, netting 10-times your bet size for a full line.
You might now think "wow, these payouts look really bad, how can you even win anything?" And you're concerns are justified, they do not look good, but of course there's a catch to it. We will explain it in detail in our Feature Overview section.
Peak Power: Special Symbol and Stats

Peak Power actually only has one single Special symbol, and that is the Scatter symbol. Scatter symbols are portrayed by a plasma globe and can land on all reels. Land 3 or more on the same spin to enter the Free Spins Feature. Scatter symbols actually have a payout. They will pay 3-times your bet size for 3 or more landed on the same spin.
Unfortunately there is no Wild symbol, Mystery symbol or any other symbol we could show to you. But it sure does make sense once you figure out why paylines in Peak Power are crucial.
So, what can we tell you about the stats of Peak Power? What we can tell you is that Peak Power comes with a base RTP of 96.02%, which is a decent average. The max win potential of Peak Power is capped at 10,000-times your bet size, quite unusual for Pragmatic Play since most of their games are capped at around 5,000-times. The chance to hit this max win potential lies at roughly once every 5,100,000 spins, so it is "quite" rare, but we're sure it will be conquered eventually. To hit the Bonus Feature you will on average need 204 spins. And another interesting stat: The chance to hit 1,000-times your bet size is once every 21,856 spins. There are one or two additional stats that we will cover later on in our slot review.
Peak Power: Feature Overview

Peak Power has some interesting features that we would like to showcase here.
Now you will get to know why the paylines play a crucial part in Peak Power. You see, on the left side, there is an empty slot near every single payline. That's because each of these paylines can get a random multiplier. What that means is that a win on this payline will get multiplied with the shown multiplier. These multipliers can range from 2x to 500x, although 500x are surely pretty rare in base game.
As we mentioned before, landing 3 or more Scatters will put you in the Free Spins Feature, granting you 10 Free Spins for 3 Scatters and 2 additional Free Spins for each following Scatter symbol. Now here is where things get spicy and powered up. In the Free Spins Feature ALL of your paylines get a minimum multiplier of 5x. Every spin has a chance to increase the multiplier of one or more paylines to up to 1,000x. Unfortunately, the multipliers don't stay and are reset after every spin, where then new ones are picked. Free Spins cannot be retriggered whatsoever.
By the way, there is kind of a hidden feature inside the Free Spins Feature.You see, above the playing screen, there is a sign with the name of the game. If that sign gets electrified, you are guaranteed to get a win on any payline. Of course that doesn't mean that you will hit one of the paylines that had their multipliers upgraded. Nor does it mean that you can't hit anything if the sign is not electrified.
Believe it or not, there is actually a Super Free Spins Feature. Unfortunately, this Feature cannot be triggered through the base game itself and has to be bought in the Bonus Buy Feature. During Super Free Spins, everything is basically like the regular Free Spins Feature, but the minimum multiplier on every payline is 100x. This is of course a big increase in contrast to the regular feature, but this also shows in the Bonus buy price.
As we kind of just spoilered, there is a Bonus Buy Feature, which is not that unusual for Pragmatic Play games. As you might have already guessed, you can buy the regular bonus for 100-times your bet size, which will guarantee you a 5x multiplier on all paylines. Or you can pay 300-times your bet size for the Super Free Spins Feature, where you get a minimum of 100x multipliers on your paylines. Time for another set of stats. Interesting here is that the Bonus Buy for the regular Free Spins has an RTP of 96.05%, which is slightly higher than the base RTP. The Super Free Spins Feature buy though has a slightly lower RTP of 95.98%. In theory this would make it less lucrative to buy, but since there is no possibility to trigger it through the base game, buying it is your only option to witness it.

Peak Power: Conclusion
Pragmatic Play used all their power, literally, to create something awesome and entertaining. Instead they created Peak Power. Don't get us wrong, Peak Power is not a bad game. But in terms of design it lacks heavily. It already began with the choice of symbol design. Having basically the same symbol three times as your low tier symbol just isn't great. And the music sounds like it's coming from a mid 90's DJ. Maybe Pragmatic Play tried to create a classic slot with modern touch, but classic doesn't always mean good.
Of course Peak Power also has its exciting moments. Getting a win with a nice multiplier in base game sure feels rewarding. Seeing a high multiplier is definitely thrilling, missing it will be annoying, but then again, that would be the case in any game.
What we don't like is the exclusivity of the Super Free Spins Feature. Making these features exclusive to Bonus Buys feels unsatisfying. Of course they are the "premium option" if you want to call it like that but why not just let the player trigger it through the base game? This is probably something we will never understand.
After all, Peak Power is alright, not more, not less. It has its fun moments, and if you don't care about design at all it probably is a pretty good game for you. However, it was fun testing it out for you. Hopefully we left no questions unanswered in our online slot review and we hope you will have lots of fun with it.